Blazing Knuckles
10 day group motorcycle circle route with Meredith to Calgary and back. Planned in advance, there was no way to avoid the once in a lifetime "heat dome" our route went through.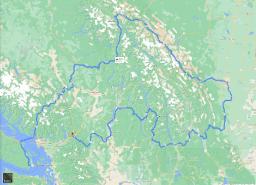 Contents
Details
Preparations
I had done some pre trip maintenance in preparation for this trip but nothing major. This would be our first ride with our repurposed sheep skin seat covers. It would also be the first big trip on my replacement transmission.
We packed obvious personal items like clothes and toiletries but here is a non exhaustive list of other packed items:
Custom medical kit created by Meredith
Extra straps, bungee cords, rope
Spare tire tube for me, tire plug kit for her
Food and water, non perishable meat and protein bars
Machete
Personal computer
Chargers and cords for every device
Spare ear plugs, sunscreen, hand sanitizer
Toilet paper
Engine oil
Chain lube
2 motorcycle covers
Sewing kit
Tuesday June 22, 2021: Saanich - Lilloet
We were up by 5:00am packing the motorcycles and eating breakfast and were on the road by 6:00am. I started this tour with 91 718 kilometers on my odometer. Heading north on the Trans Canada highway we stopped at the top of the Malahat to check luggage, and then again in Ladysmith.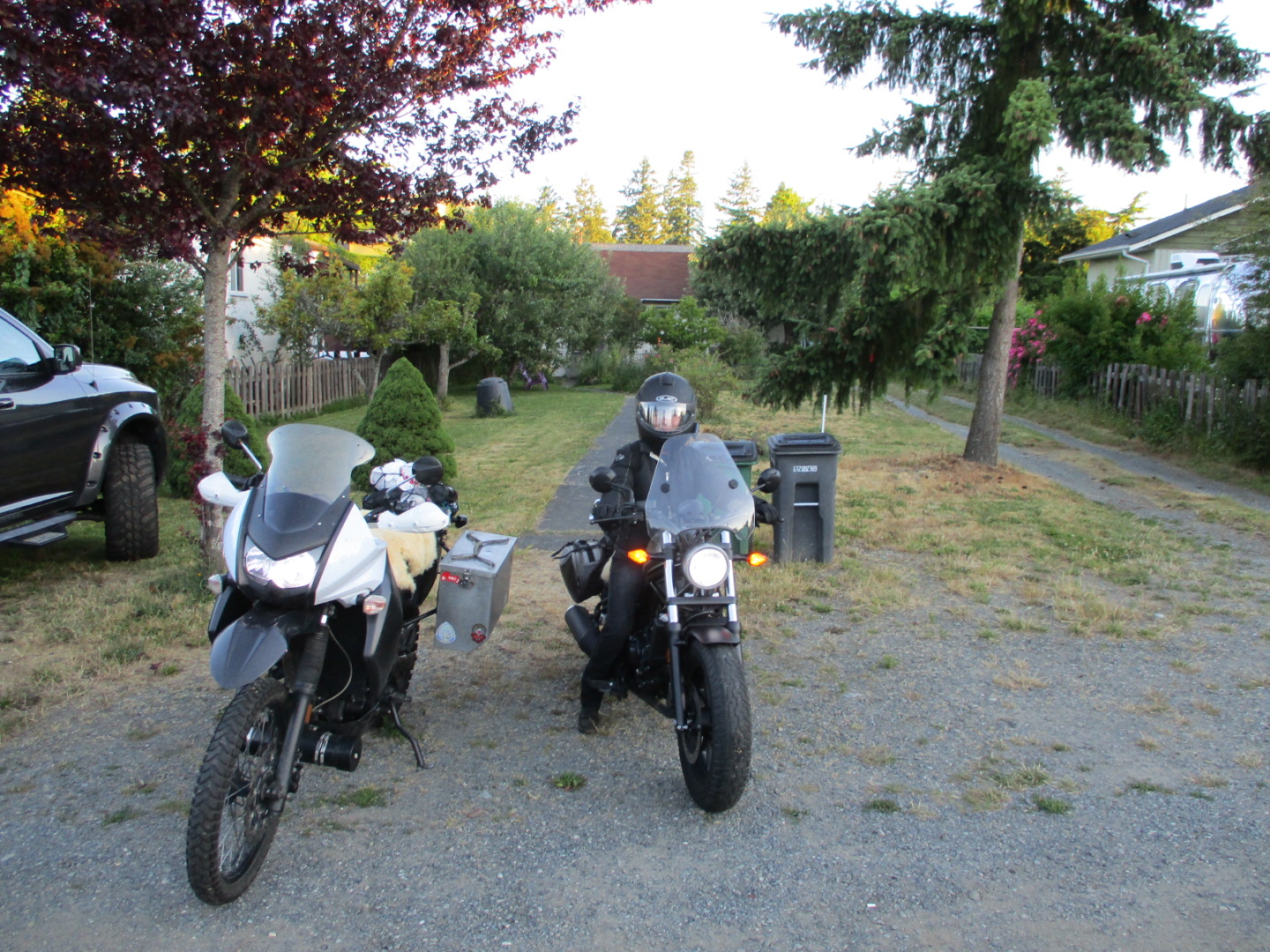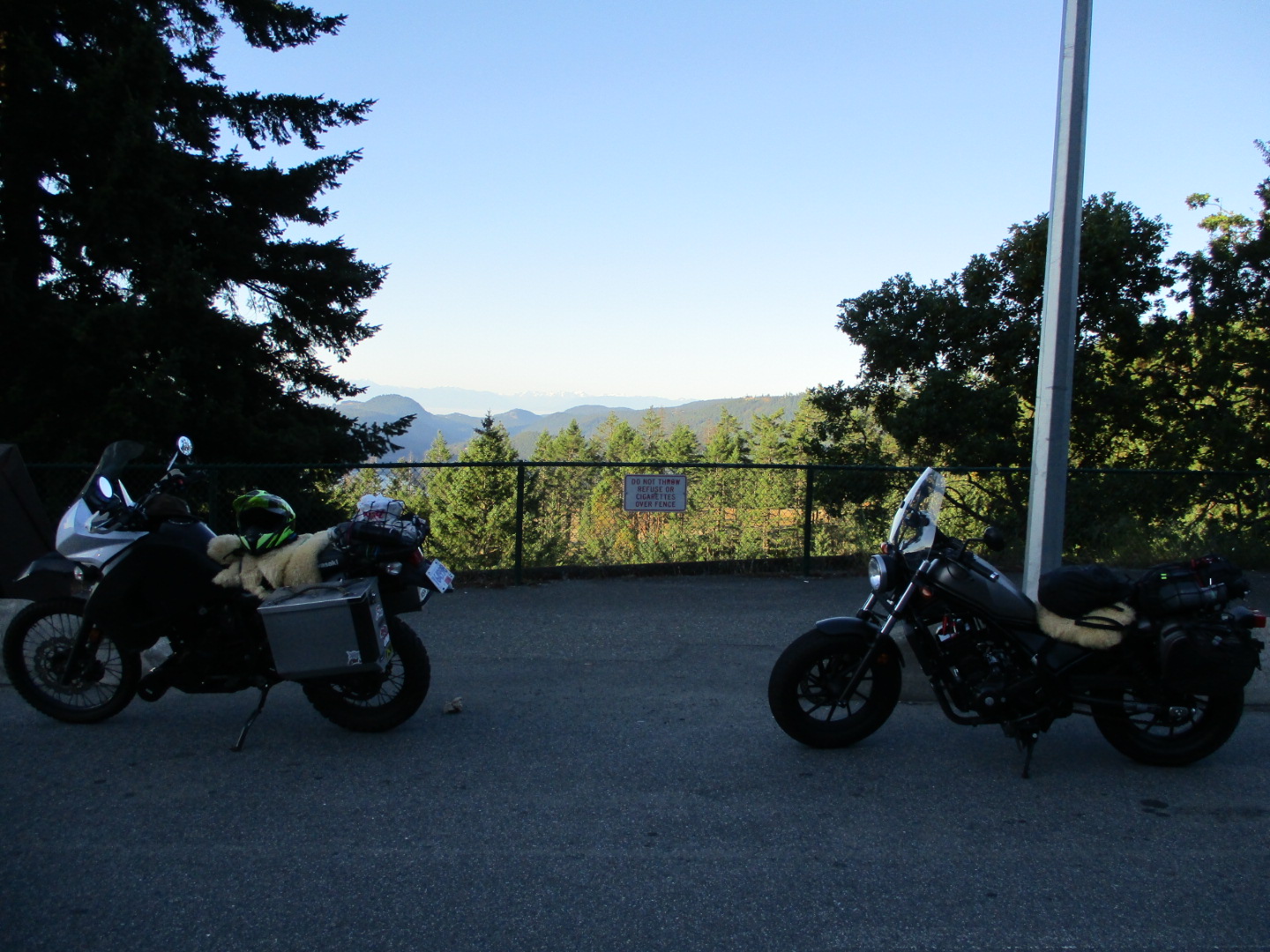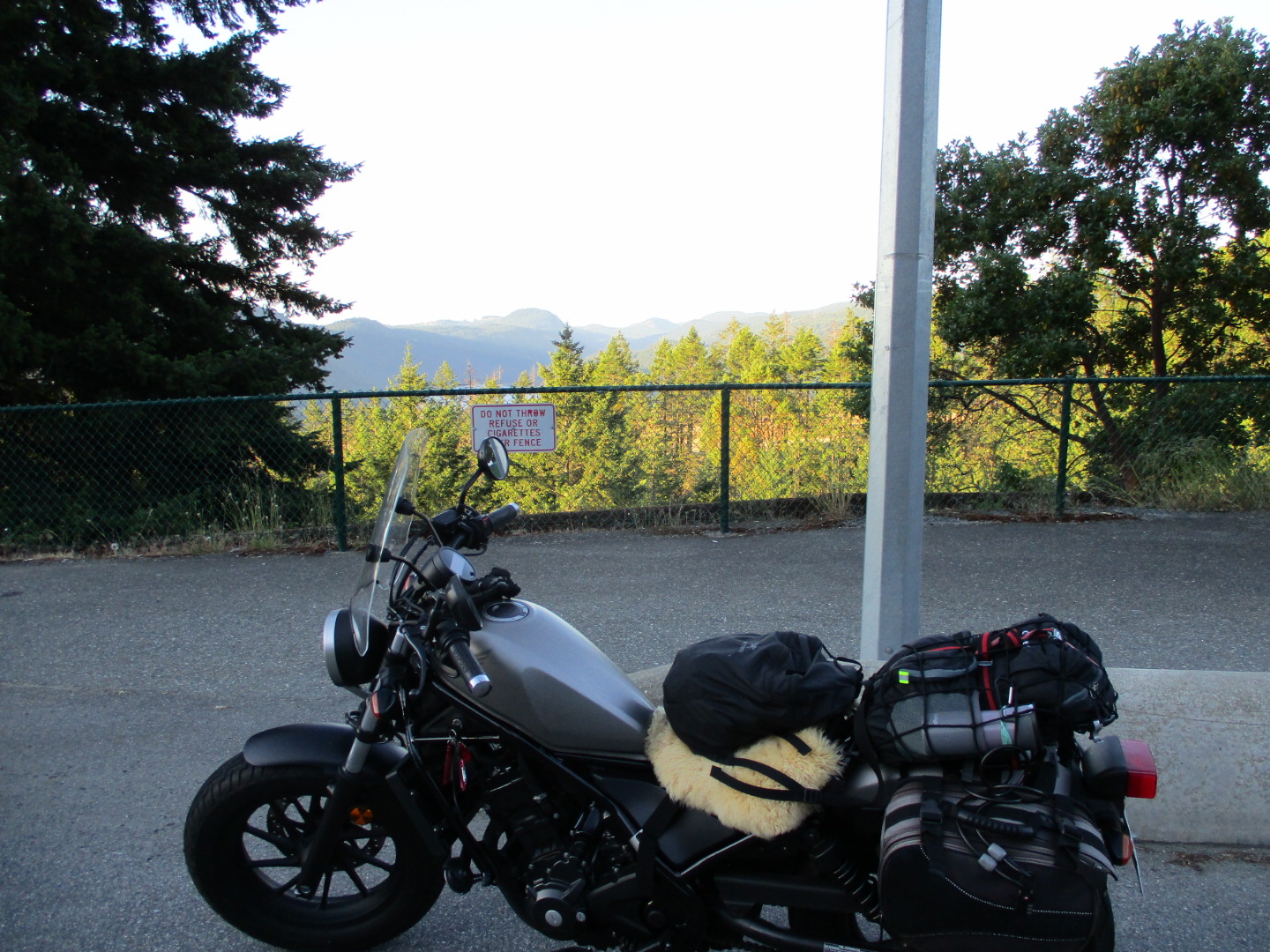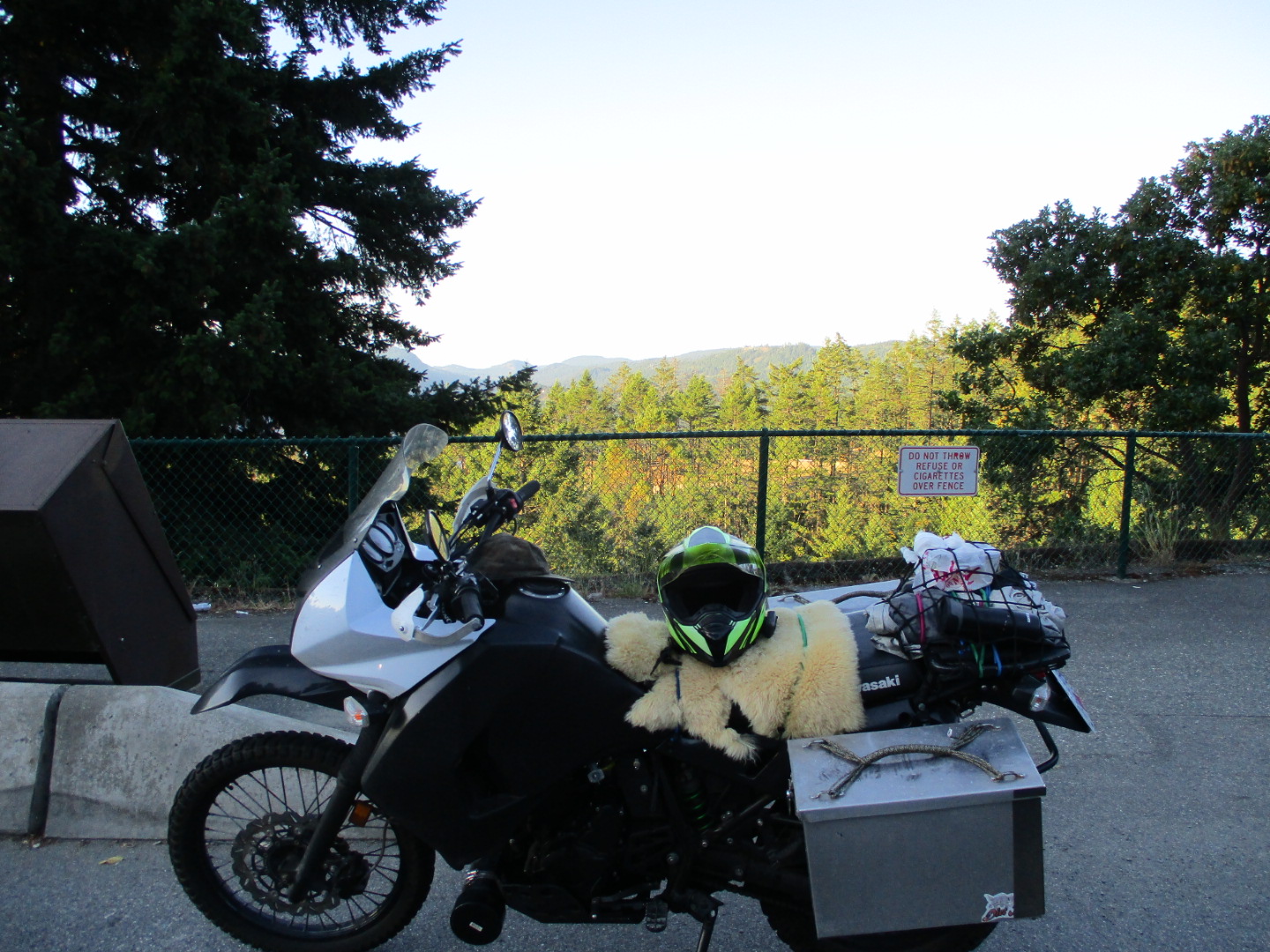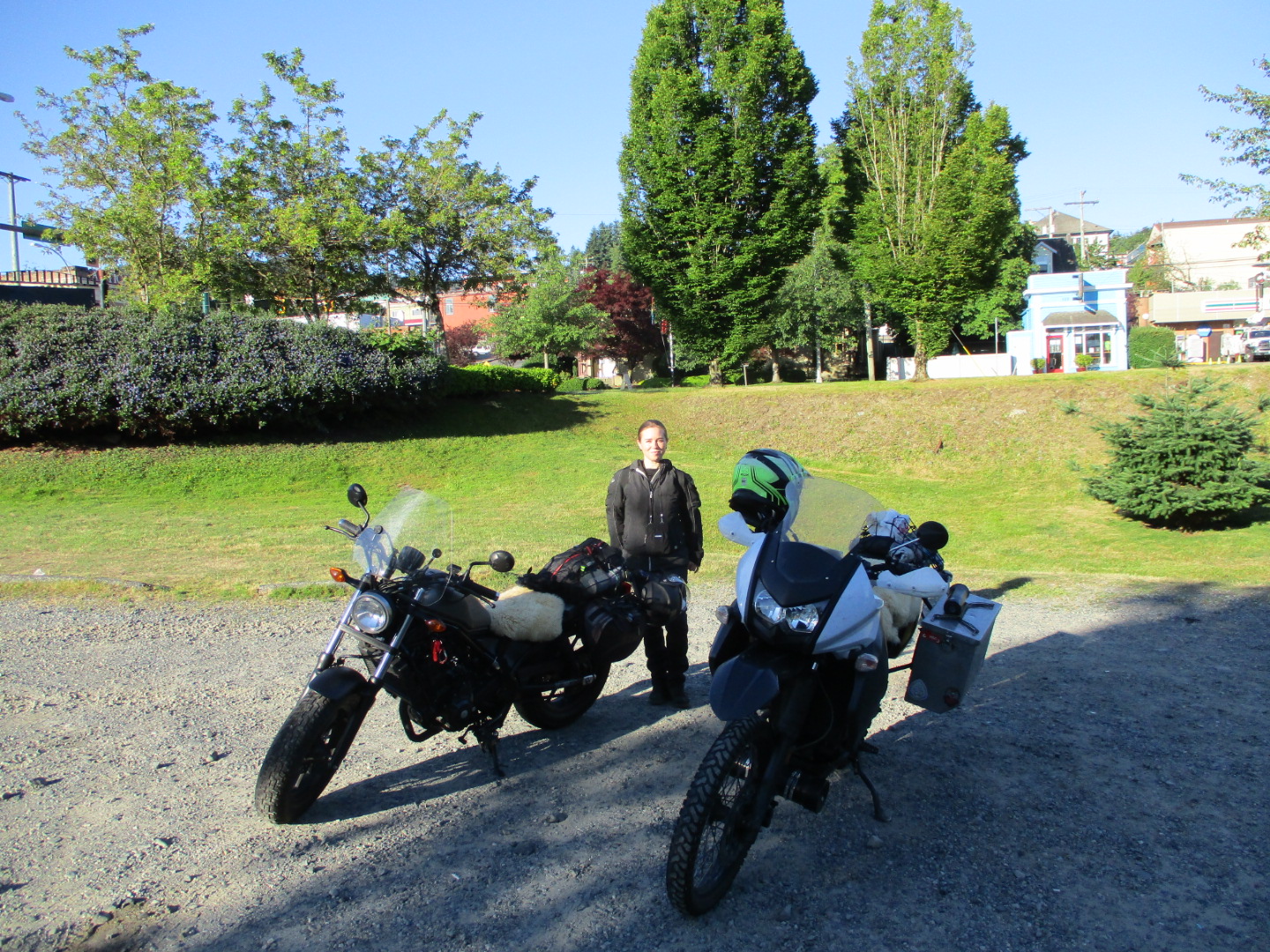 We arrived at the BC Ferries Departure Bay terminal in Nanaimo at 8:00am and paid $94 for the 1.5 hour crossing. Surprisingly there were many other motorcycles. Sailing from Departure Bay to Horseshoe Bay in North Vancouver has some nice views.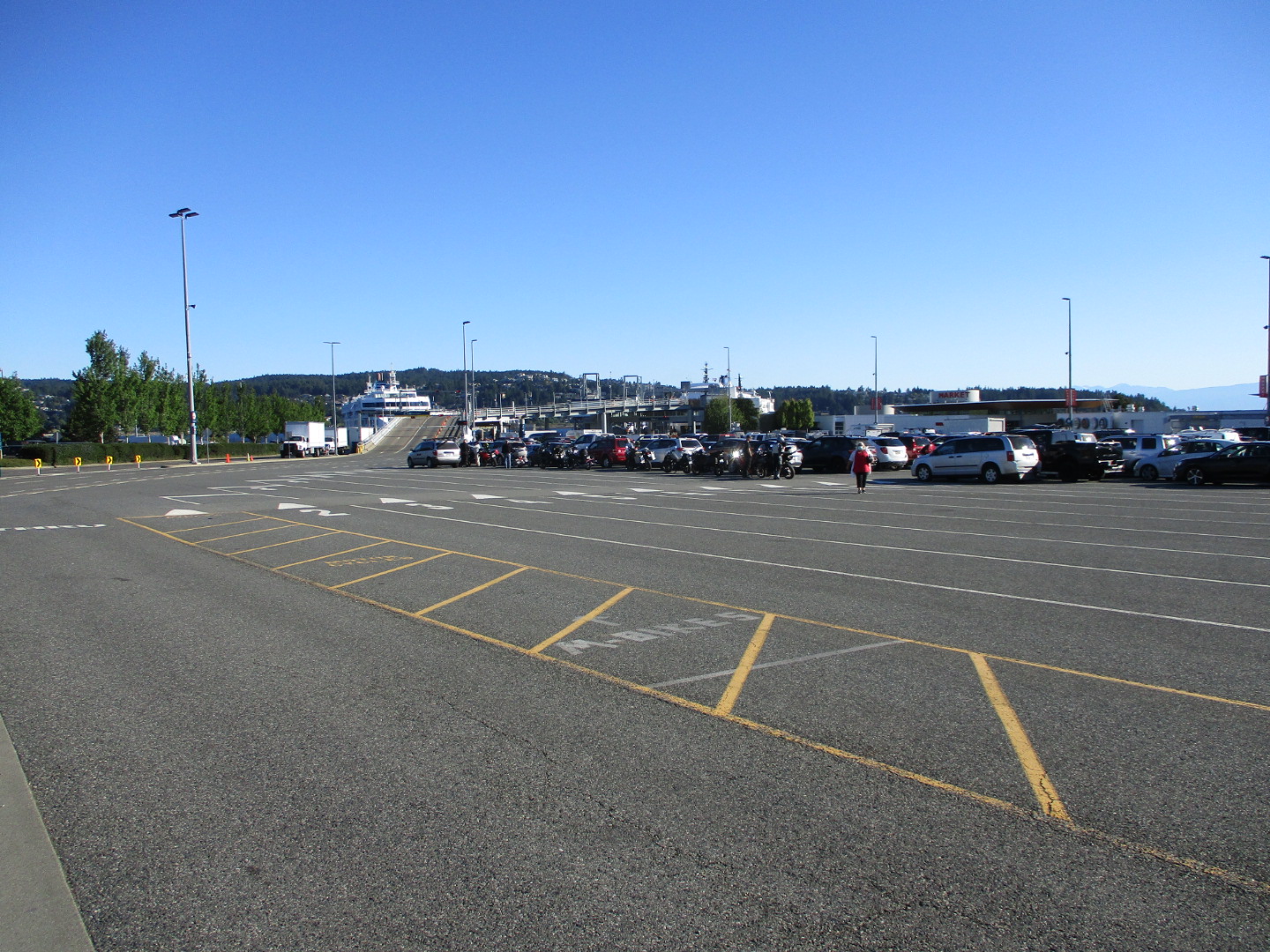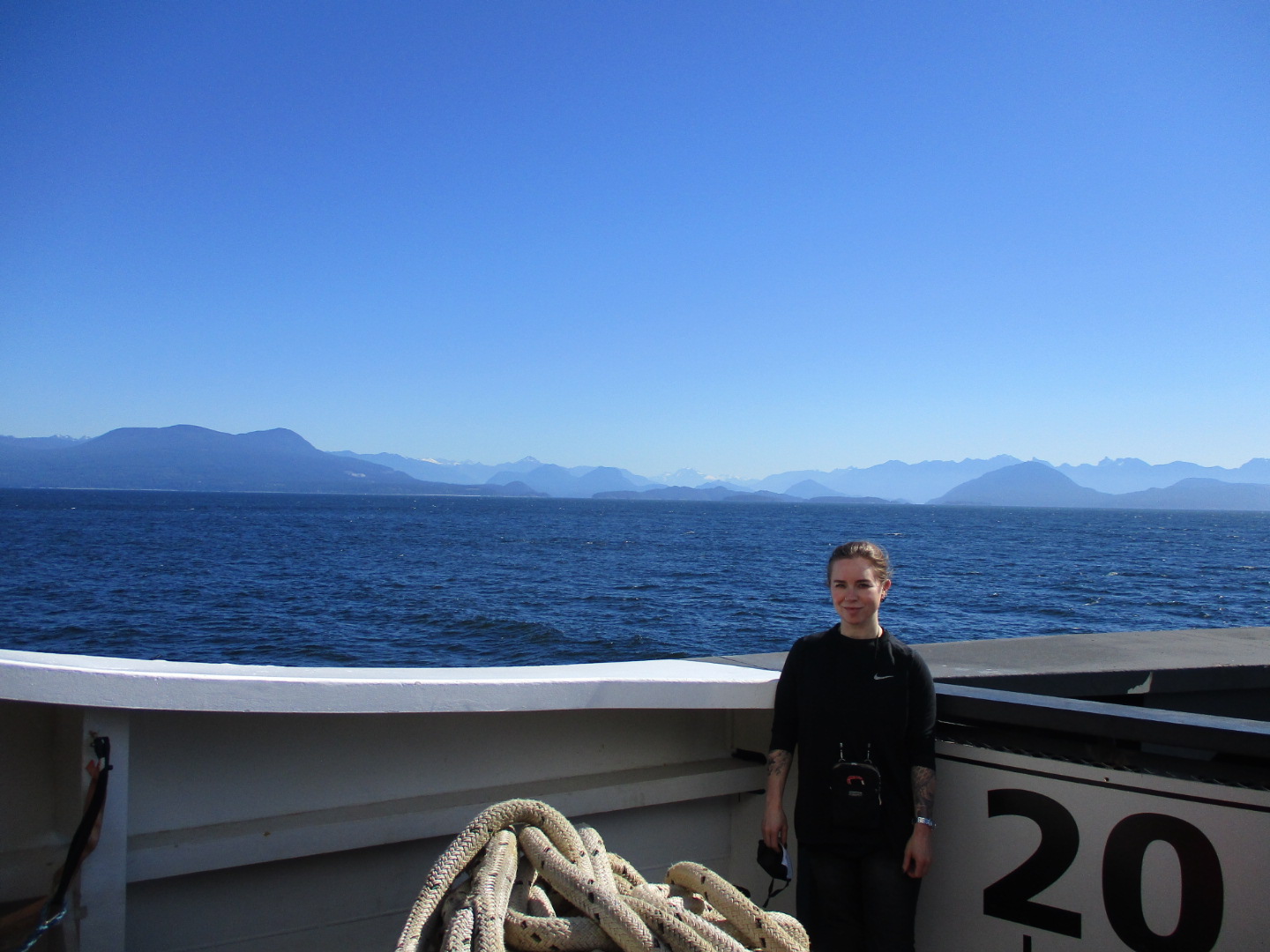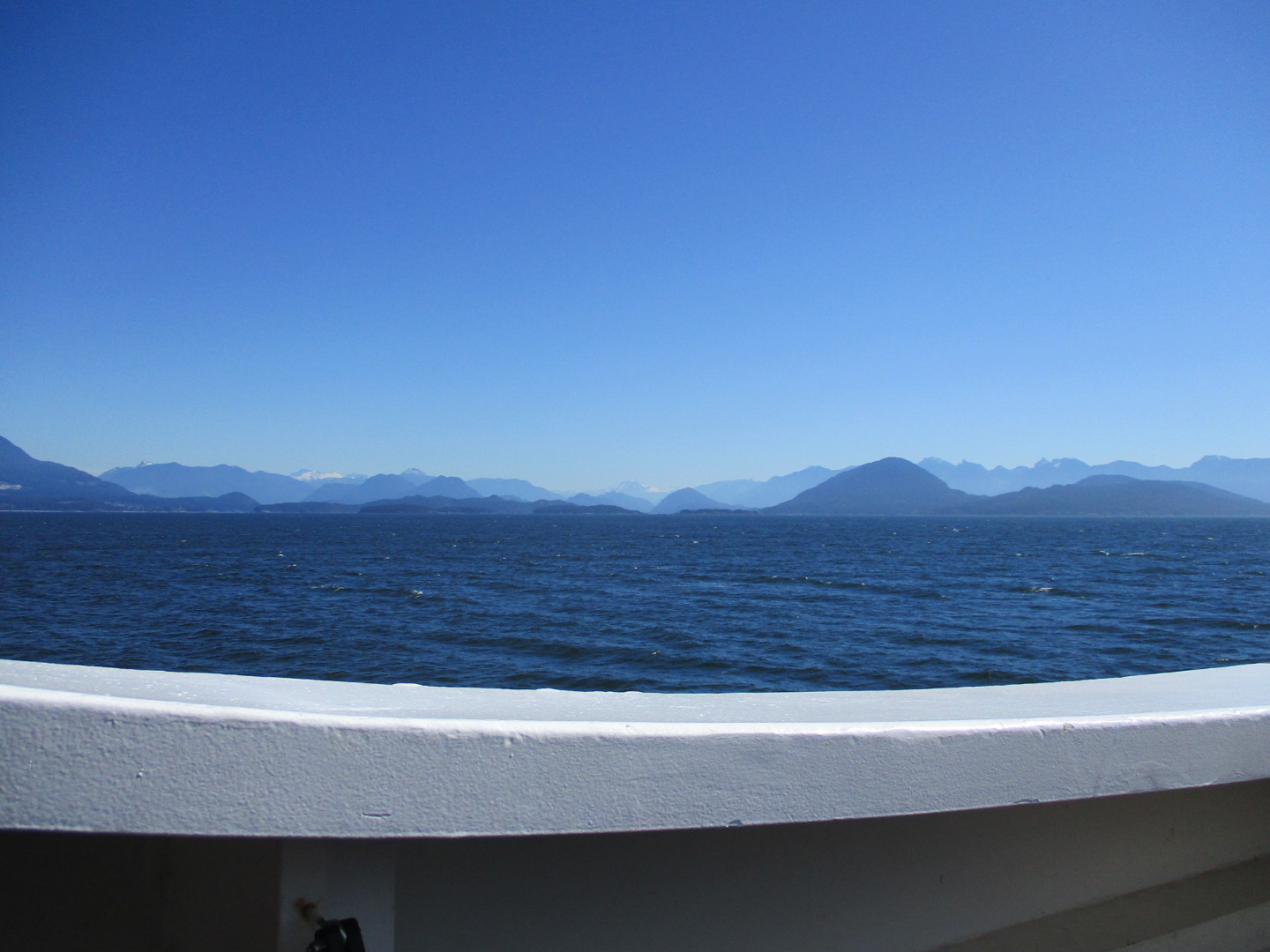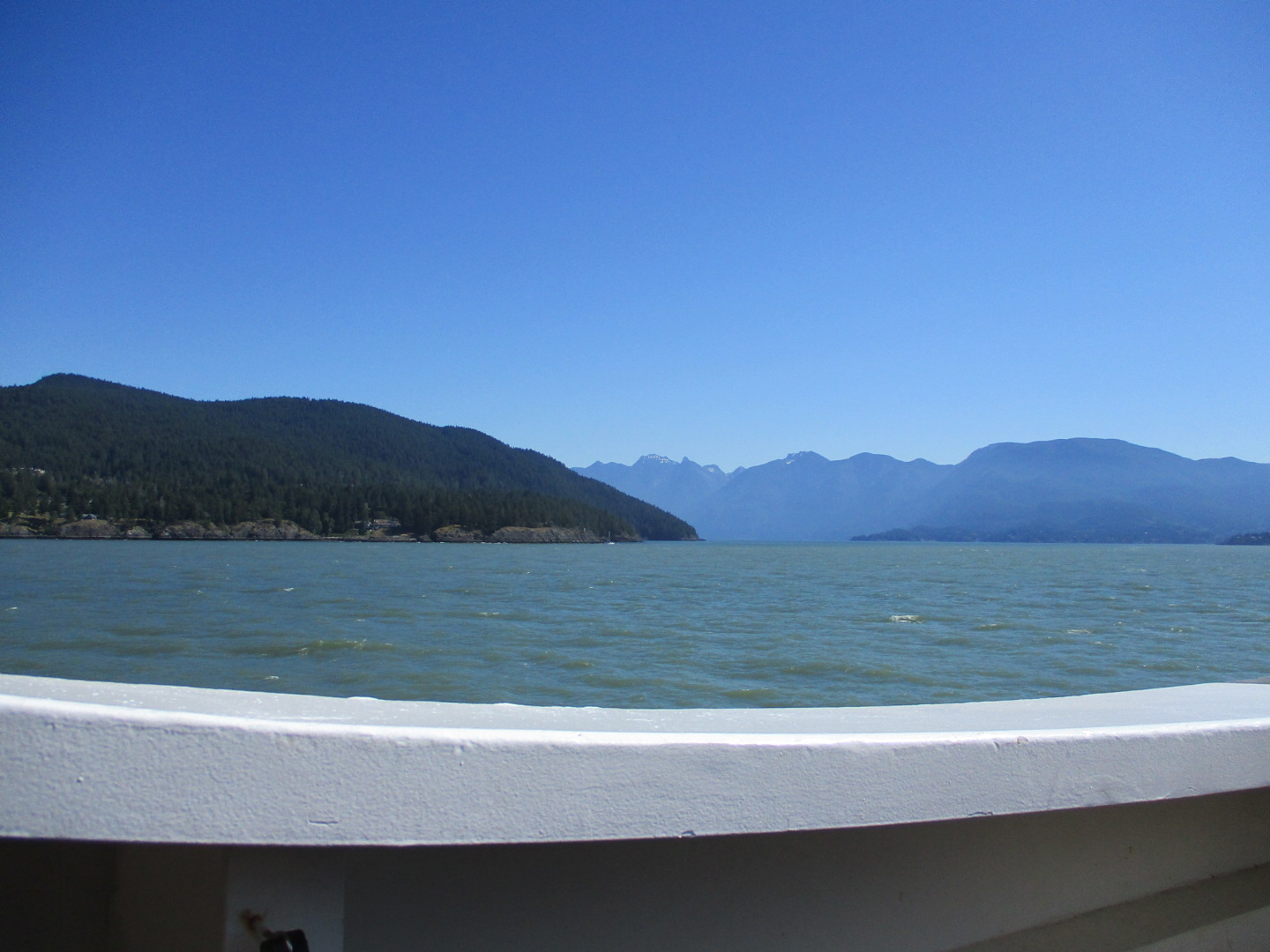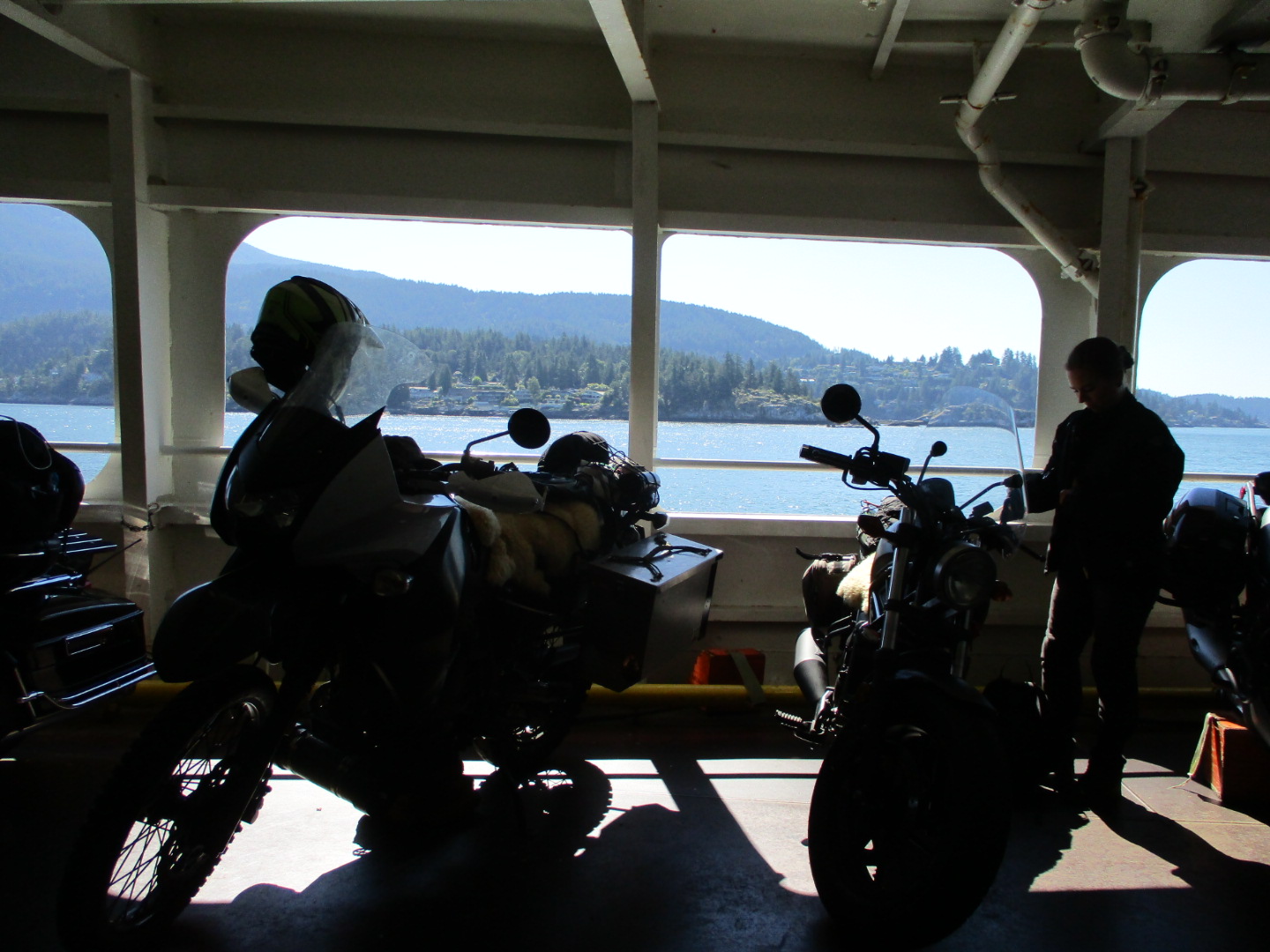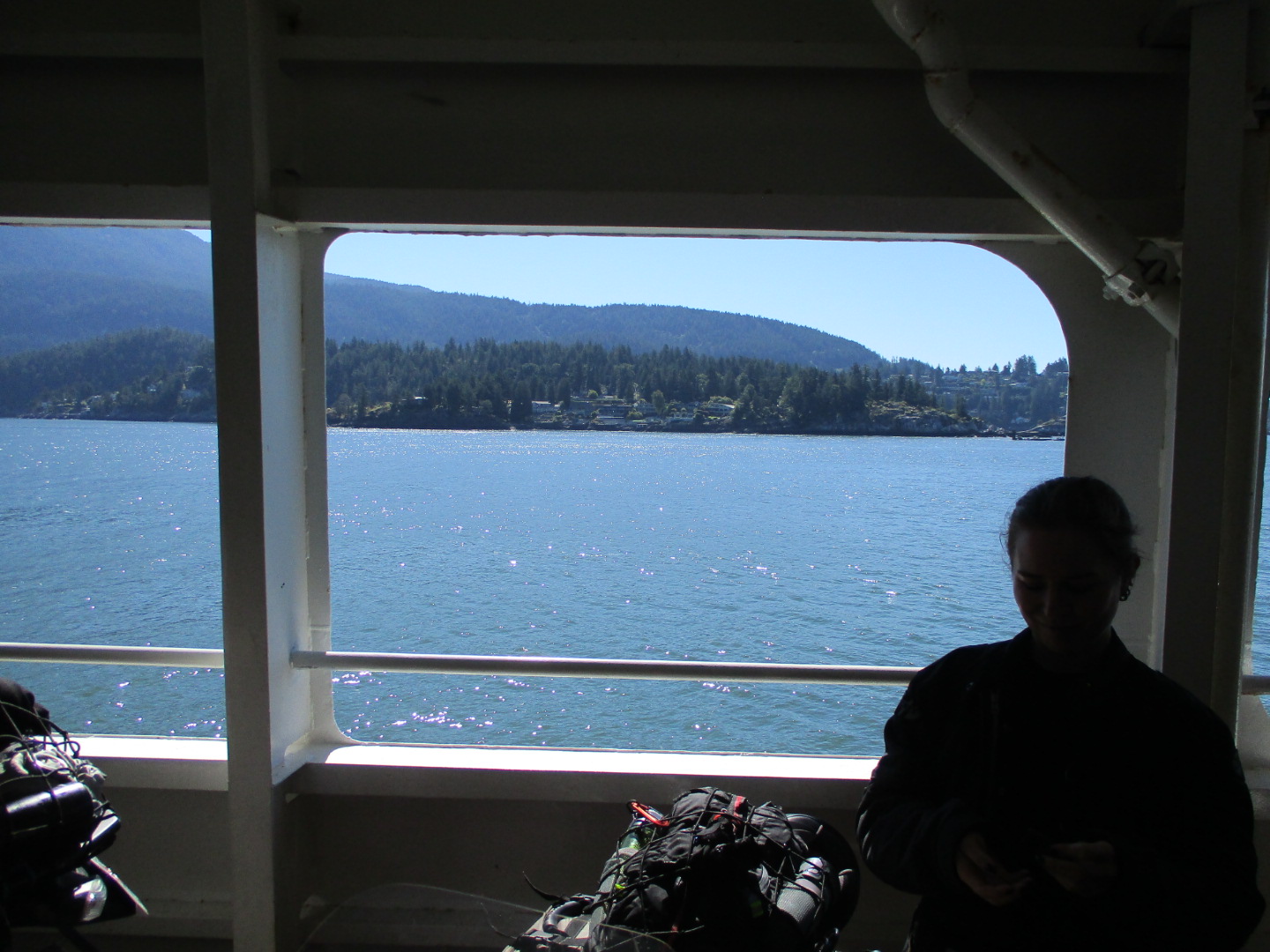 After disembarking the ferry we turned north on highway 99, stopping for gas and snacks at a small village in between North Vancouver and Squamish.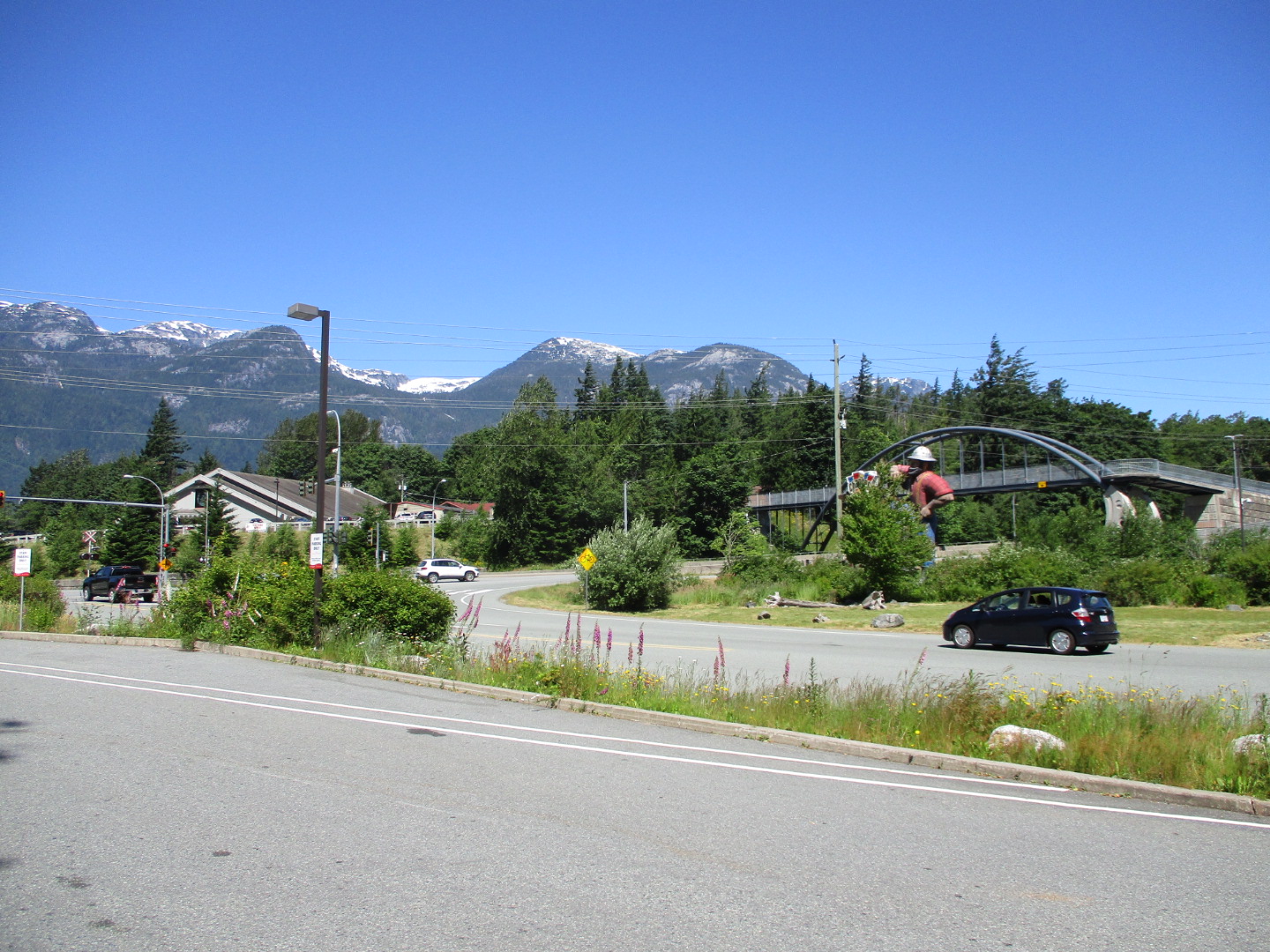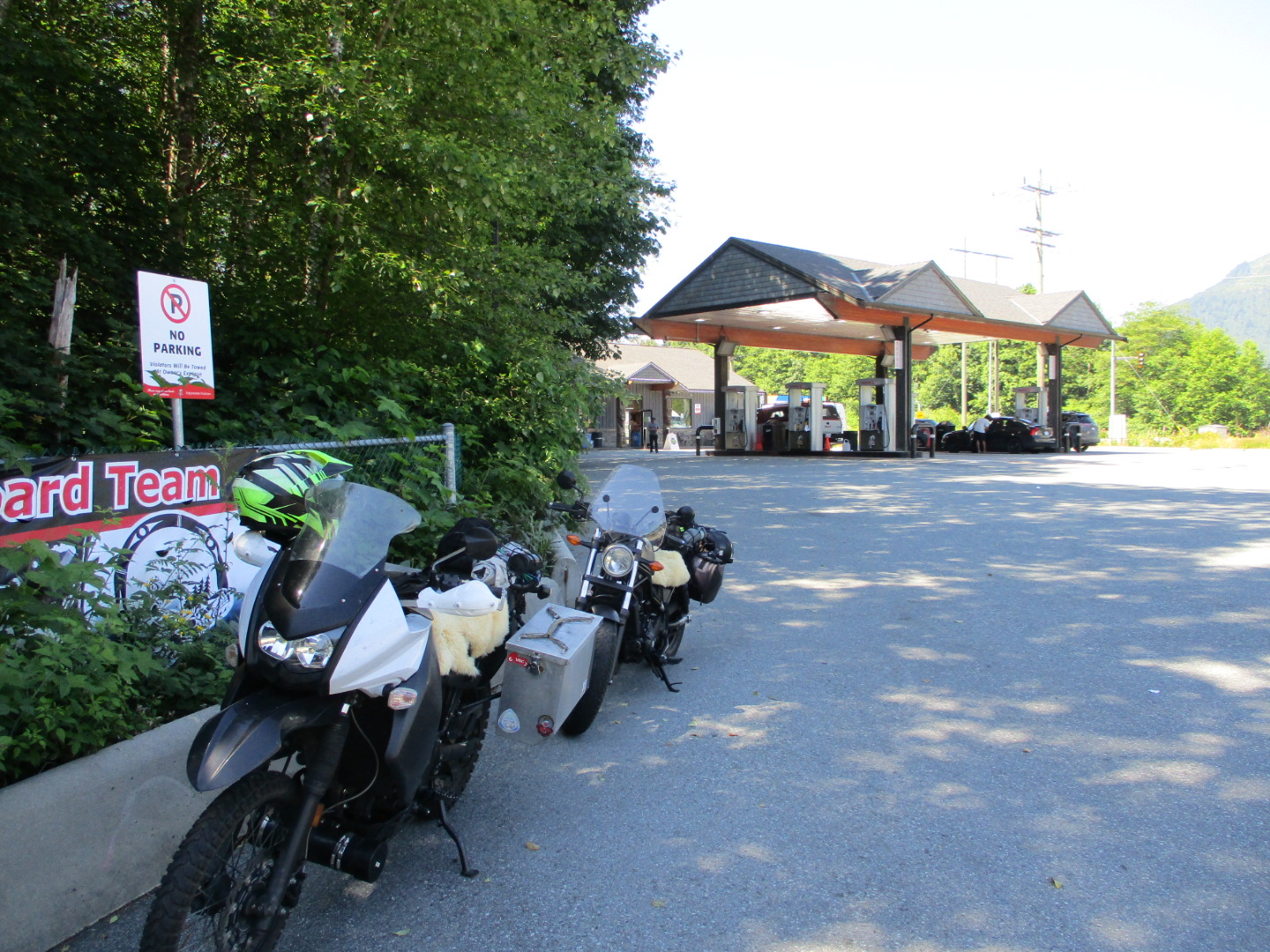 Whistler was our next stop for drinks and snacks on the side of highway 99.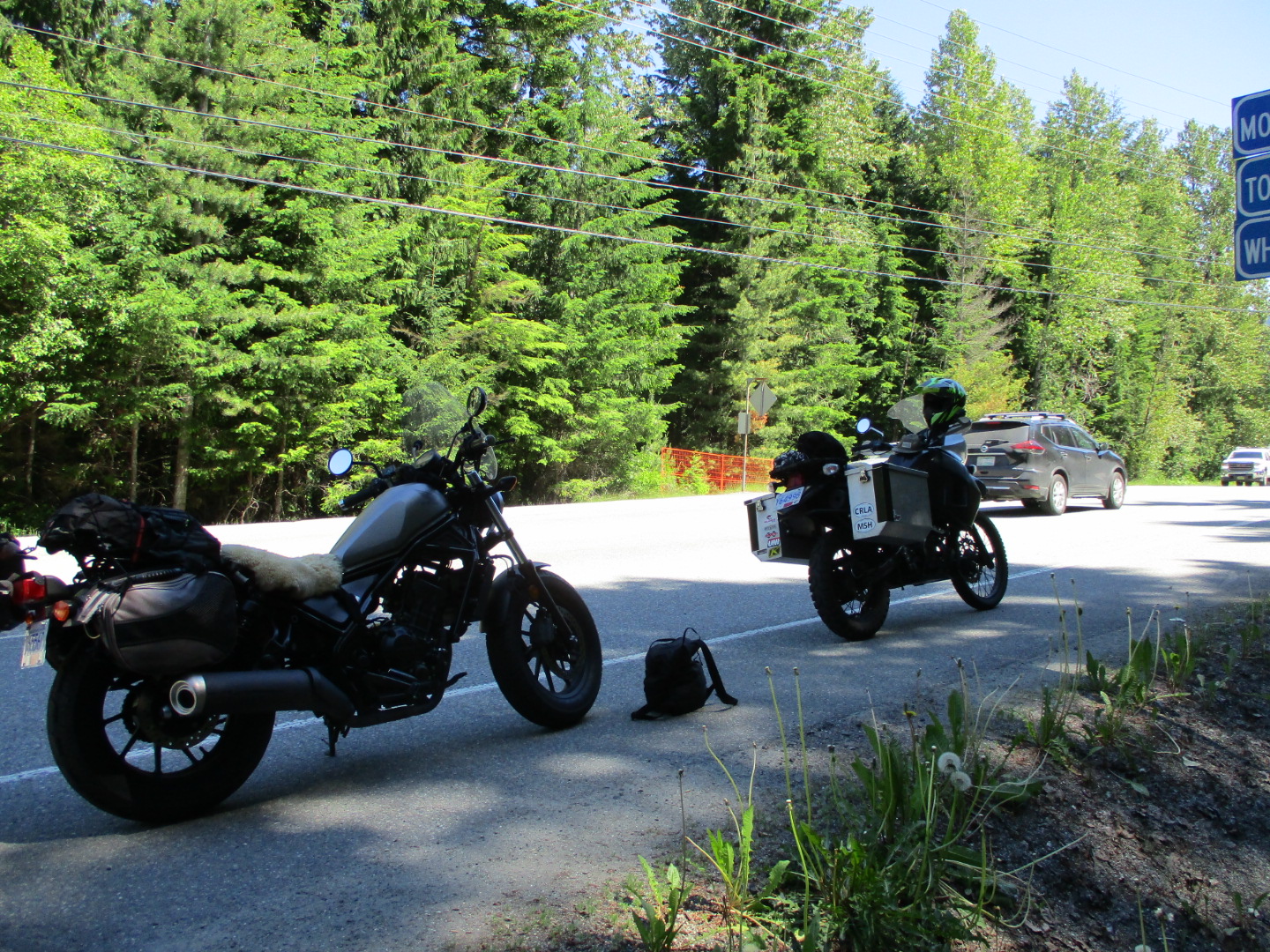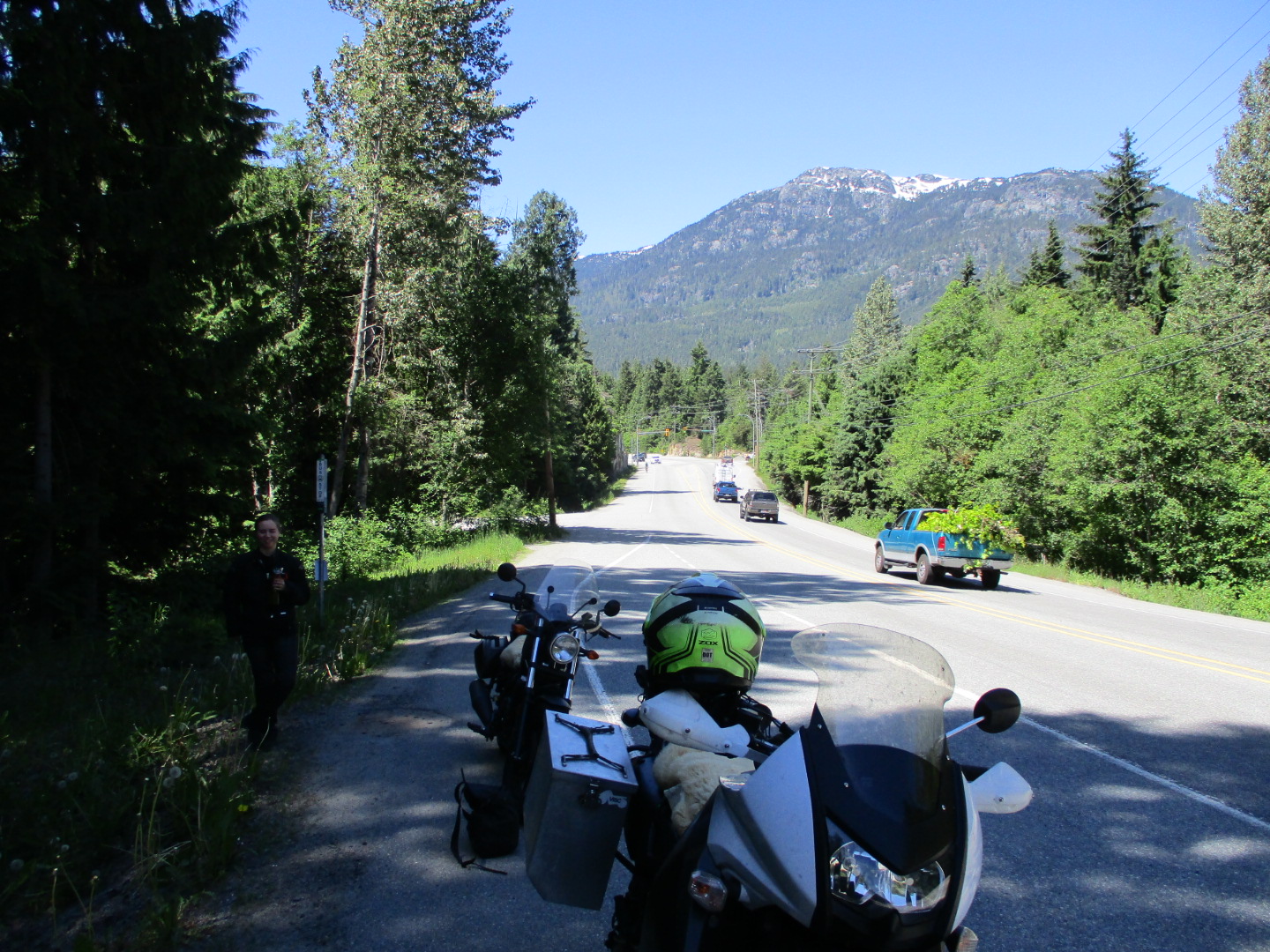 In Pemberton we ate lunch at the Town Square Restaurant where we had eaten before on a trip last year. It seems like it is a popular spot for motorcycle travellers.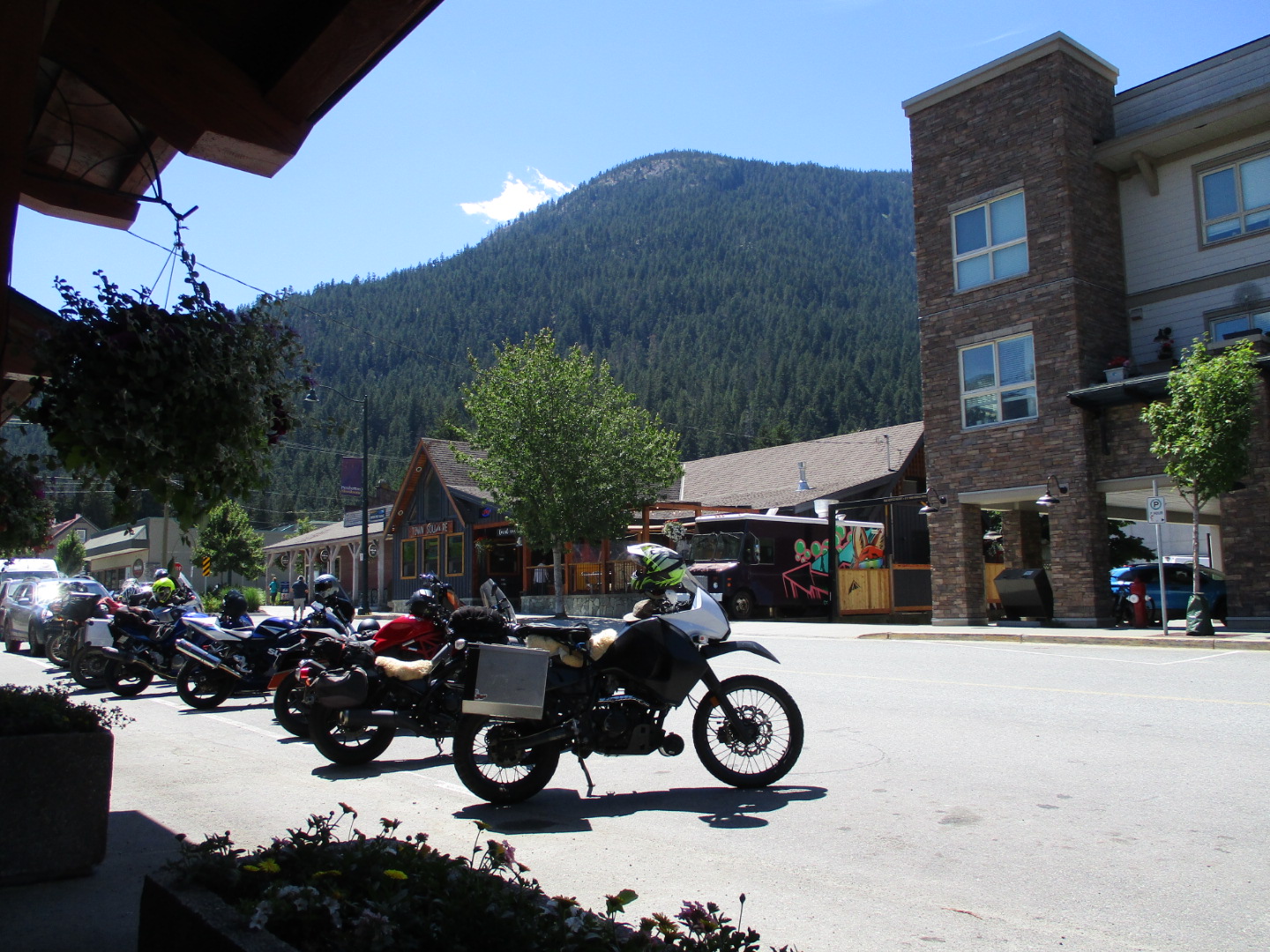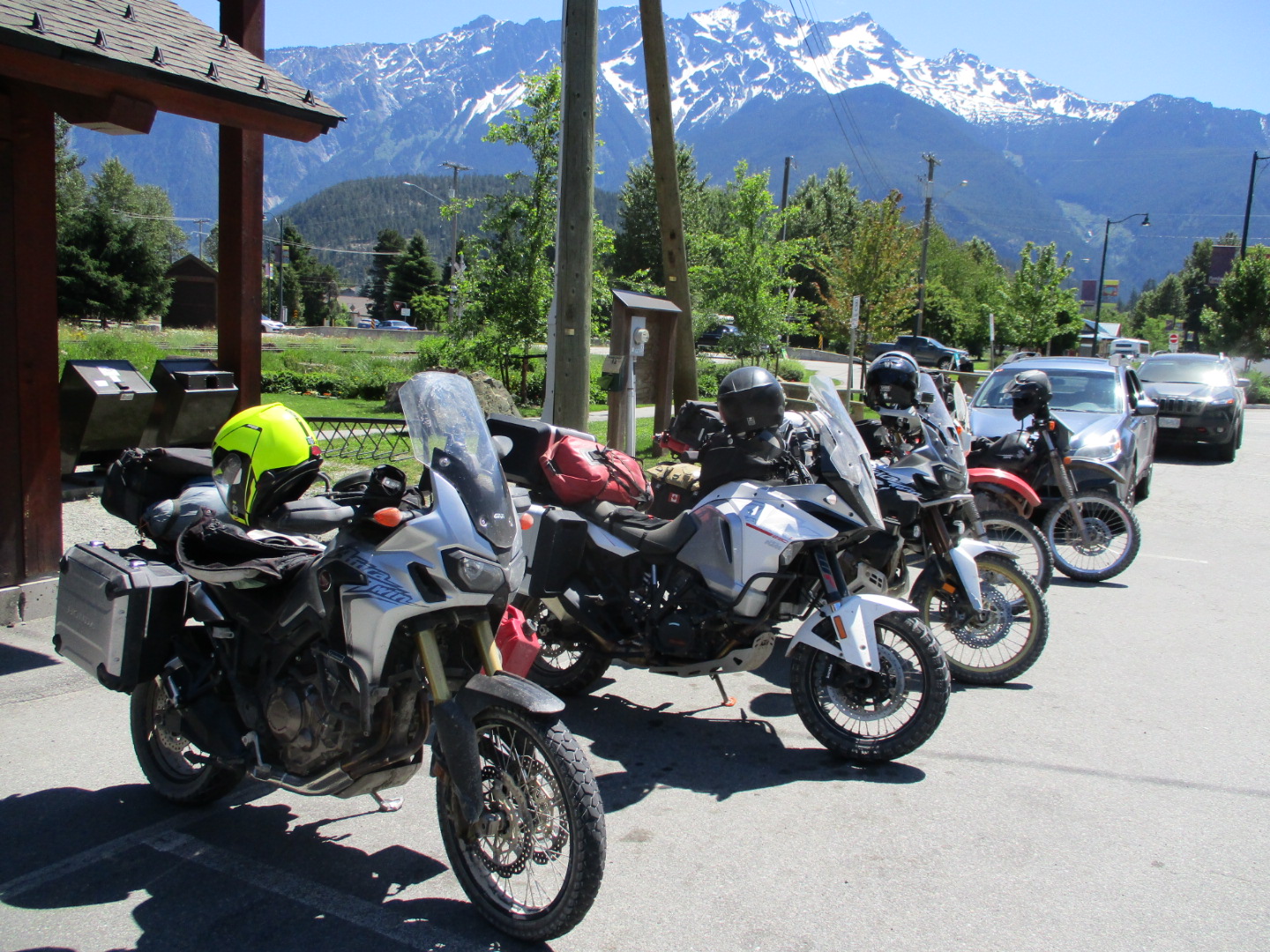 Heading north-east on highway 99 I tried pulling over on a windy part of the road to let a tailgating pickup truck pass us. While I was looking back to see if Meredith was okay, I tipped my bike over on the steep road. It was embarassing, and I always forget to take pictures when that happens. We stopped shortly after to catch our breath at the Joffre Lakes parking lot.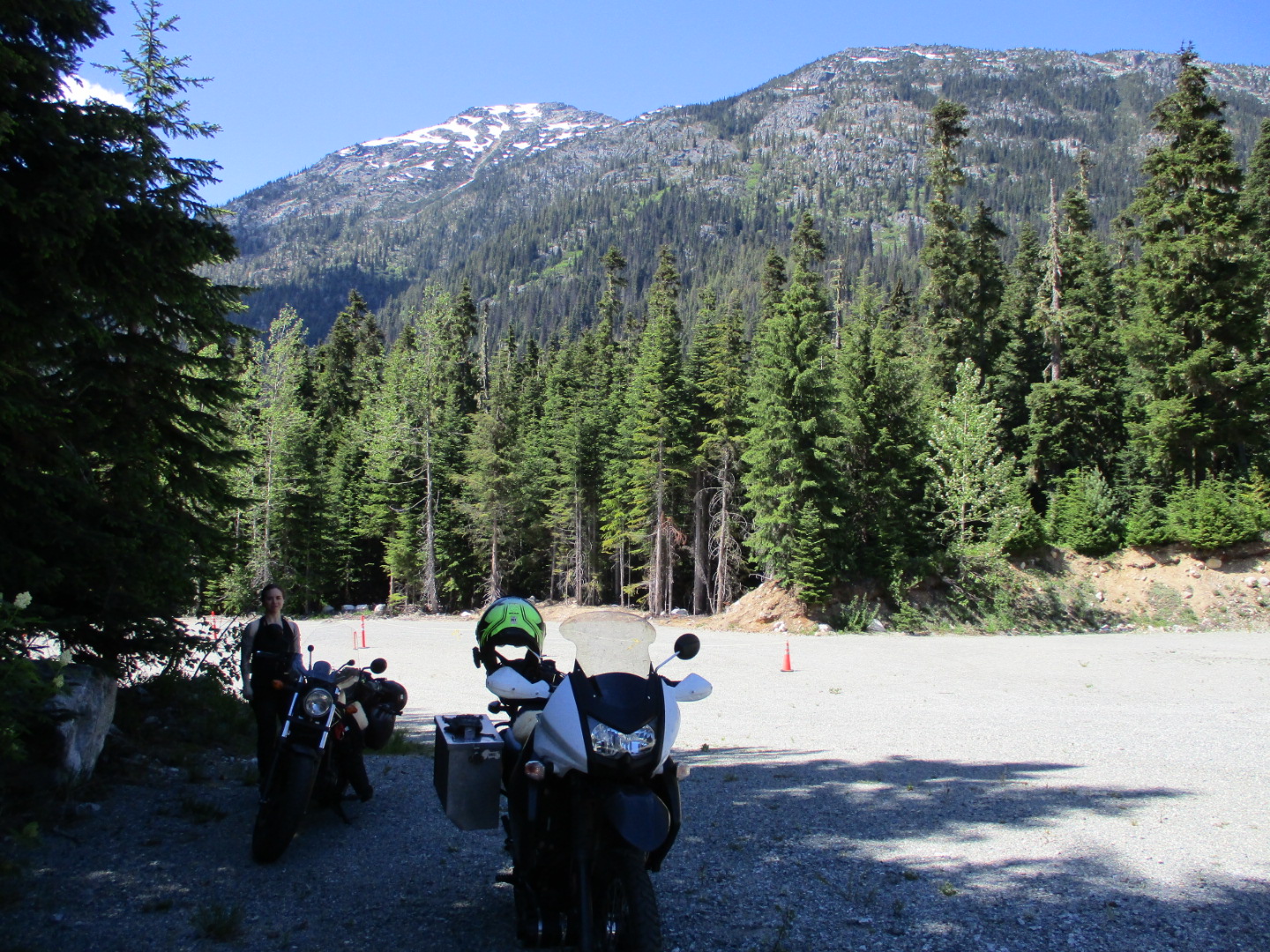 On this trip I decided I would try taking pictures while riding with a small point and shoot camera. The following photographs were shot at speed from the saddle.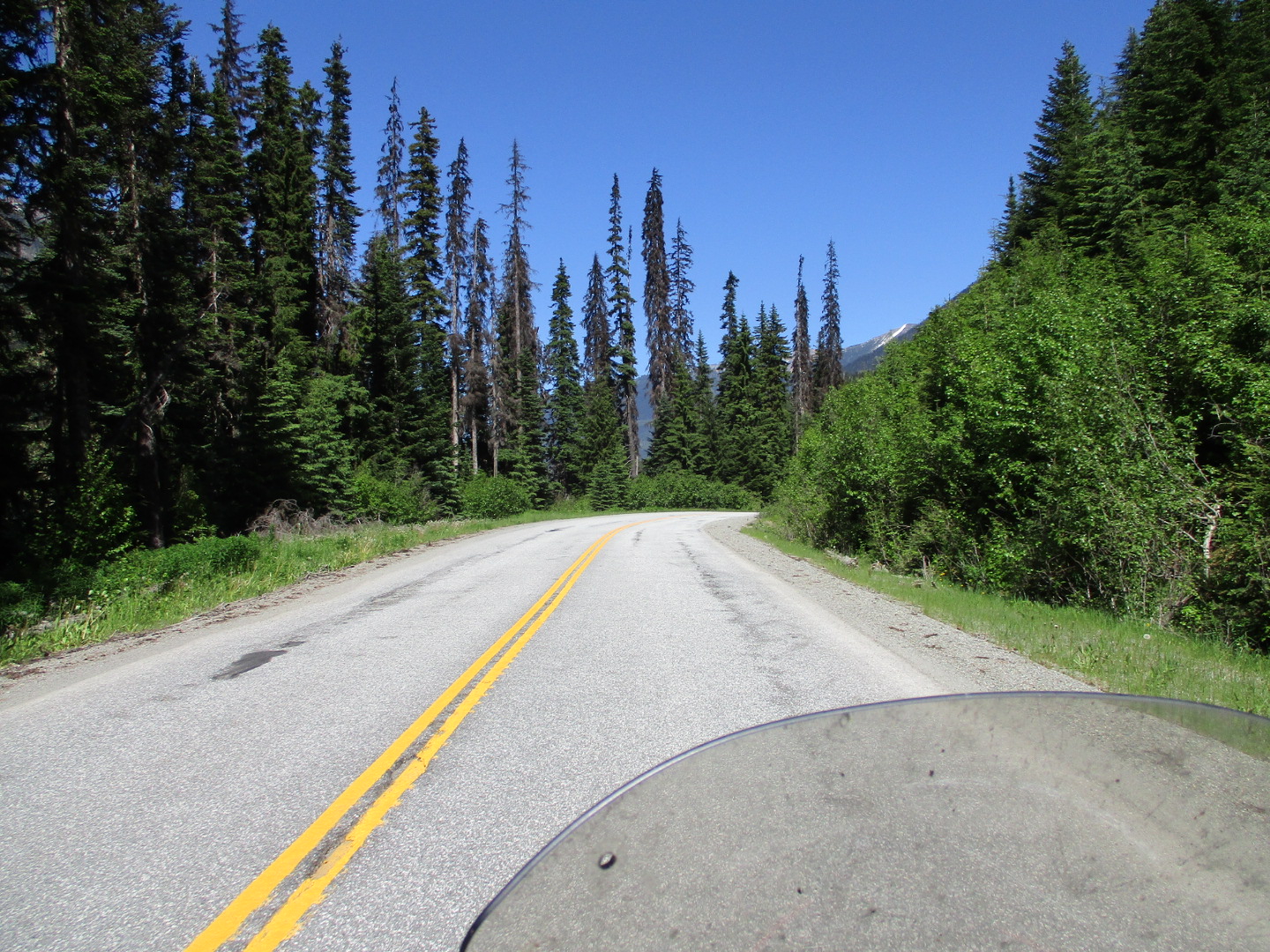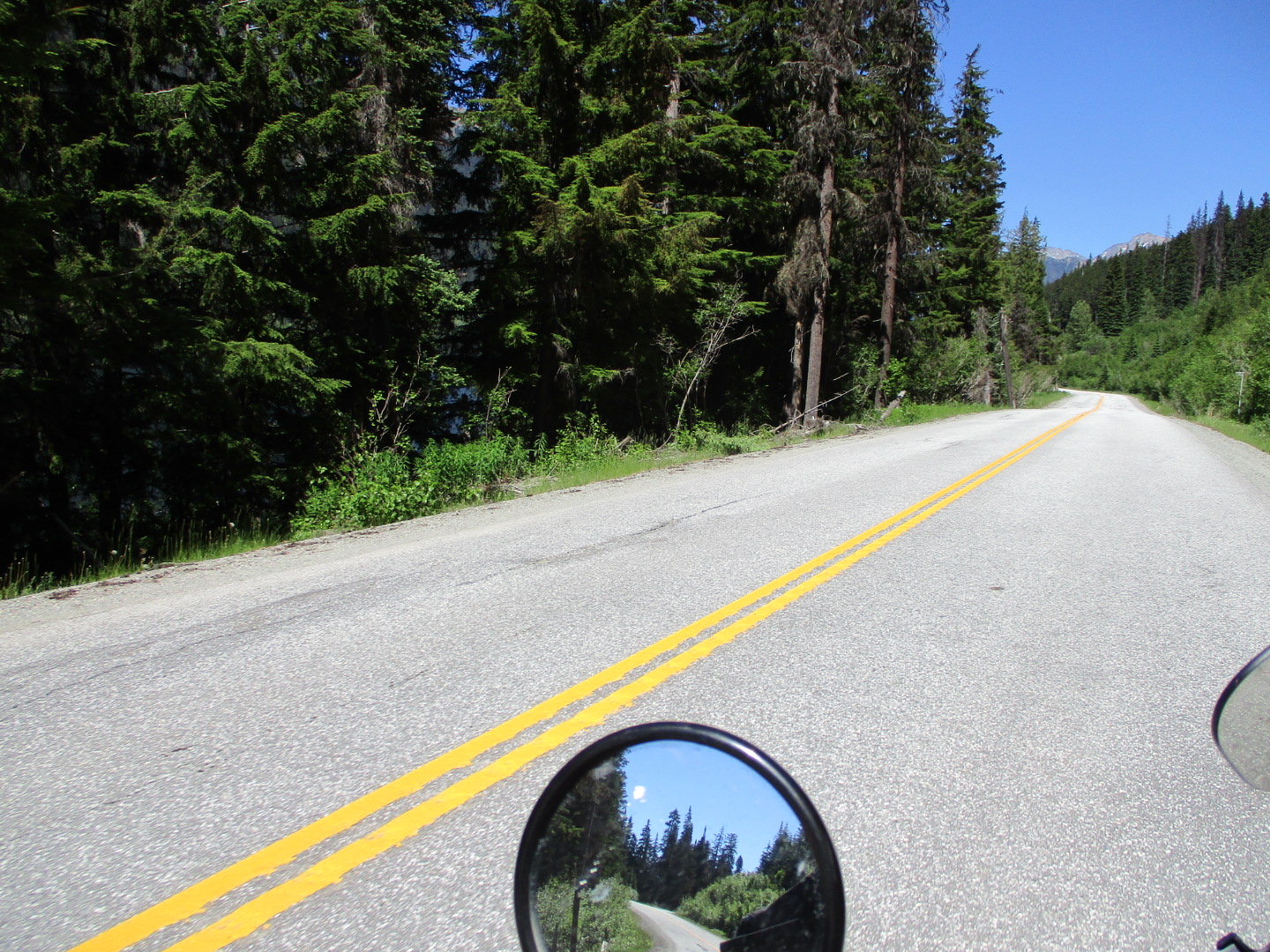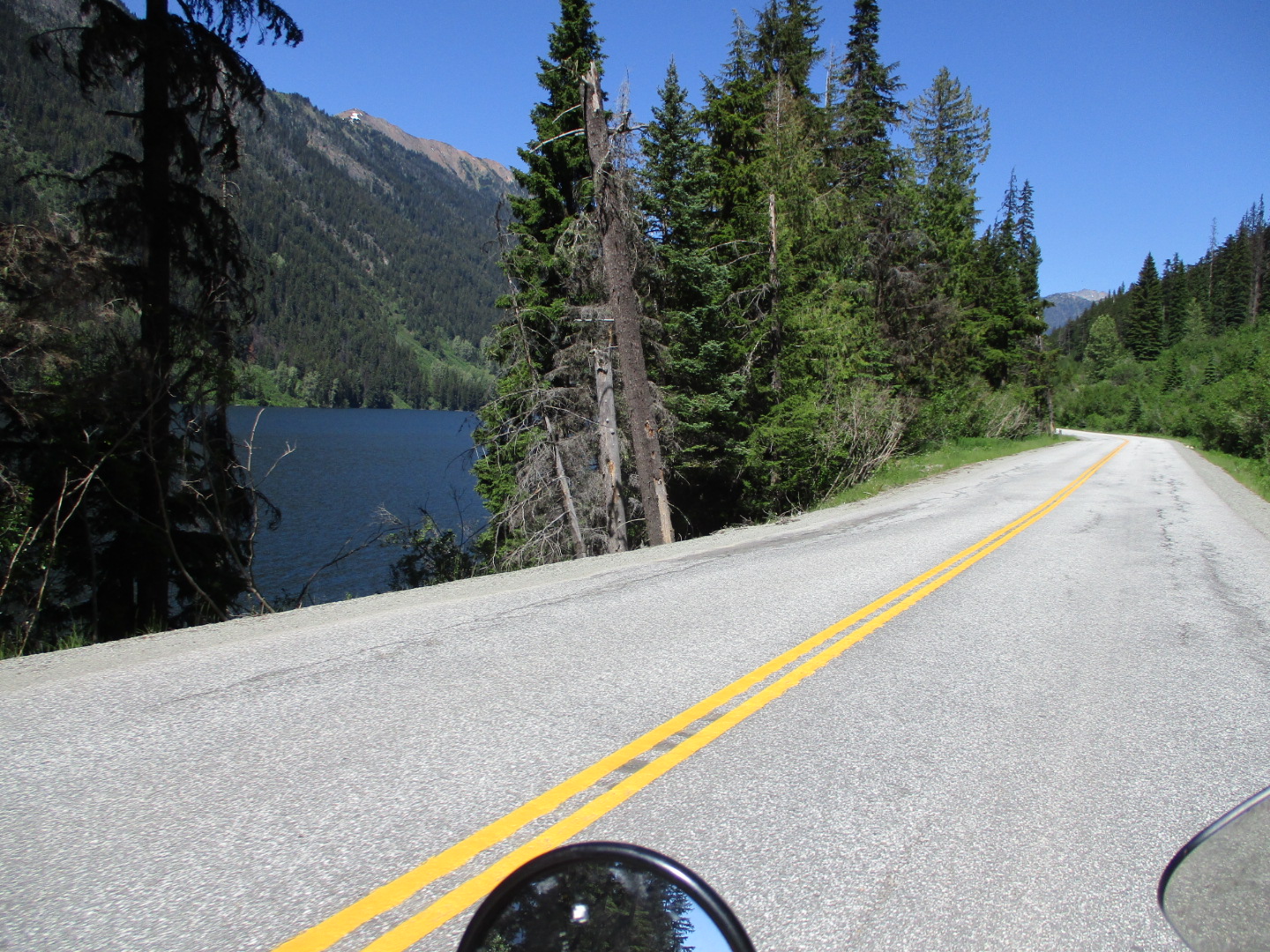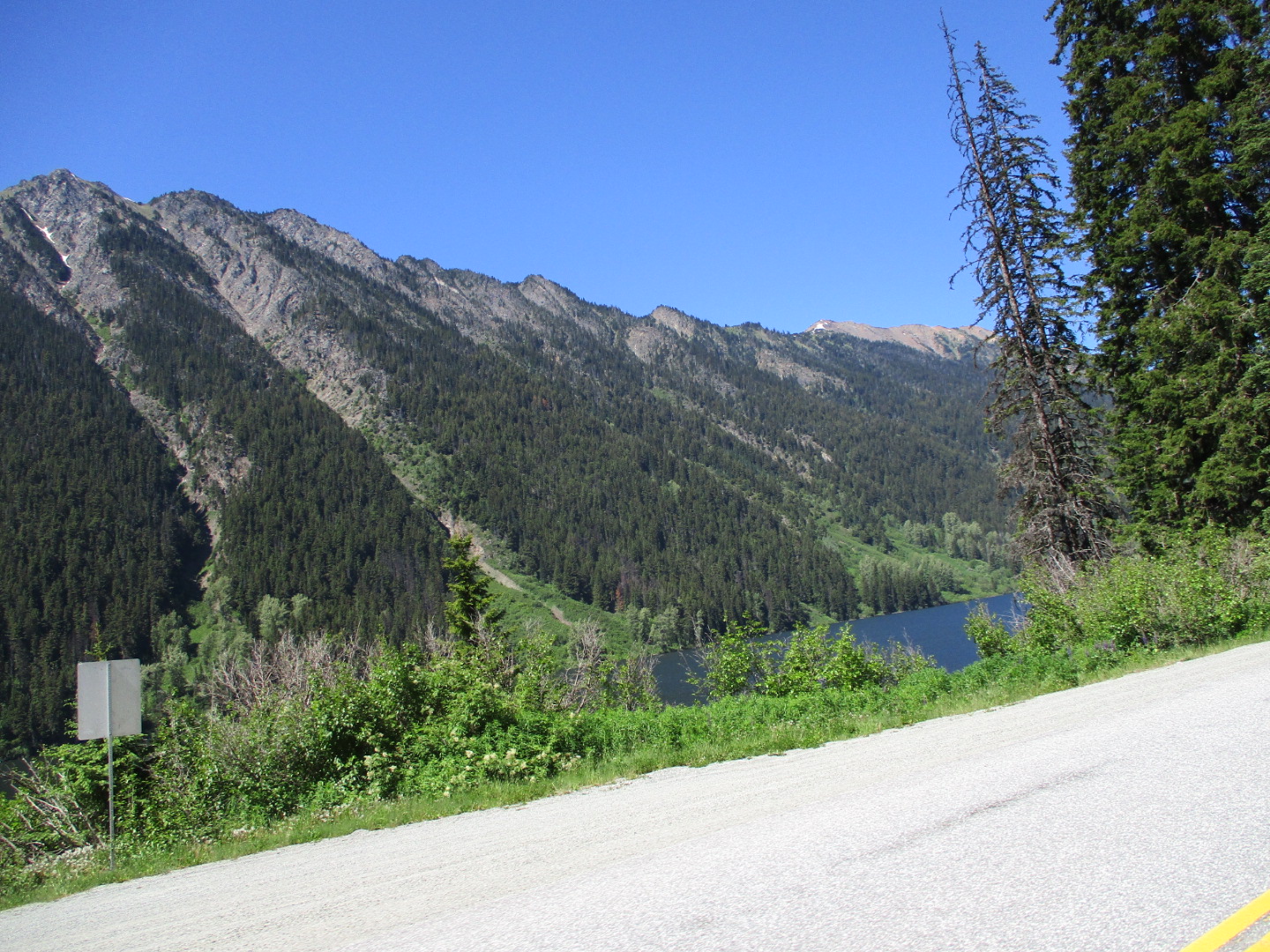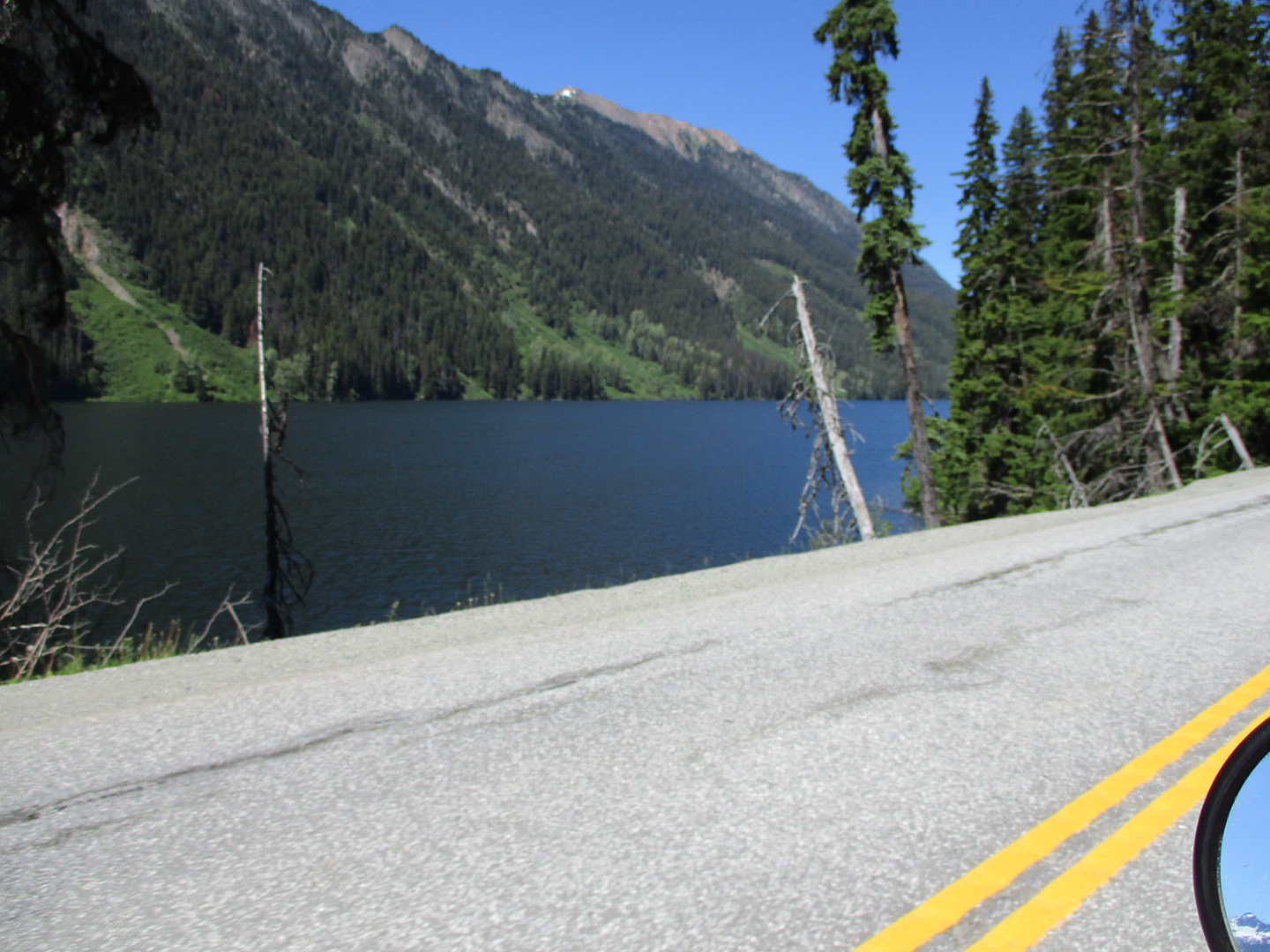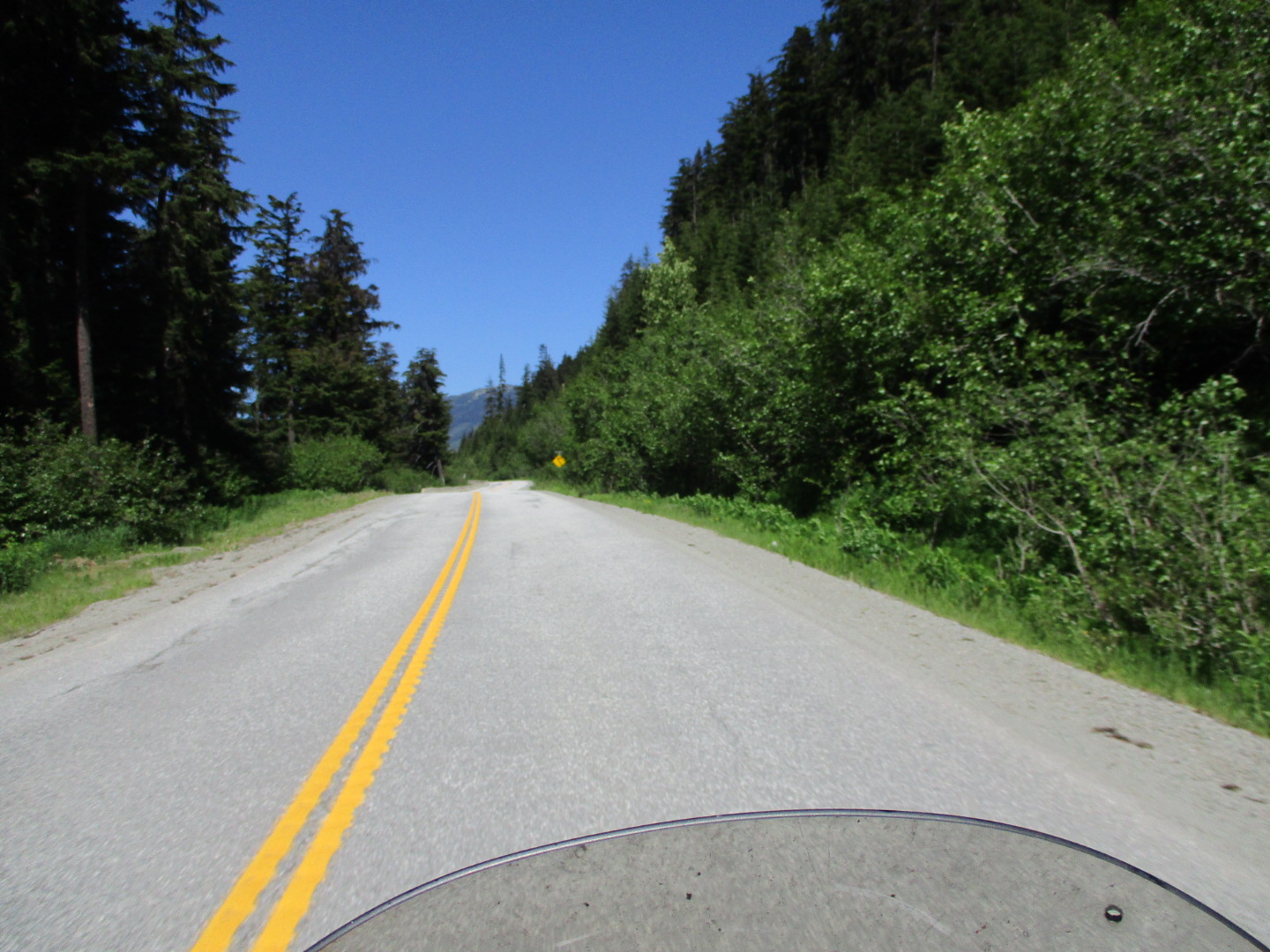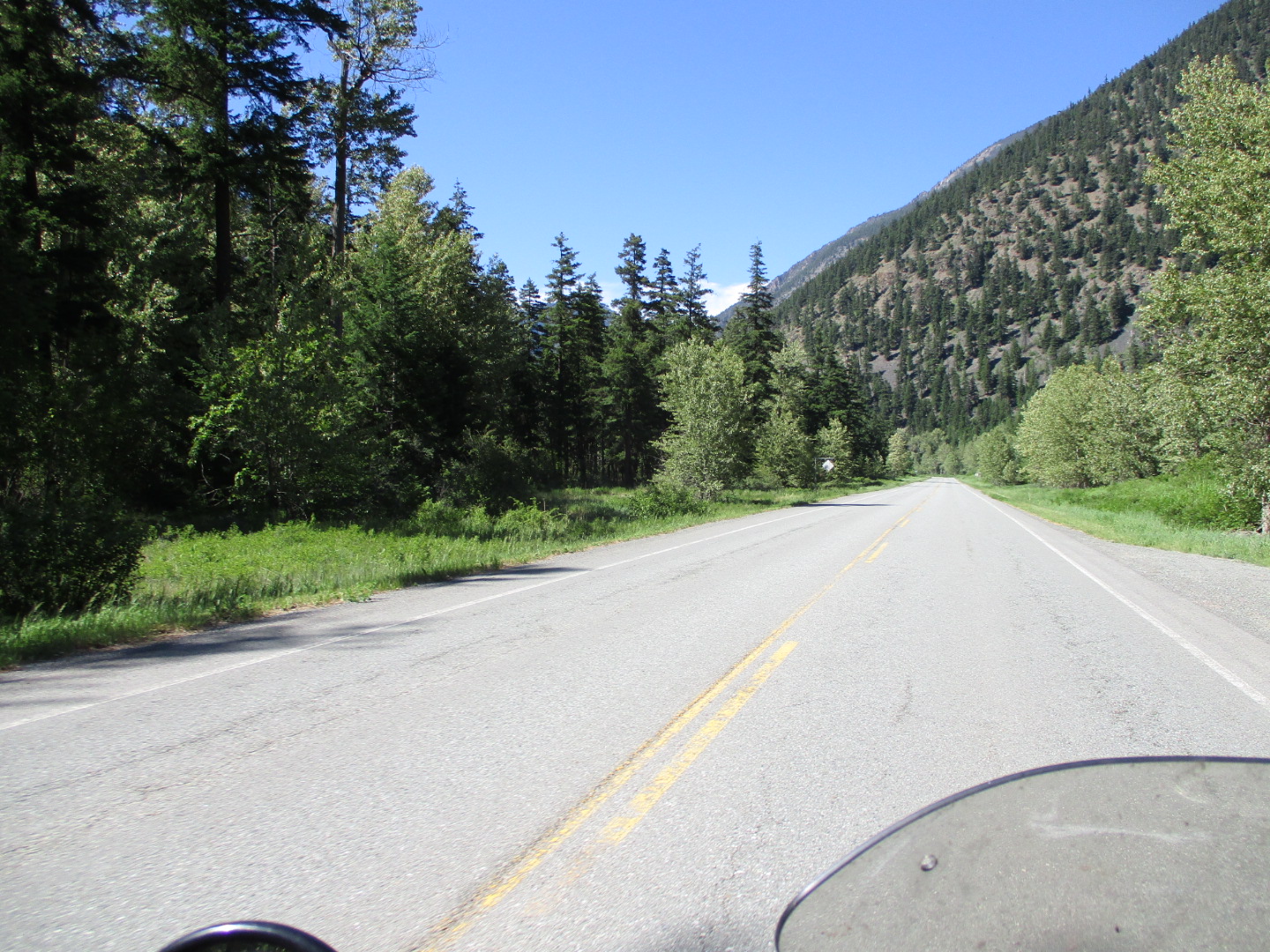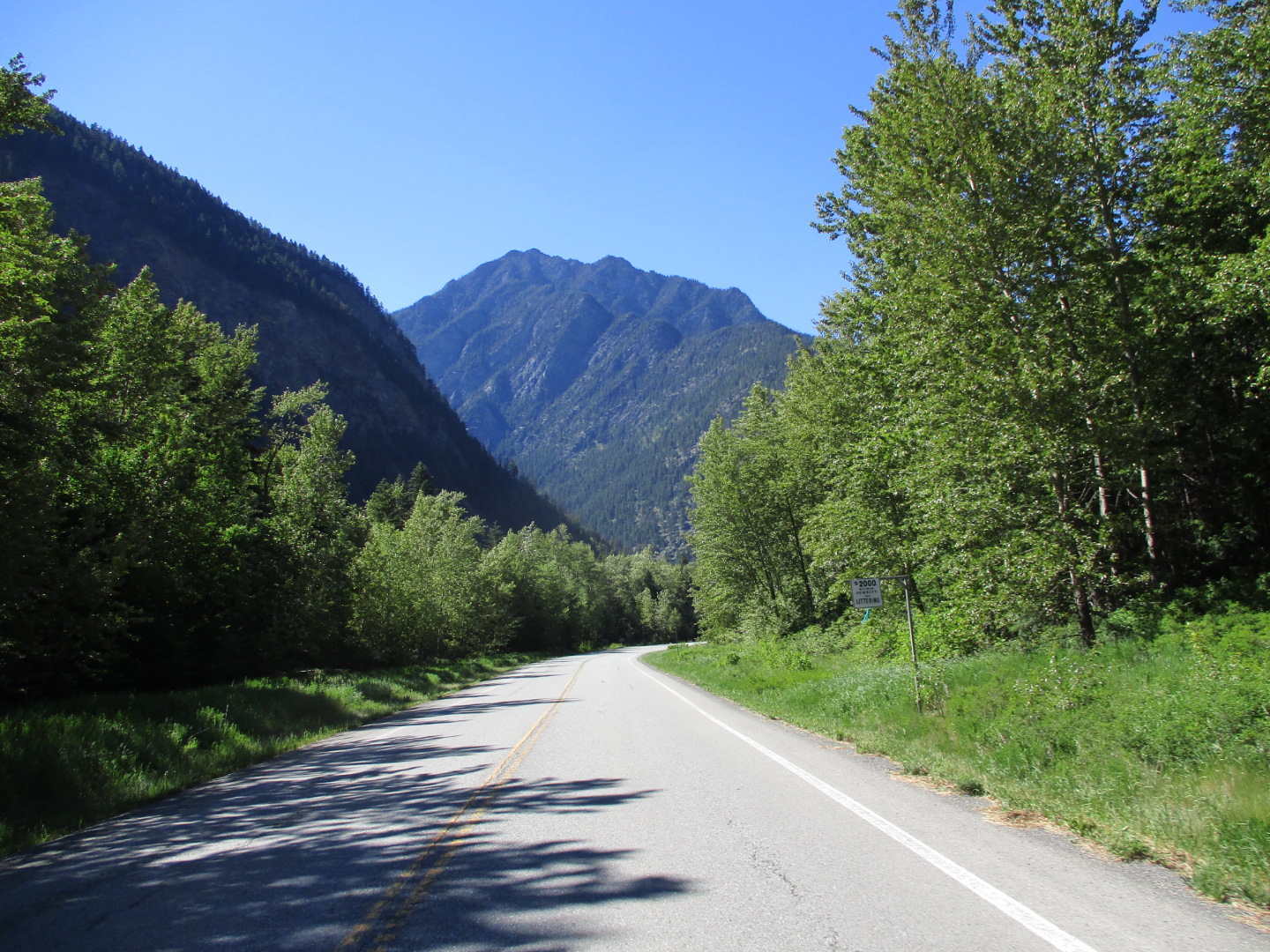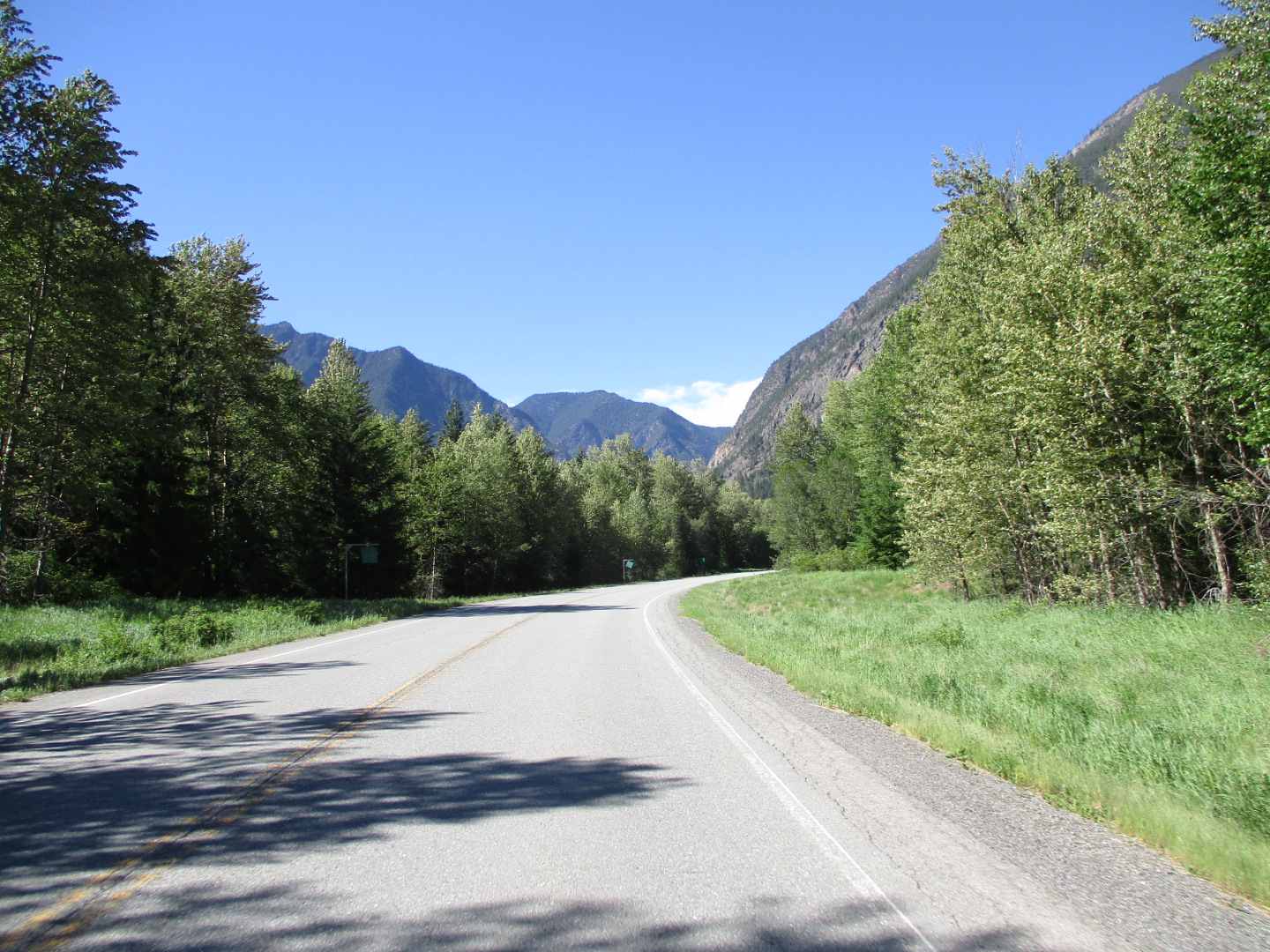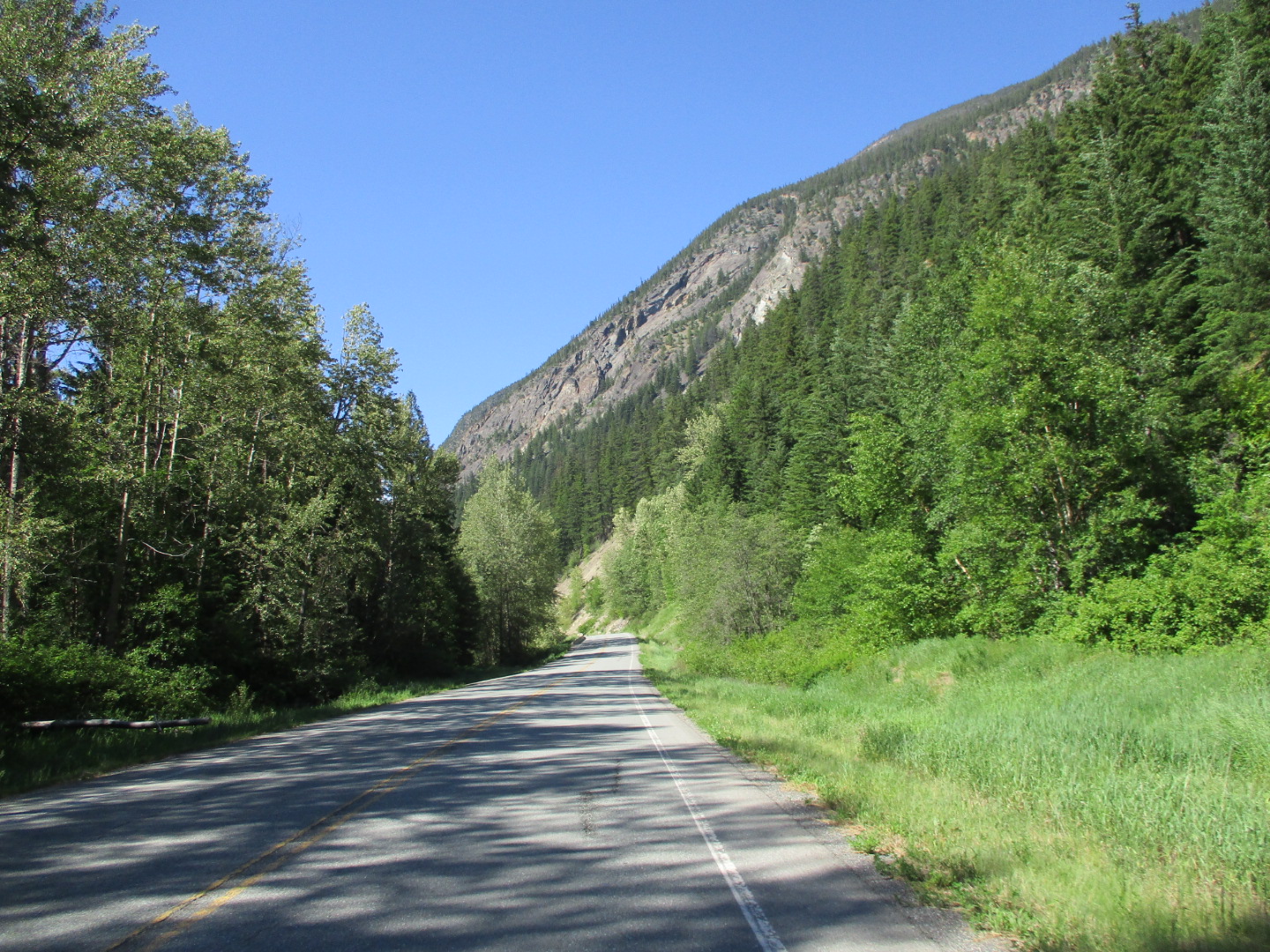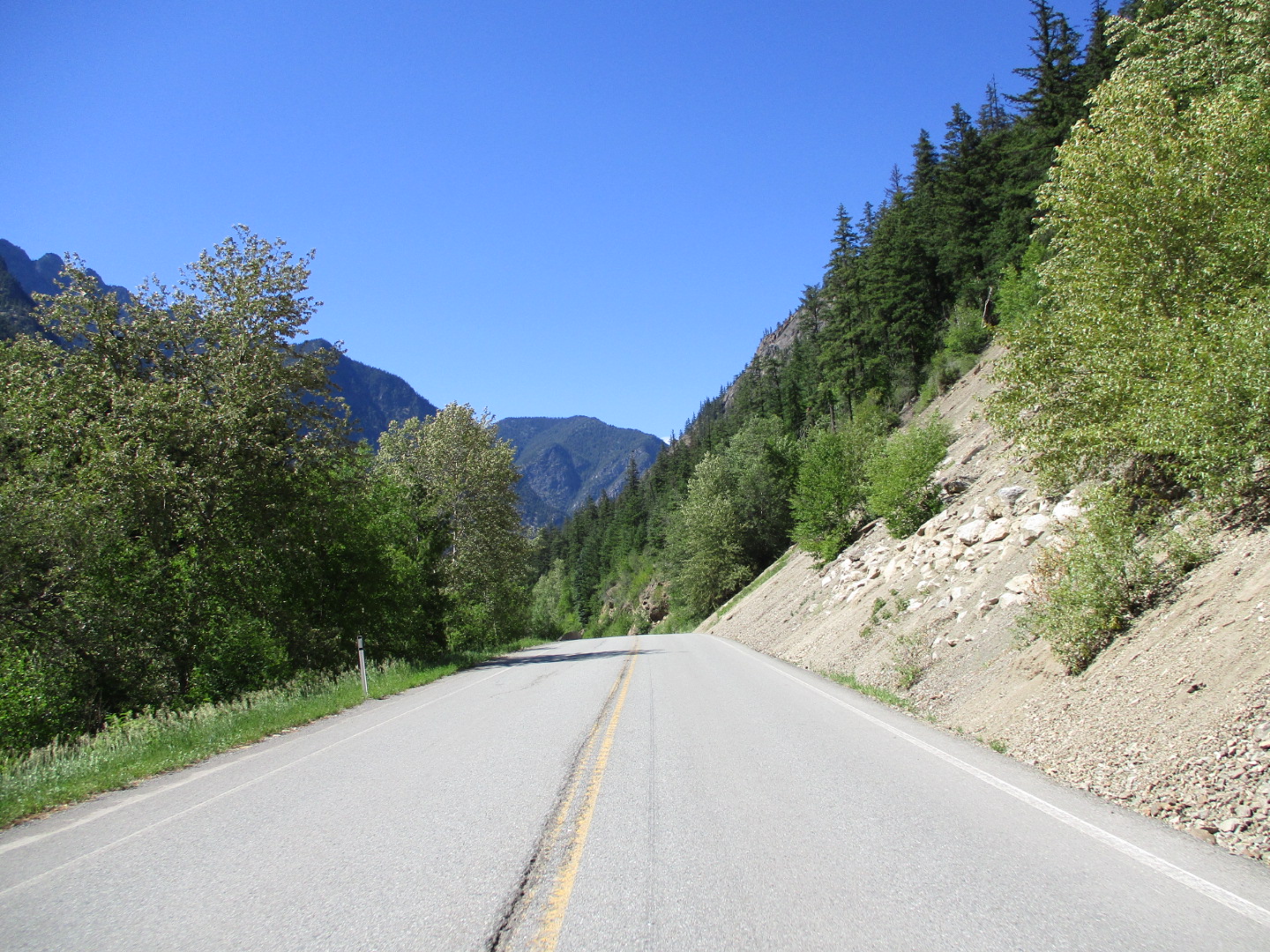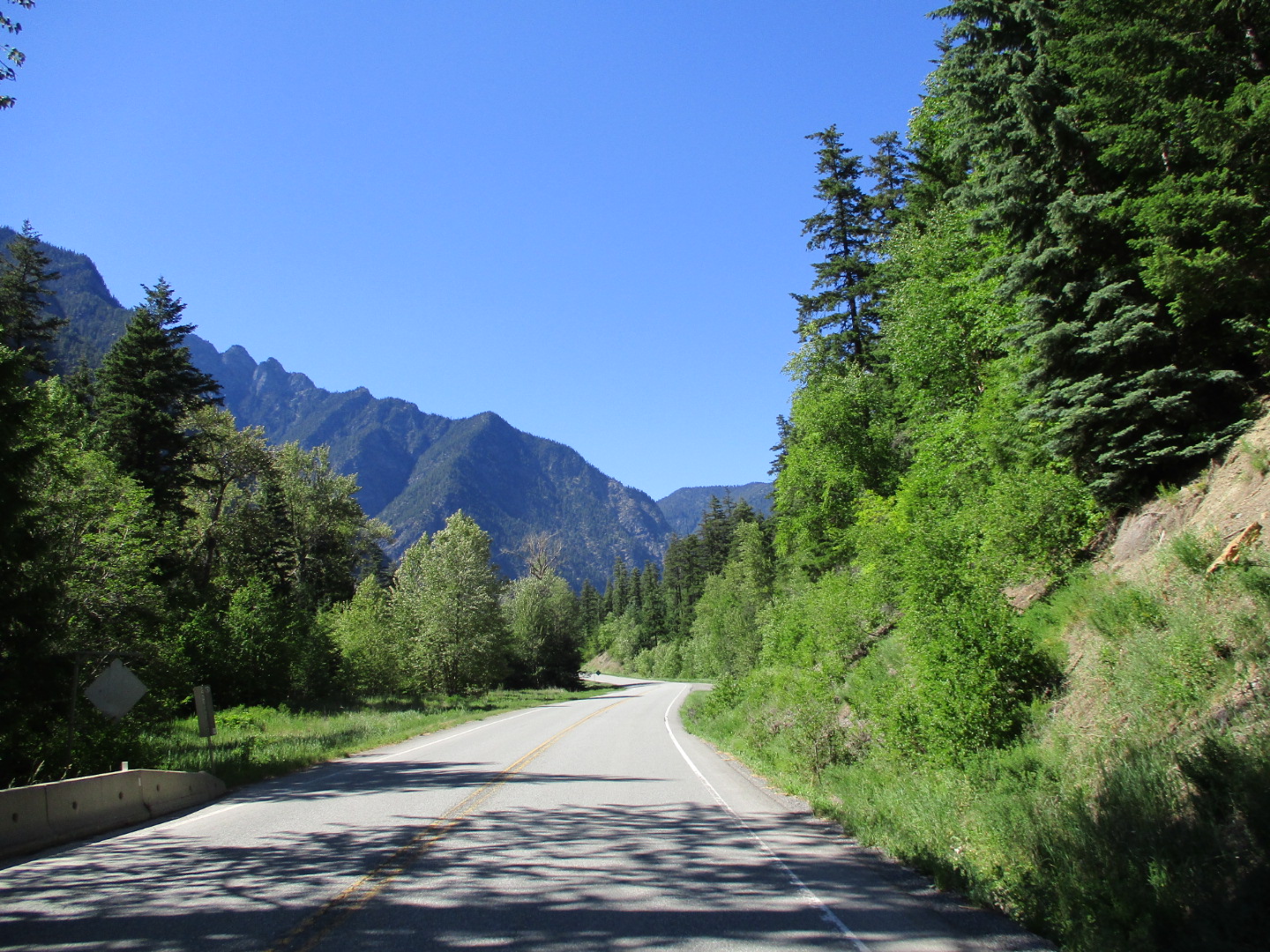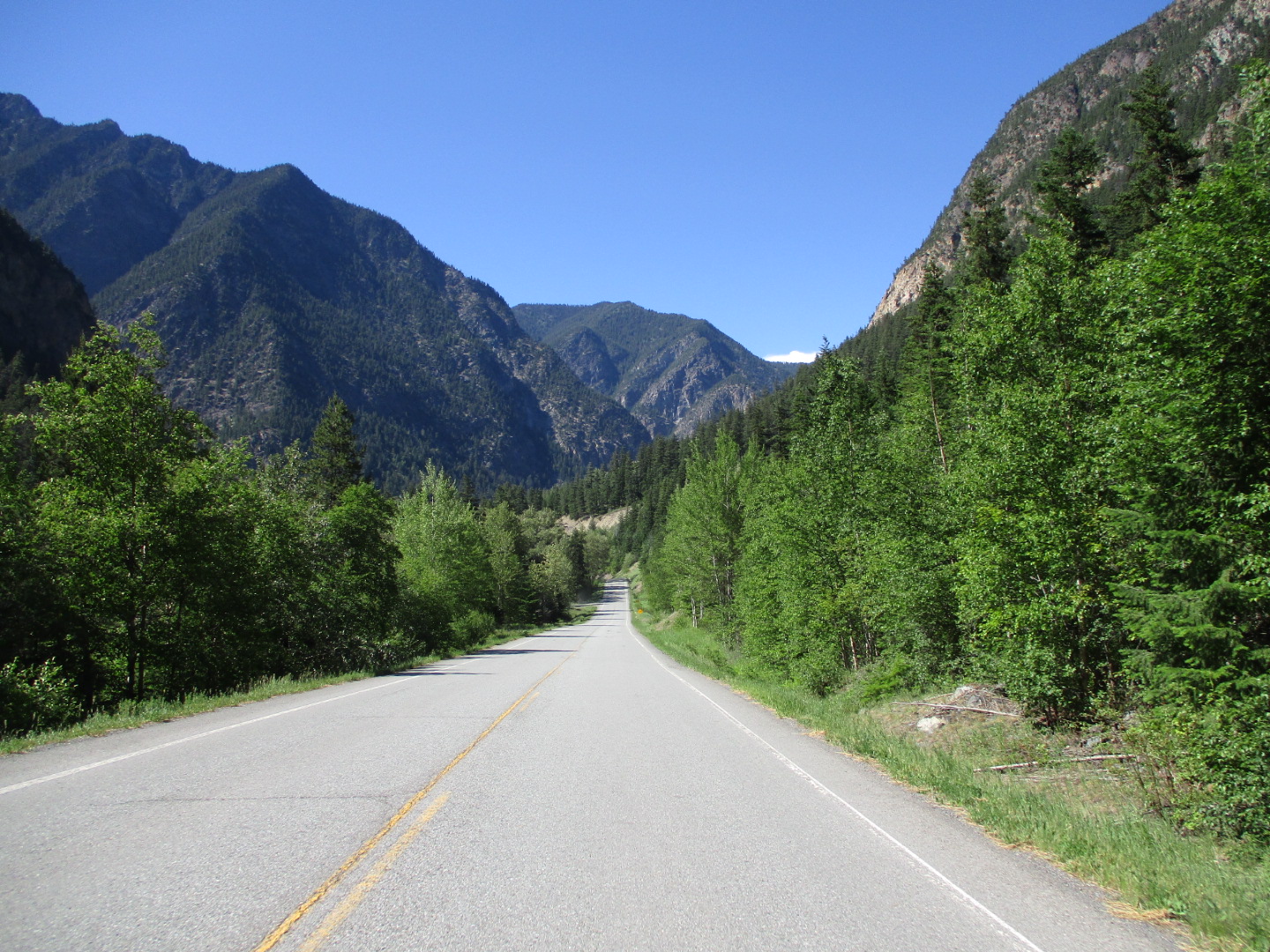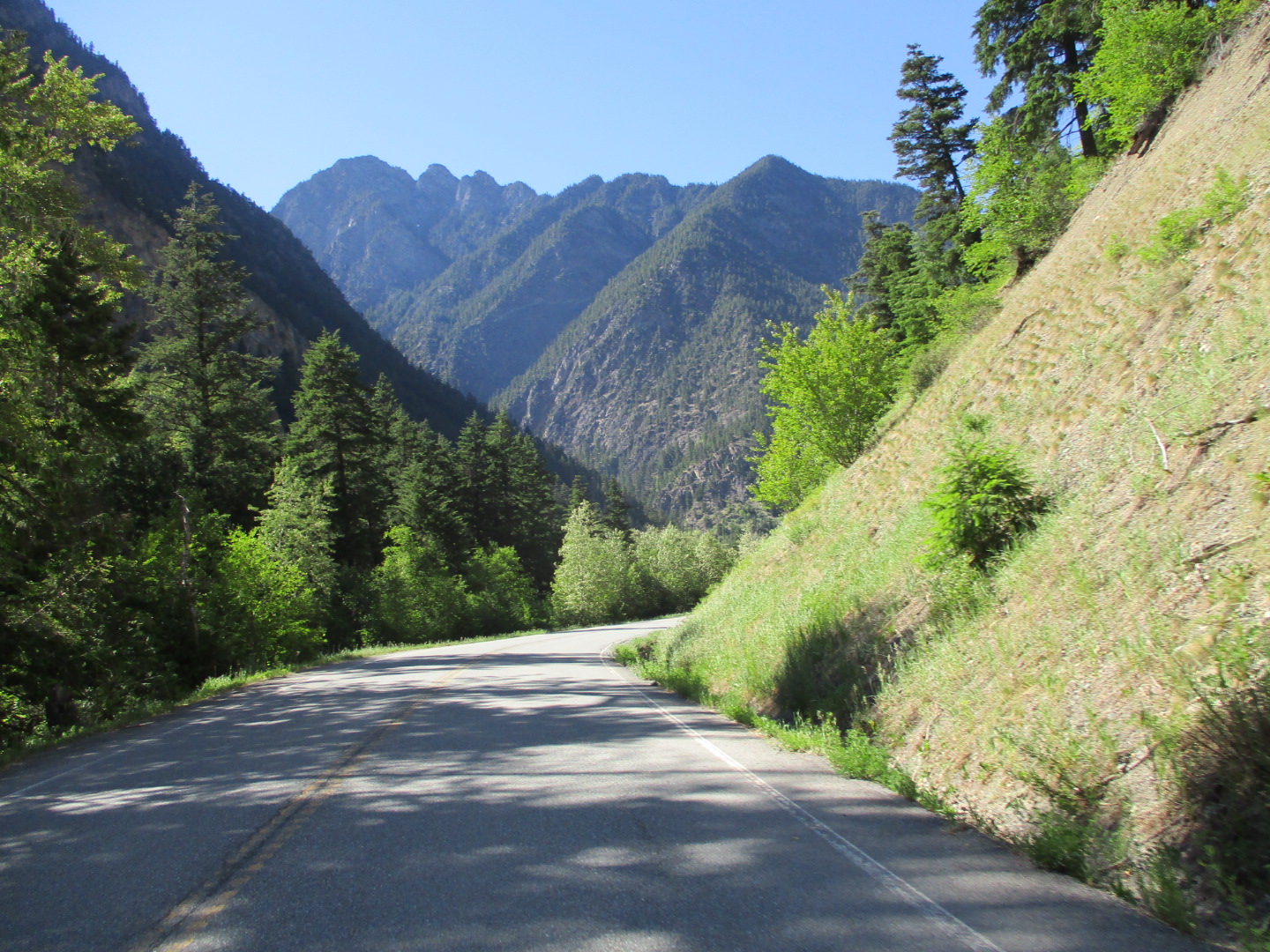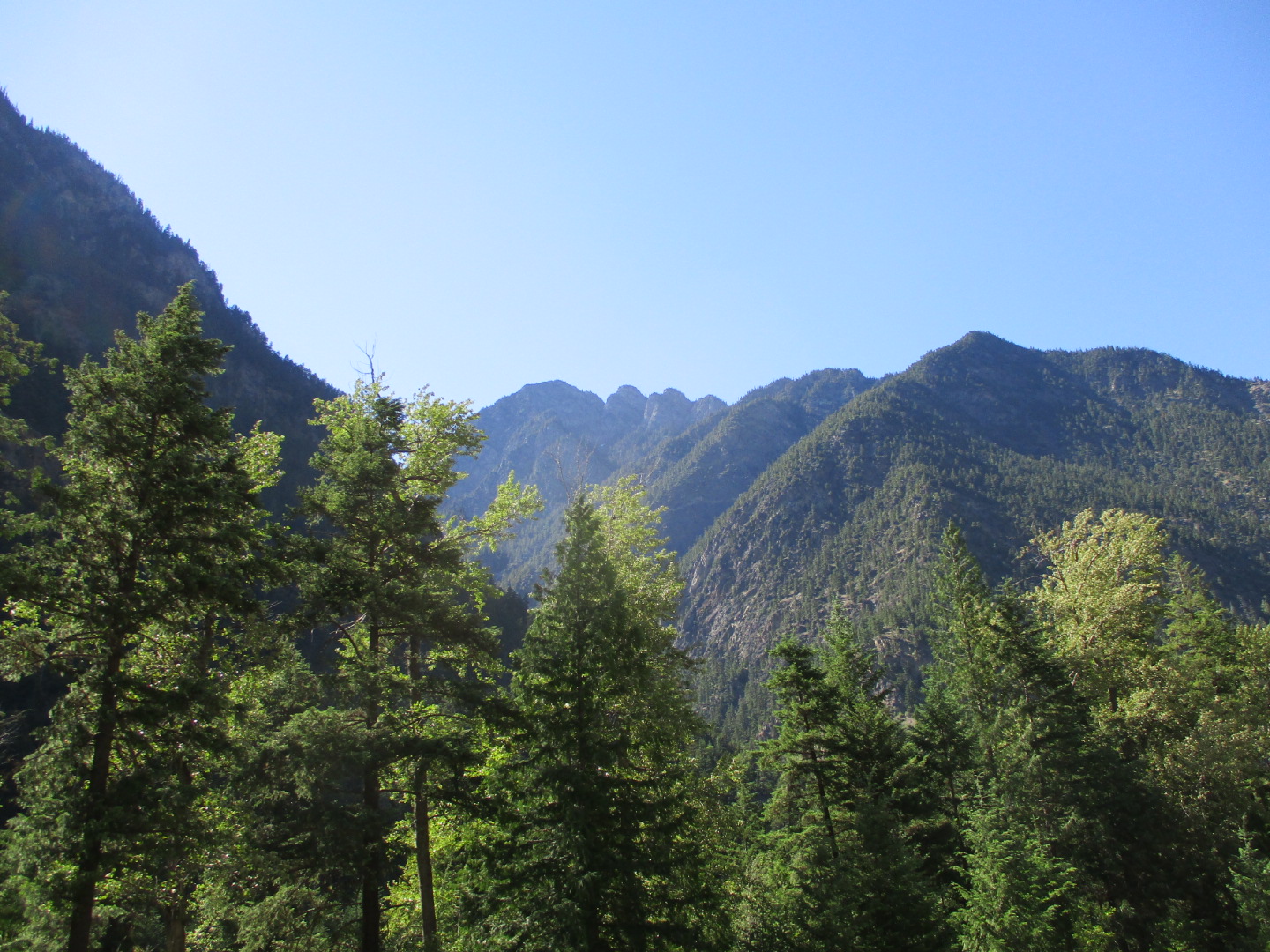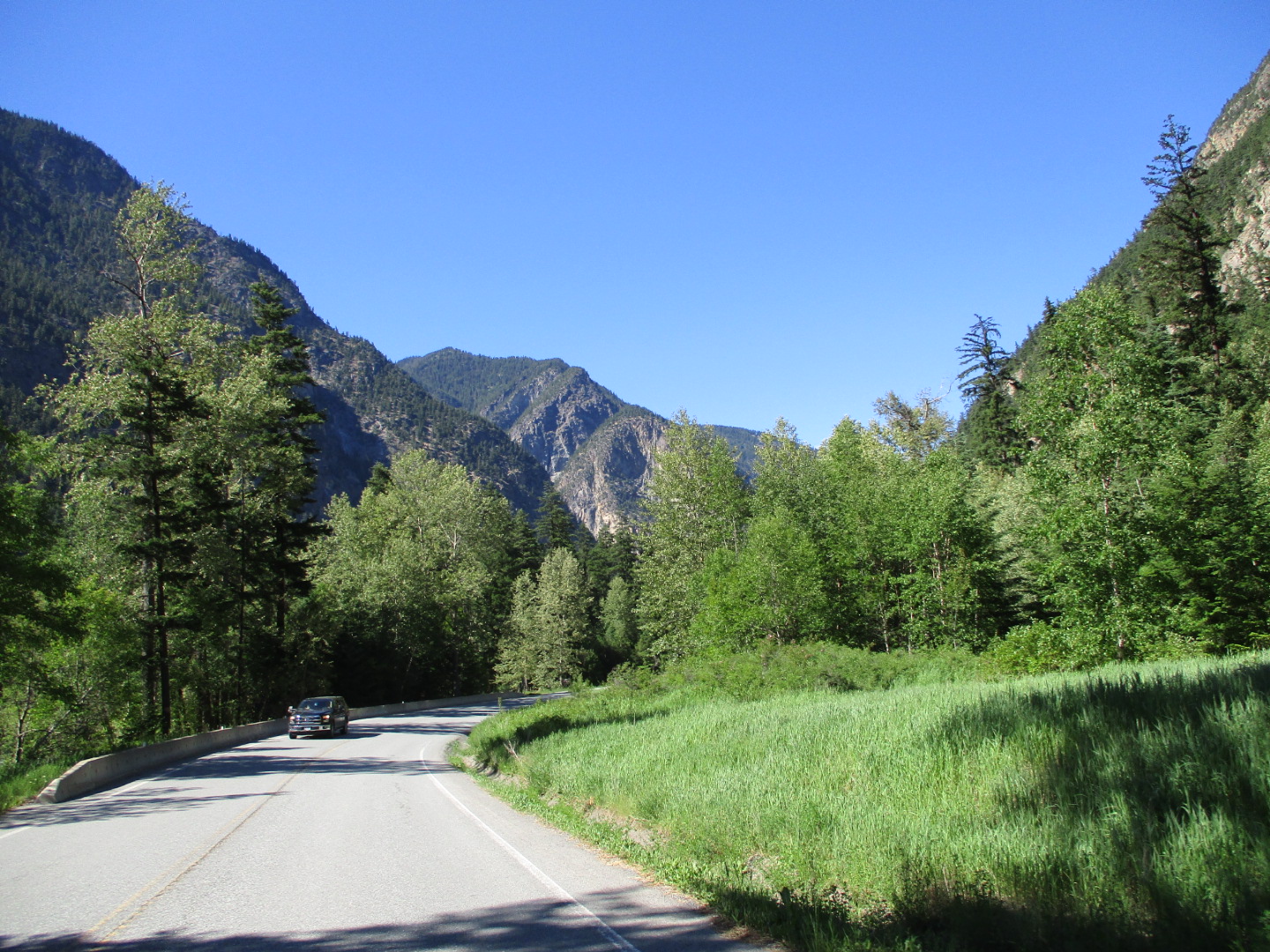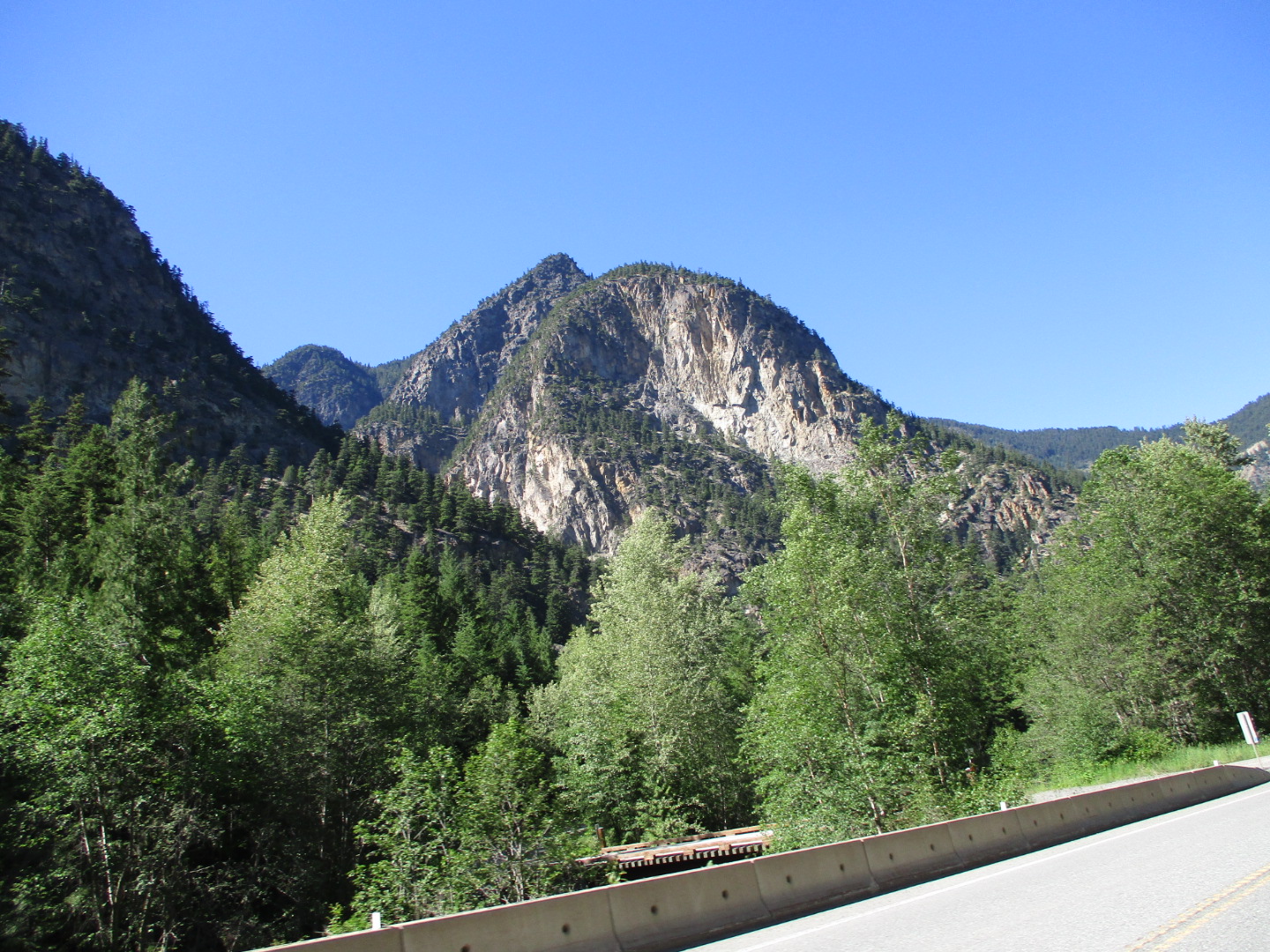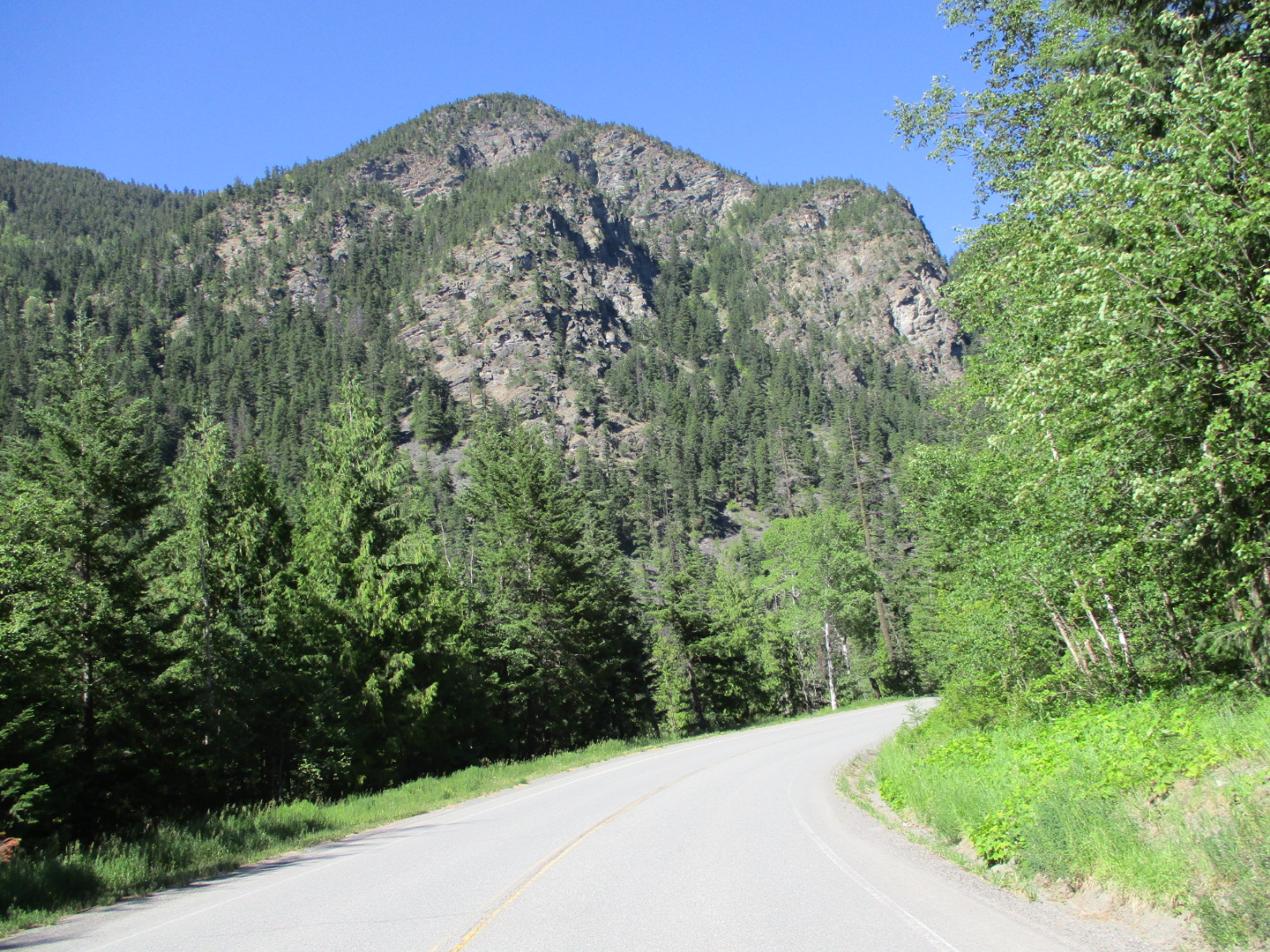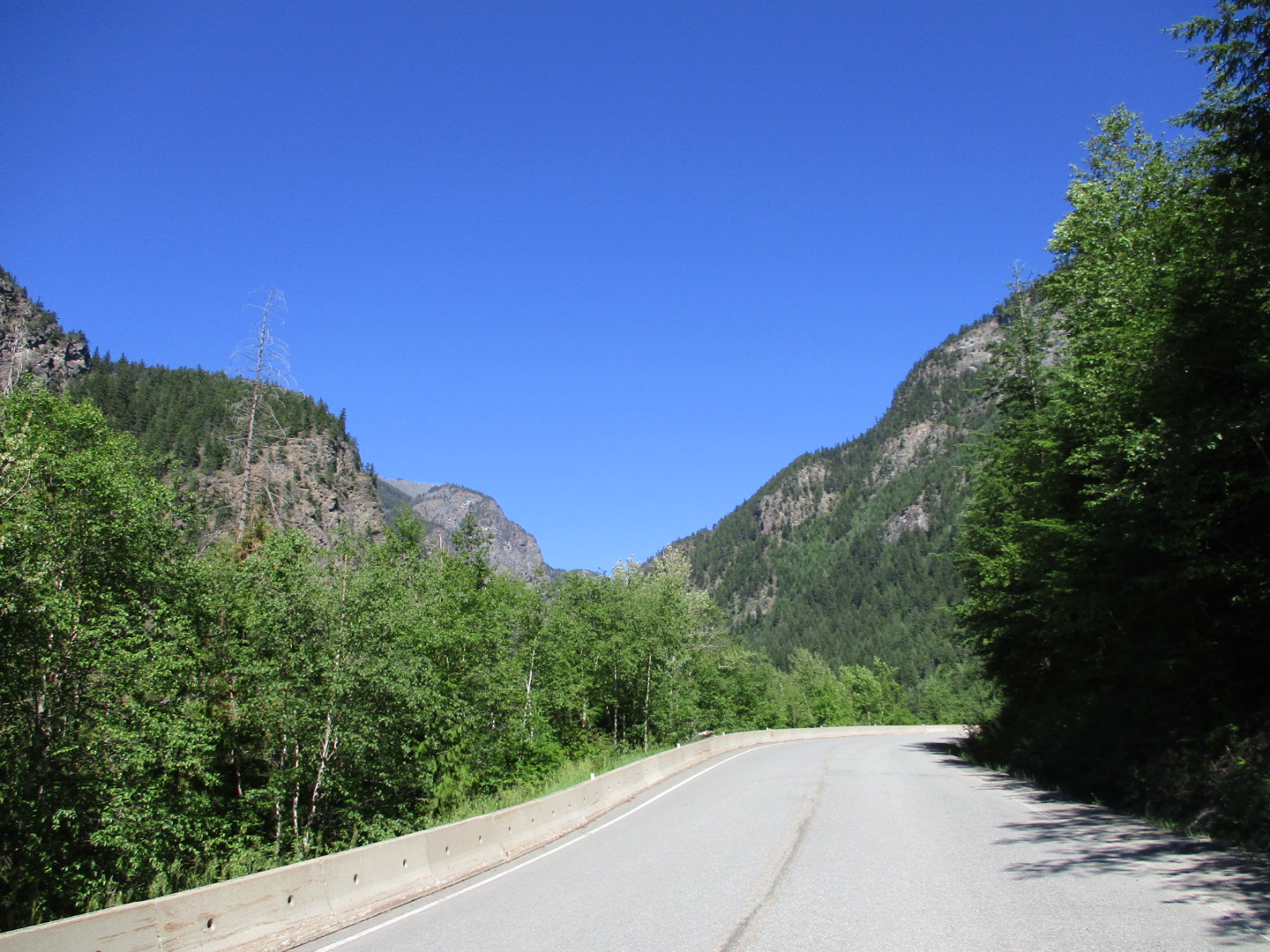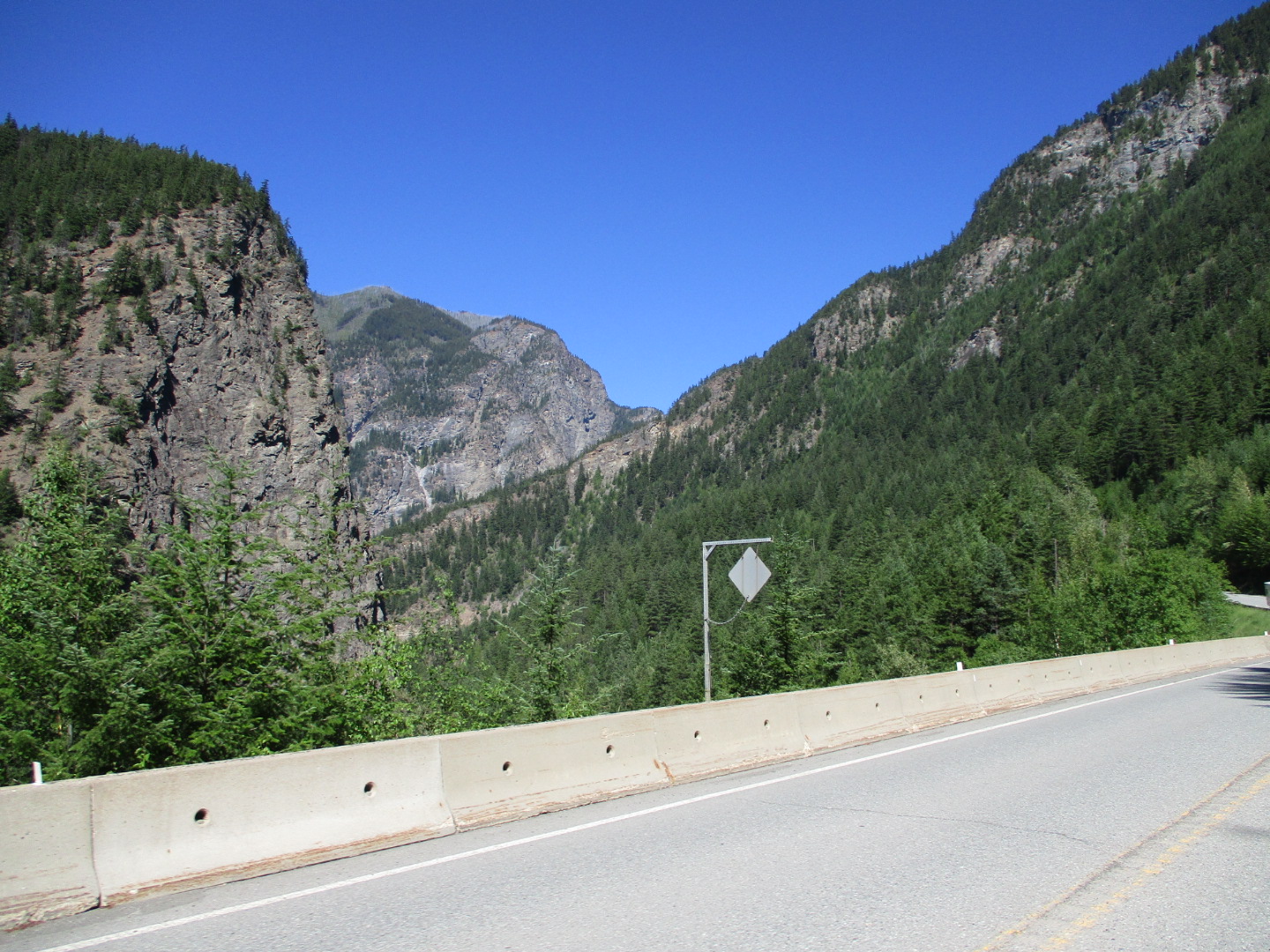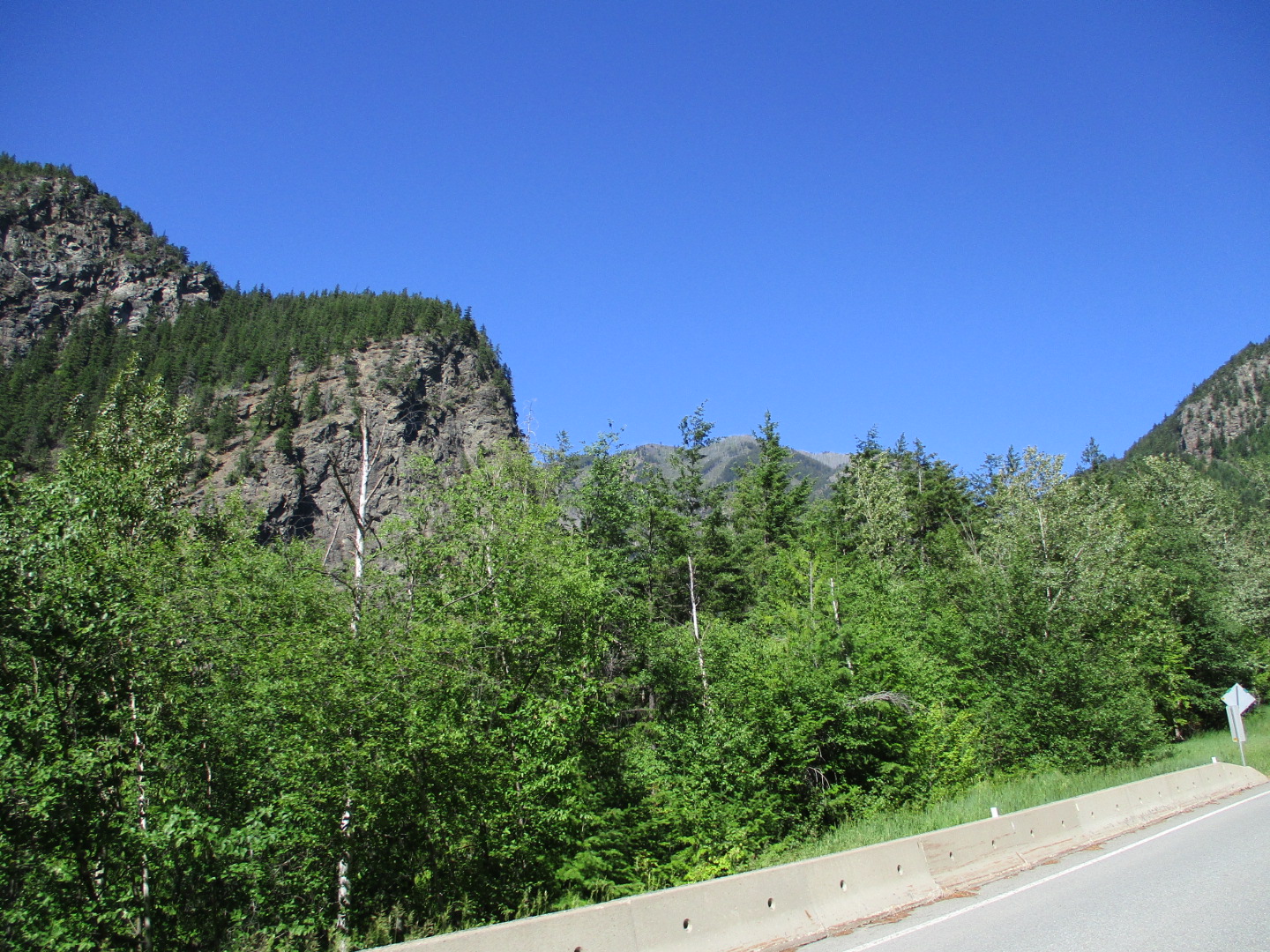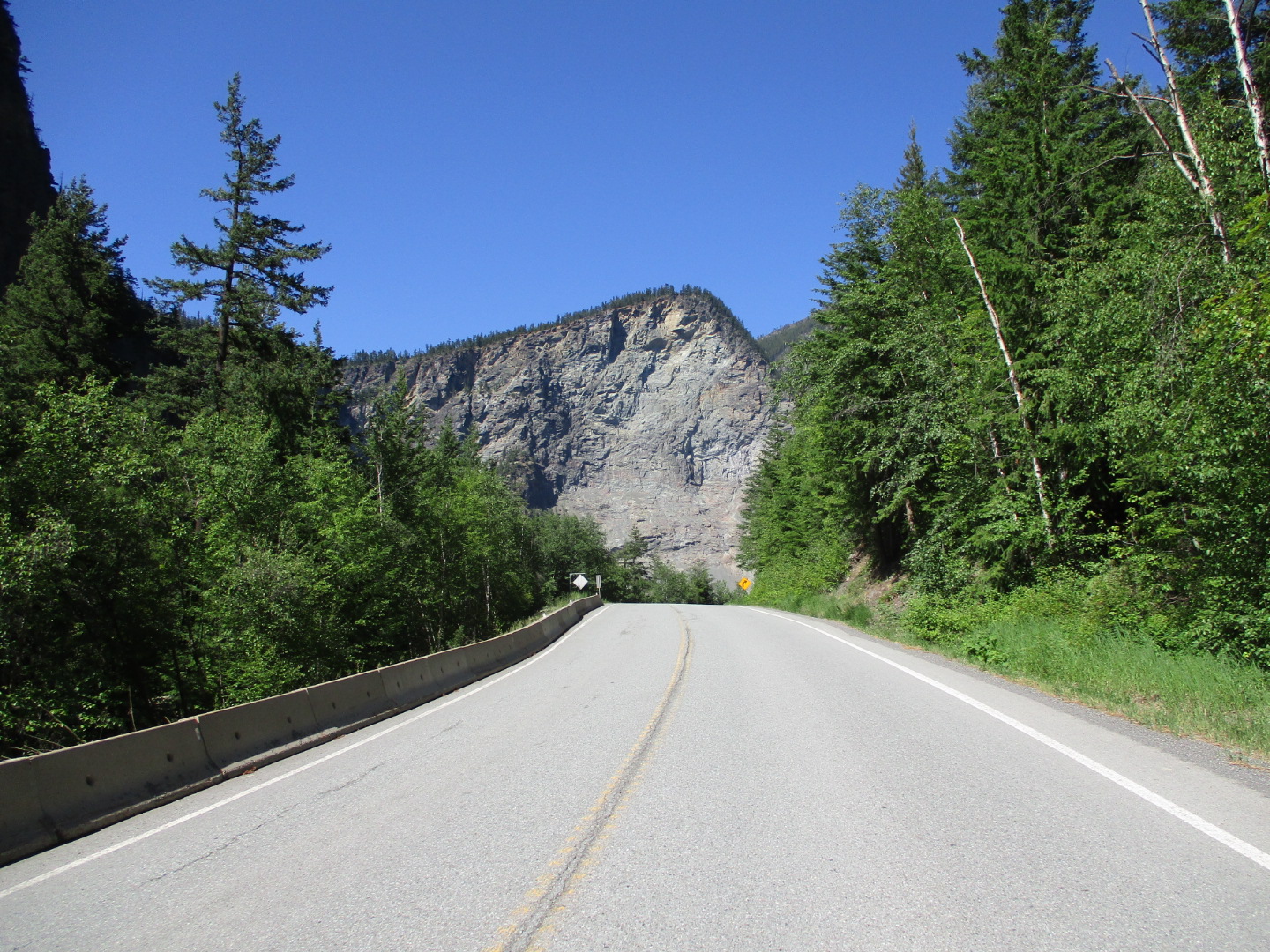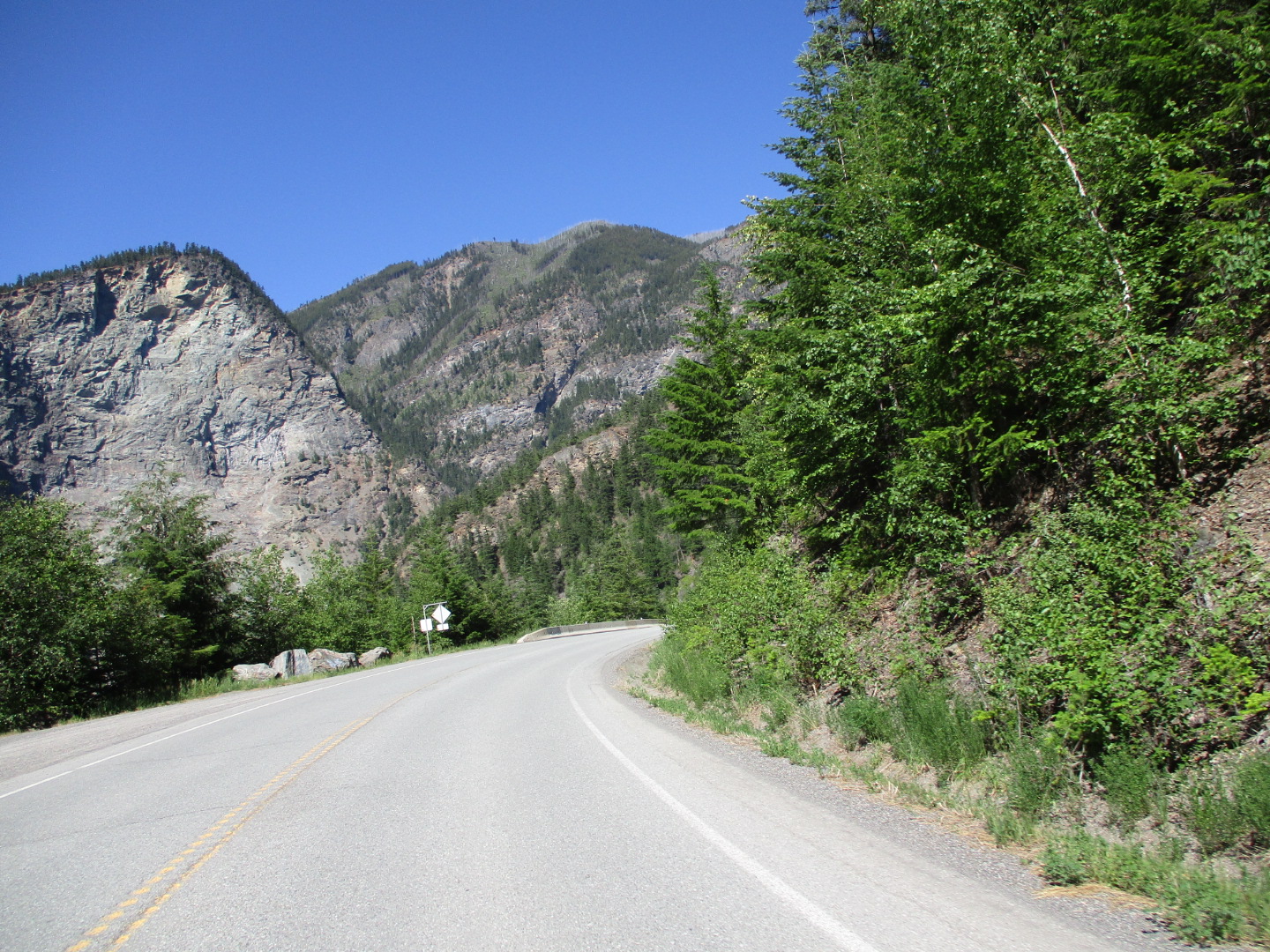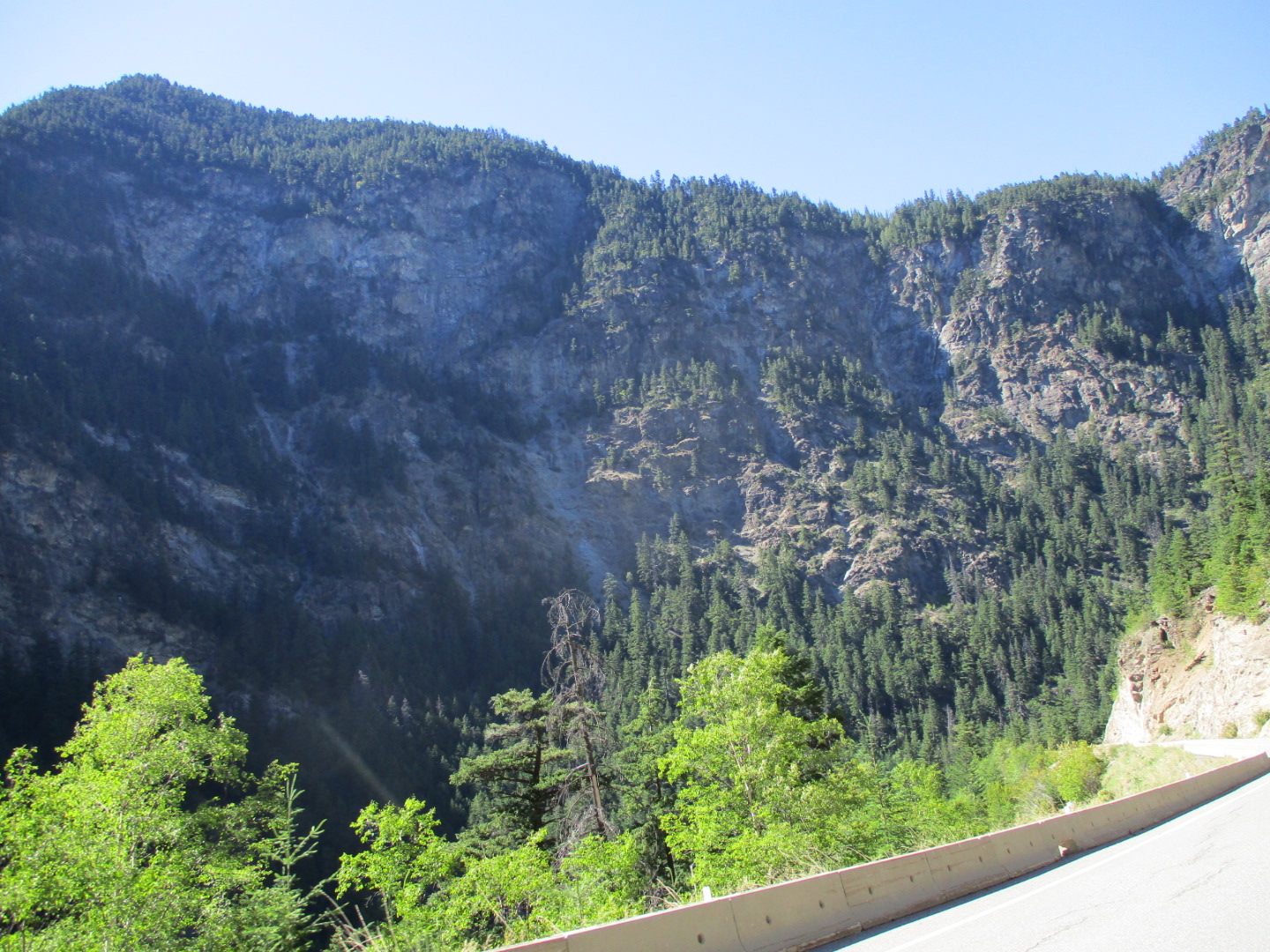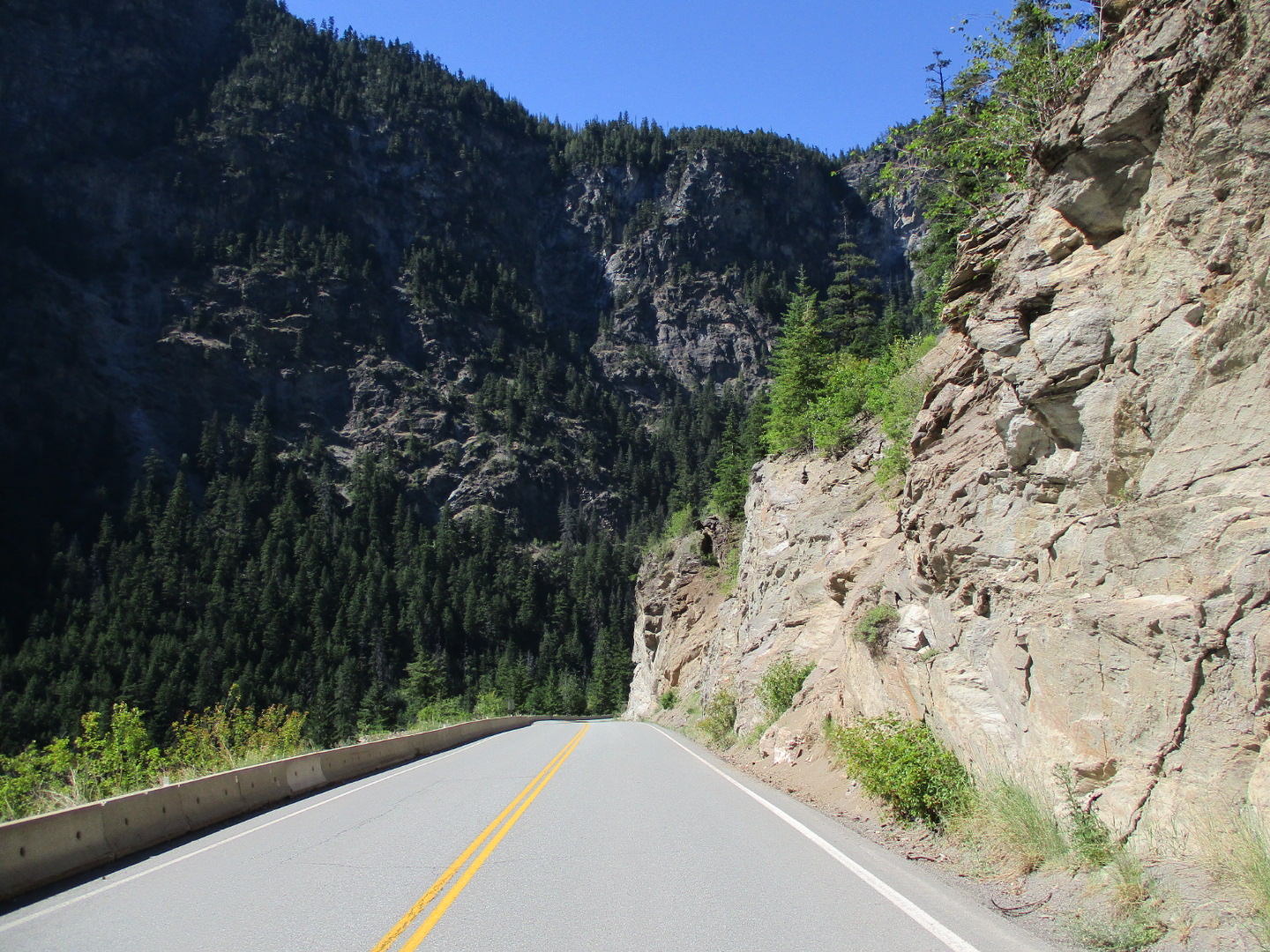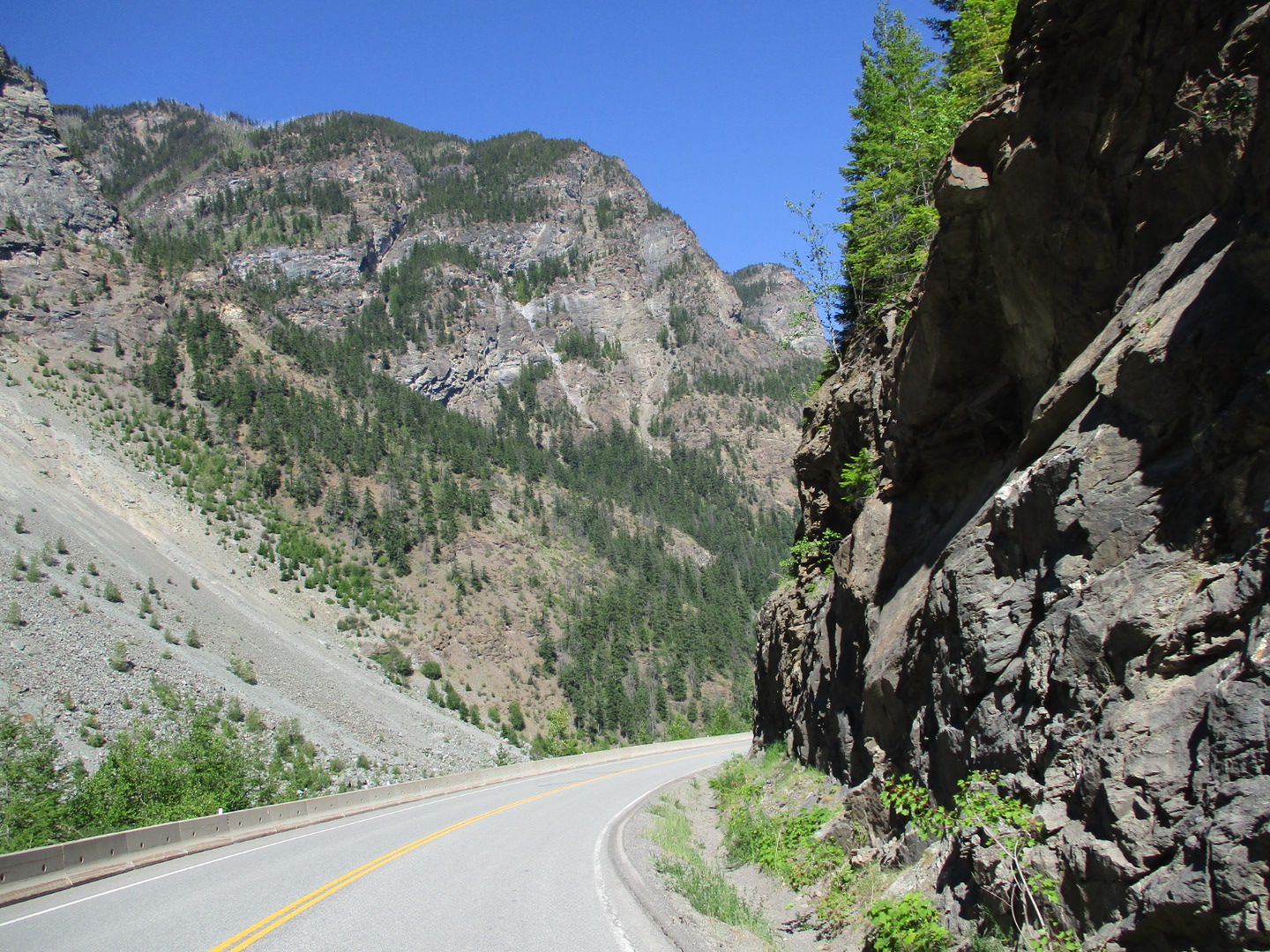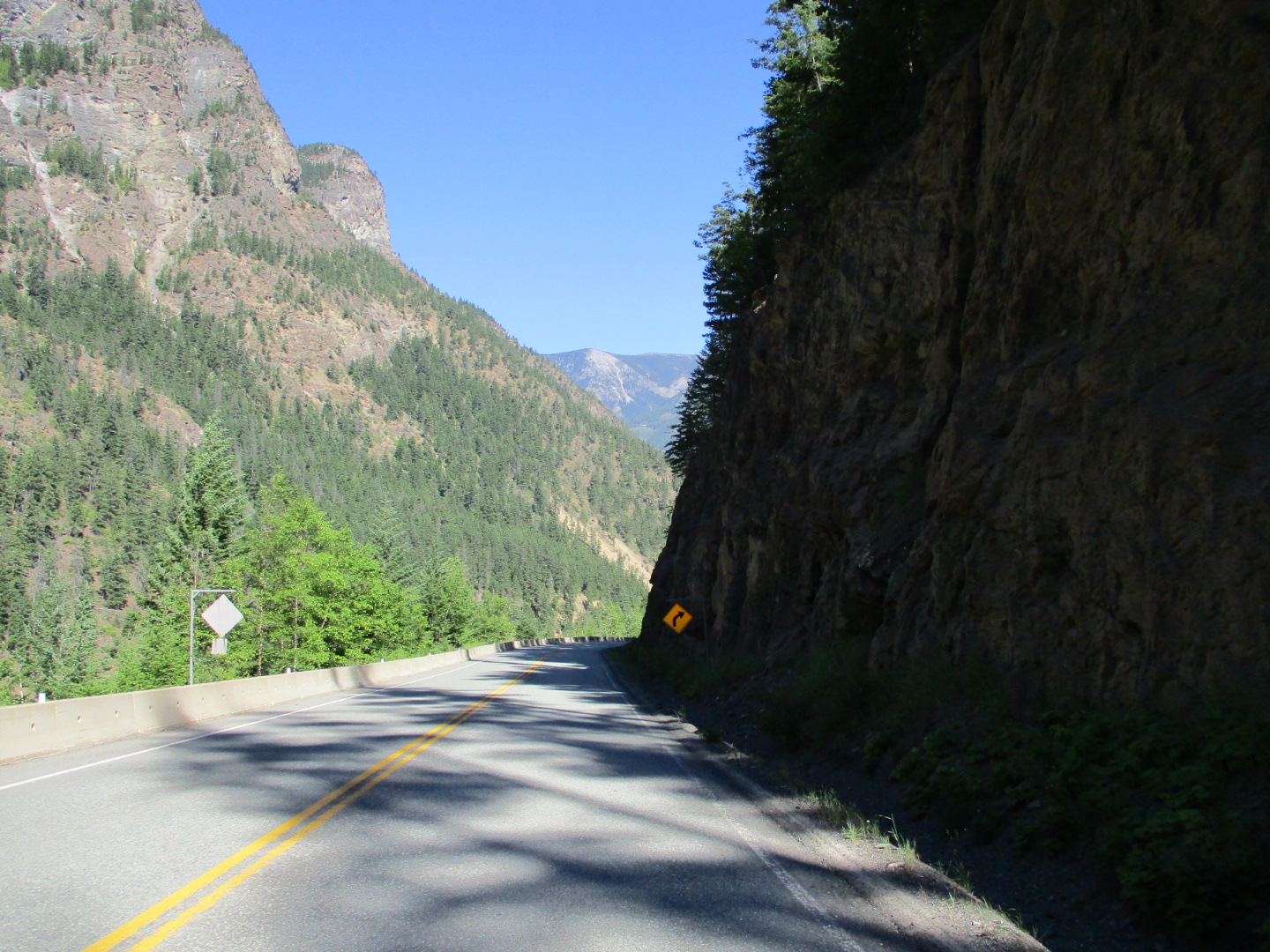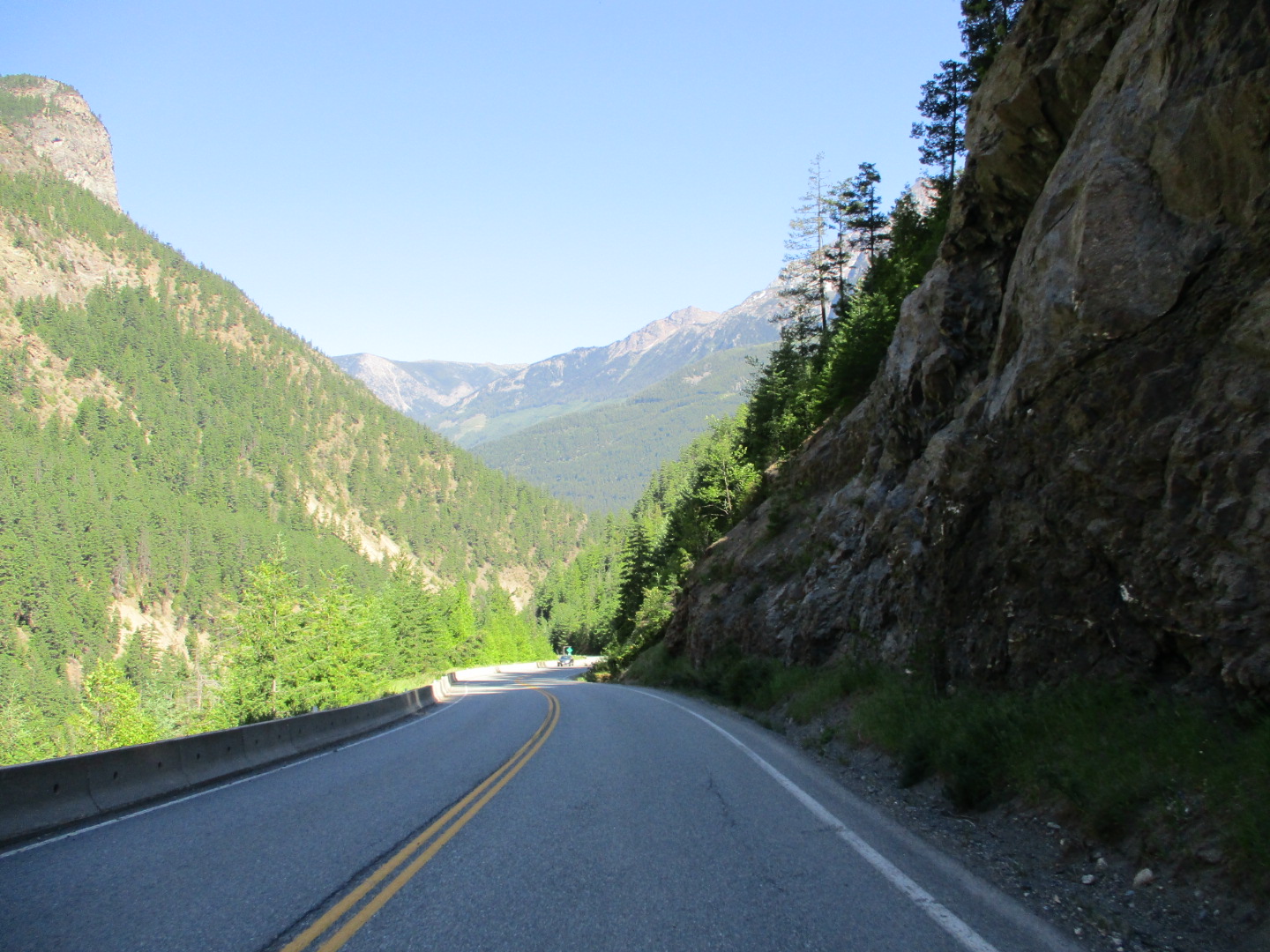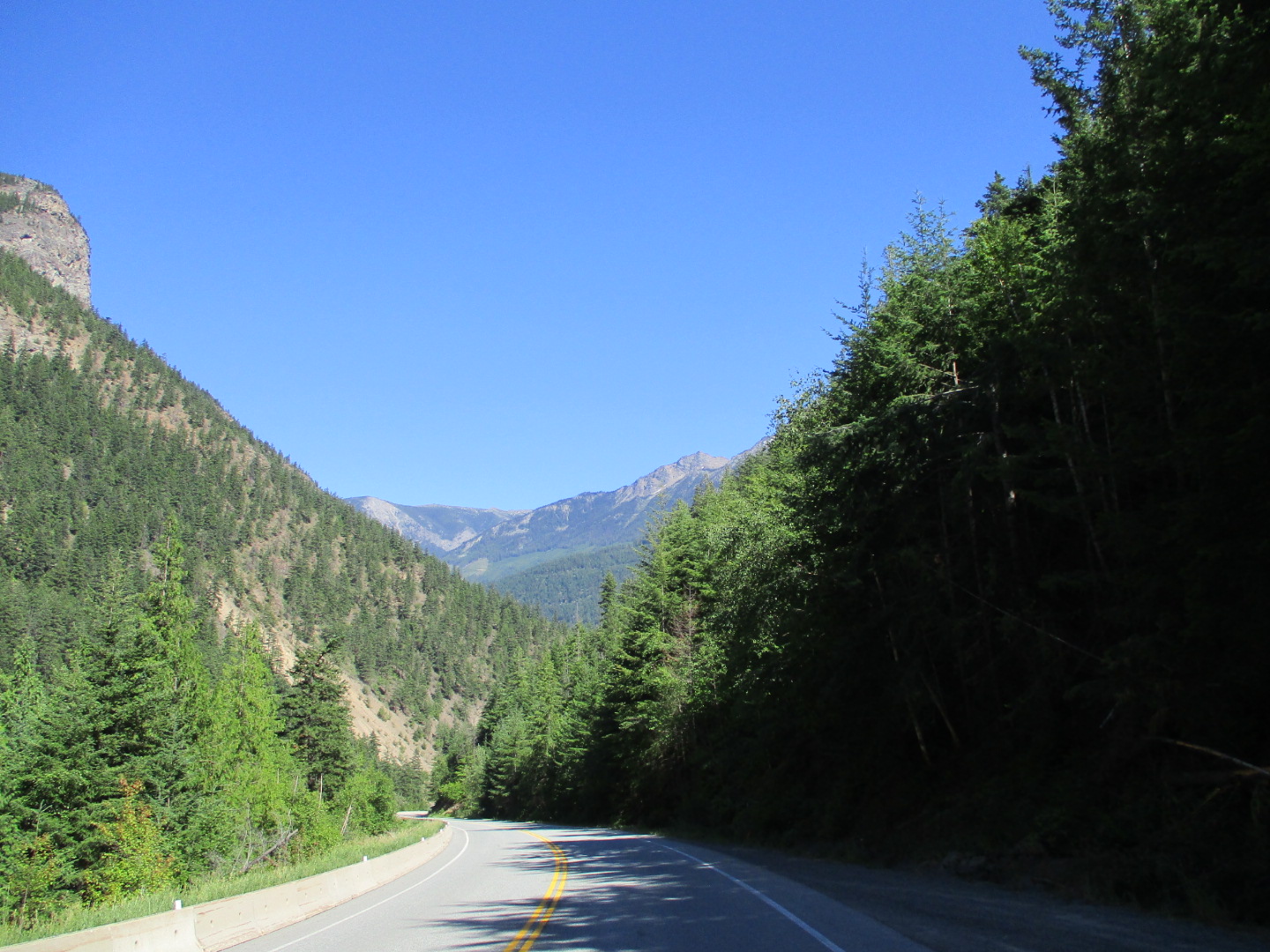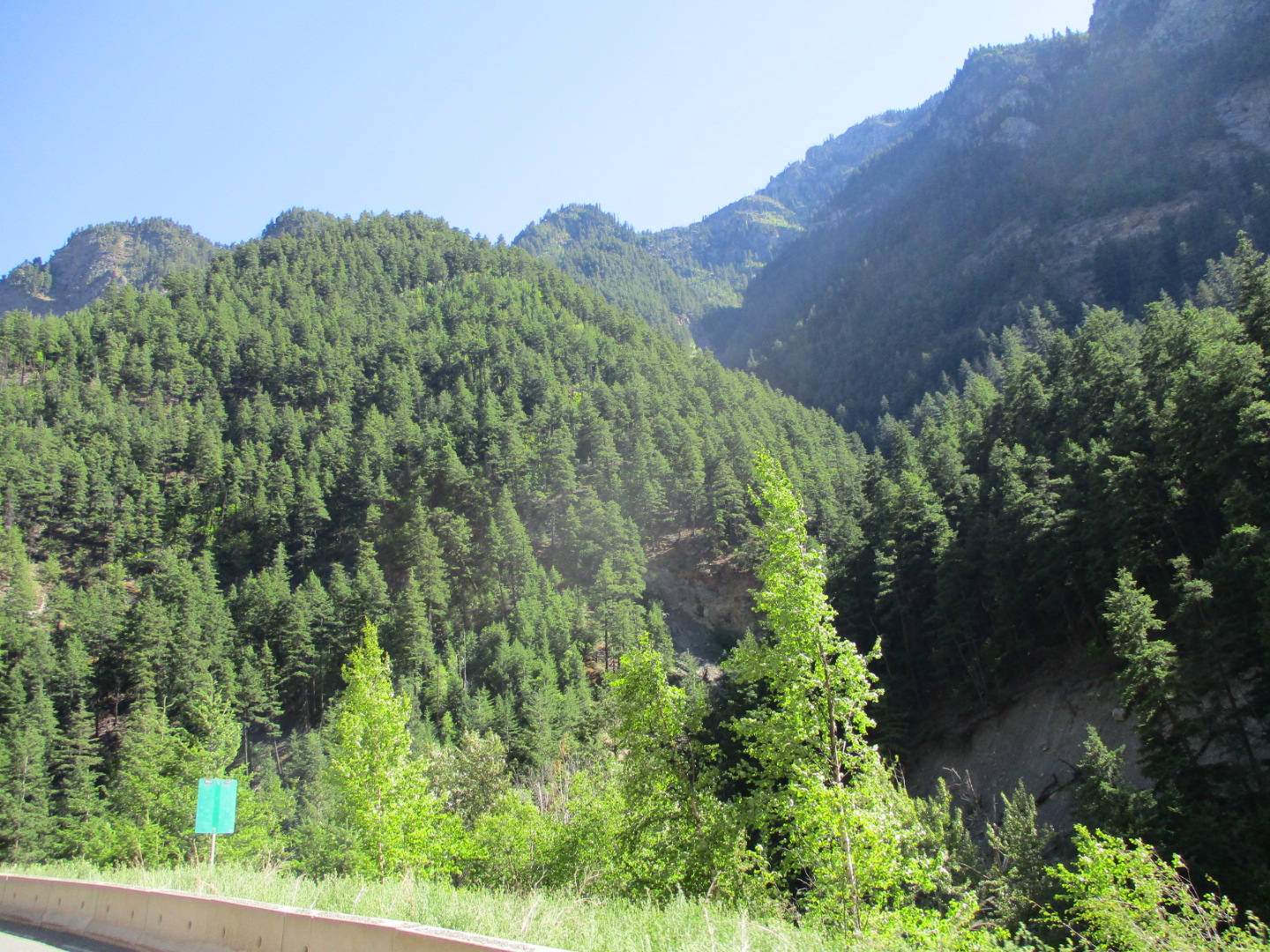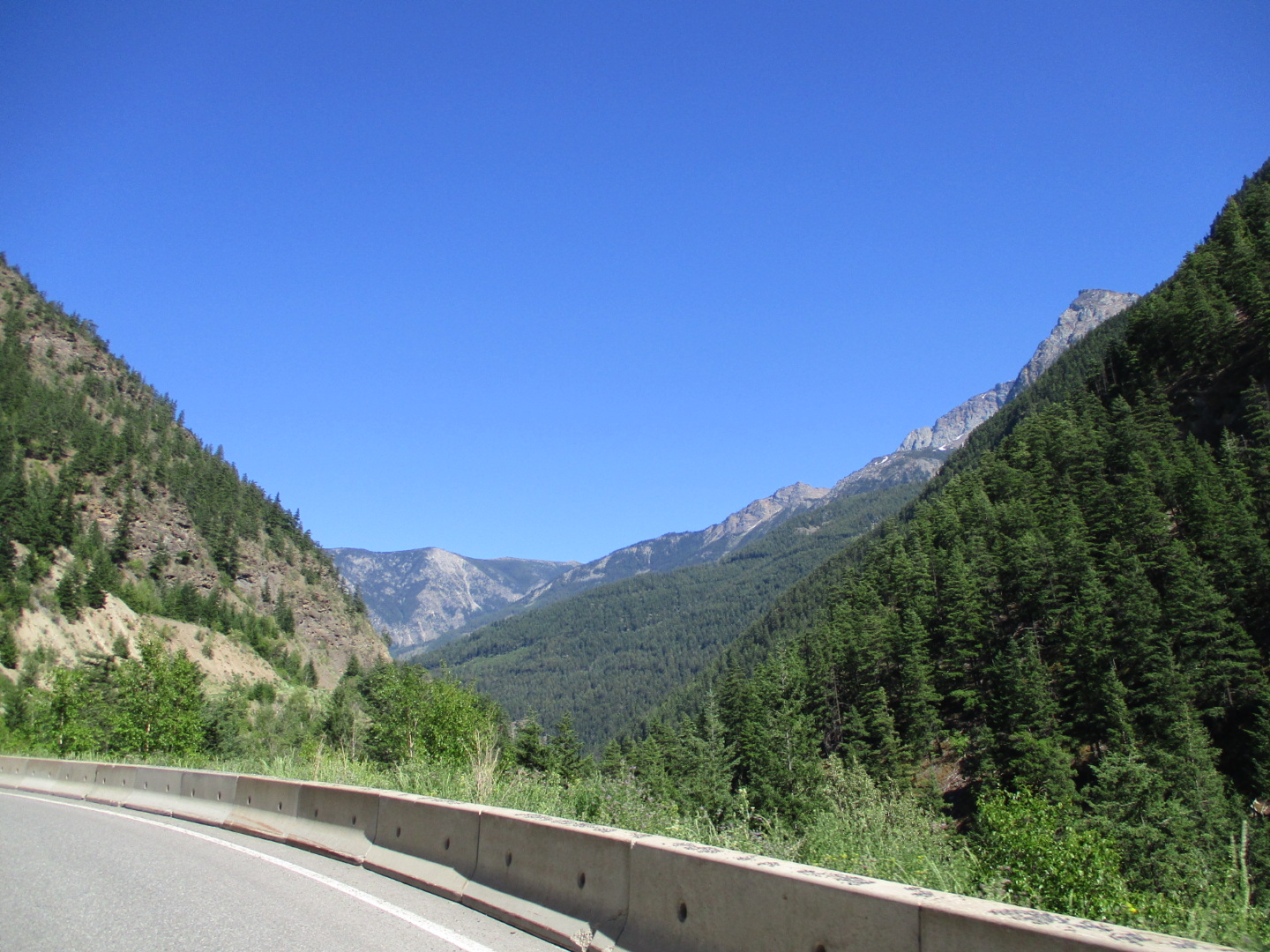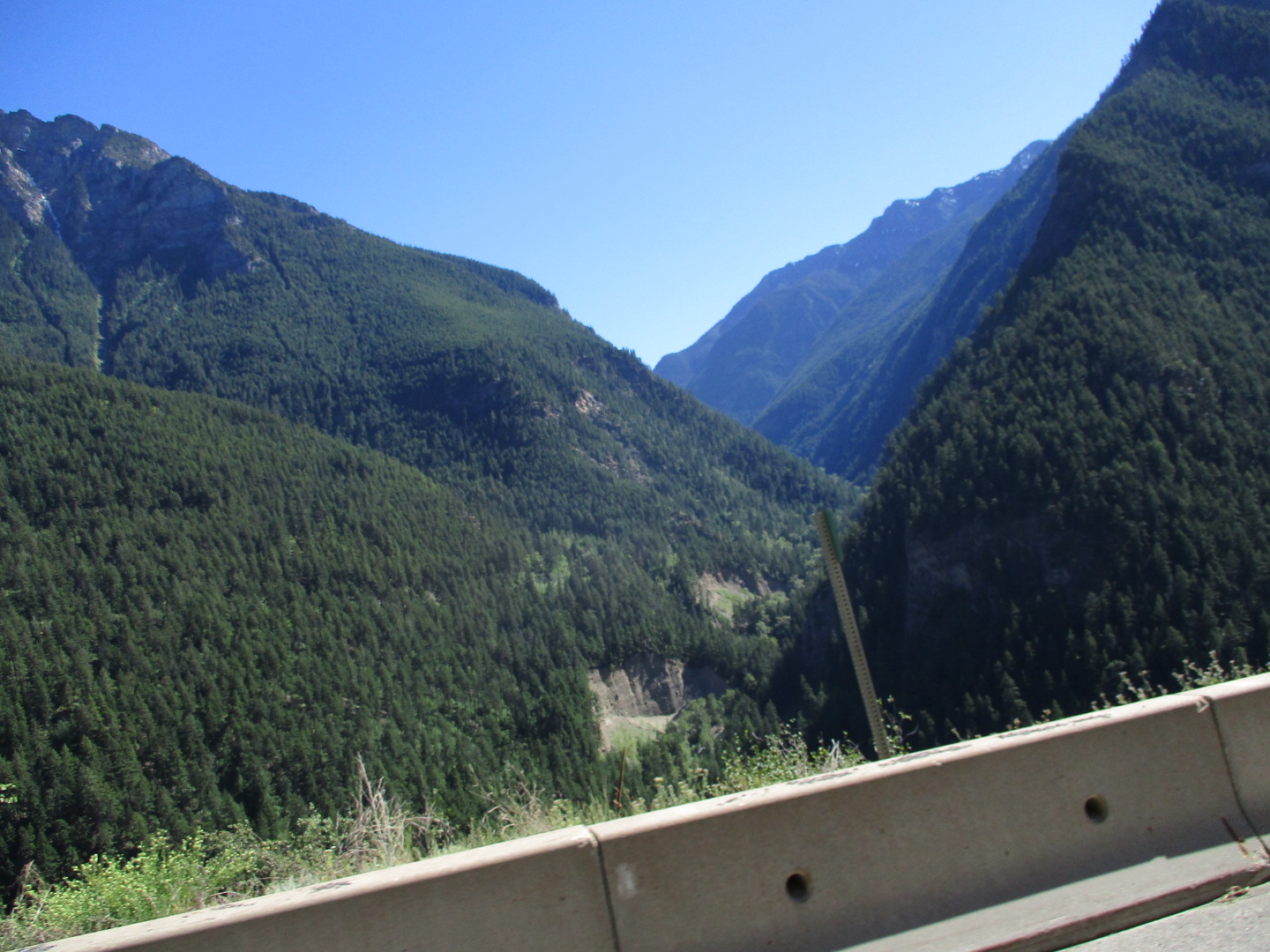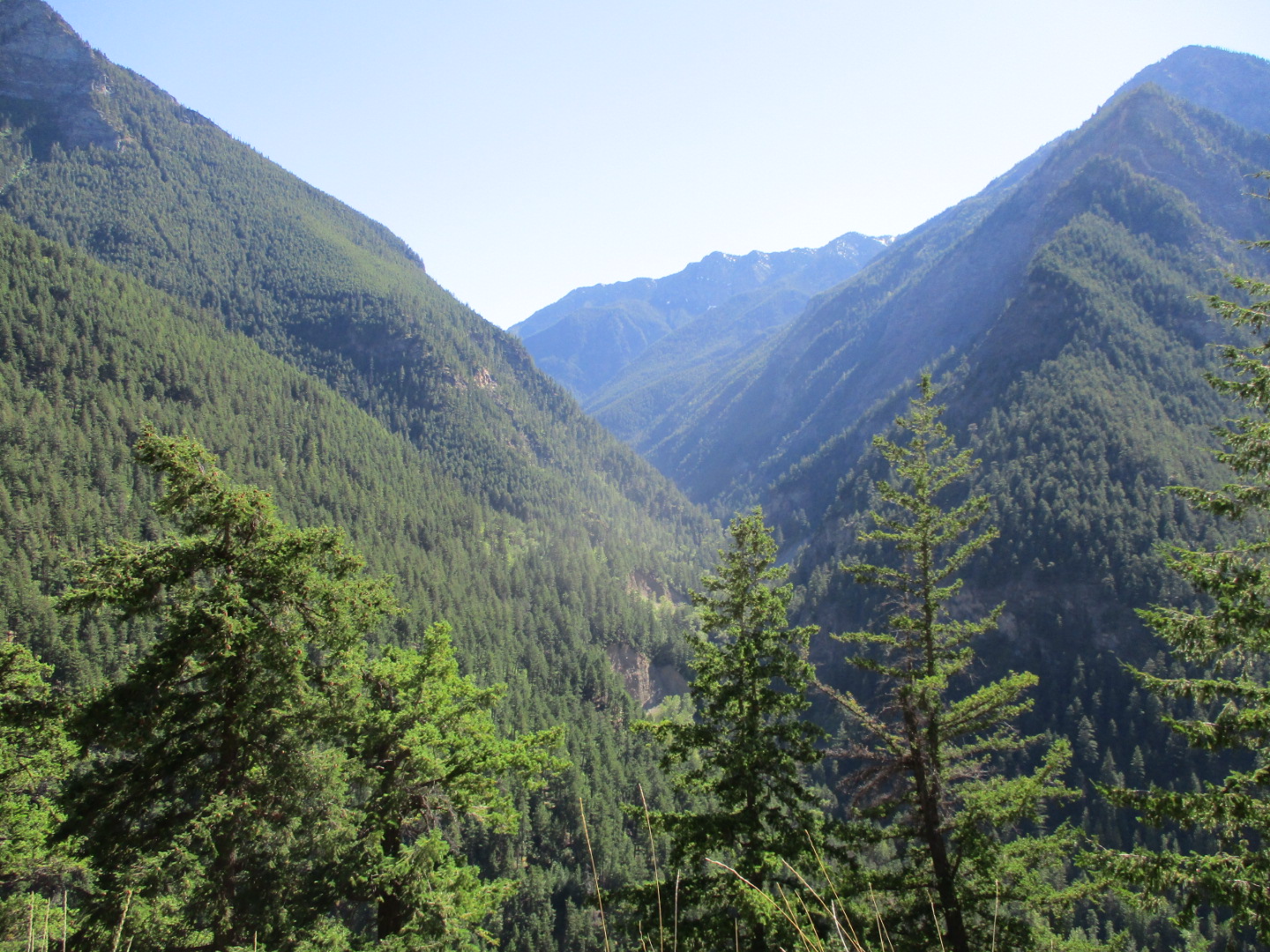 We stopped at the sign for Lilloet for pictures.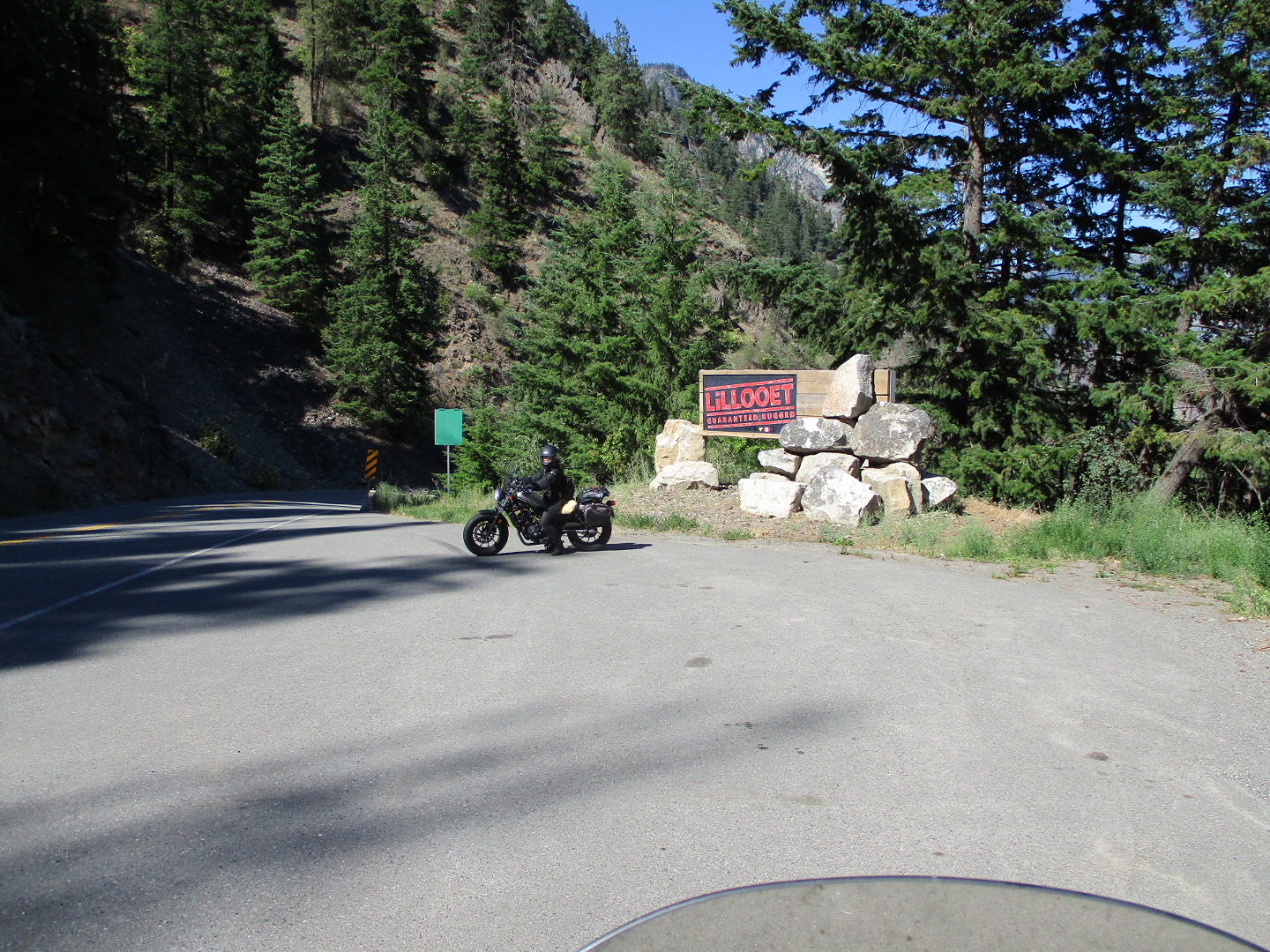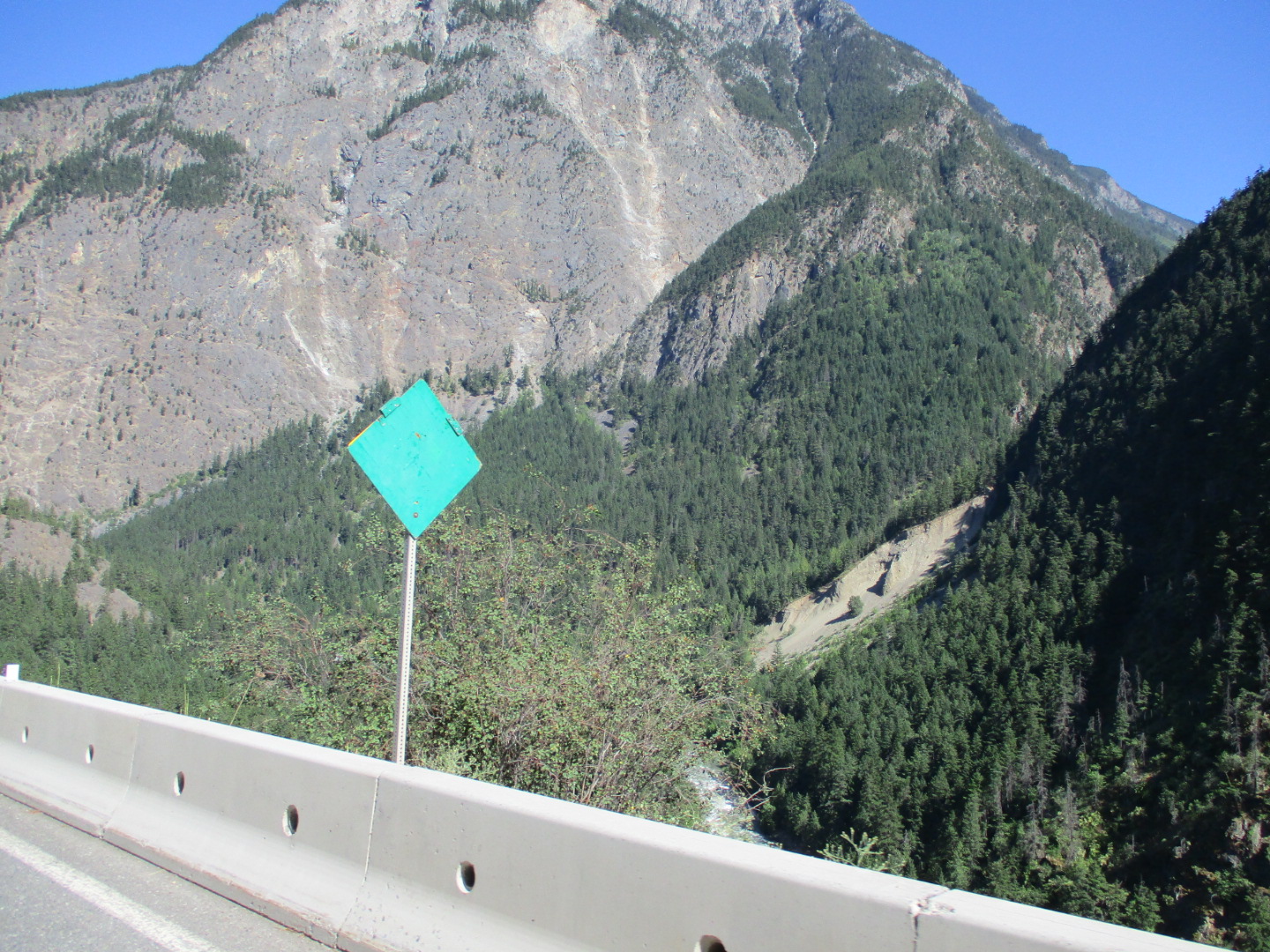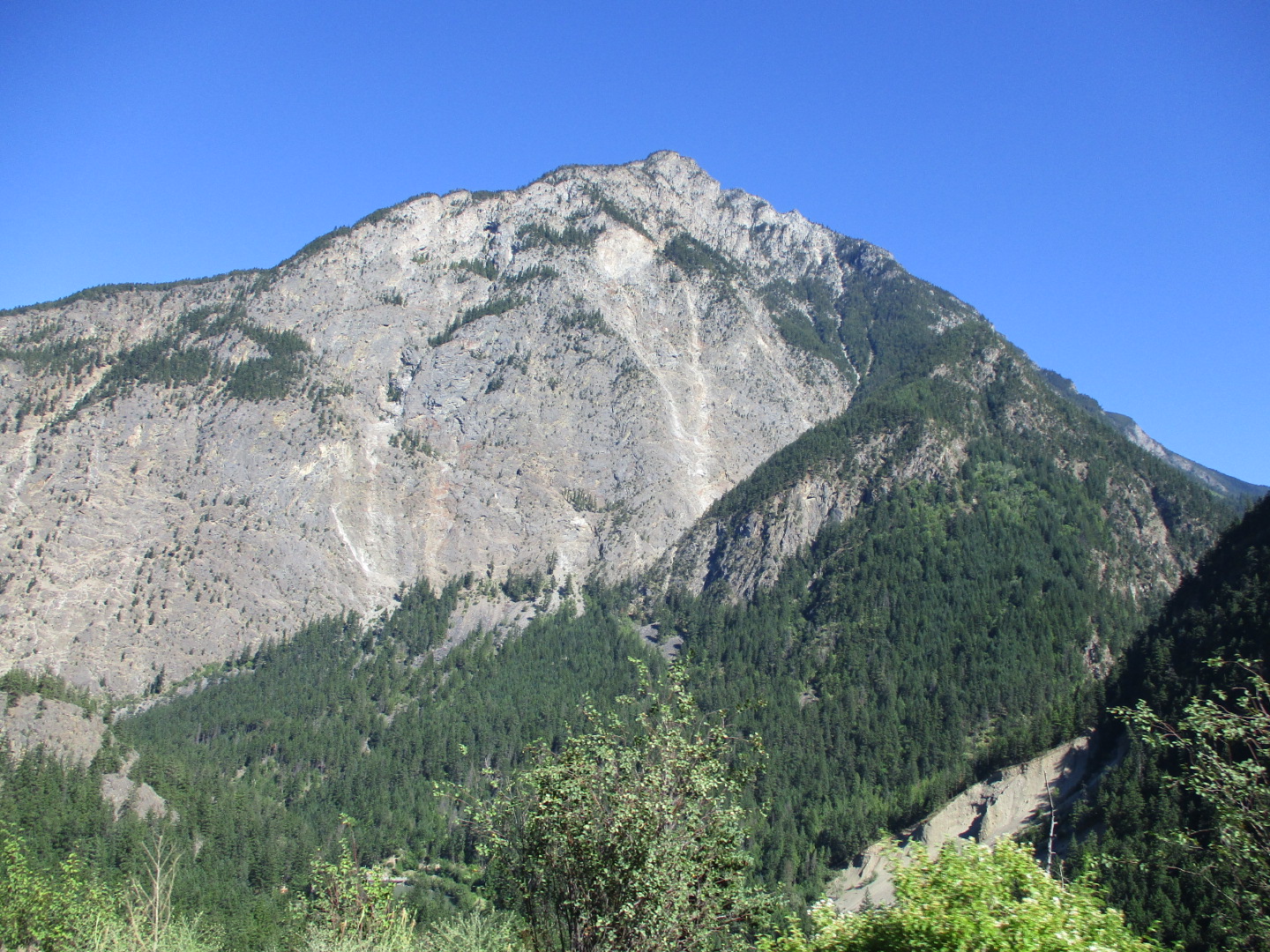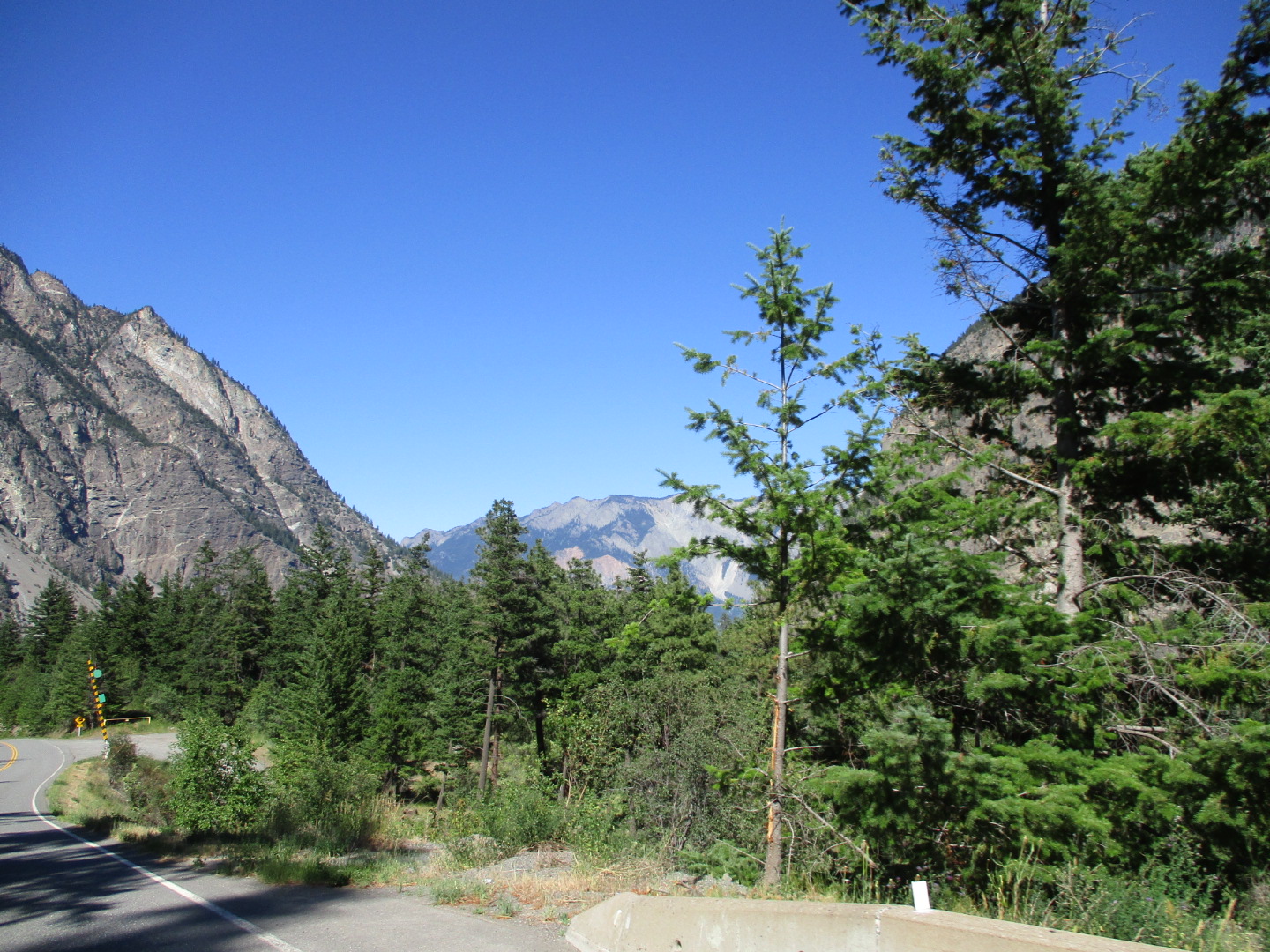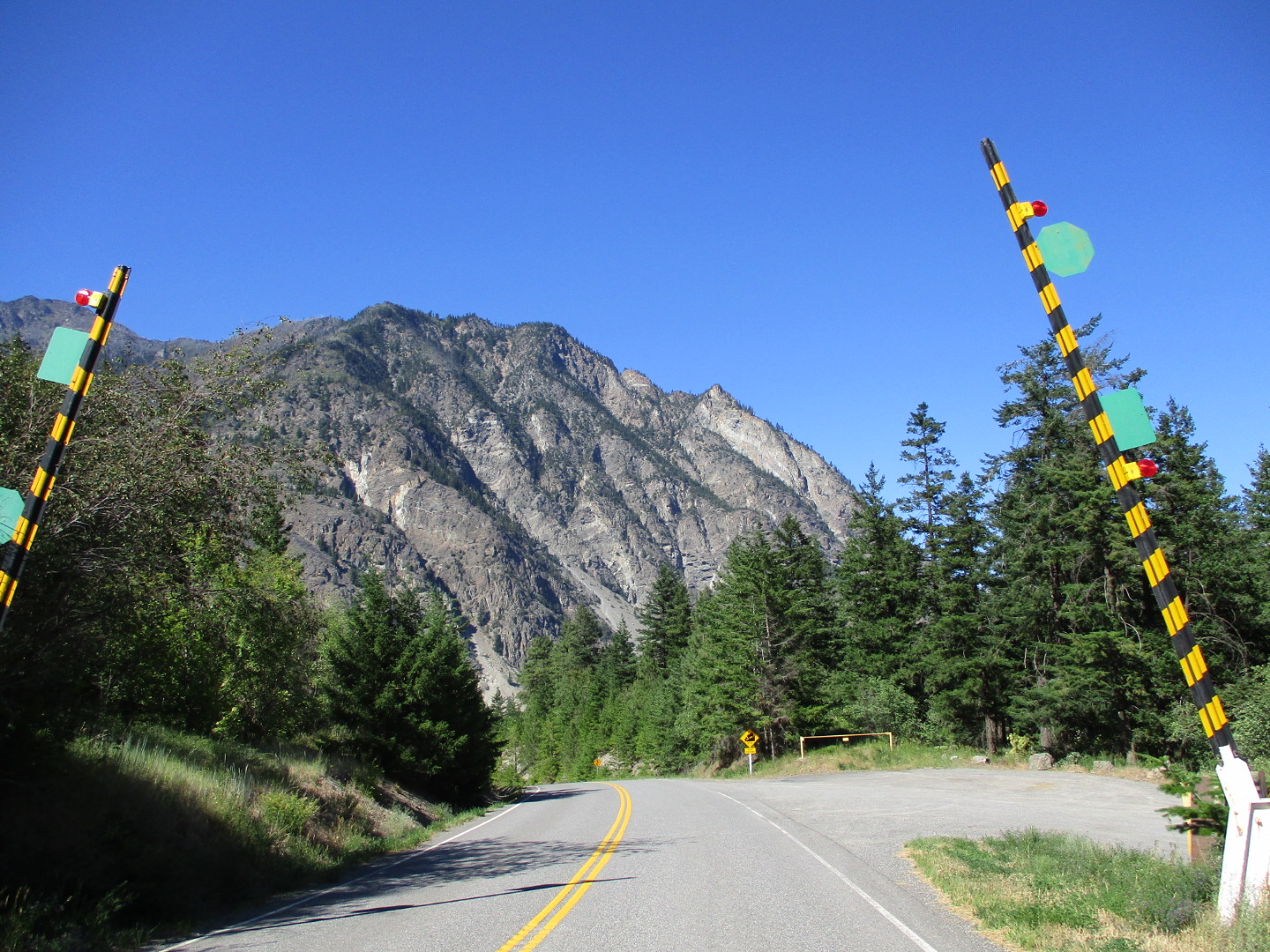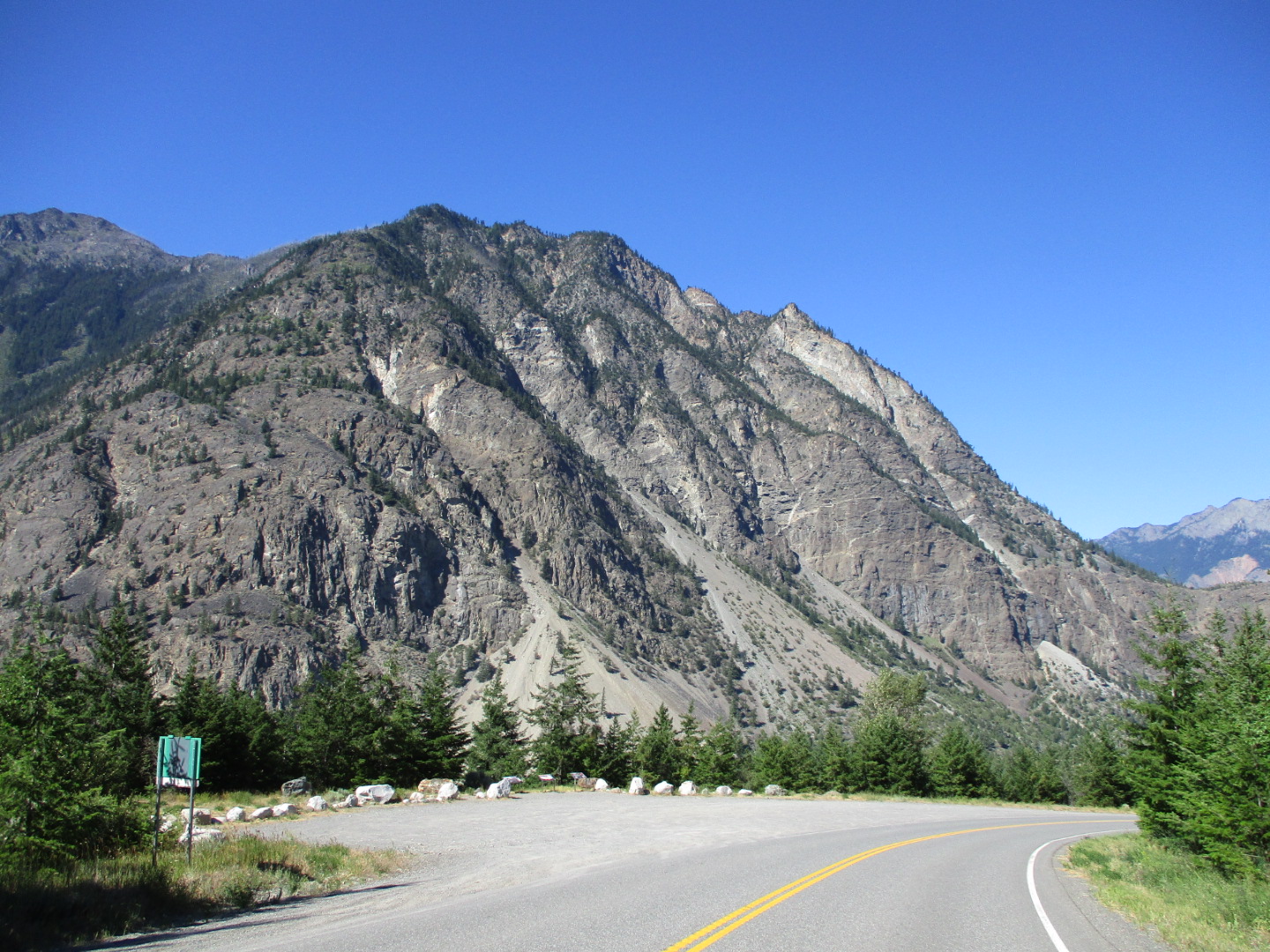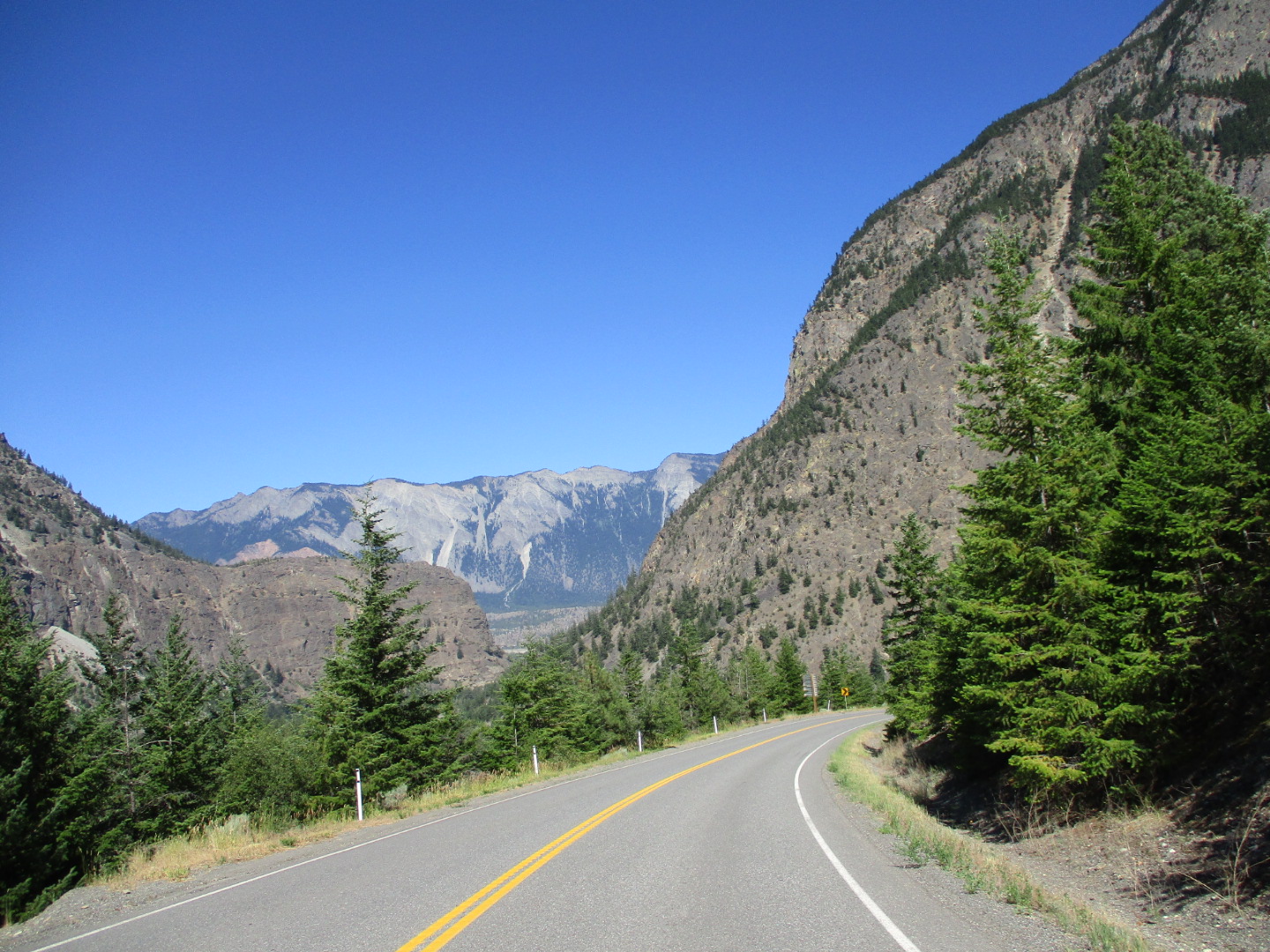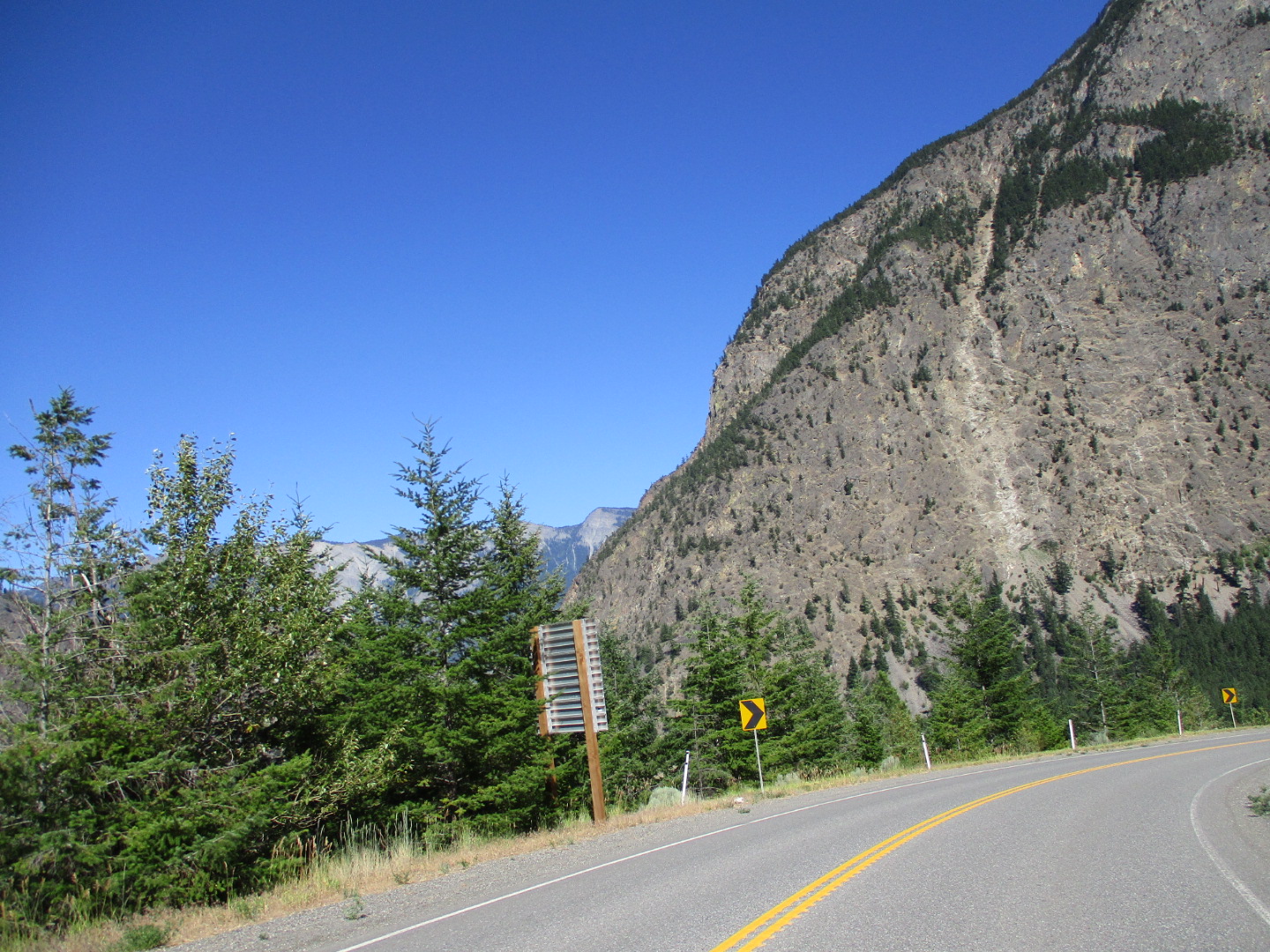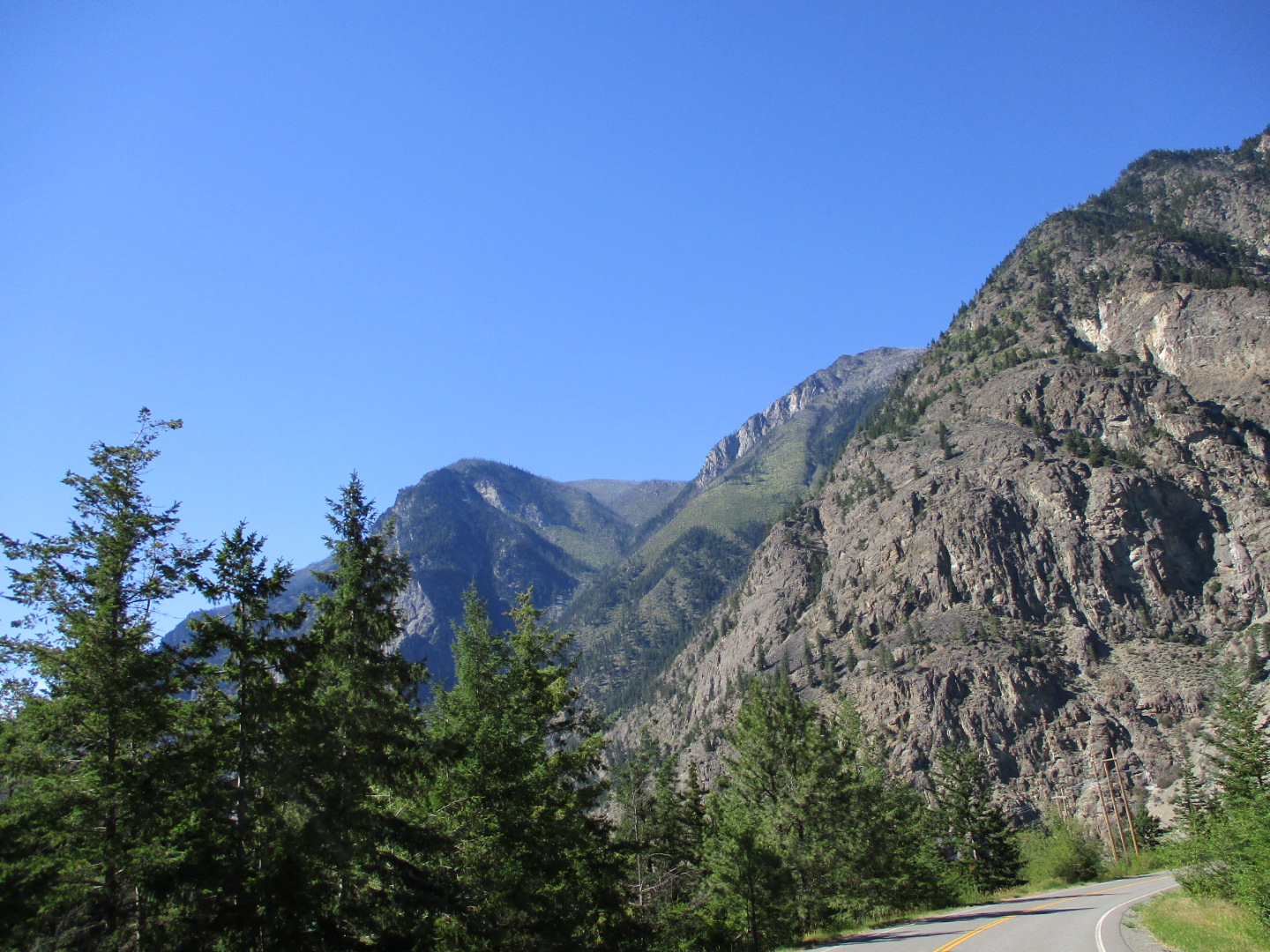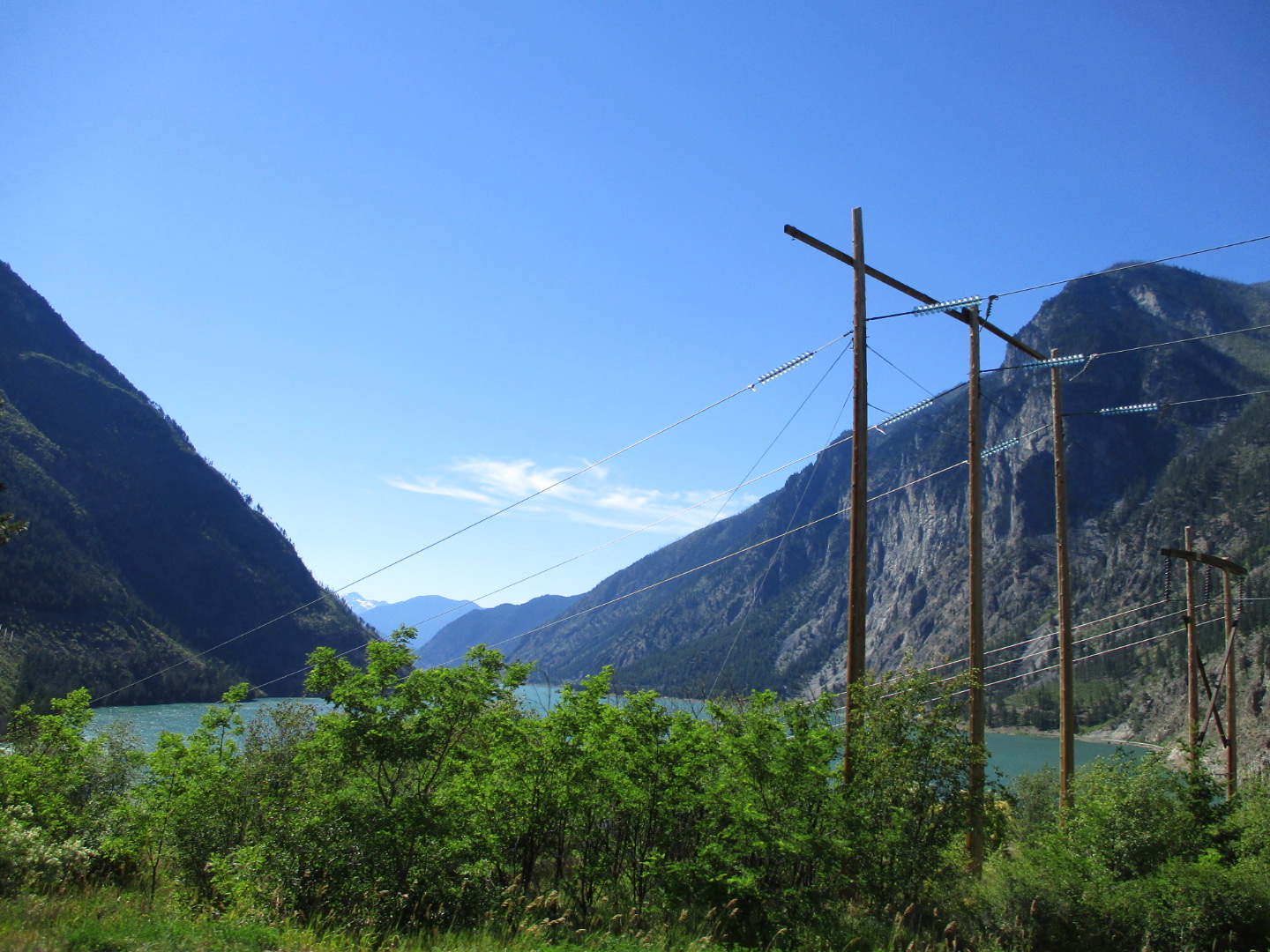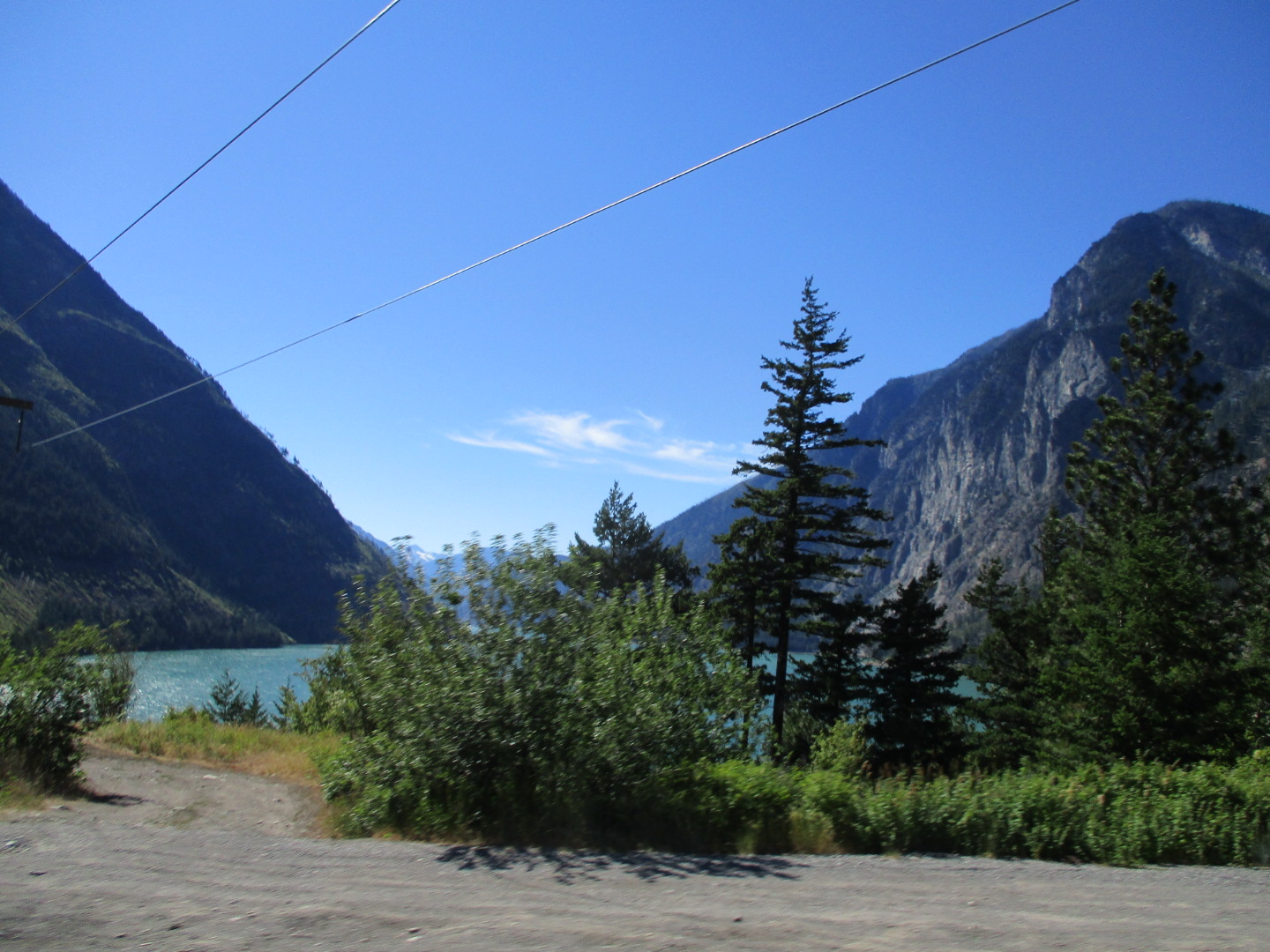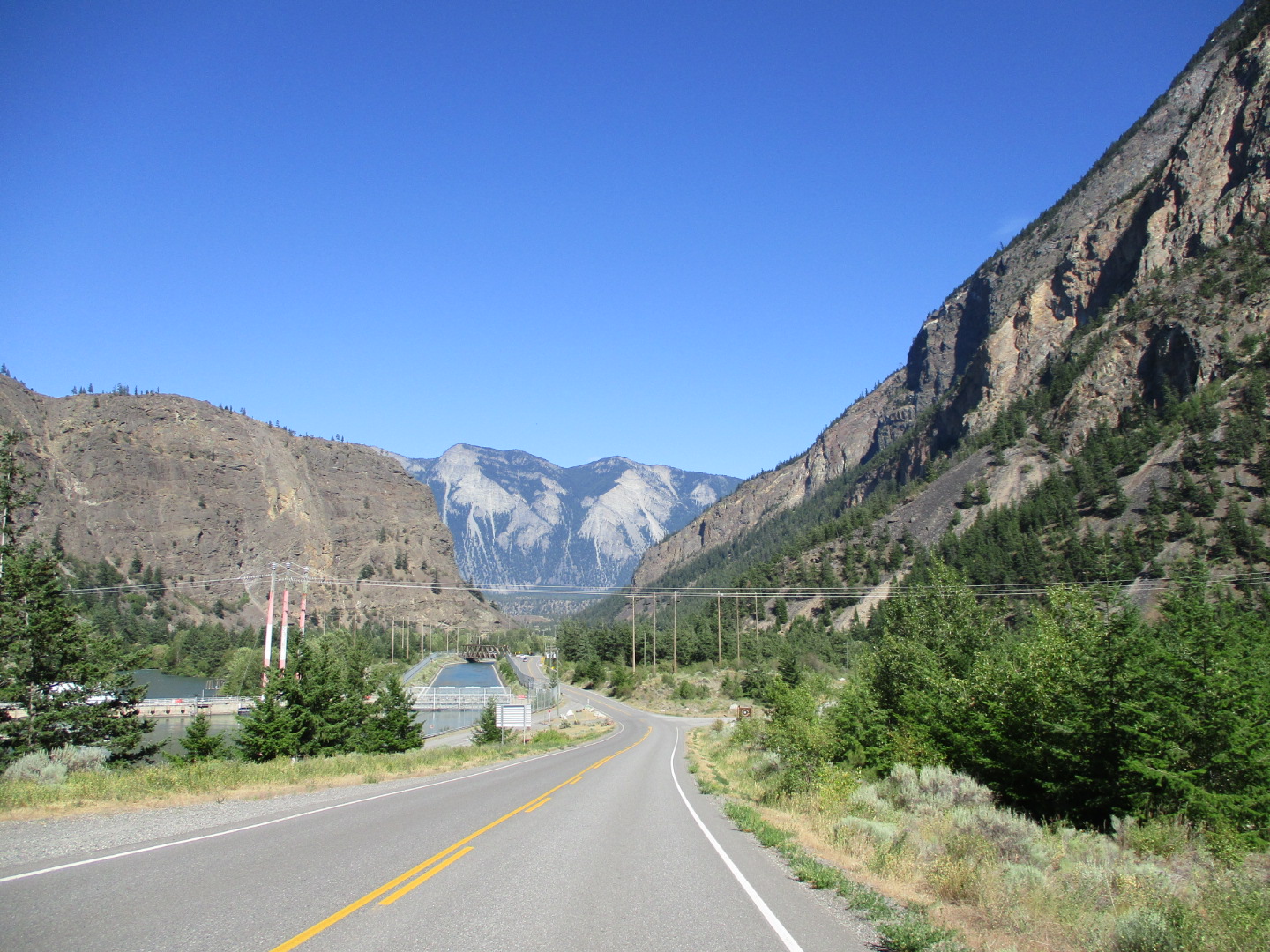 We arrived in Lilloet at 4:30pm and checked into the 4 Pines Motel that cost $105 for one night. The room was clean, with a small kitchenette, two beds, cable tv and wifi. We had travelled 300 kilometers in 9 hours.
After checking in we went for dinner at the Lilloet Inn. We sat outside and mistakenly did not understand their specialty was sushi, and ordered simple salads instead. After dinner we went grocery shopping at Buy-Low, and did a quick tour of the town visiting The Old Bridge before going back to the motel and passing out at 10:30pm.
Wednesday June 23, 2021: Lilloet - Valemount
We got up at 6:30am, ate breakfast, got ourselves ready and packed the bikes. The weather was clear and the news had started suggesting there would be hot weather for southern British Columbia. We turned north-east on highway 99 and headed for Cache Creek.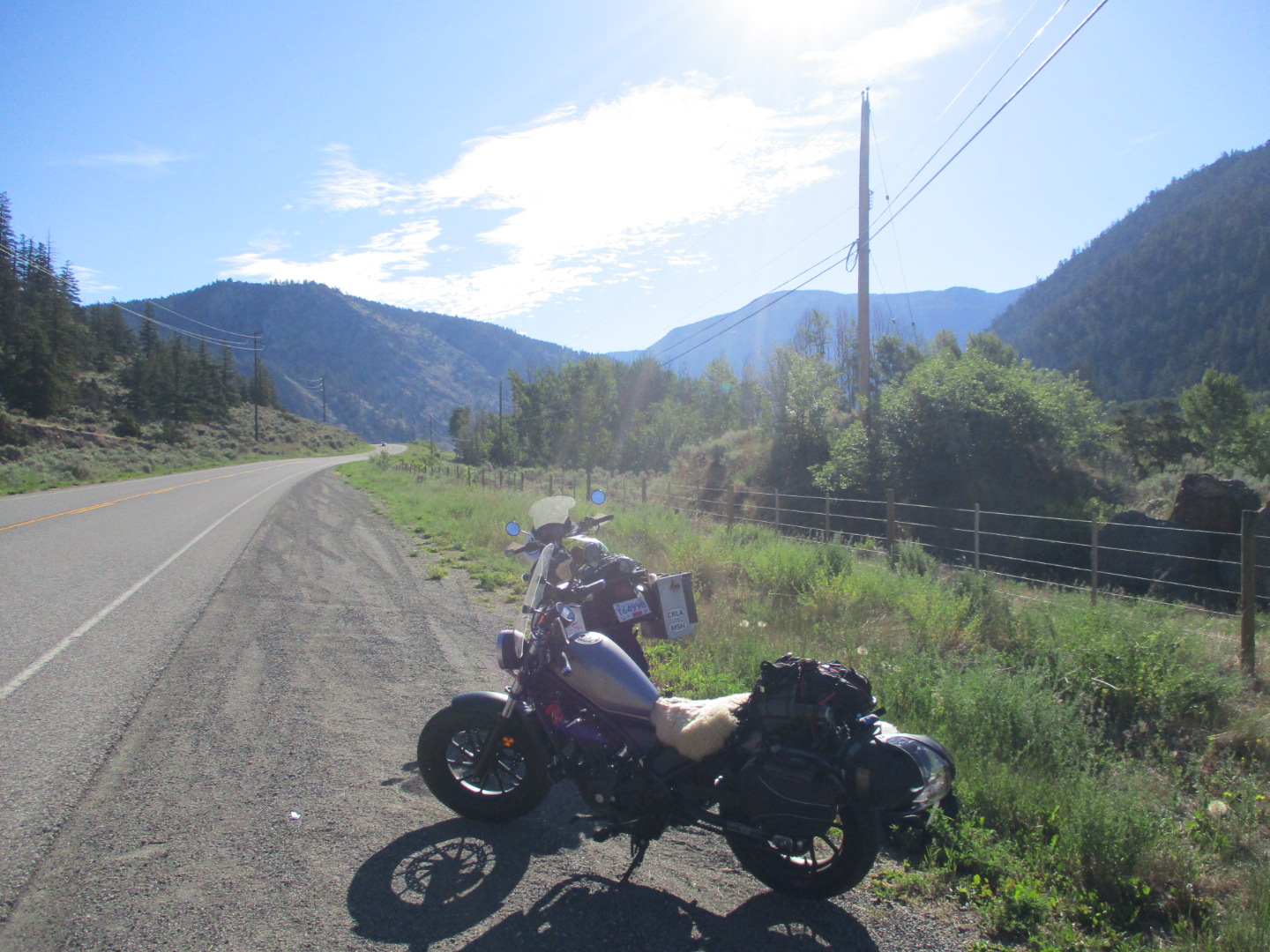 When we arrived at the junction between highway 99 and highway 97, we turned north towards Clinton and 100 Mile House. We stopped in Clinton for gas and snacks.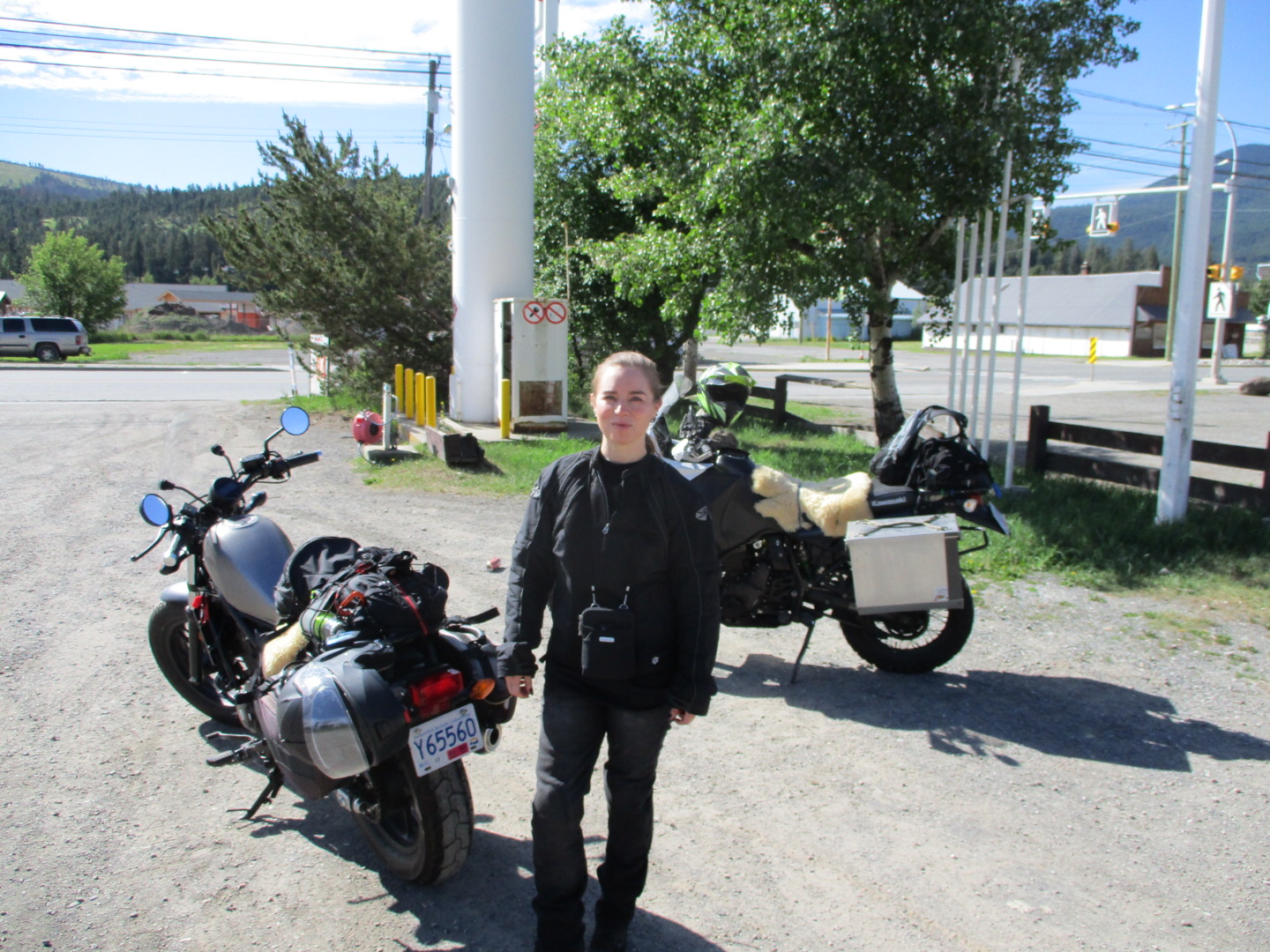 We rode up highway 97 until the junction with highway 24, taking that west. Our next stop was about half way along that highway, between 100 Mile House and Little Fort. The landscape had changed from rugged mountains to flat boggy marshes and lakes. The mosquitos were bad.
At the rest stop below I met another KLR rider. After chatting with him and telling him our route, he suggested we ride the West Side Road from Vernon to Kelowna.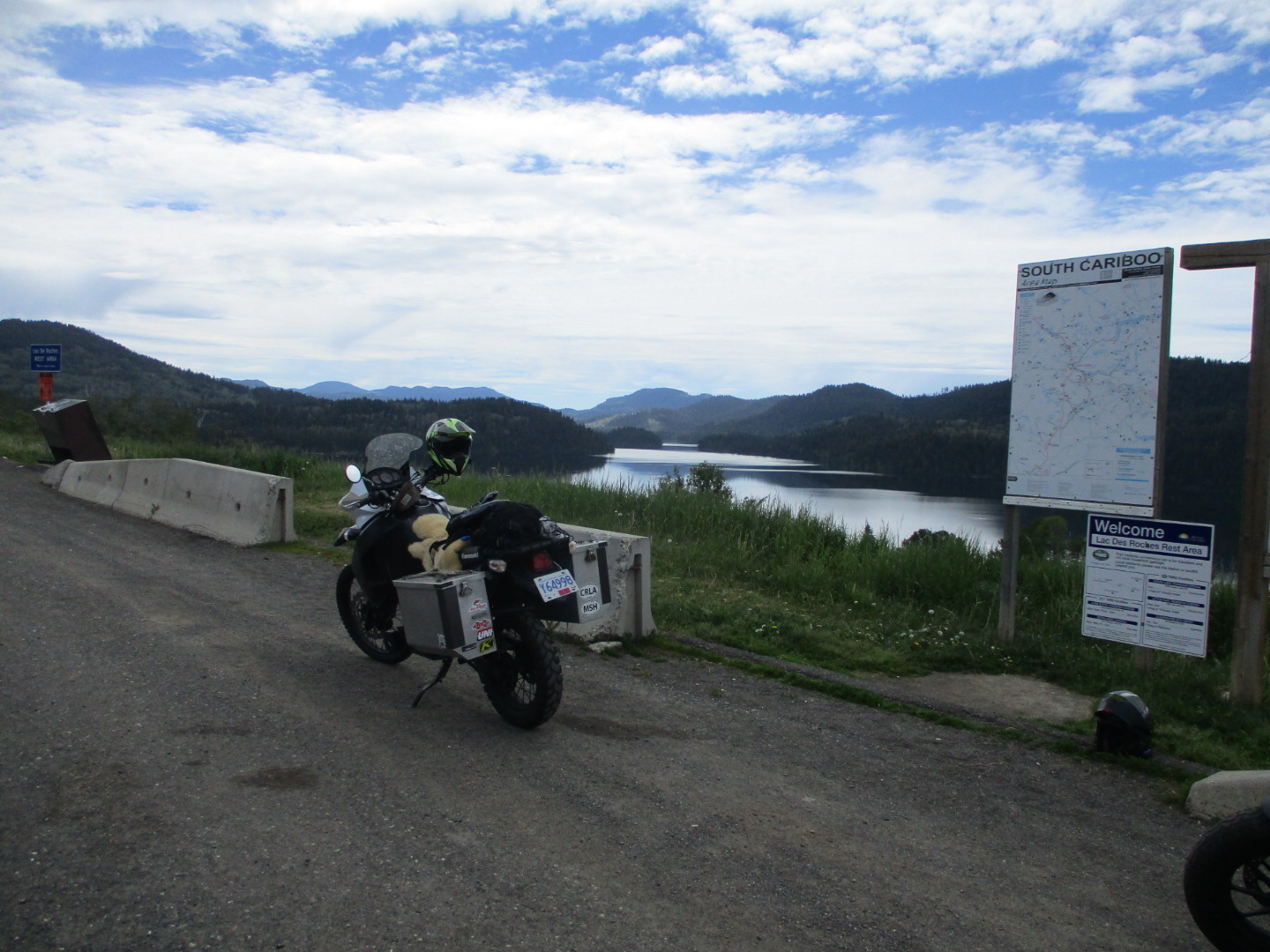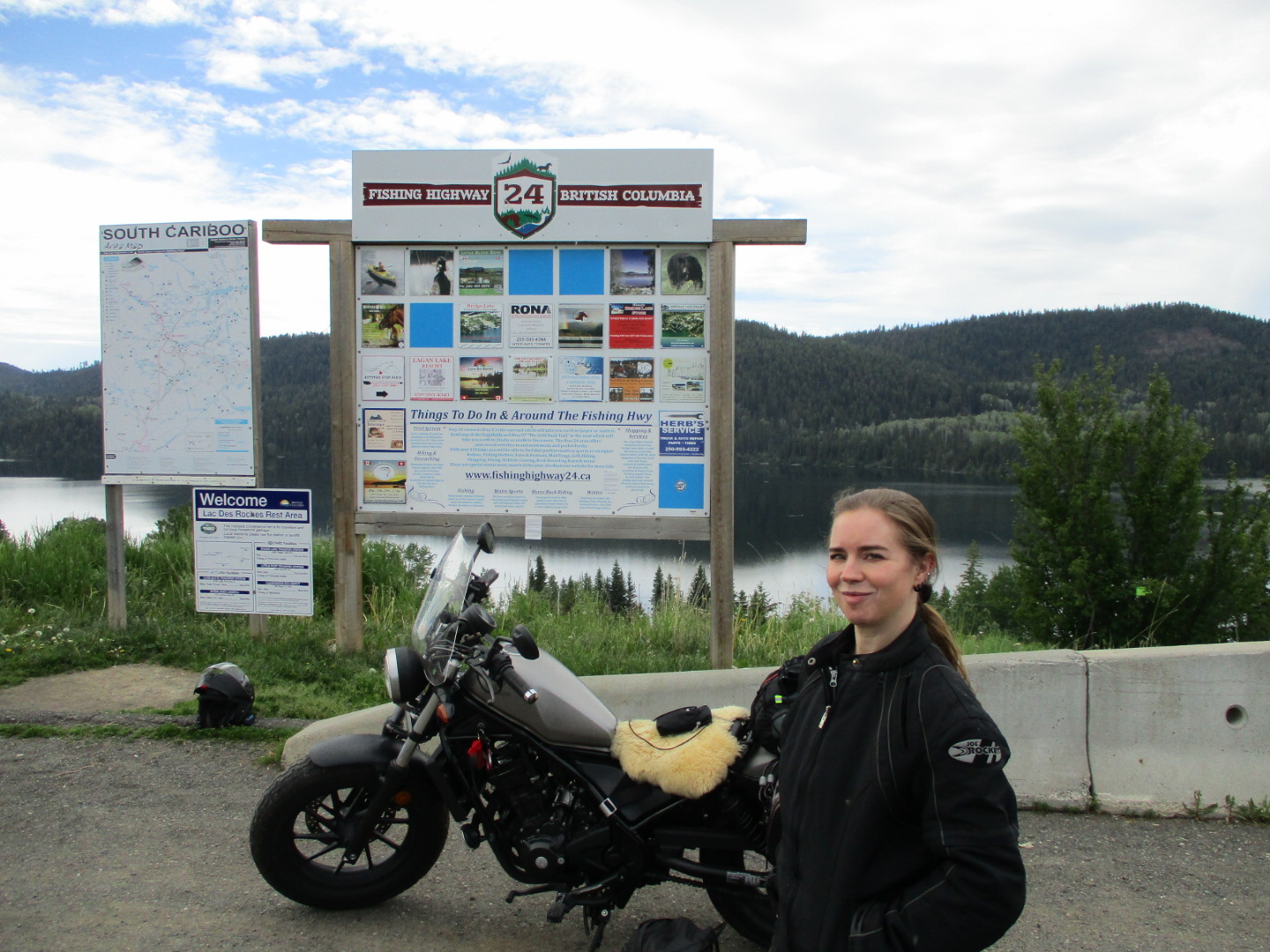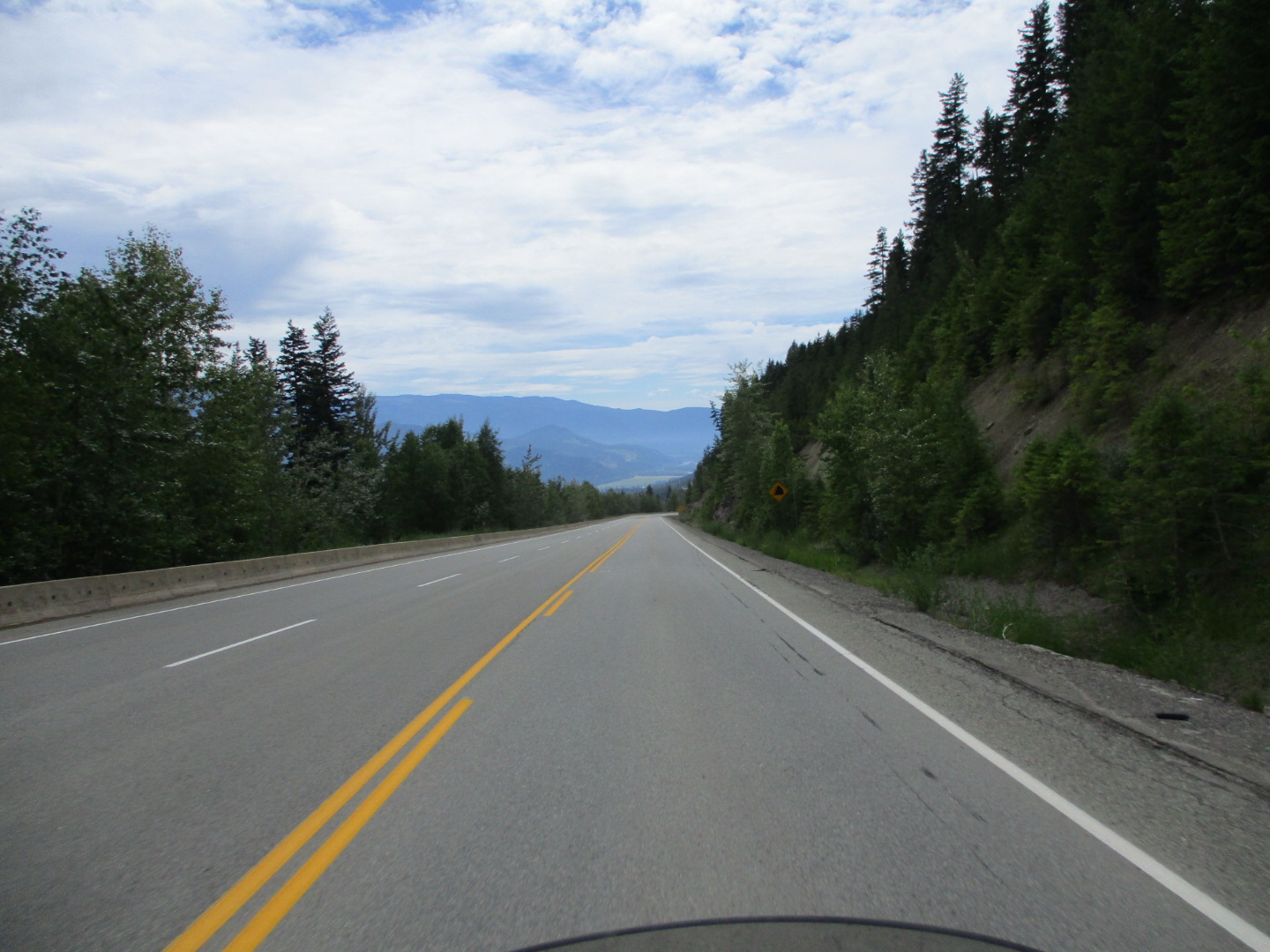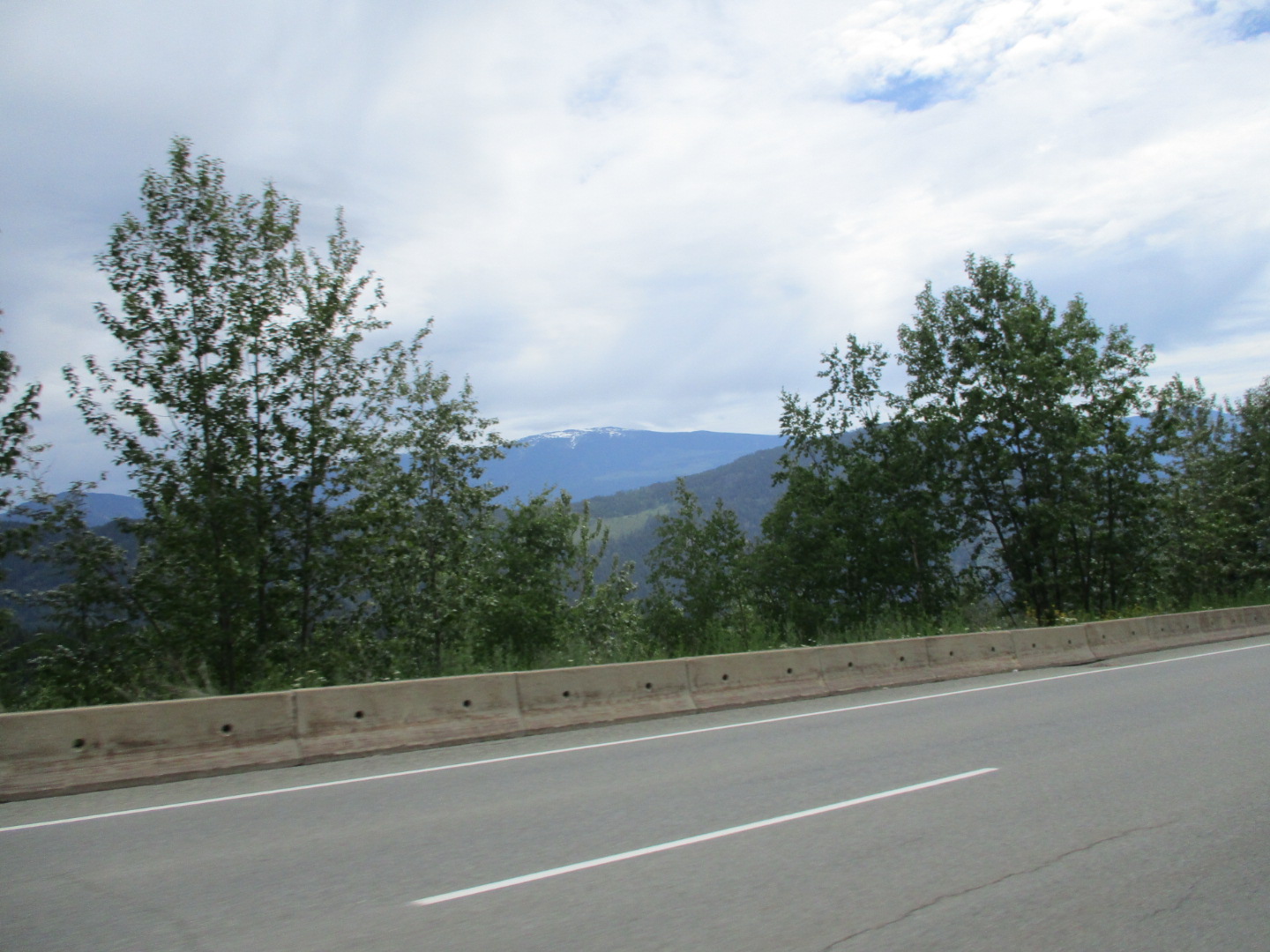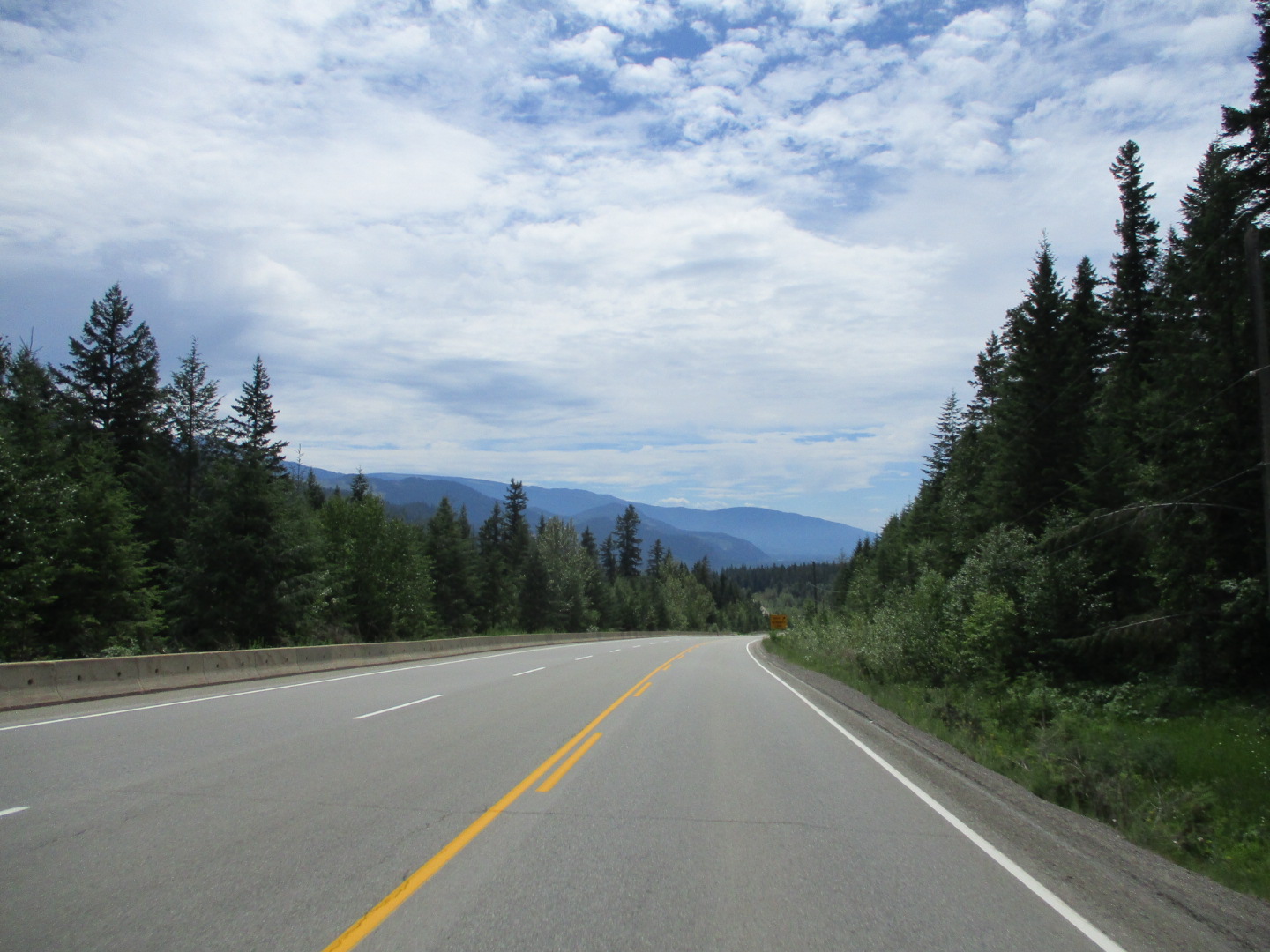 We stopped in Little Fort for gas and lunch. After riding 472 kilometers I pumped 20.4 liters of gas for $33.47, giving 54.4 MPG. Originally we were going to eat at the Subway that was part of the gas station but I asked the cashier about other restaurants and she recommended the High Five Diner. It turns out this would be one of the best places we ate at for the entire trip.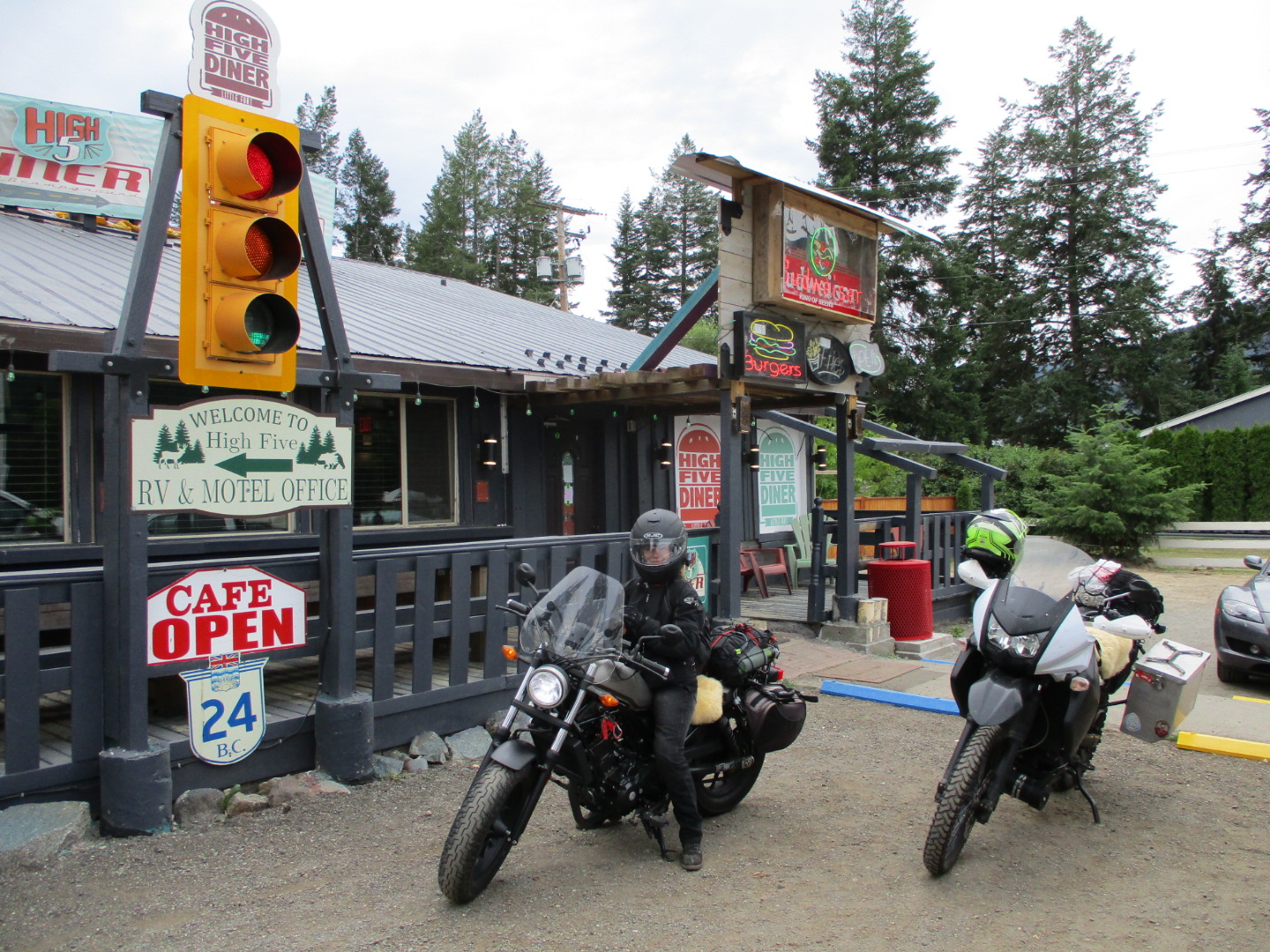 From Little Fort we continued north on highway 5 towards Valemount. The mountains started returning as we made our way along the North Thompson River.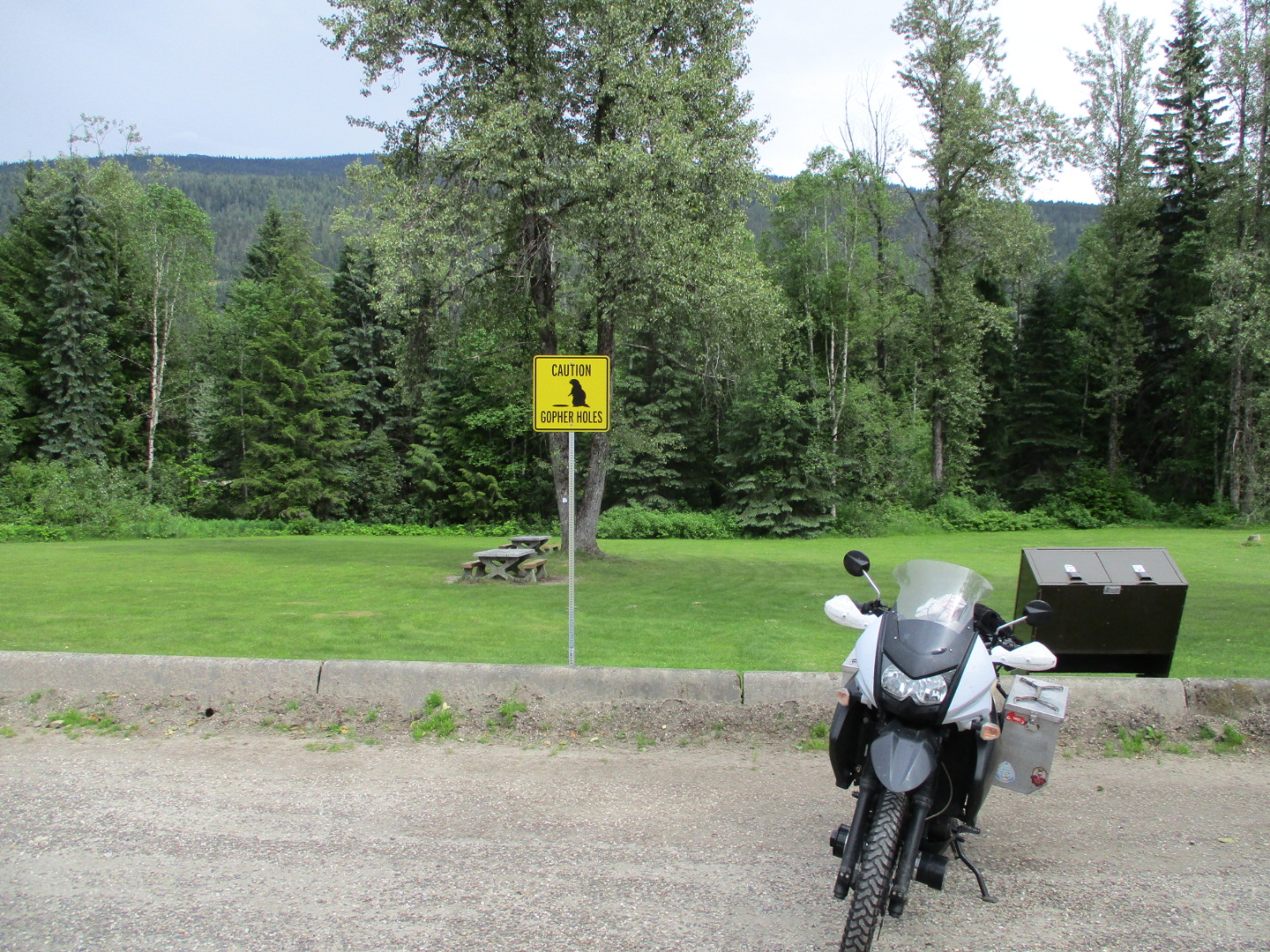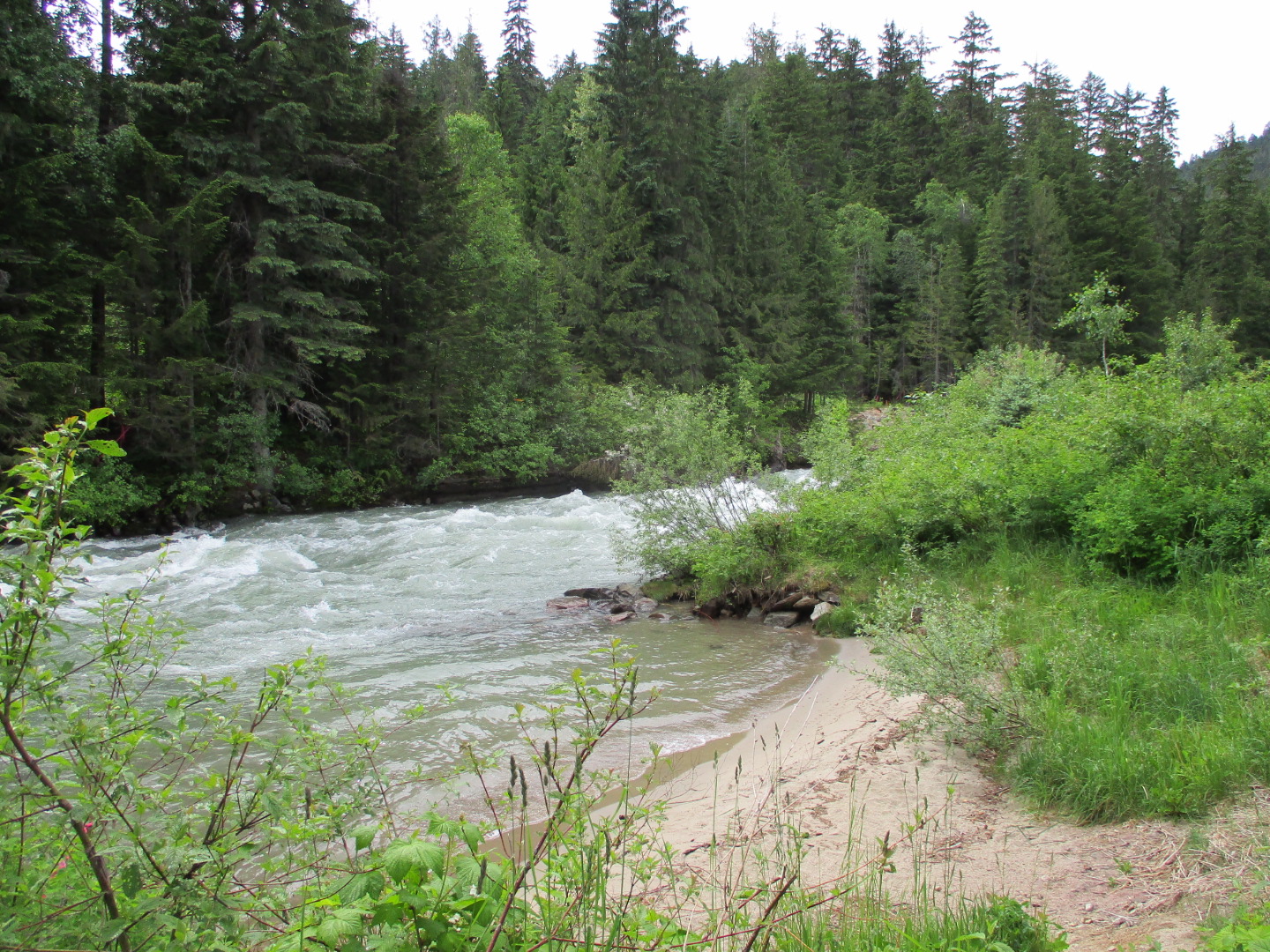 We arrived in Valemount at 4:30pm and checked into the Rocky Inn for $89 a night. After unpacking the motorcycles we went for dinner at the Caribou grill, a 4 star restaurant. It was expensive but I enjoyed the experience more because it was a beautiful example of quality full scribe log home construction. The building was quite large and the roof supports were spectacular. The logs were Douglas Fir.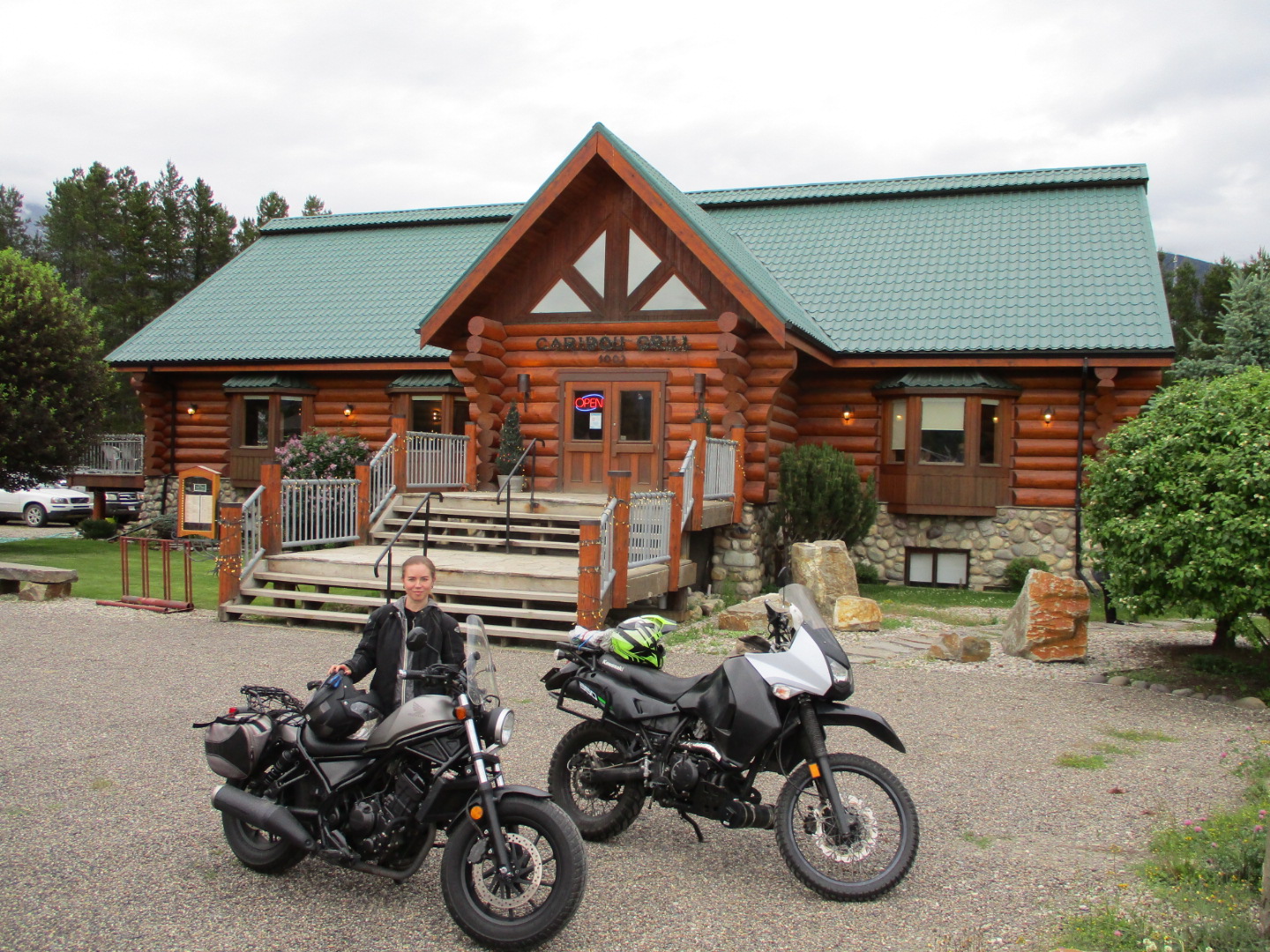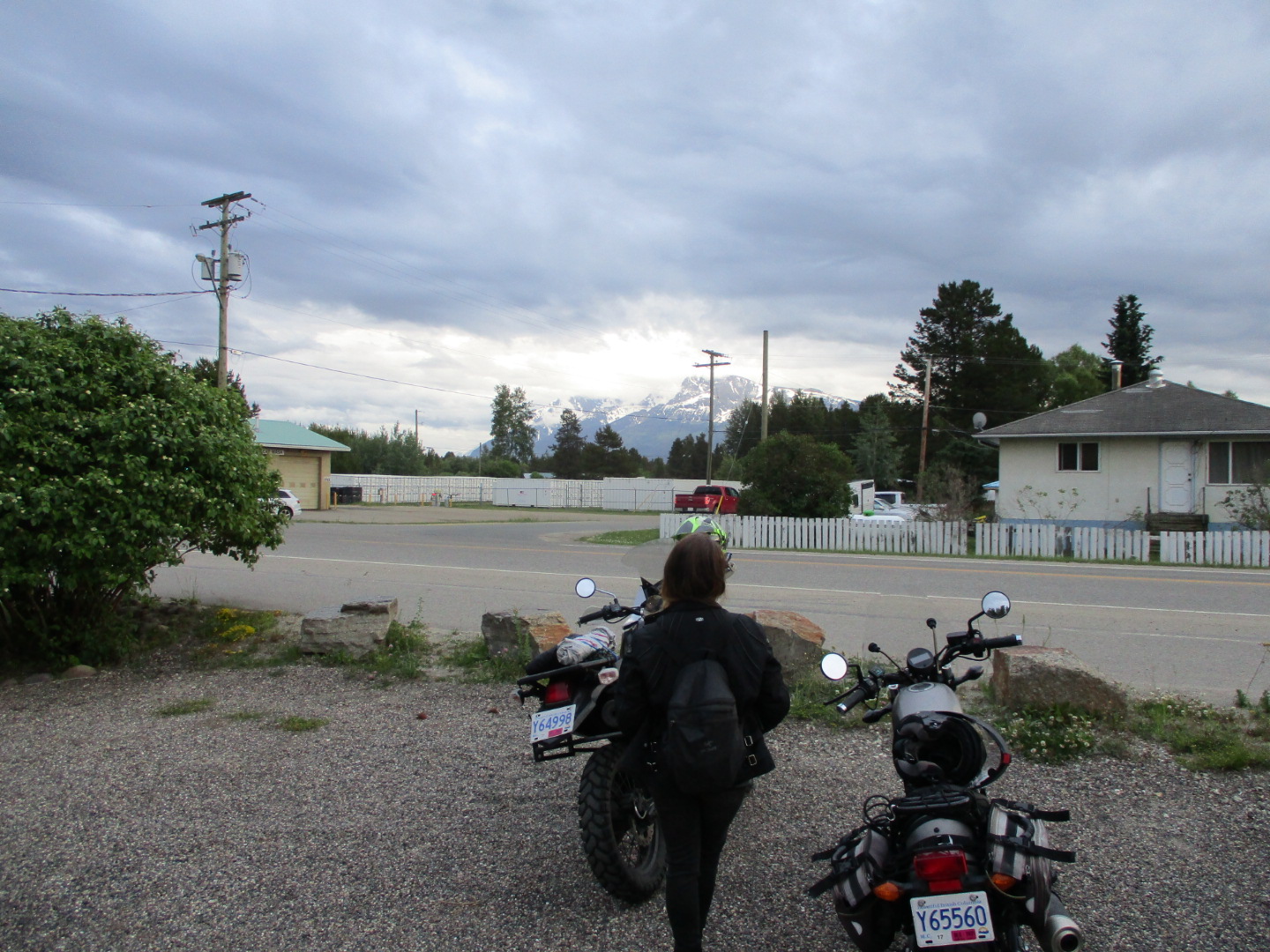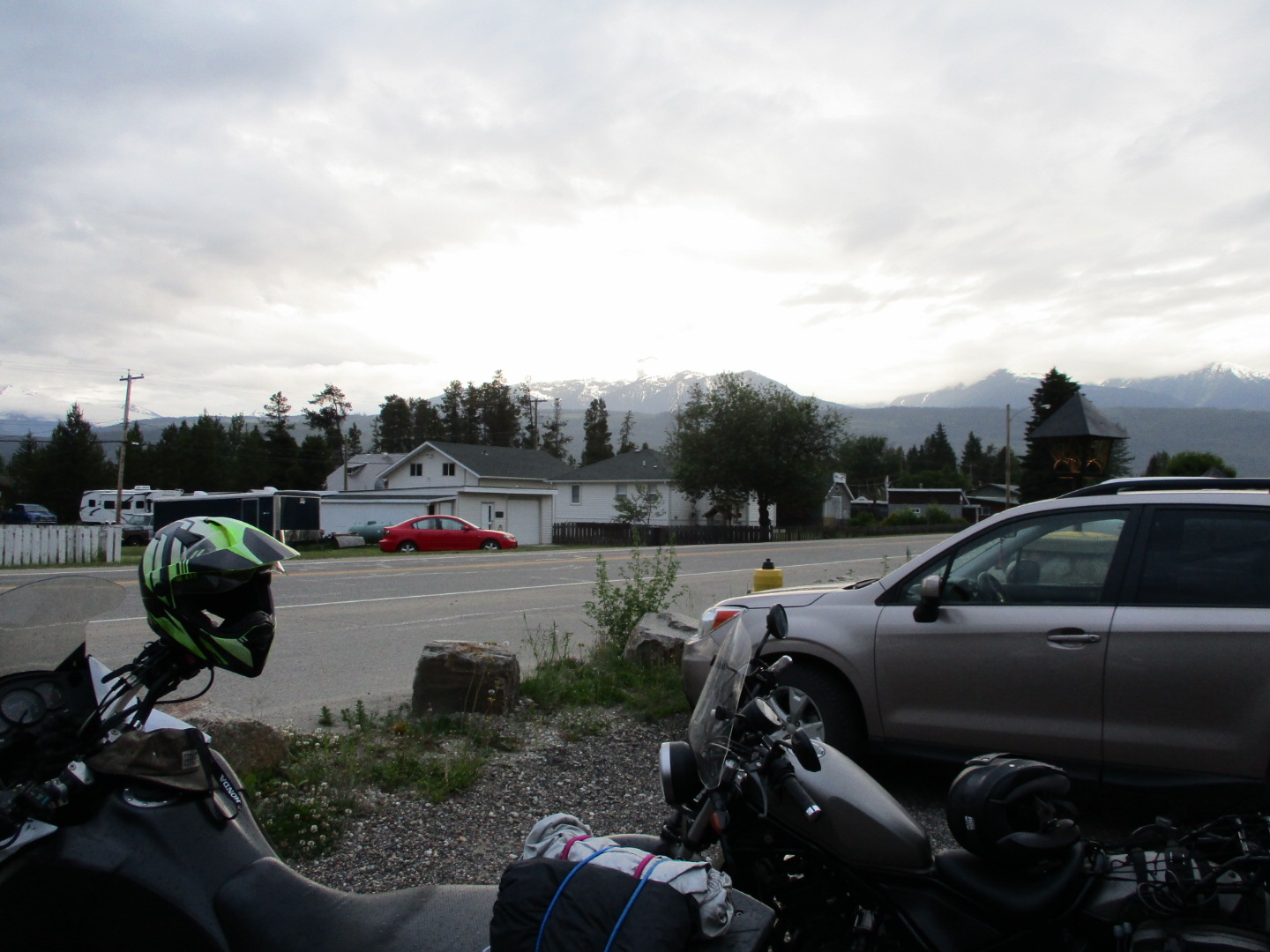 We went back to the motel and where I lubed our chains and covered the motorcycles. We watched the news and a large heat wave for the province seemed imminent. There was also big news about to be revealed regarding more unmarked mass residential school graves in Saskatchewan. Originally I had booked a room at the hostel in Lake Louise for tomorrow night but realized it would not be easy to bring our gear into the room. I searched around and booked an alternate room at the Mountaineer Lodge that had an exterior access ground floor room. It was cloudy and cool overnight.
Thursday June 24, 2021: Valemount - Lake Louise
We were up around 9:00am, got ourselves ready, ate breakfast and packed the motorcycles. We checked out at 10:30am and continued north on highway 5 out of Valemount.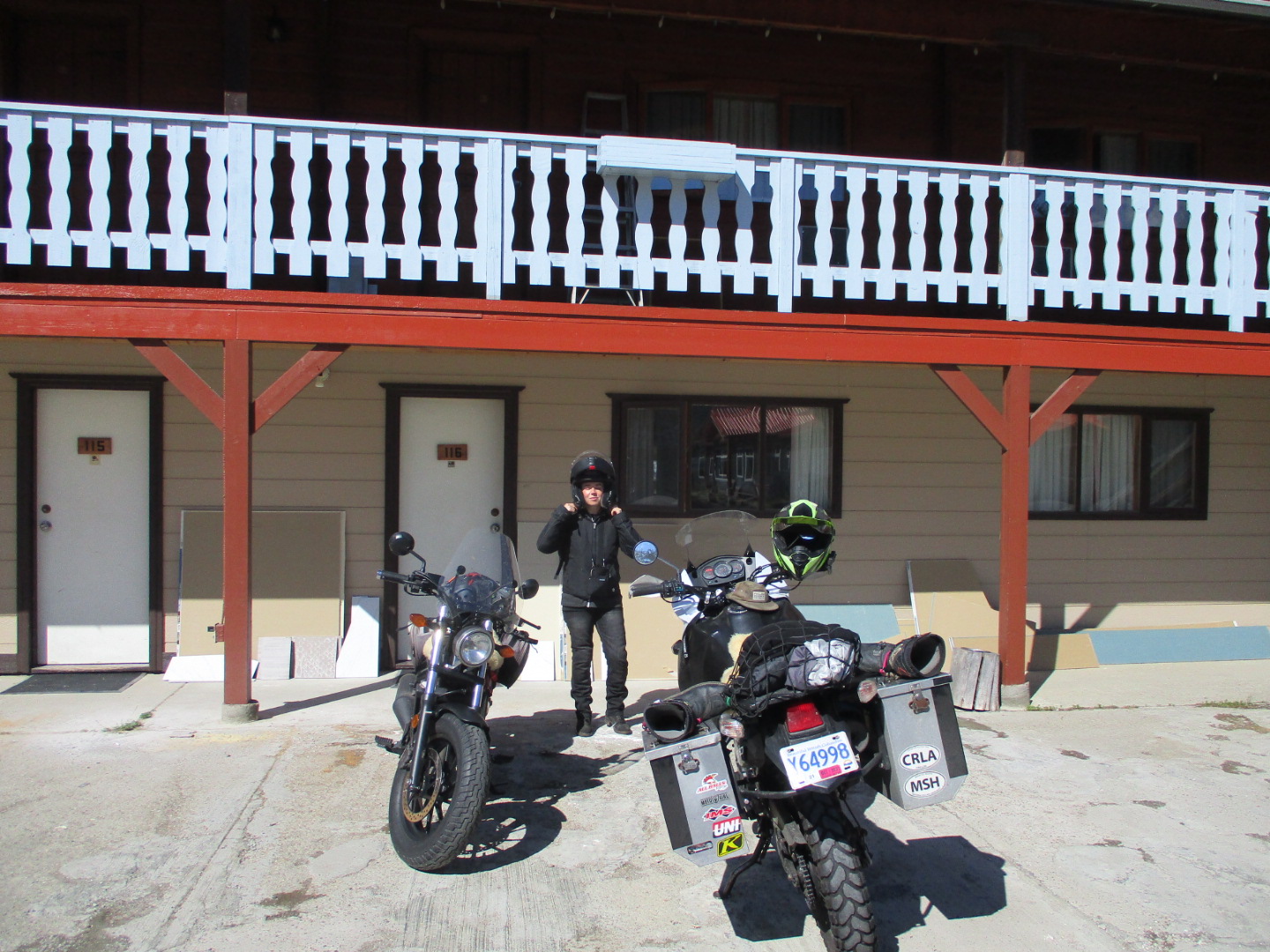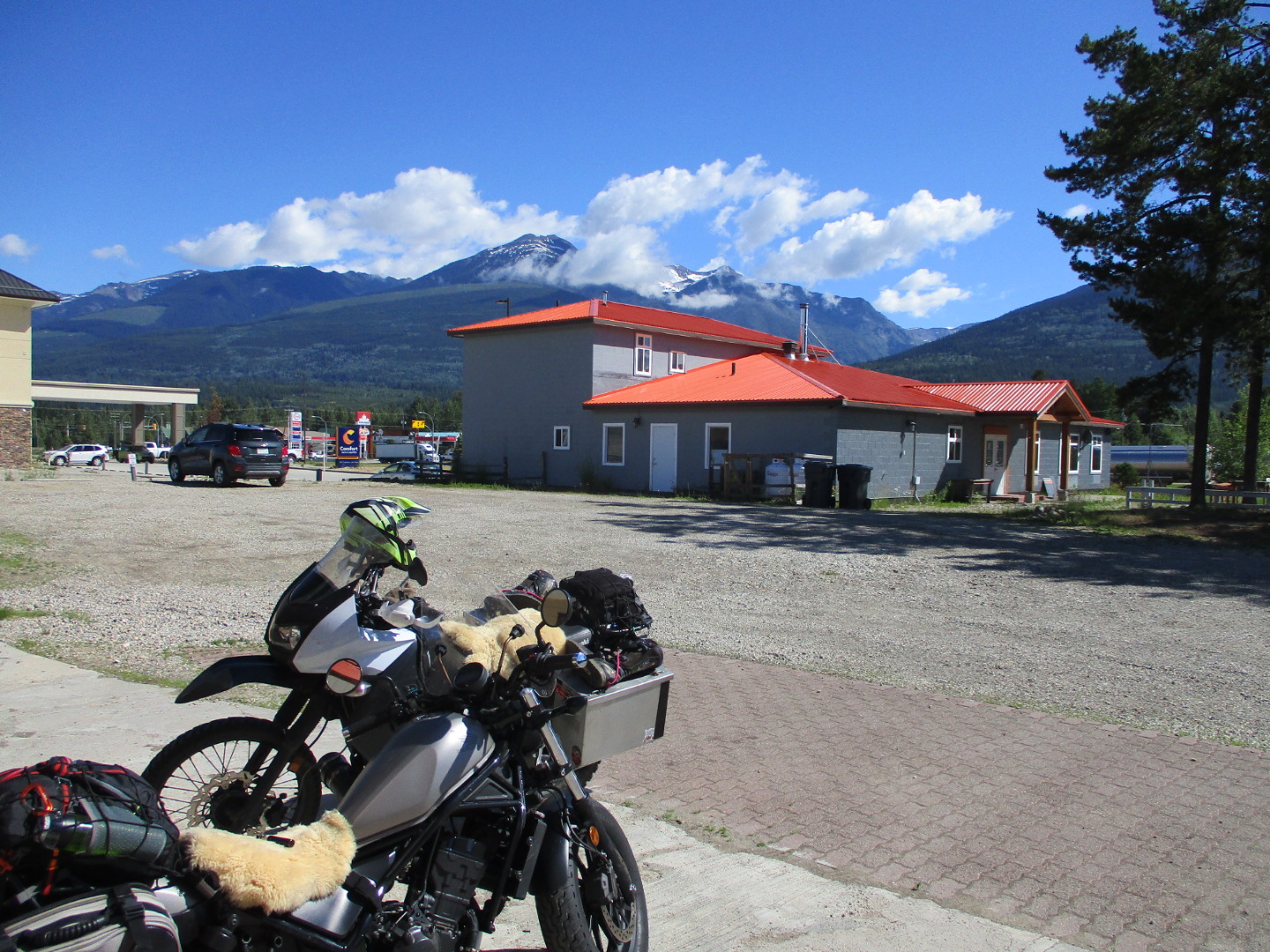 At the junction of highway 5 and highway 16 we turned east towards Jasper. Soon Mt. Robson came into view from the highway. It is the largest mountain in the Canadian Rockies at 3954 meters.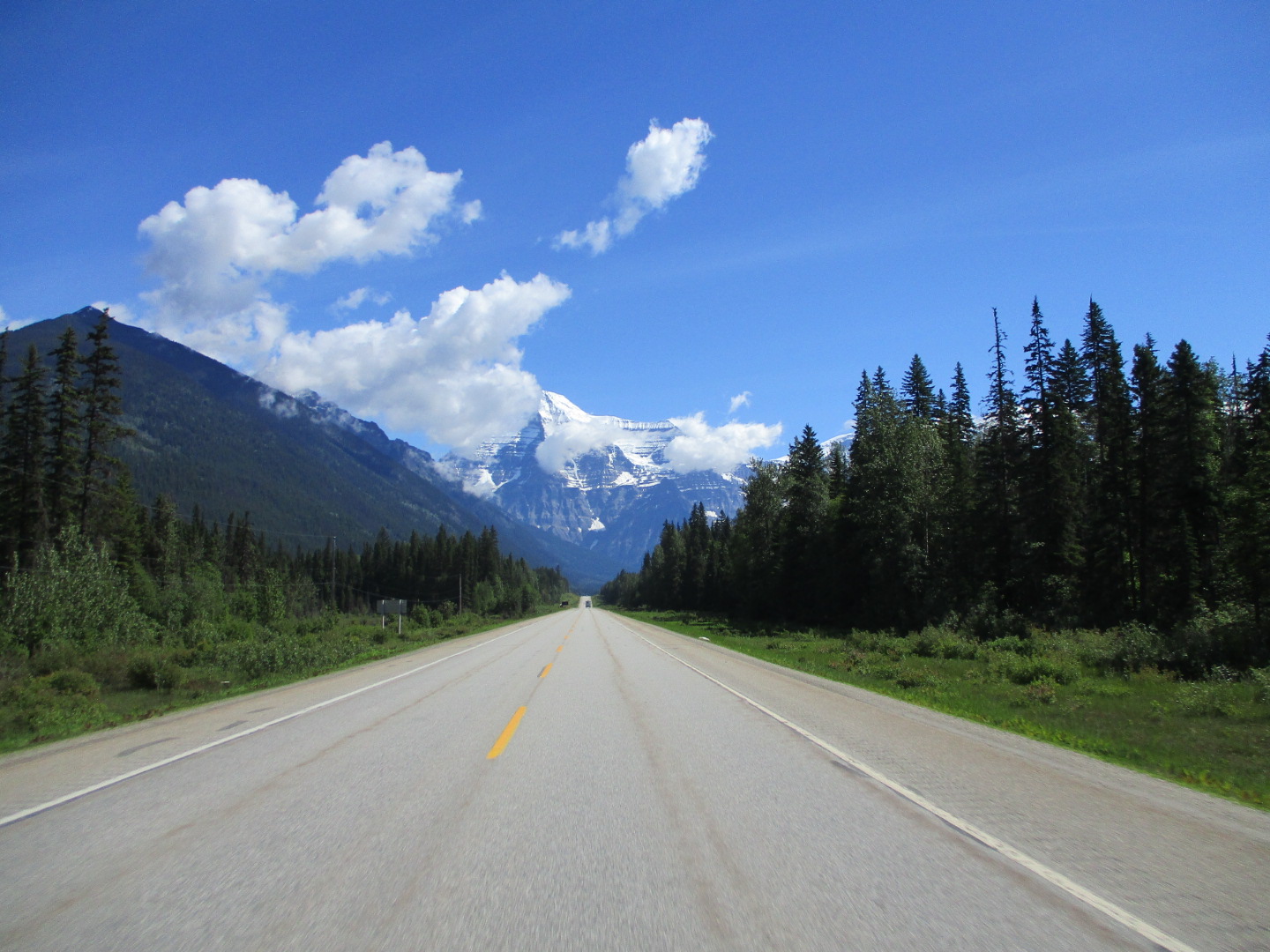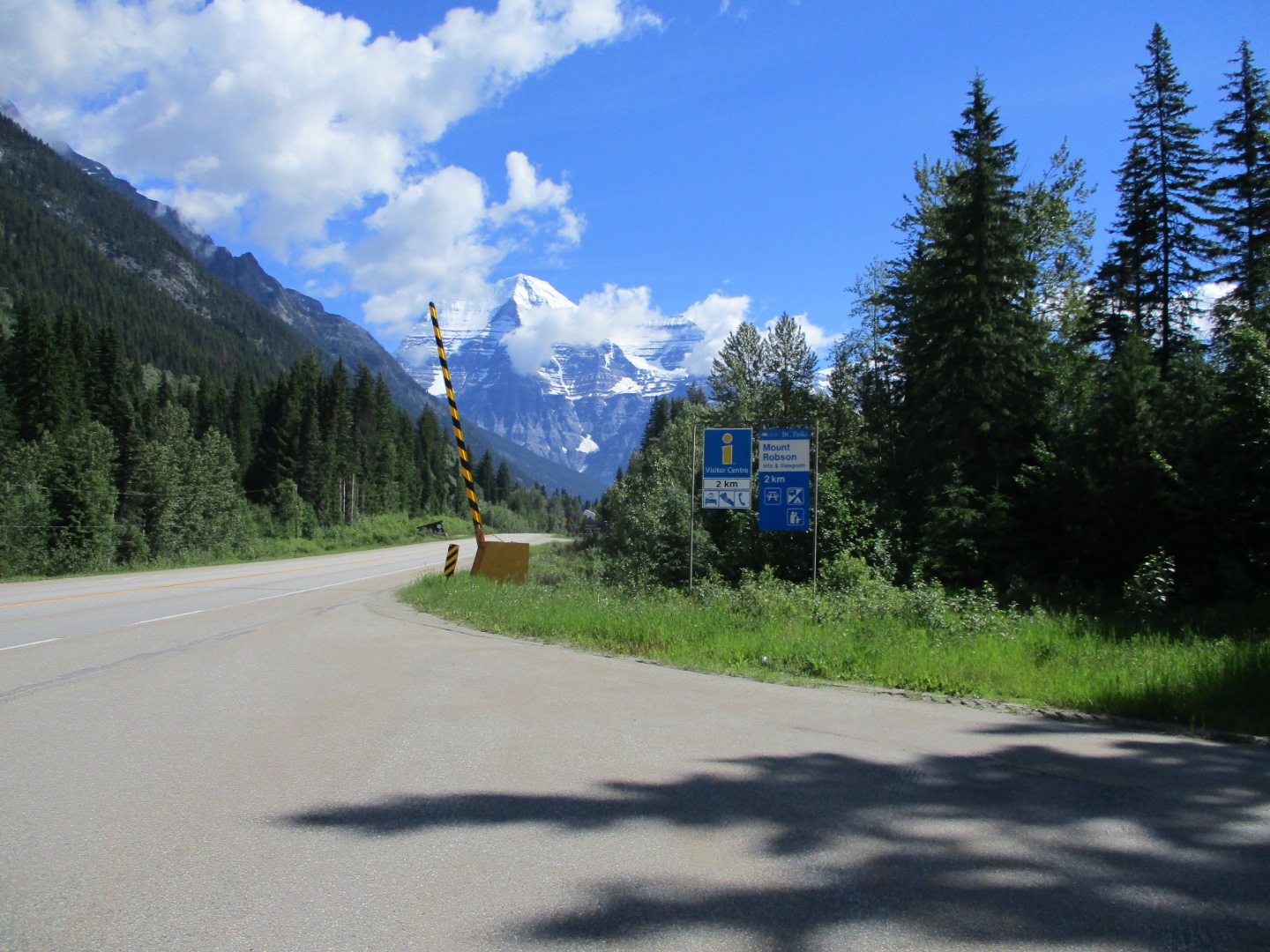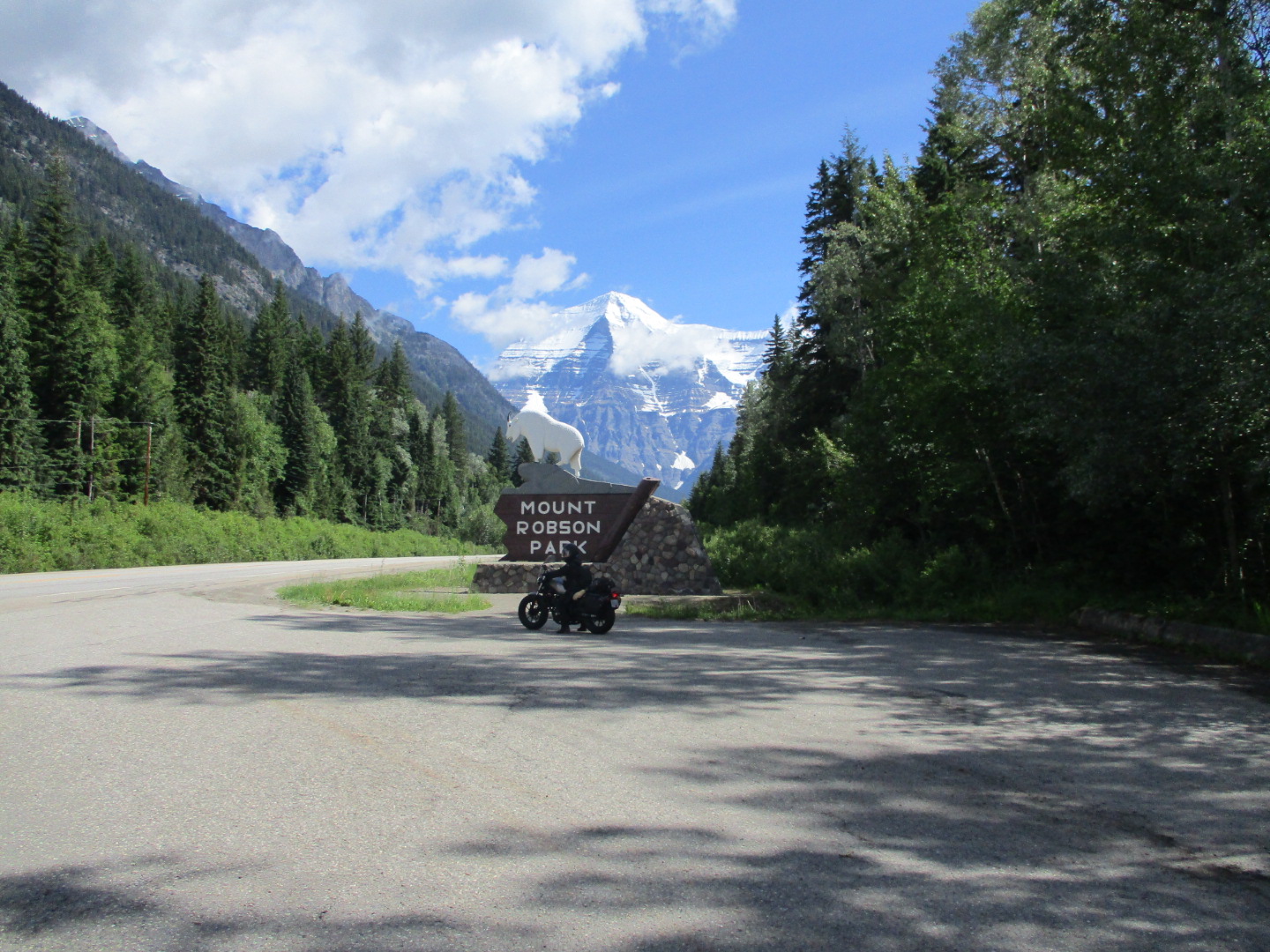 We stopped at the Mt Robson visiters center at 11:30am to purchase stickers and postcards before continuing on. We made another stop at the provincial border.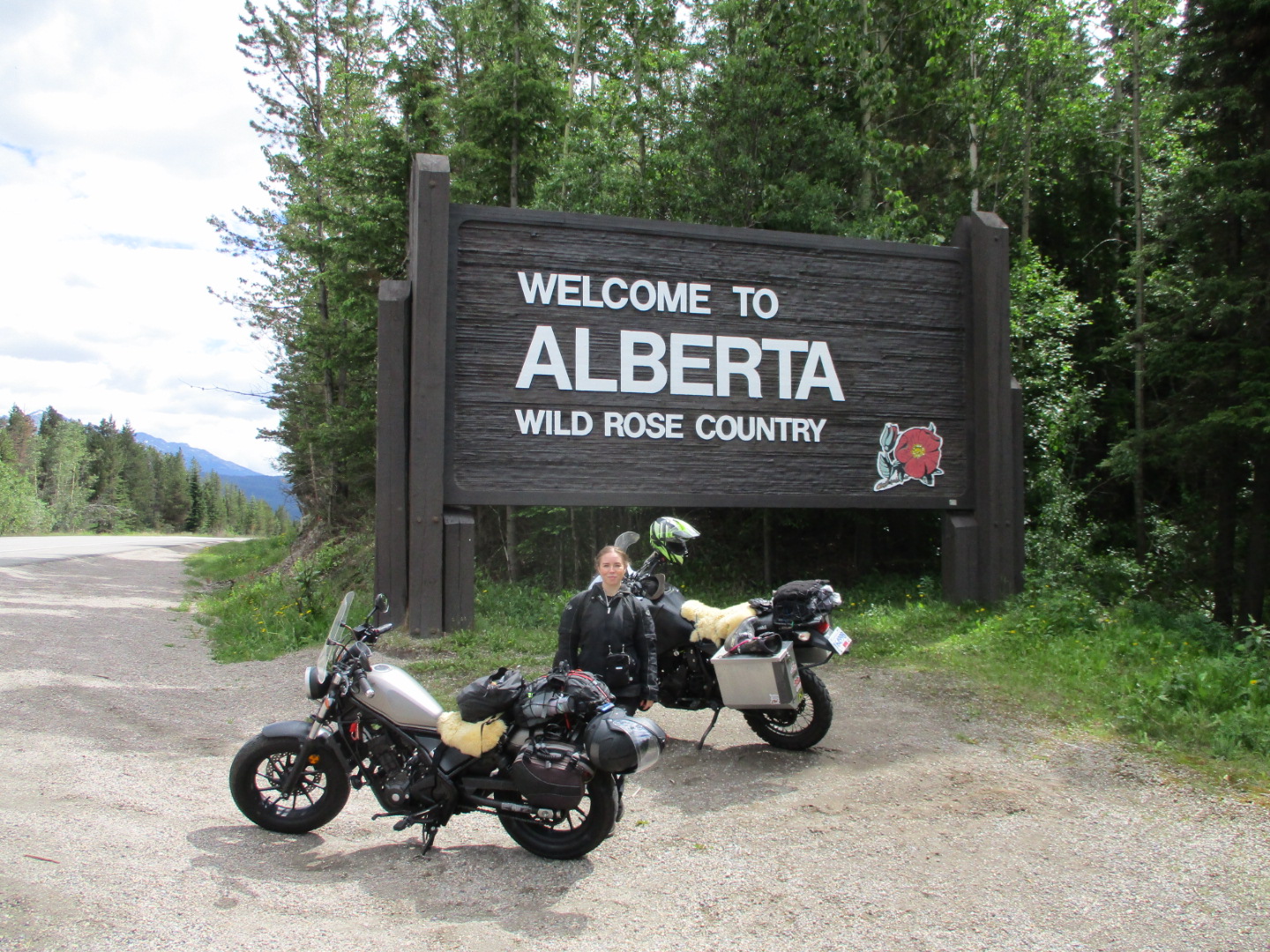 We arrived in Jasper at 1:00pm local time which was later than I had anticipated due to time zone changes. We got gas then ate lunch at the Kimchi House restaurant which was pretty good but overpriced.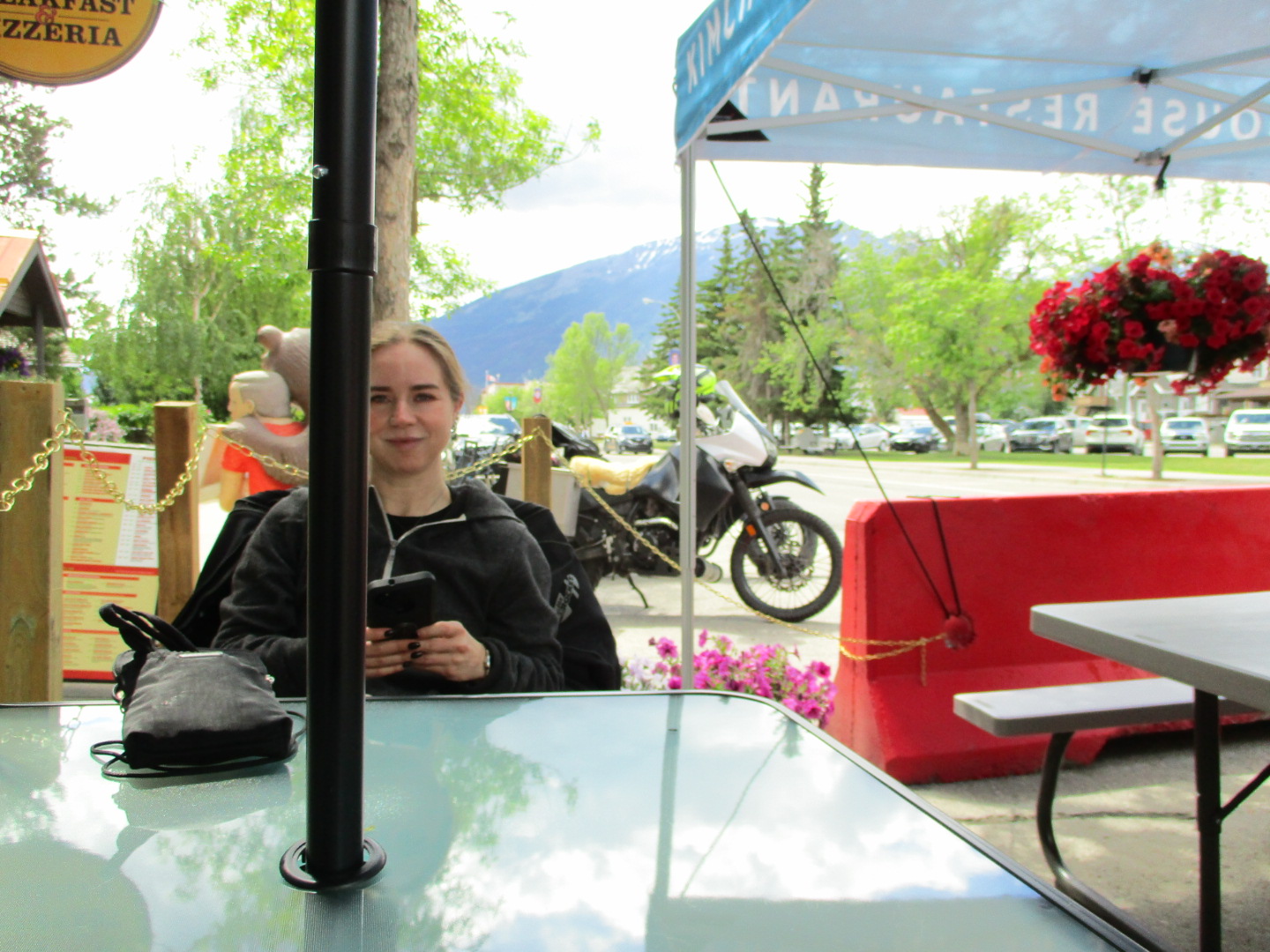 Around 2:00pm we left Jasper and turned south on the Icefields Parkway, highway 93.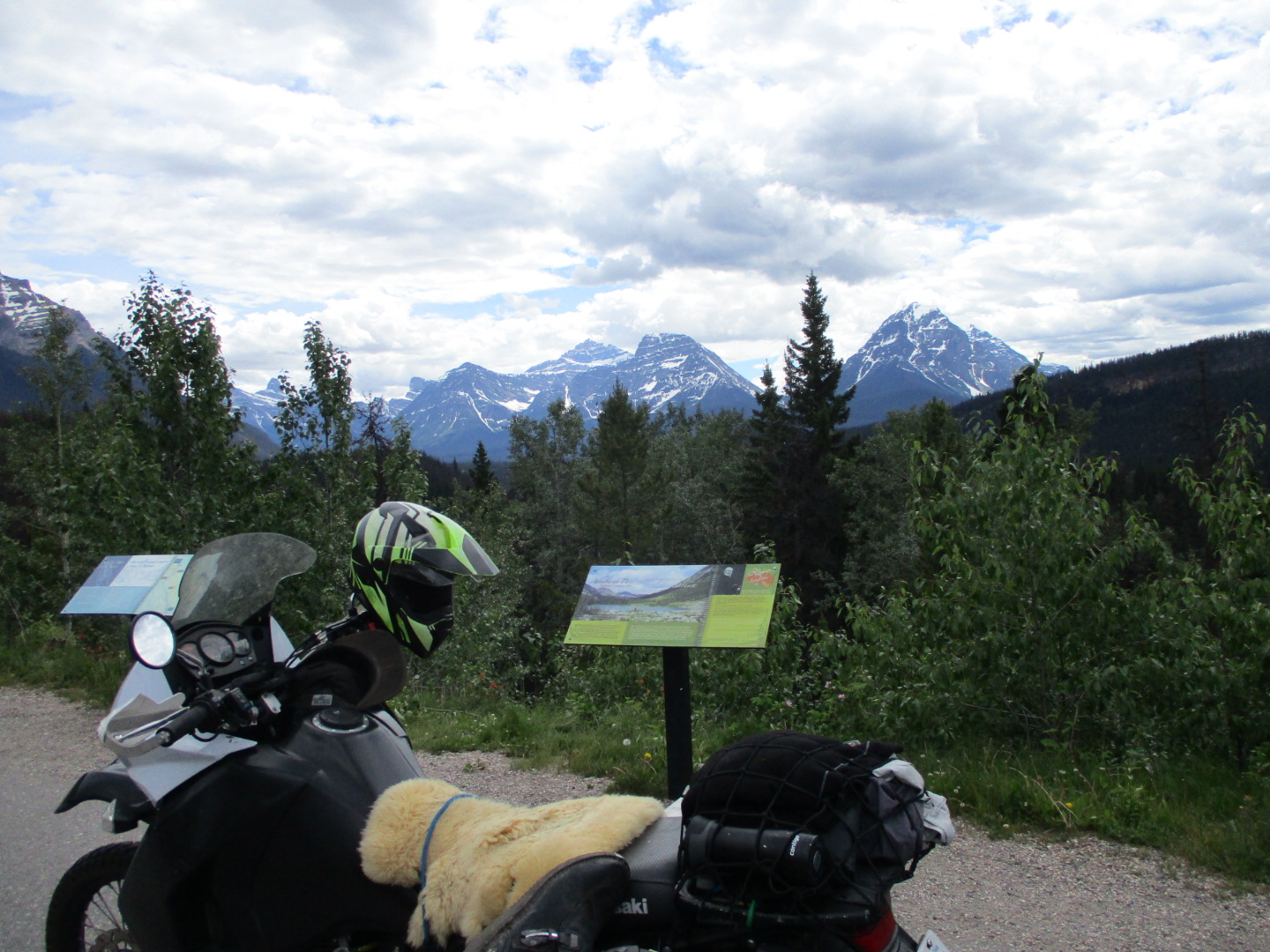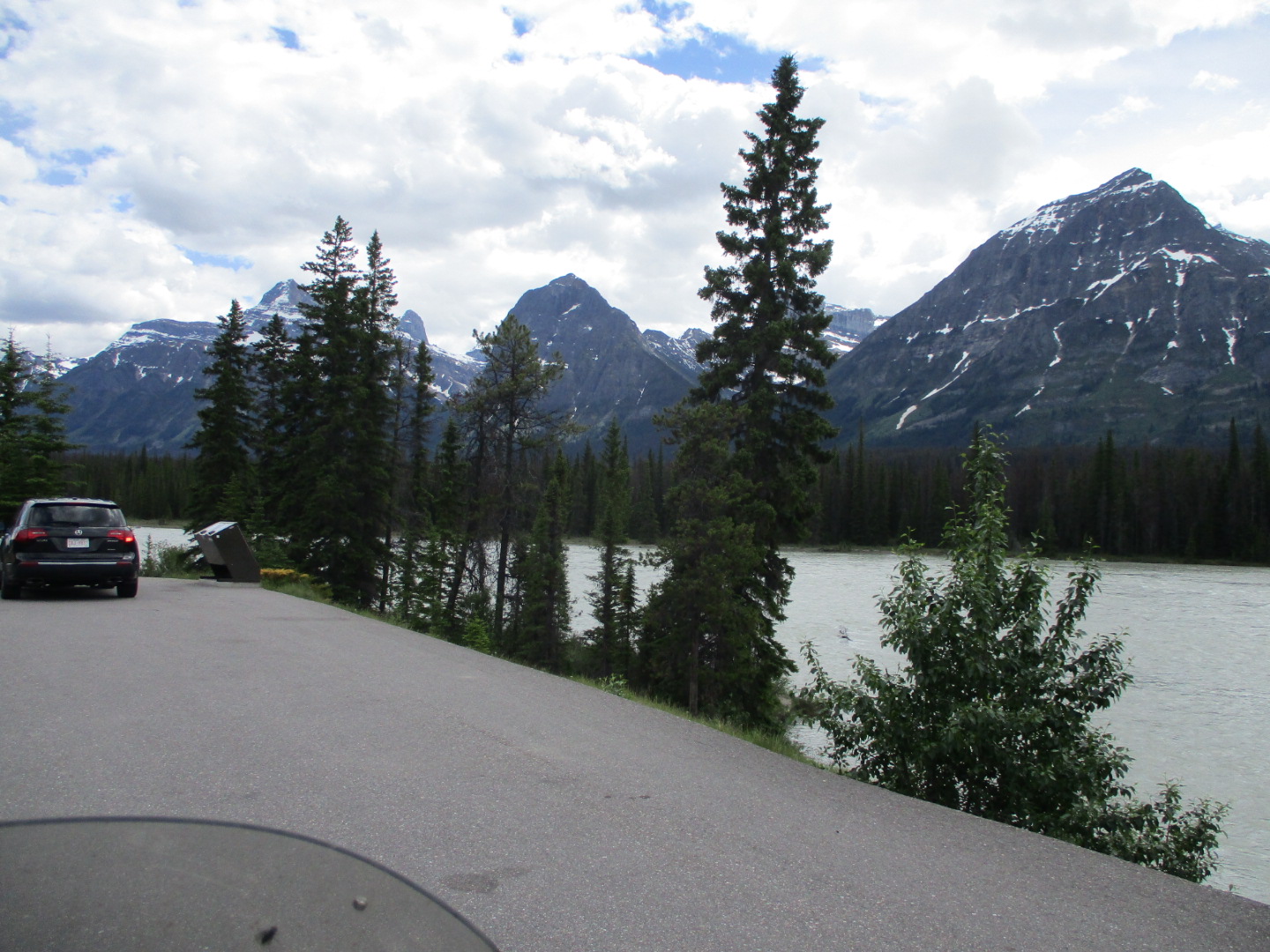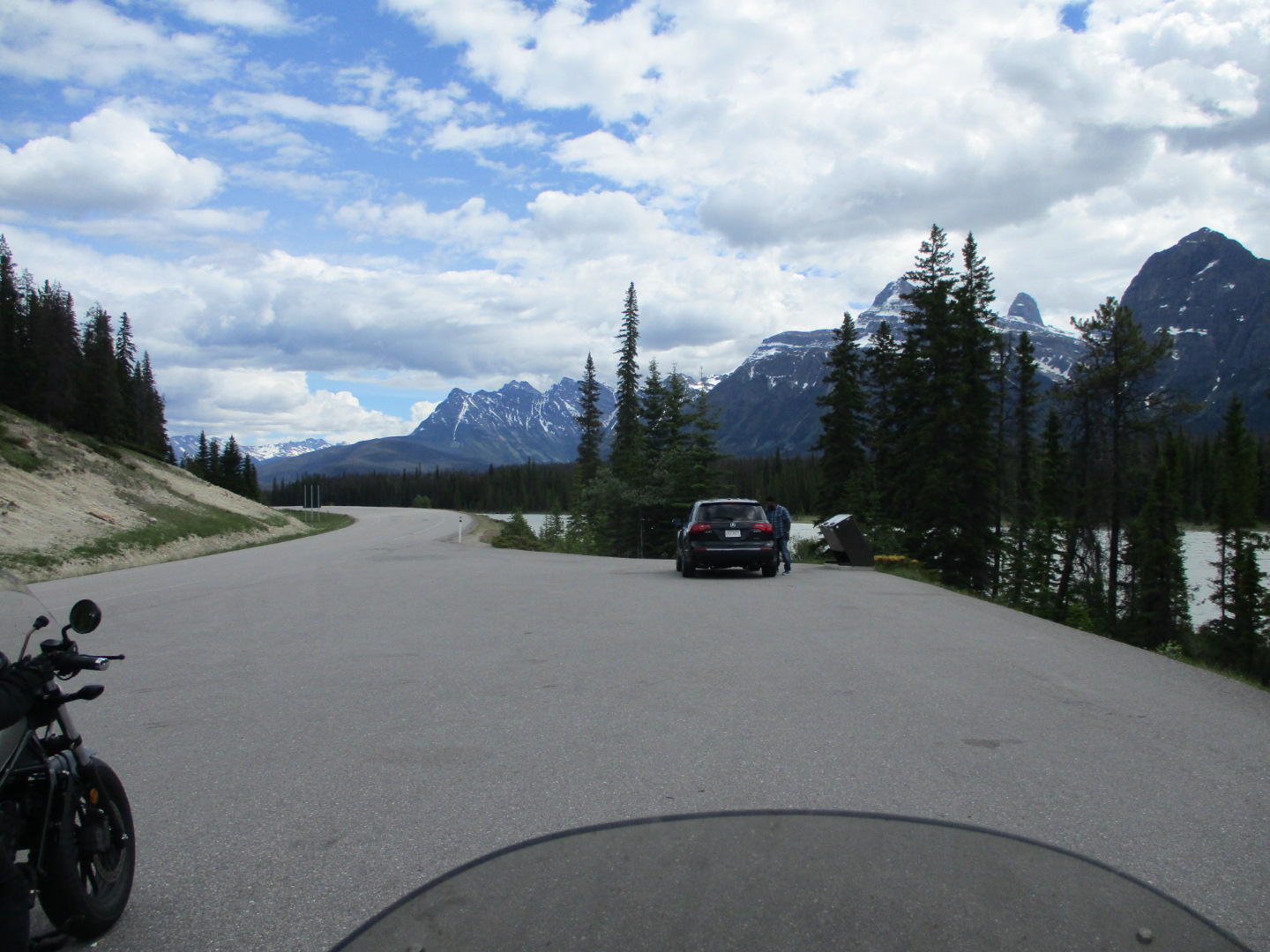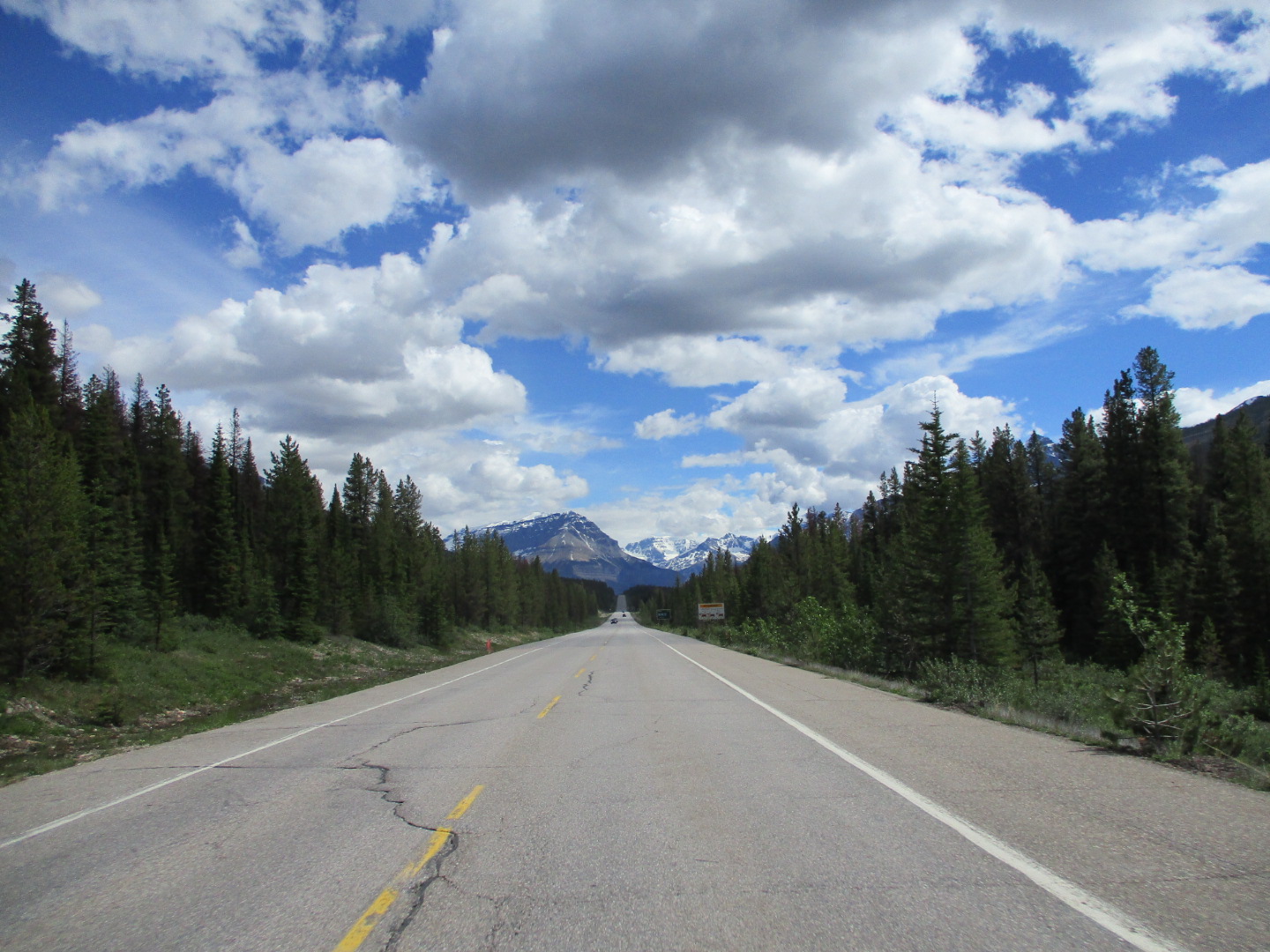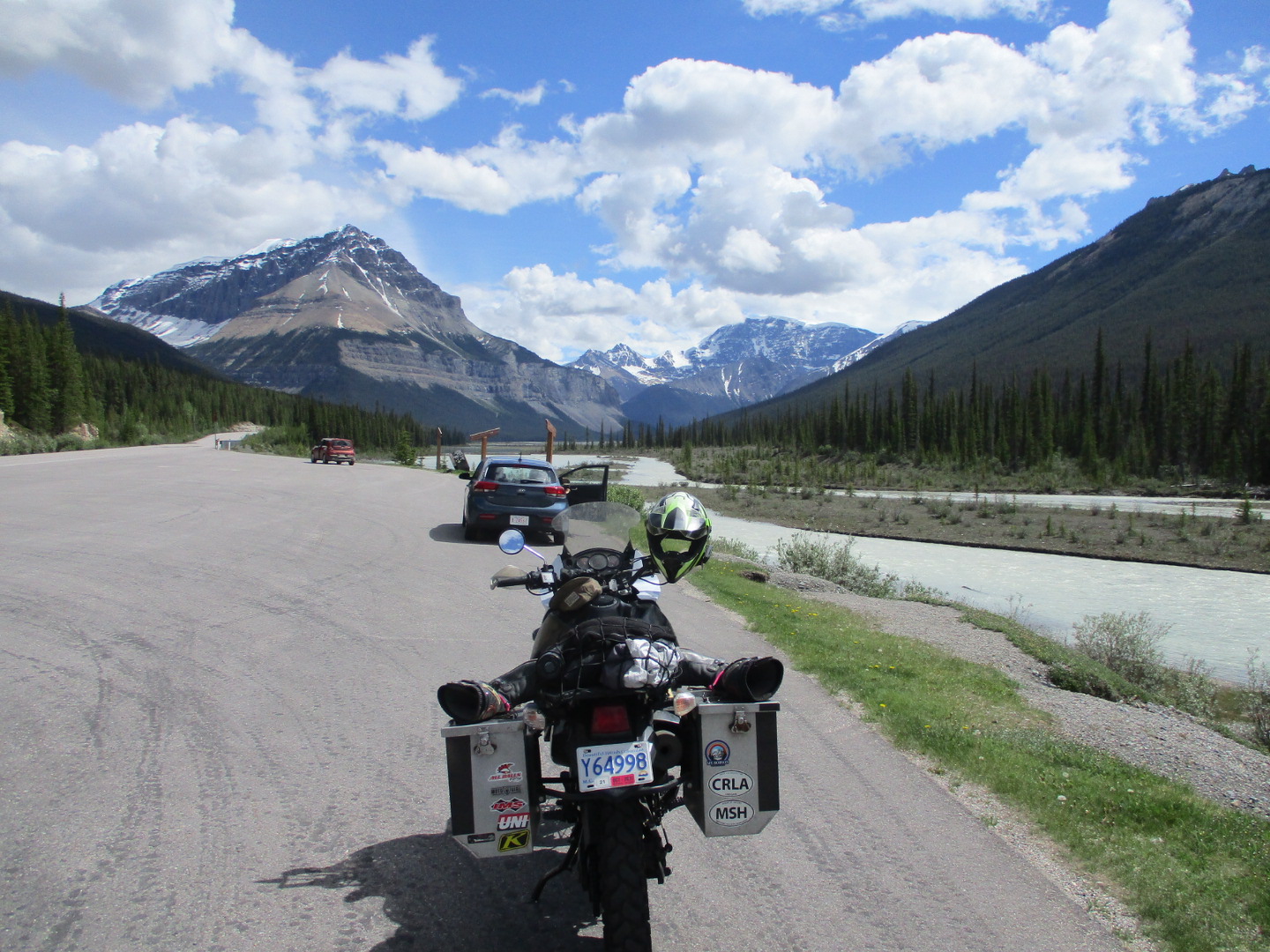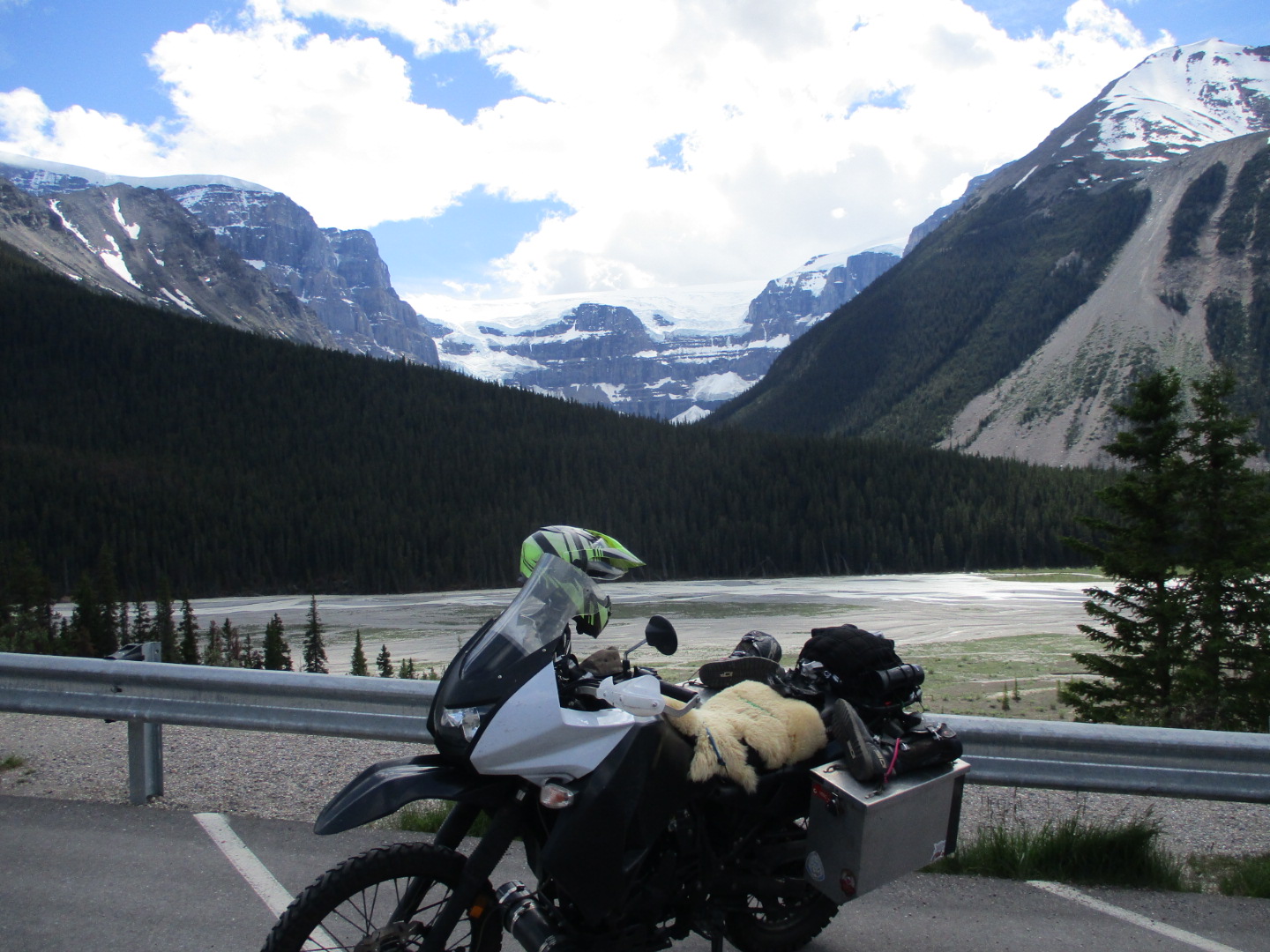 Along the previous stretch we had stopped on the side of the road to watch a black bear, but were urged onwards by Parks Canada staff telling us it was unsafe to stop because we were on motorcycles. We arrived at the chilly Columbia Icefield around 5:00pm.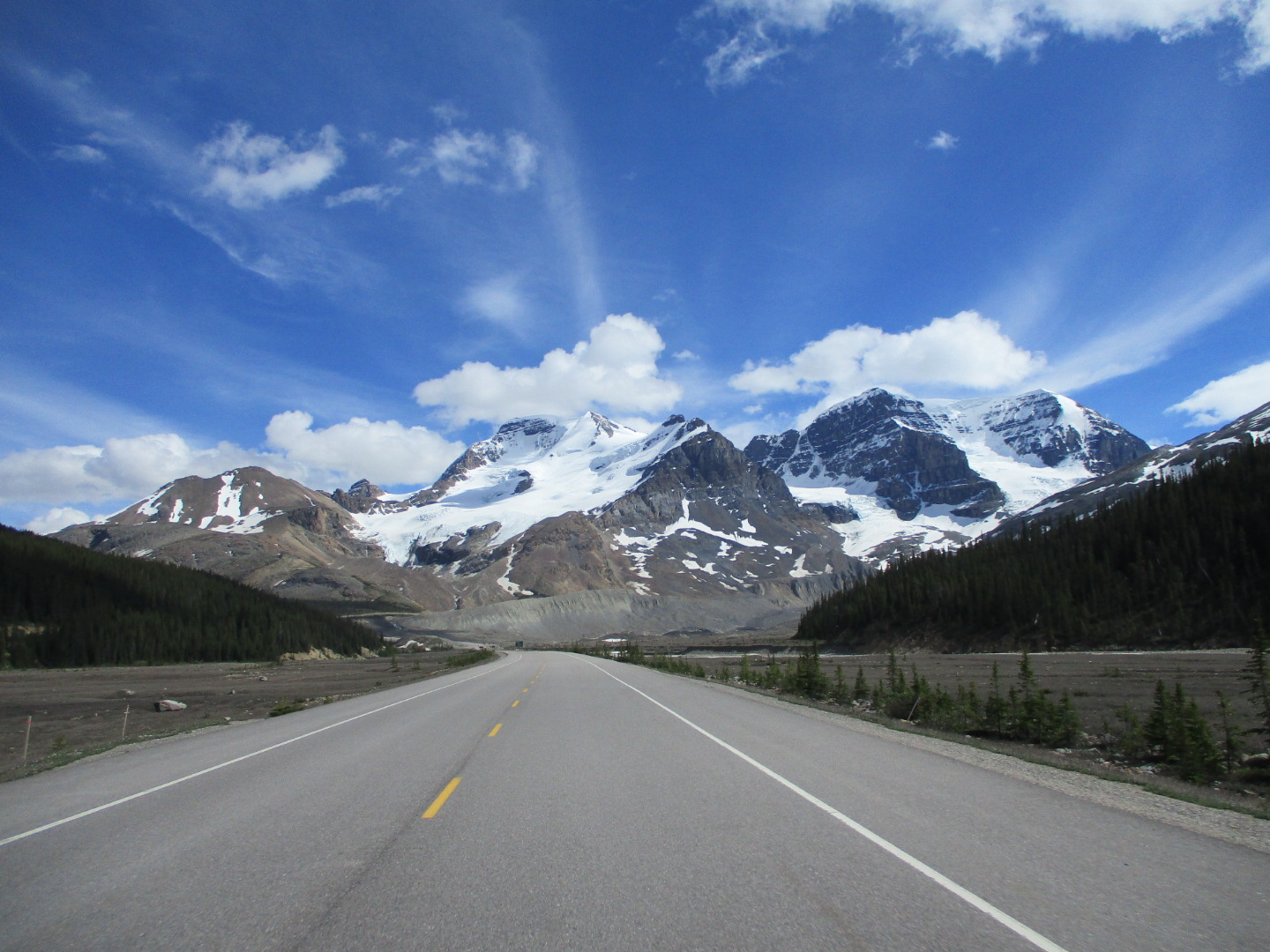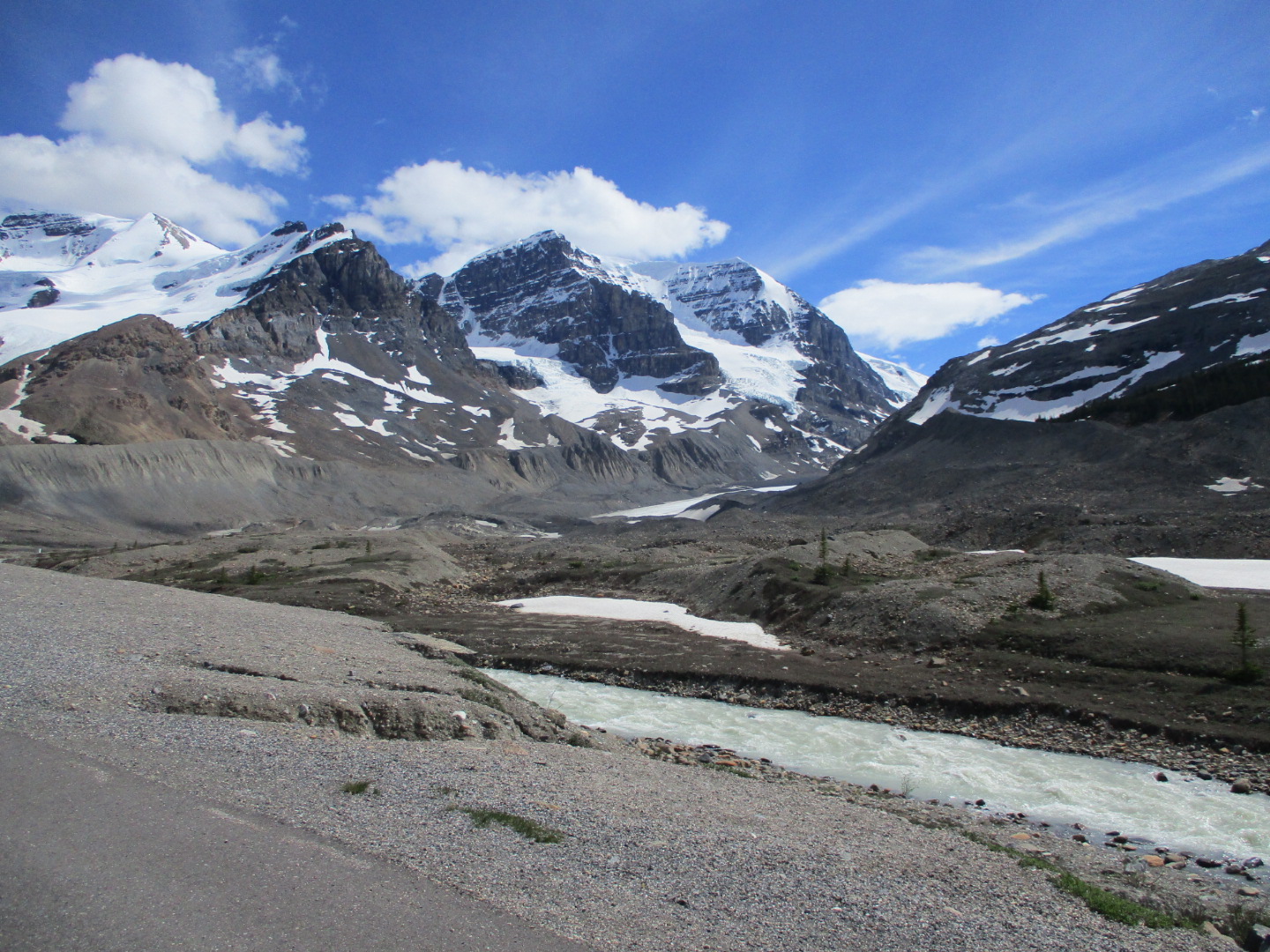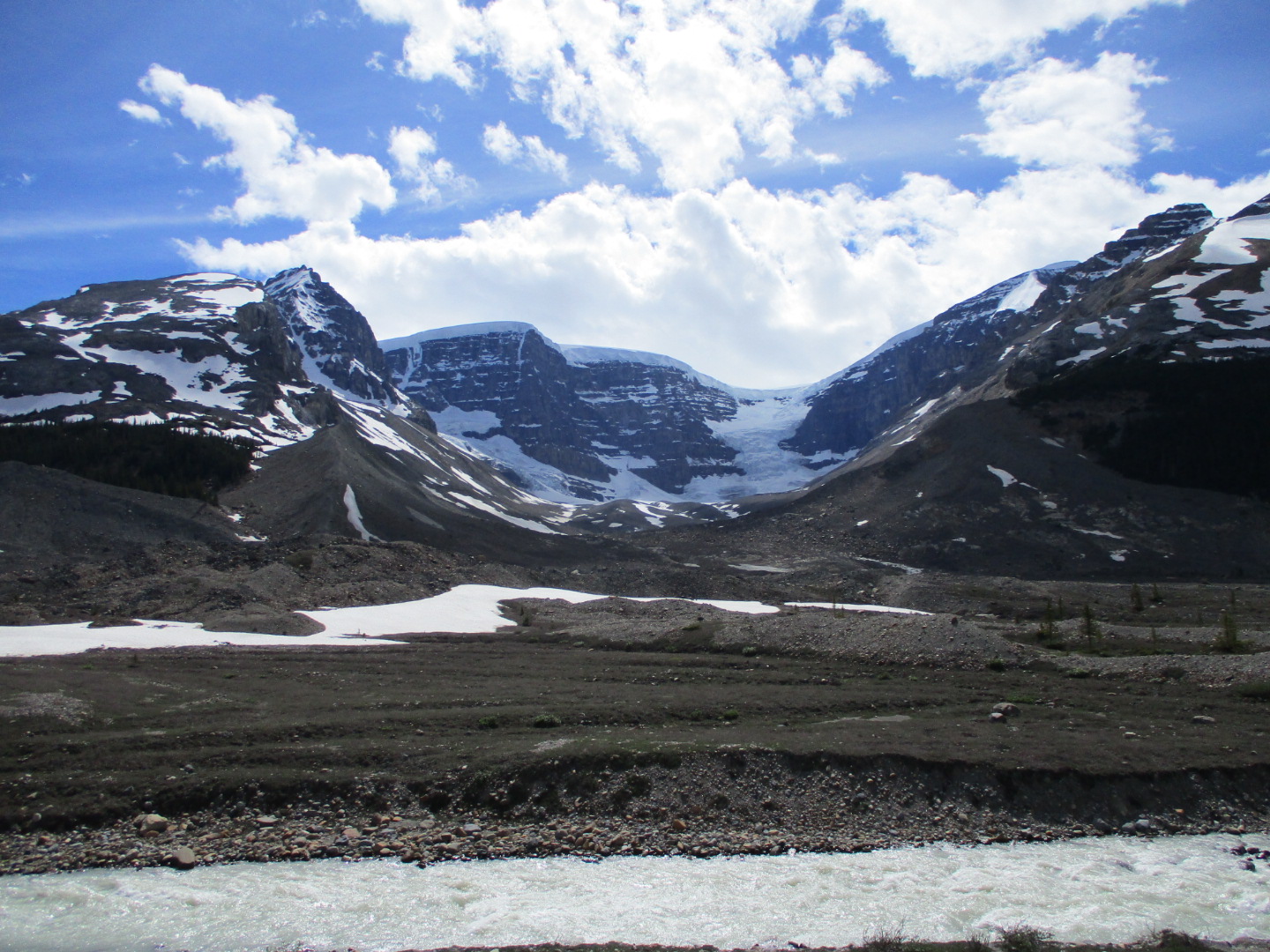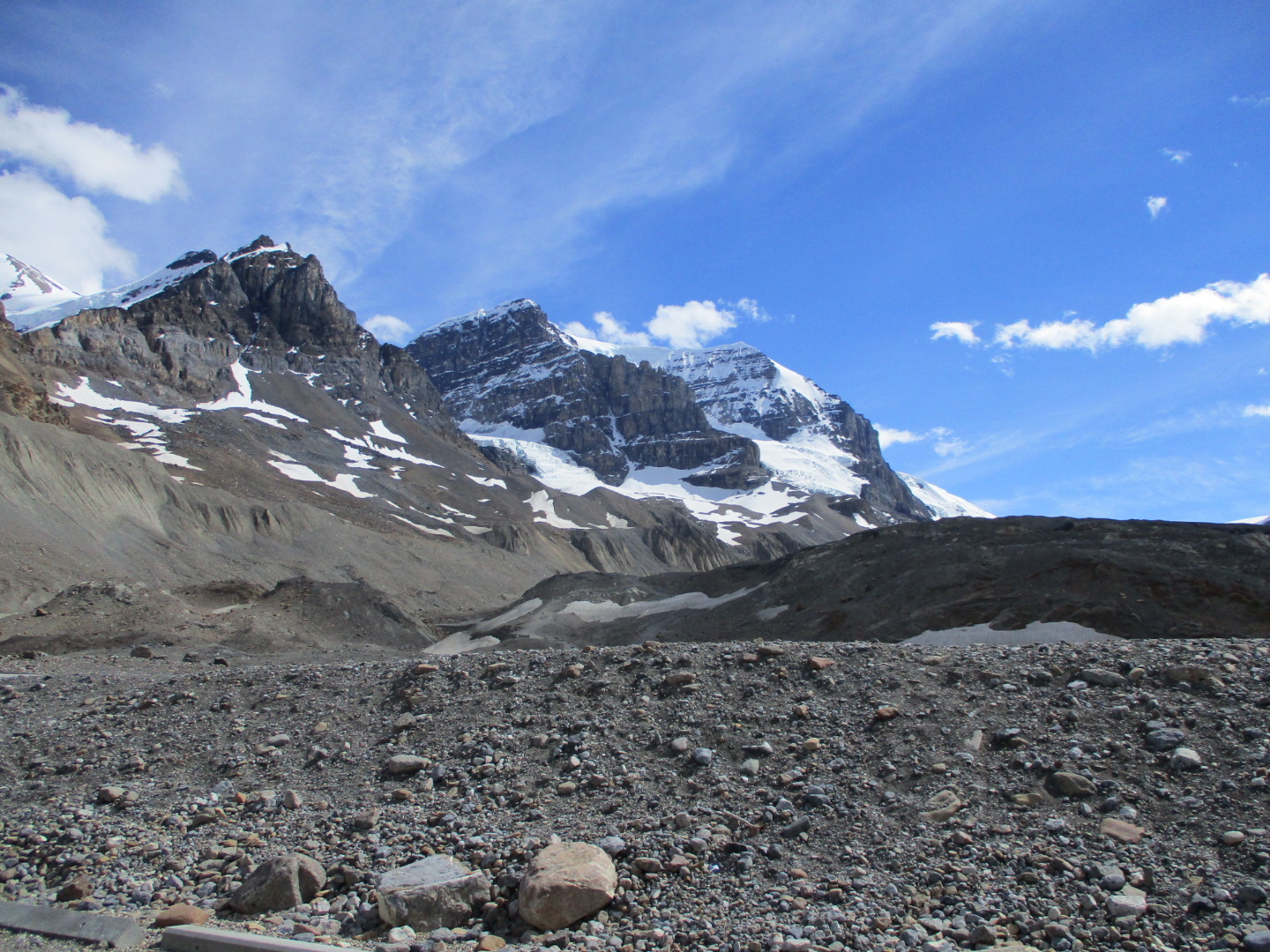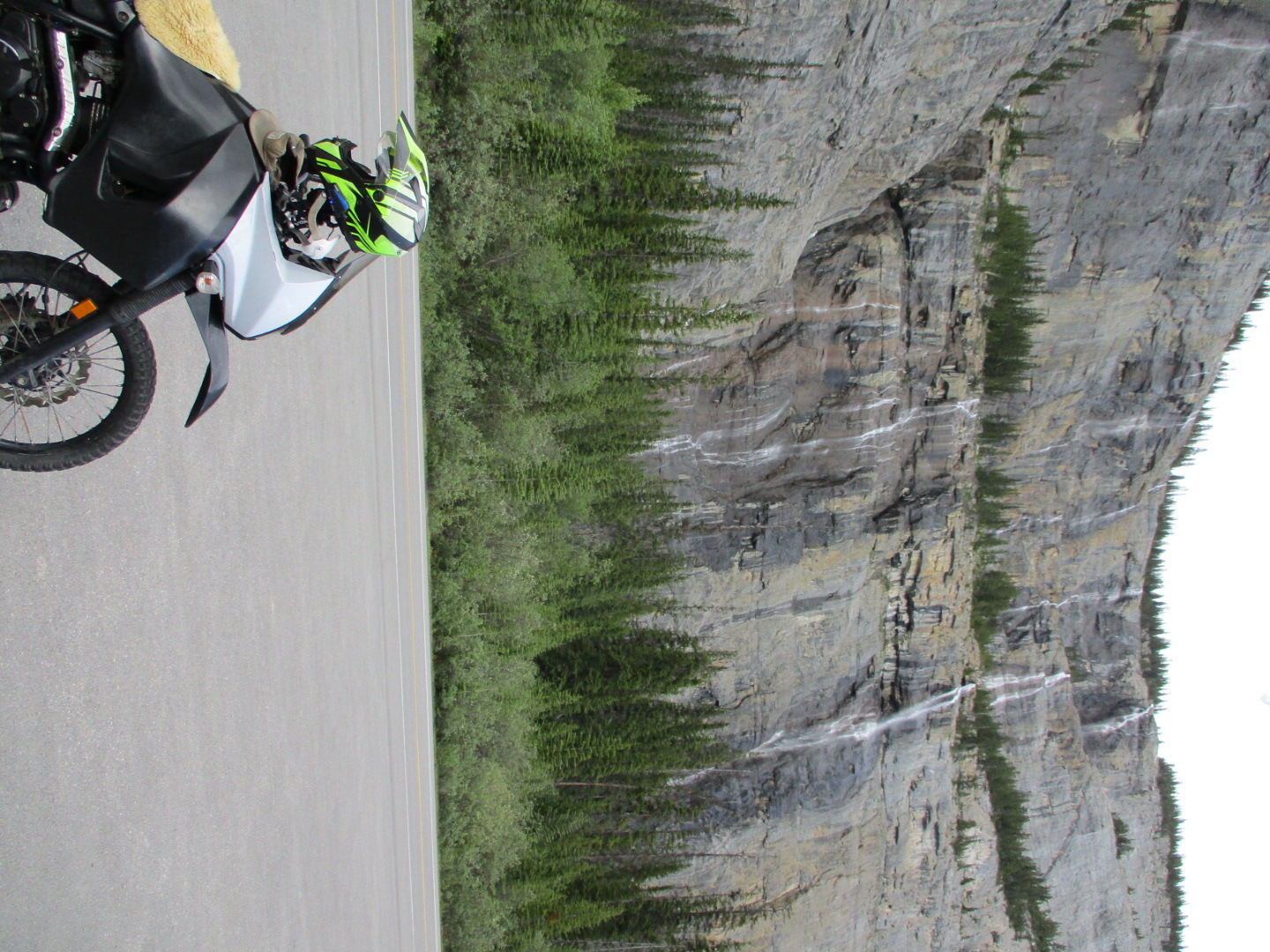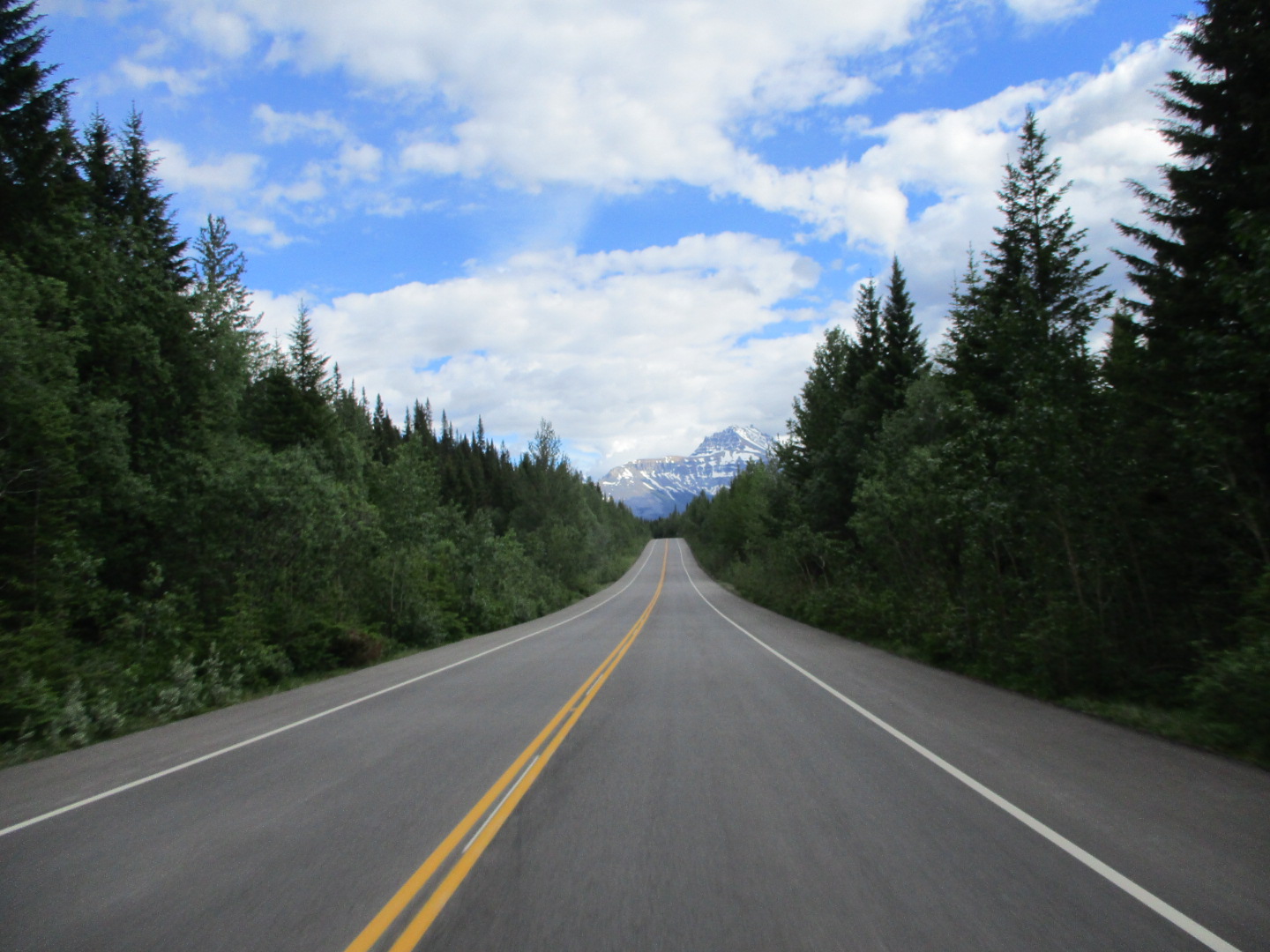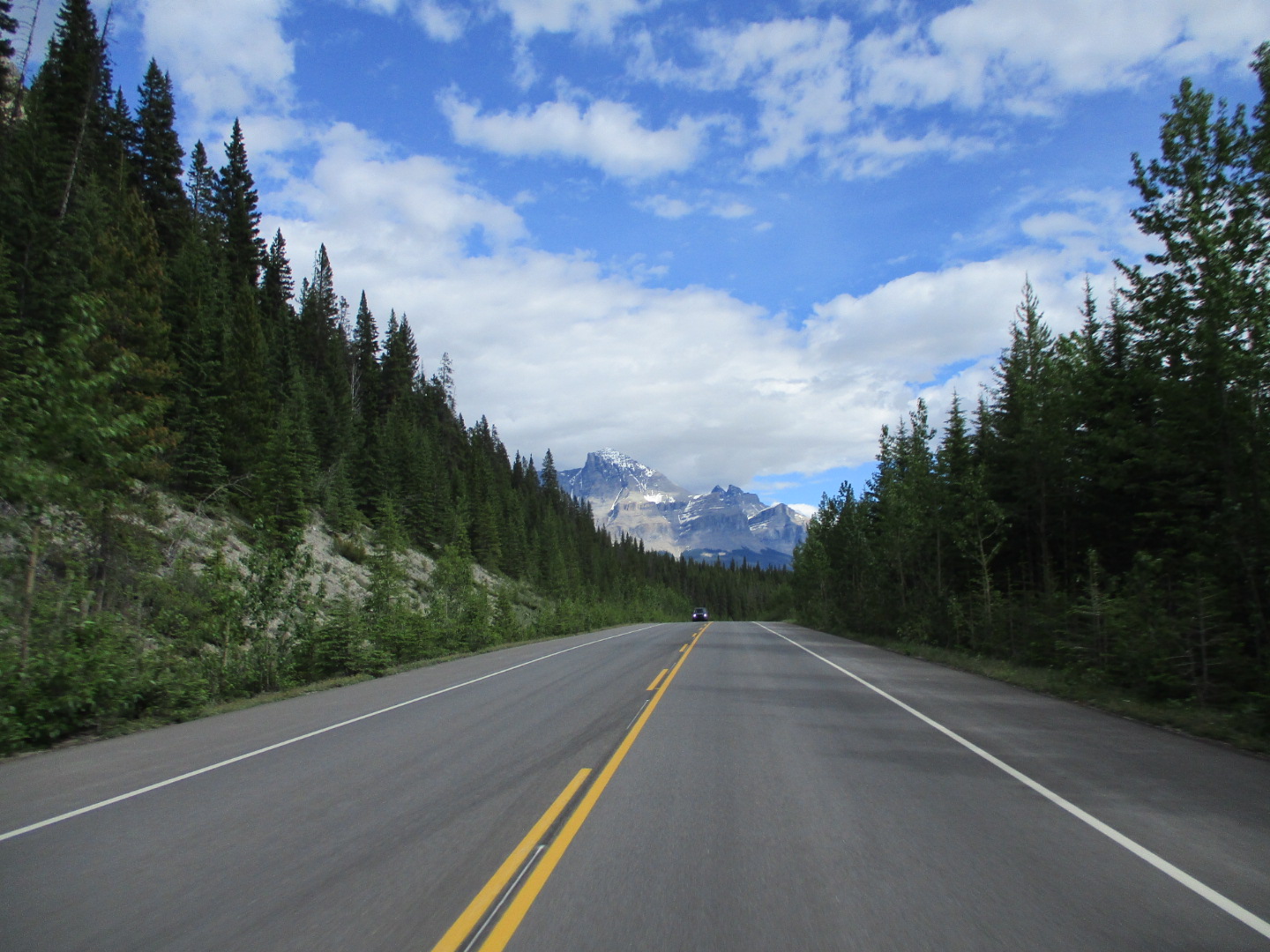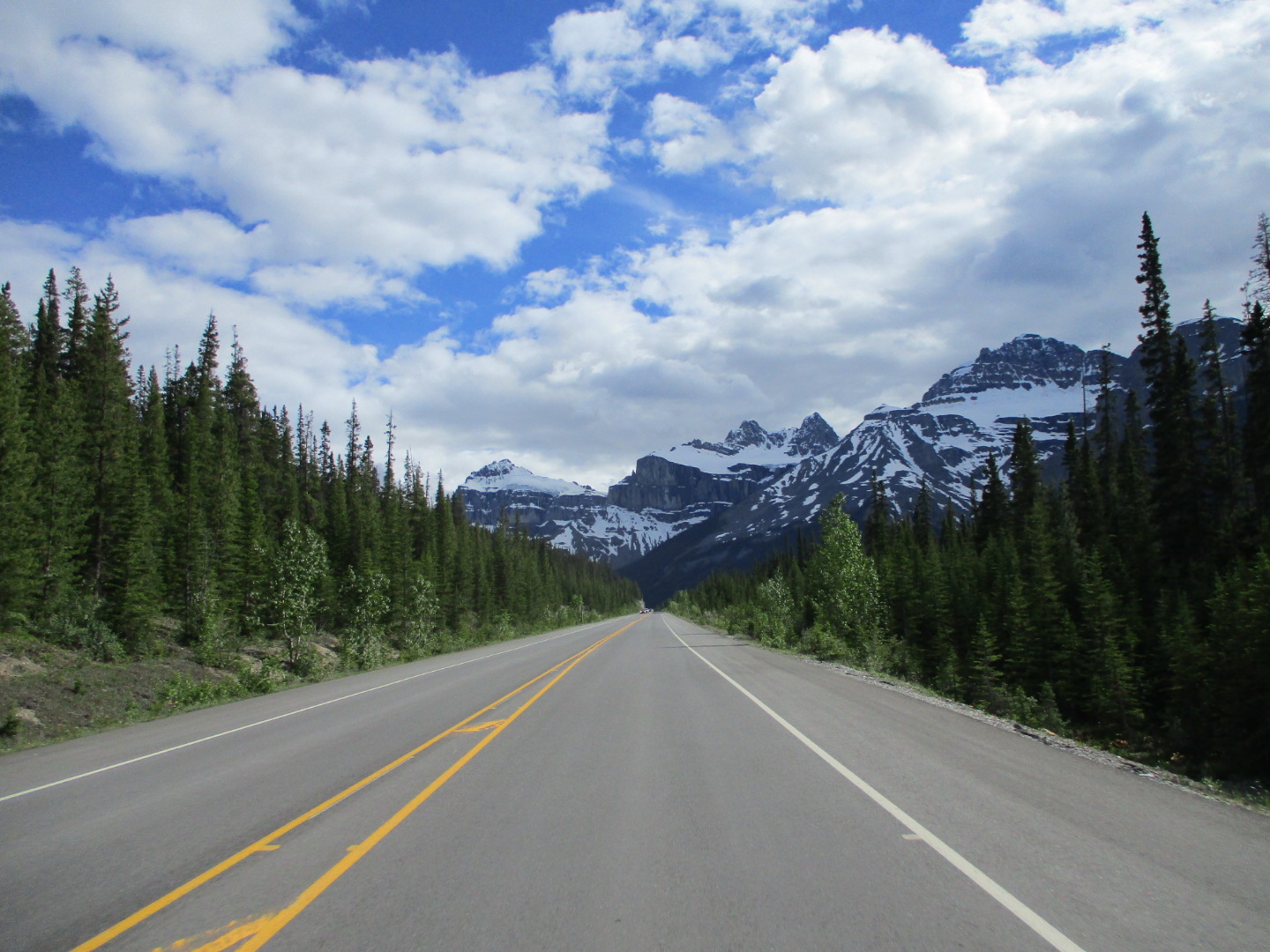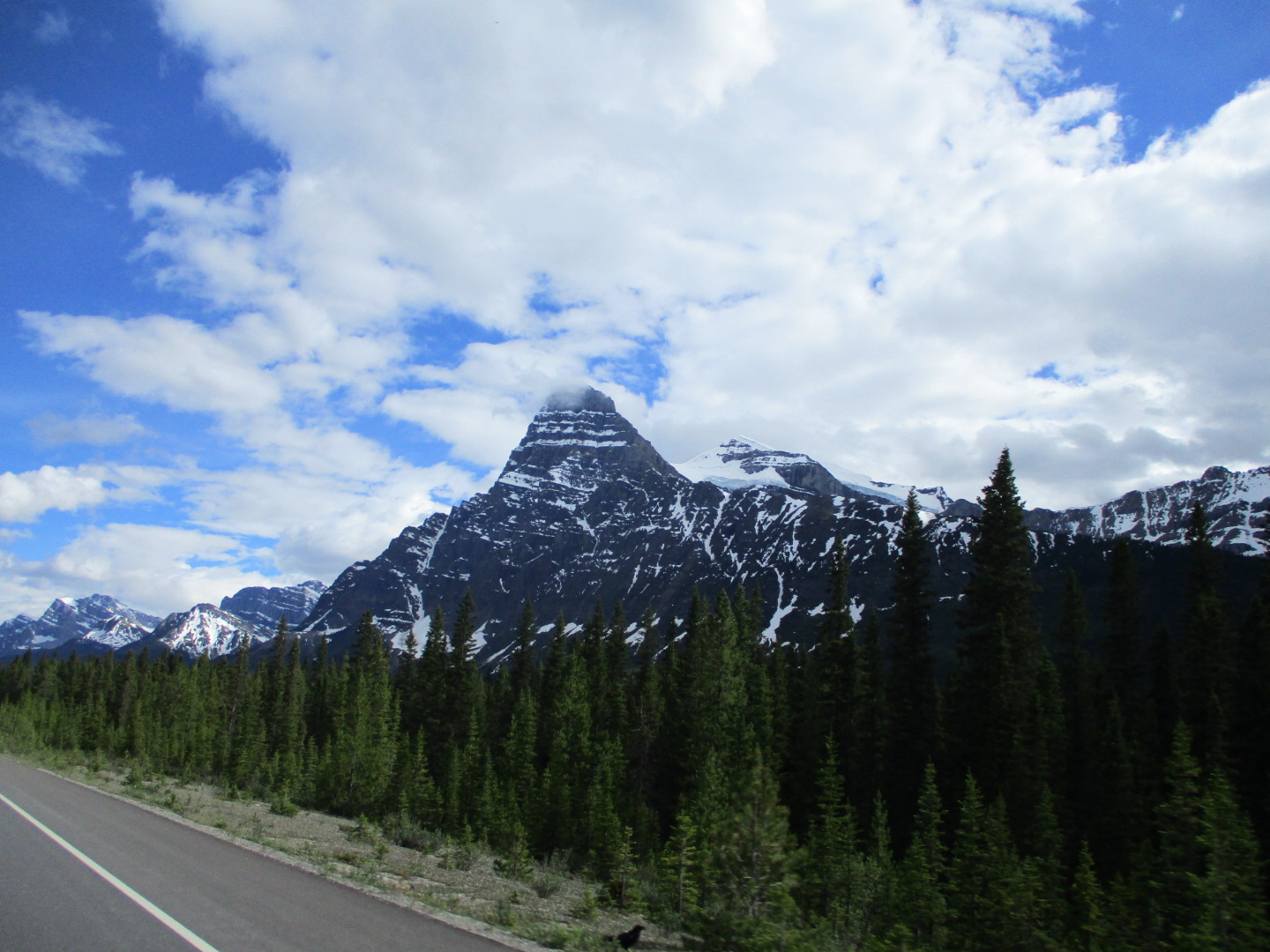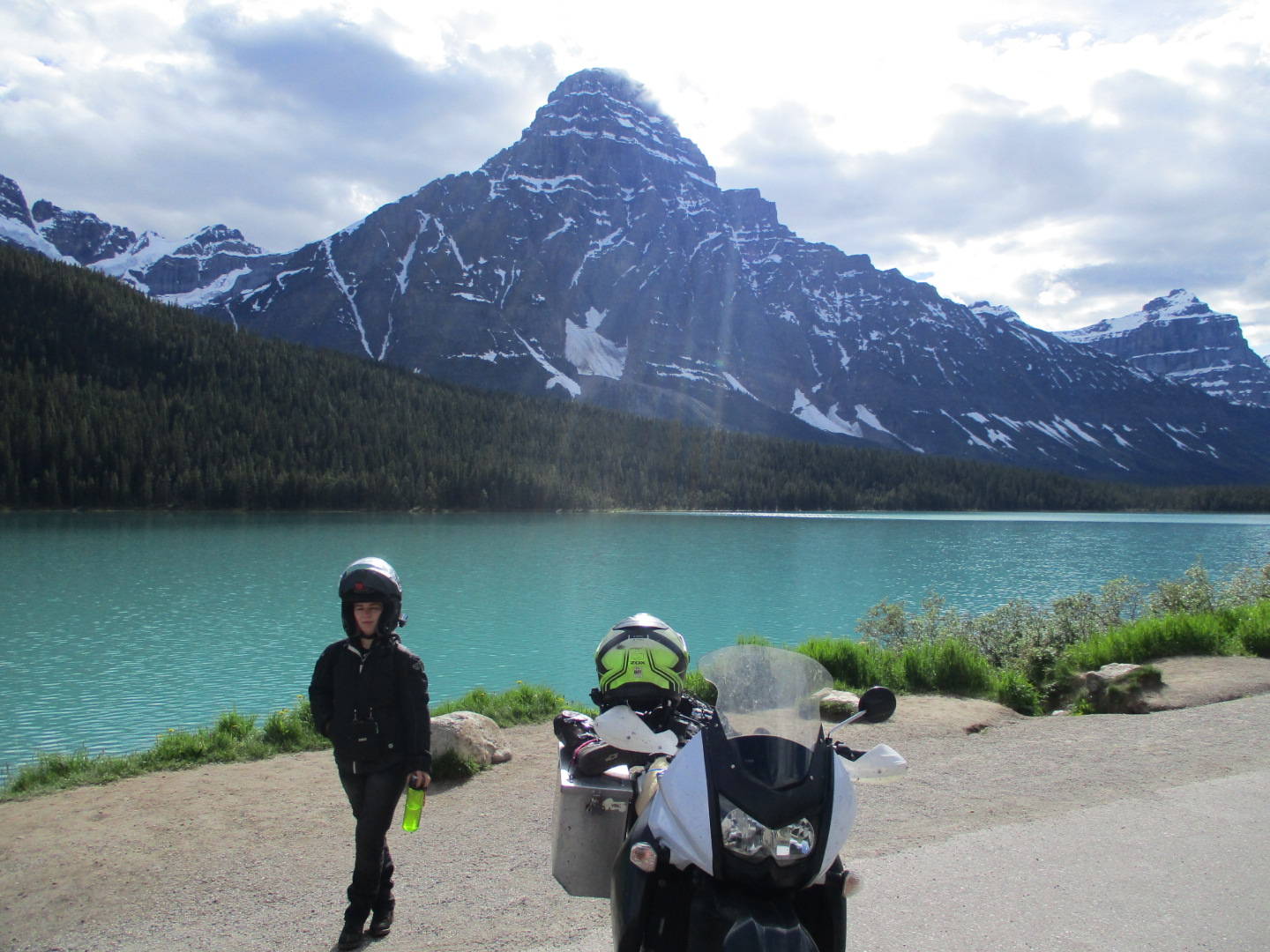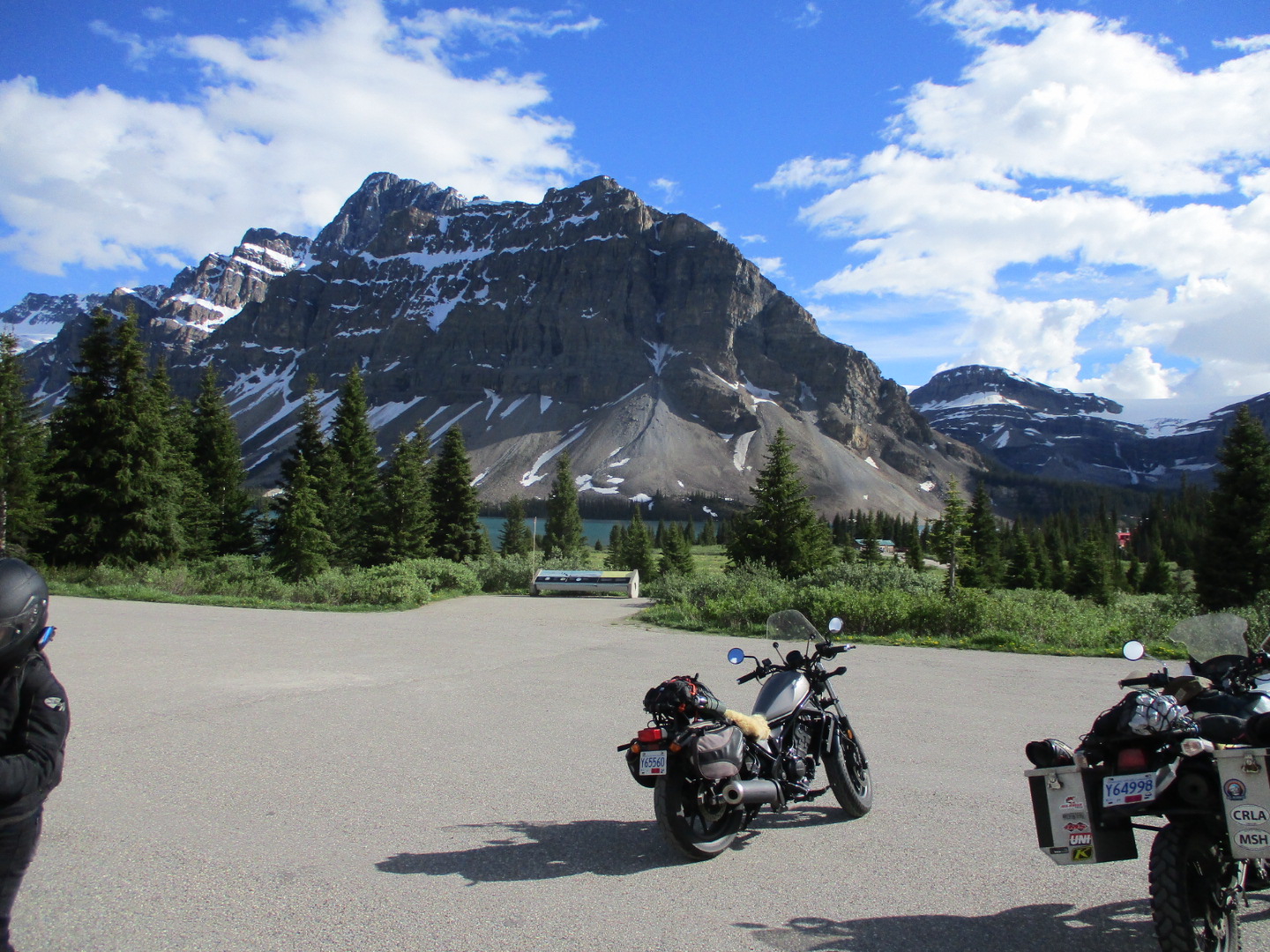 We arrived in Lake Louise at 7:00pm and got gas. After 598 kilometers I used 27.1 liters paying $43.61, yielding 51.9 MPG. We checked into the Mountaineer Lodge for $200 a night.
After unpacking the motorcycles we rode up to see Lake Moraine and Lake Louise. It was a fun but cold ride. Luckily for us it was later in the day and the crowds had dissipated. We saw a bride and groom in the Lake Moraine parking lot.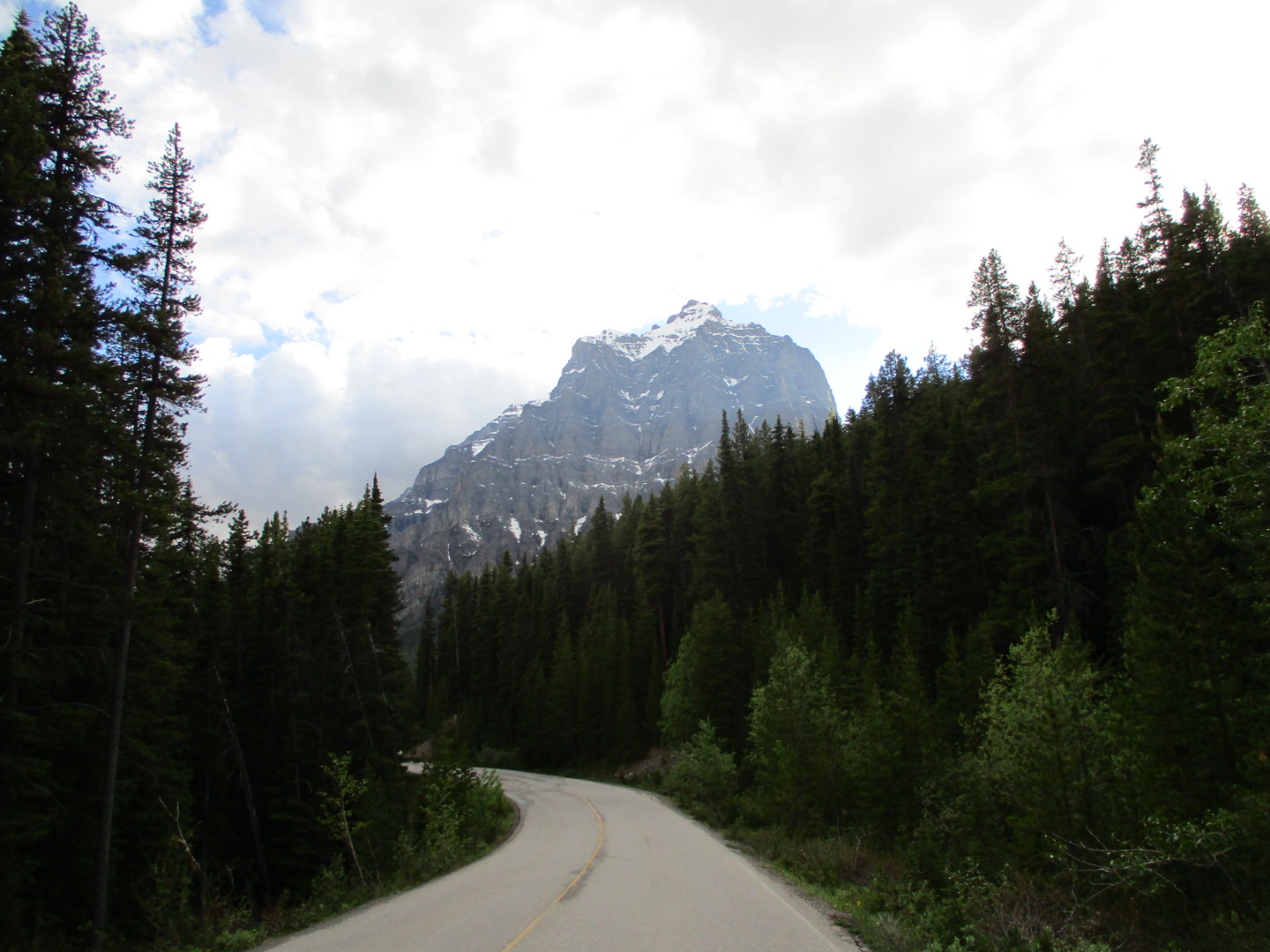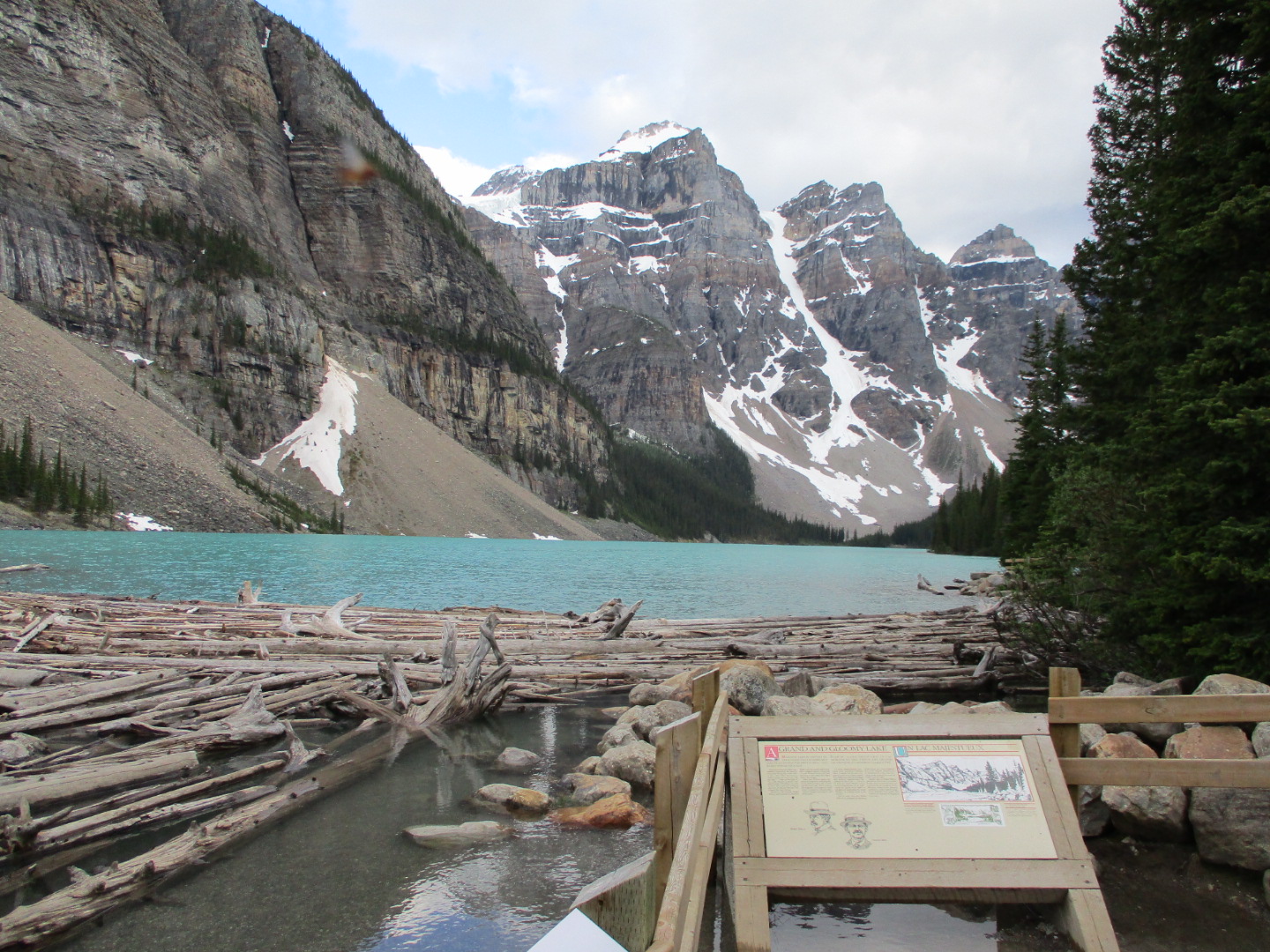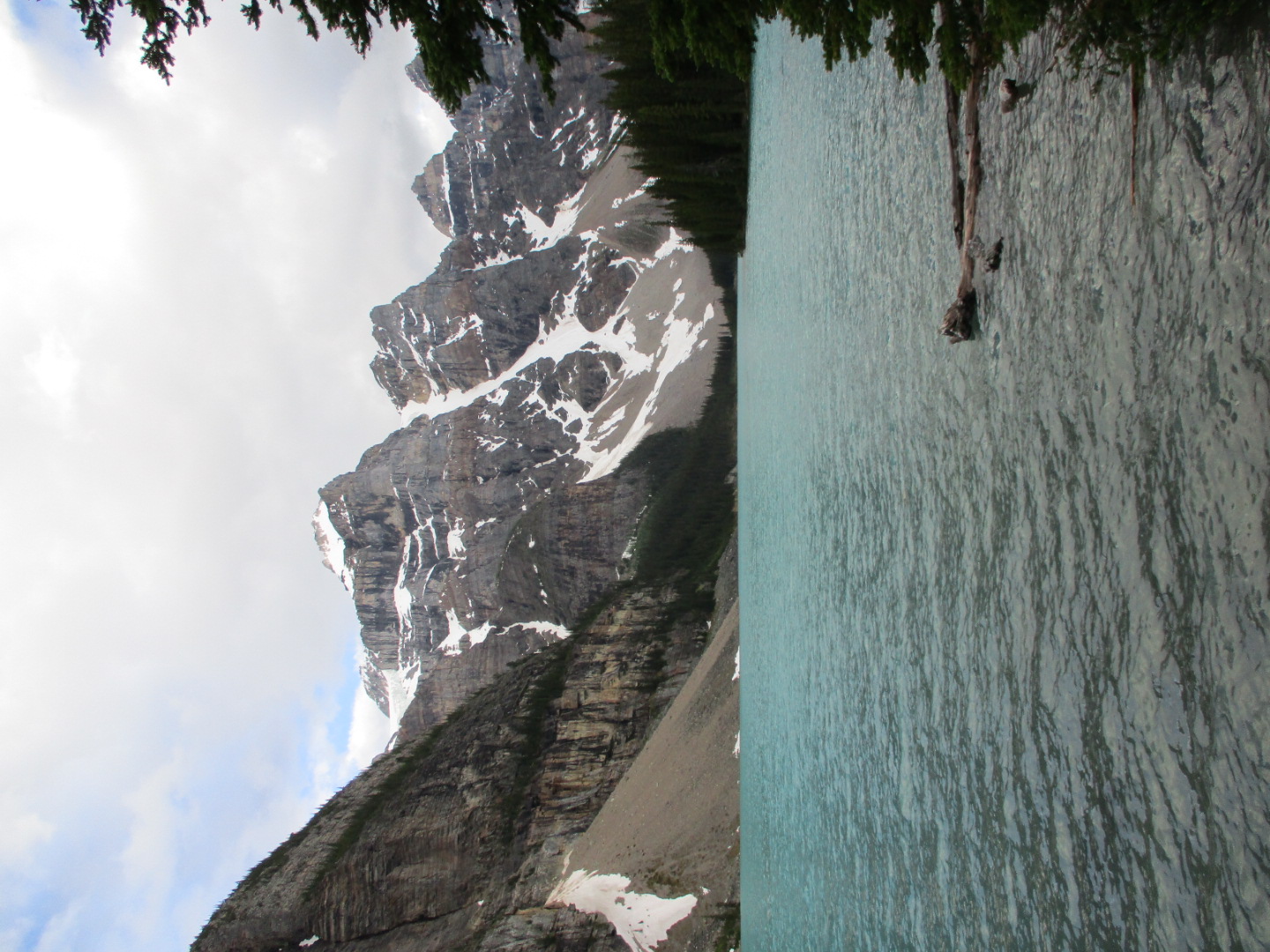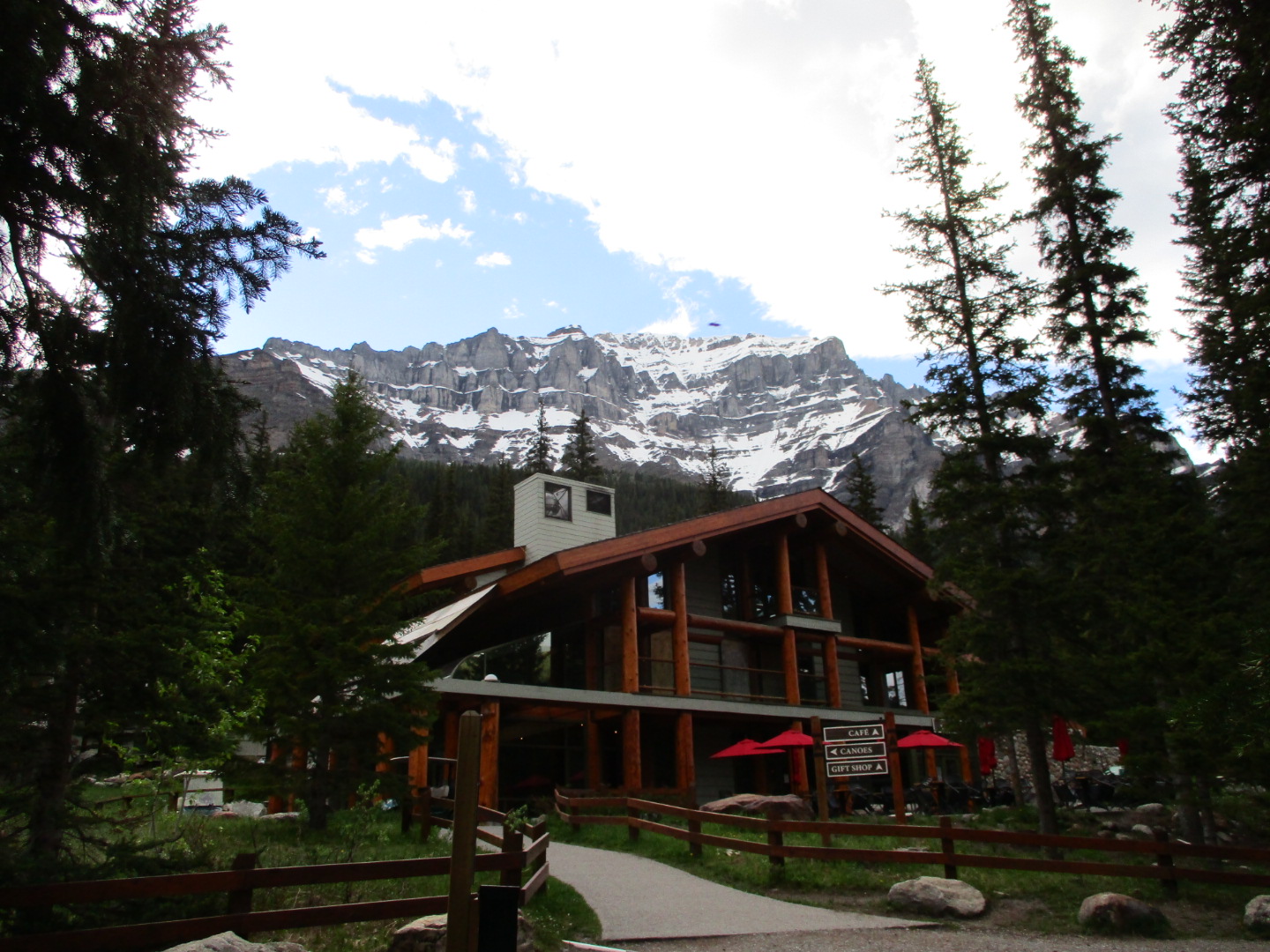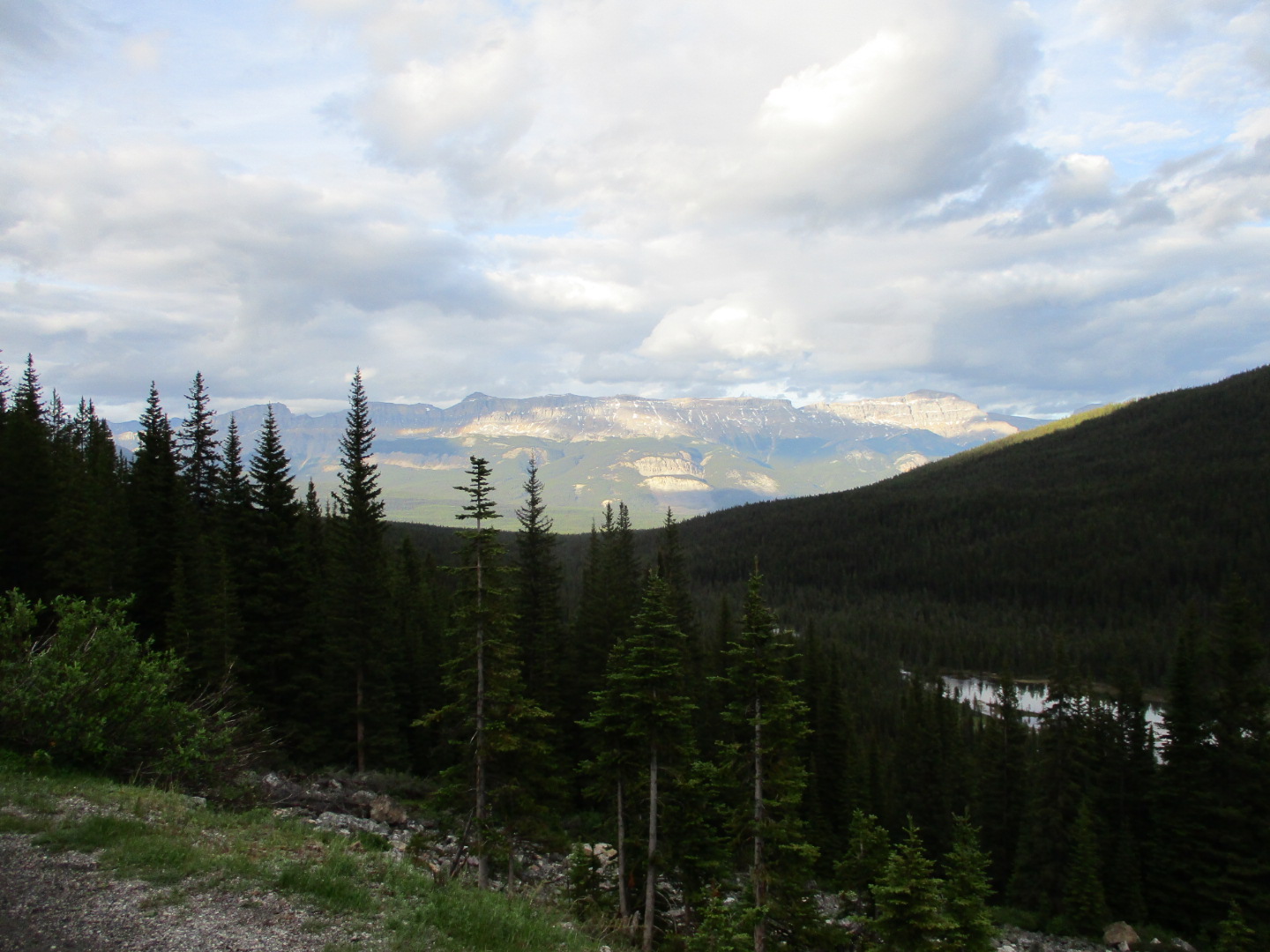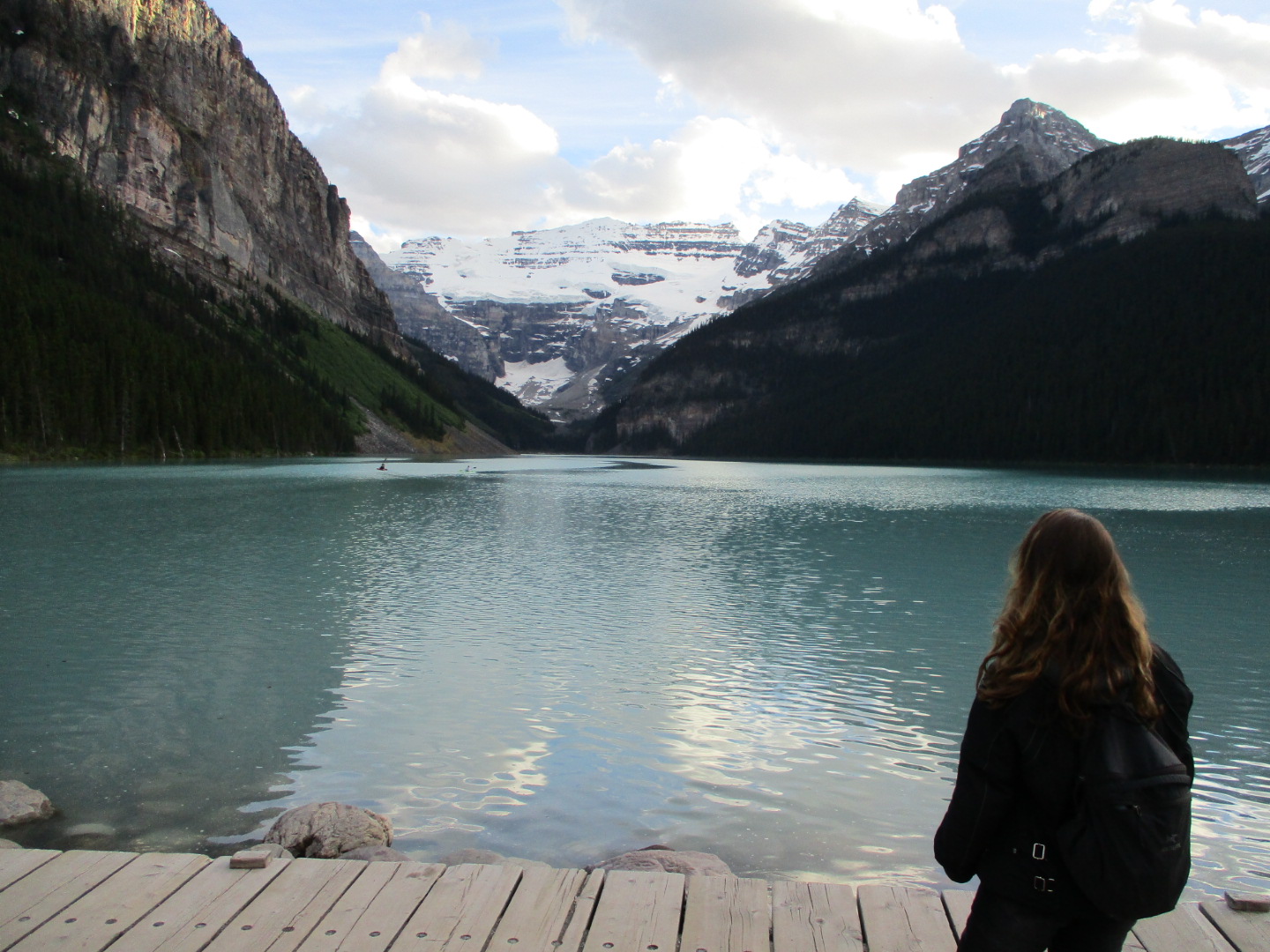 After that we tried unsuccessfully to dine at a few of the better restaurants in town. We were too late unfortunately and had to eat dinner at the Lake Louise Village Grill and Bar. It sucked, do not go there.
After we got back to the motel we lounged around and I lubed our chains. While doing that I noticed my rear brake pad pin had completely unthreaded, but was still in its place. I used my emergency toolkit to drive it back into position. The weather was getting hotter and the forecast was predicting record highs.
Friday June 25, 2021: Lake Louise - Calgary
We were up around 9:00am, consumed motel supplied breakfast and coffee, packed the bikes, checked out and were on the road by 10:30am. We tried to visit Lake Moraine and Lake Louise again this morning to try and take photographs with different lighting but the parking lots were already full. We went to the visitors center on the way out of town to buy postcards and stickers. Then we left, taking the Bow Valley Parkway (highway 1A) east. On highway 1A we saw another black bear bumbling along in the ditch.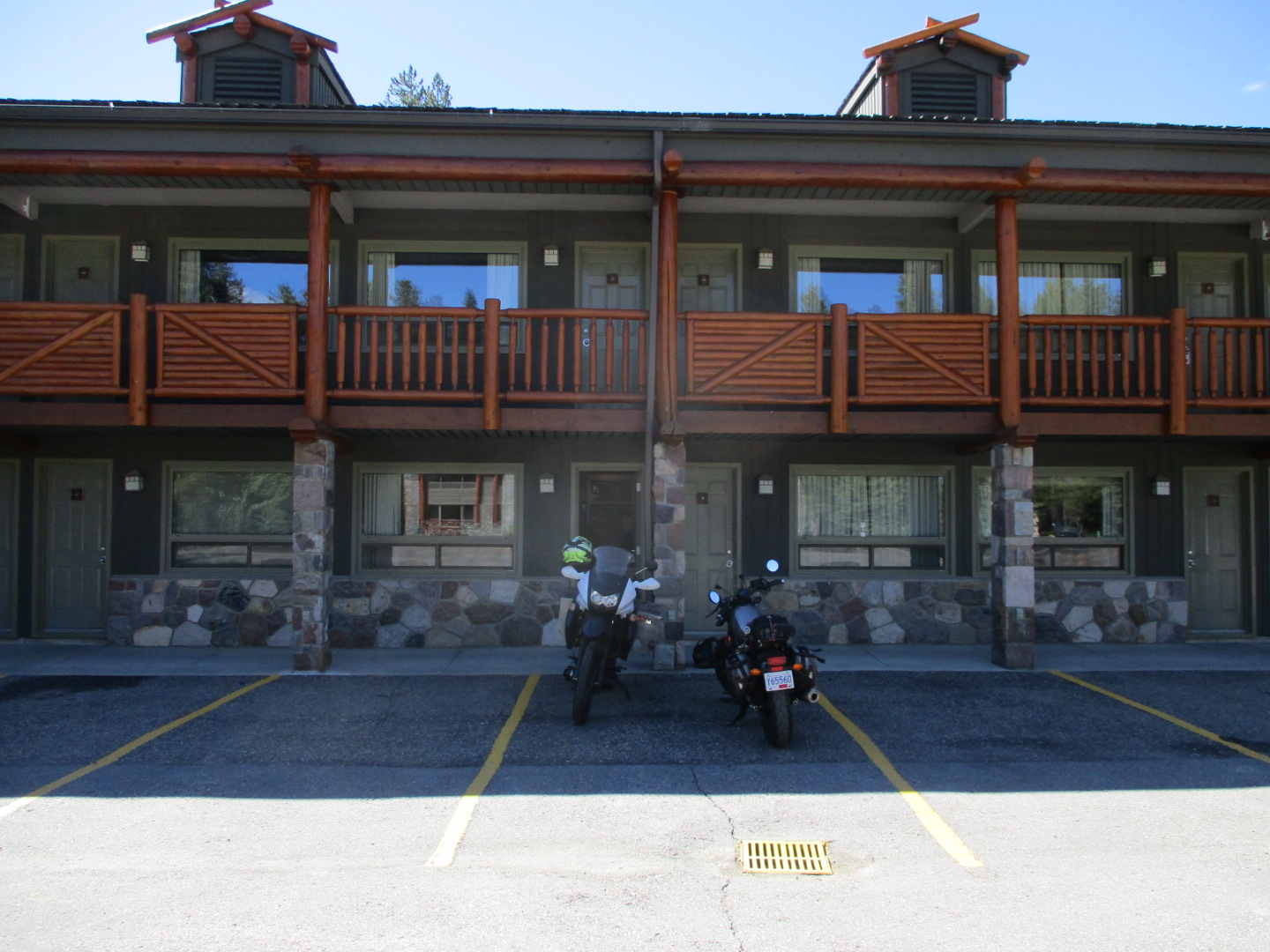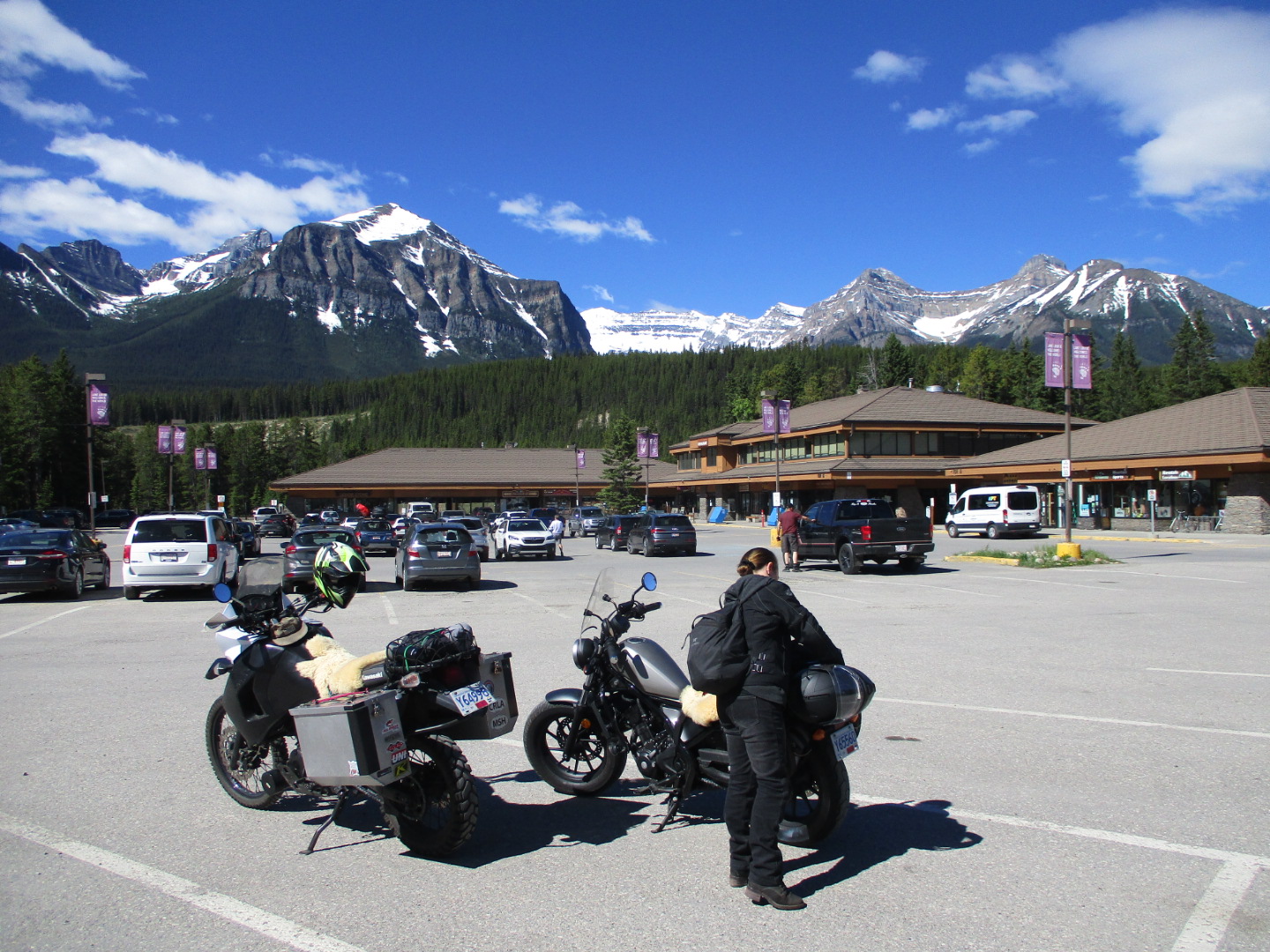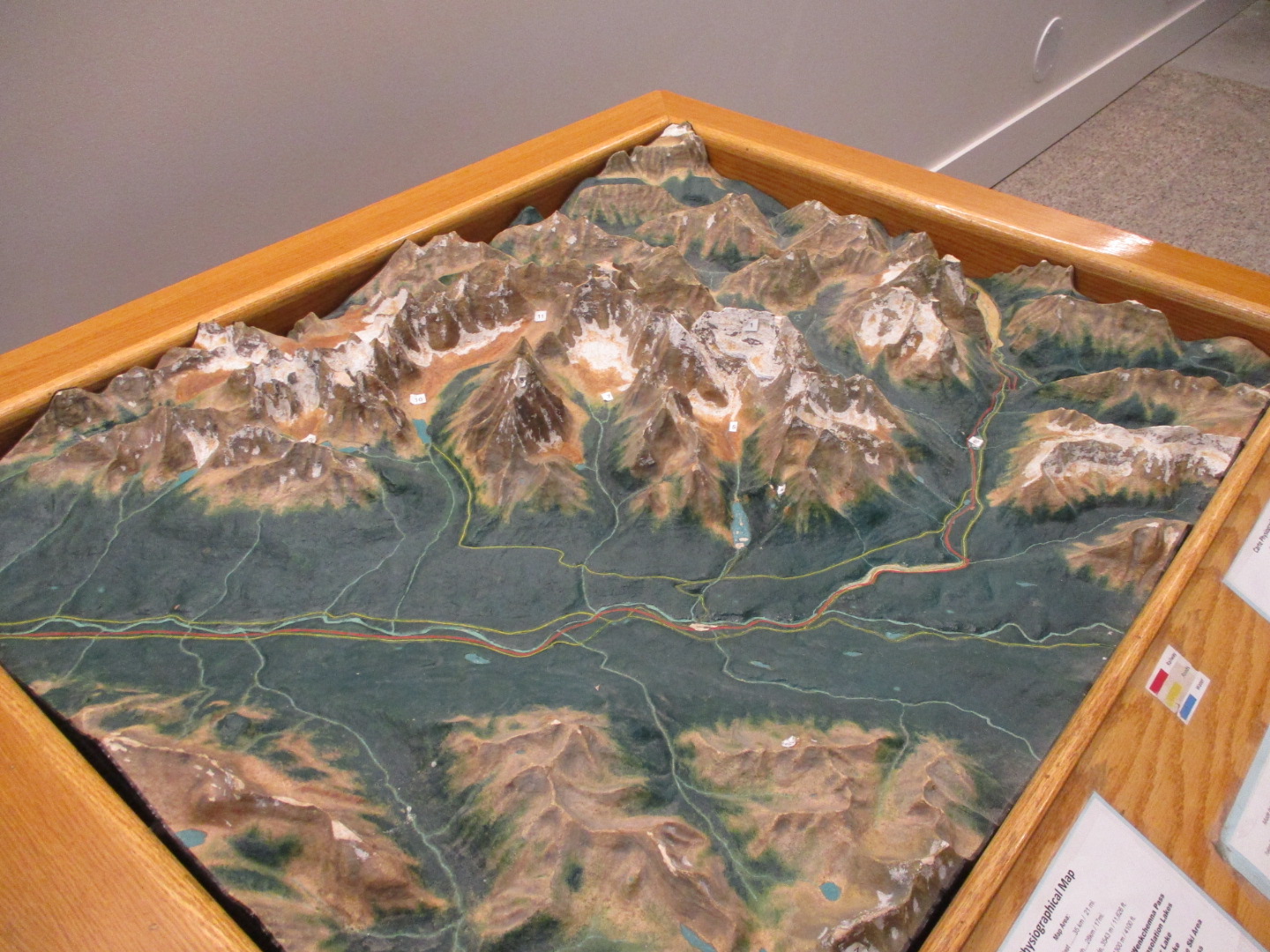 We stopped at Castle Junction for a washroom and snack break. The Bow Valley Parkway was closed at this point and we were forced onto highway 1.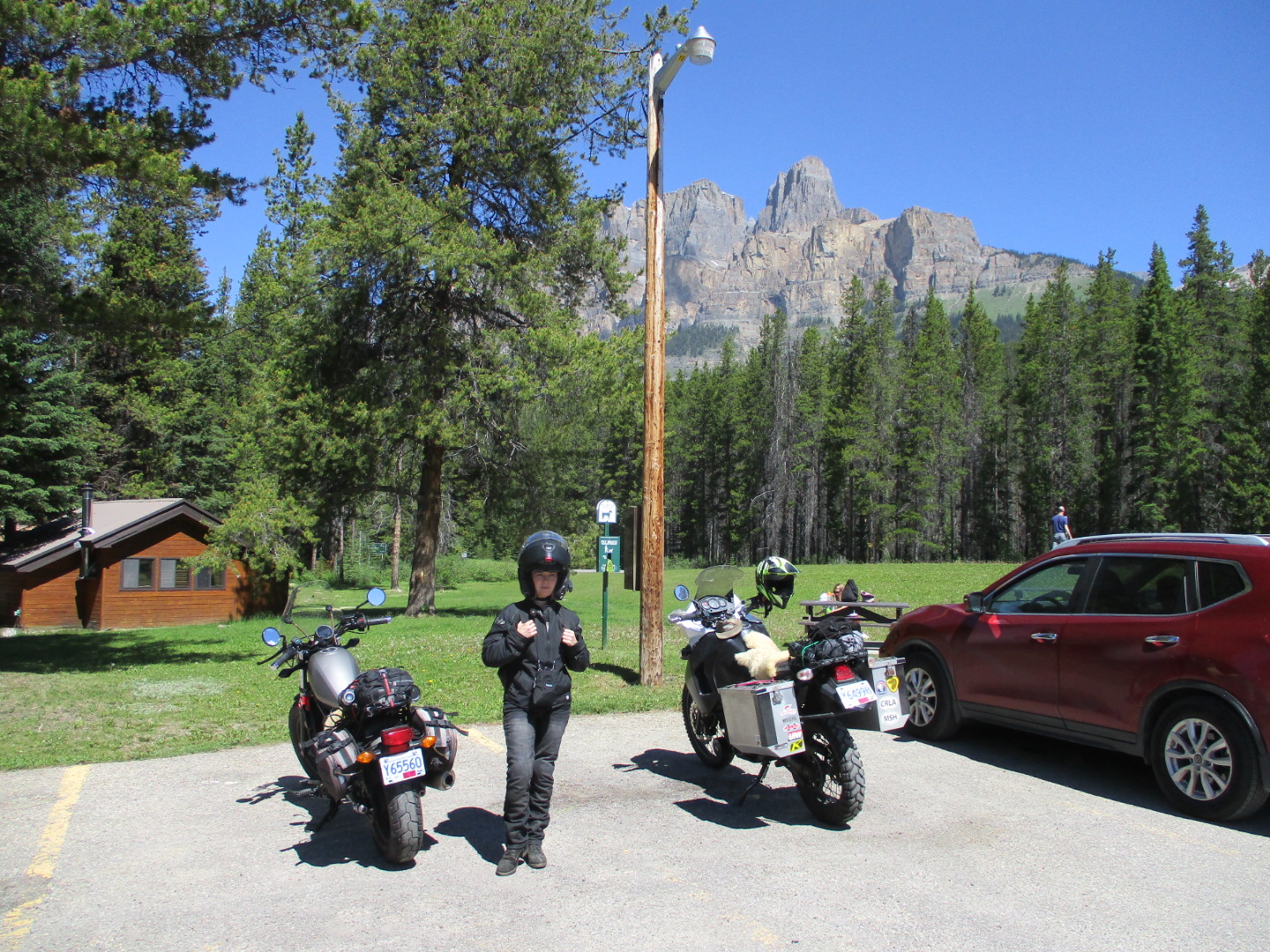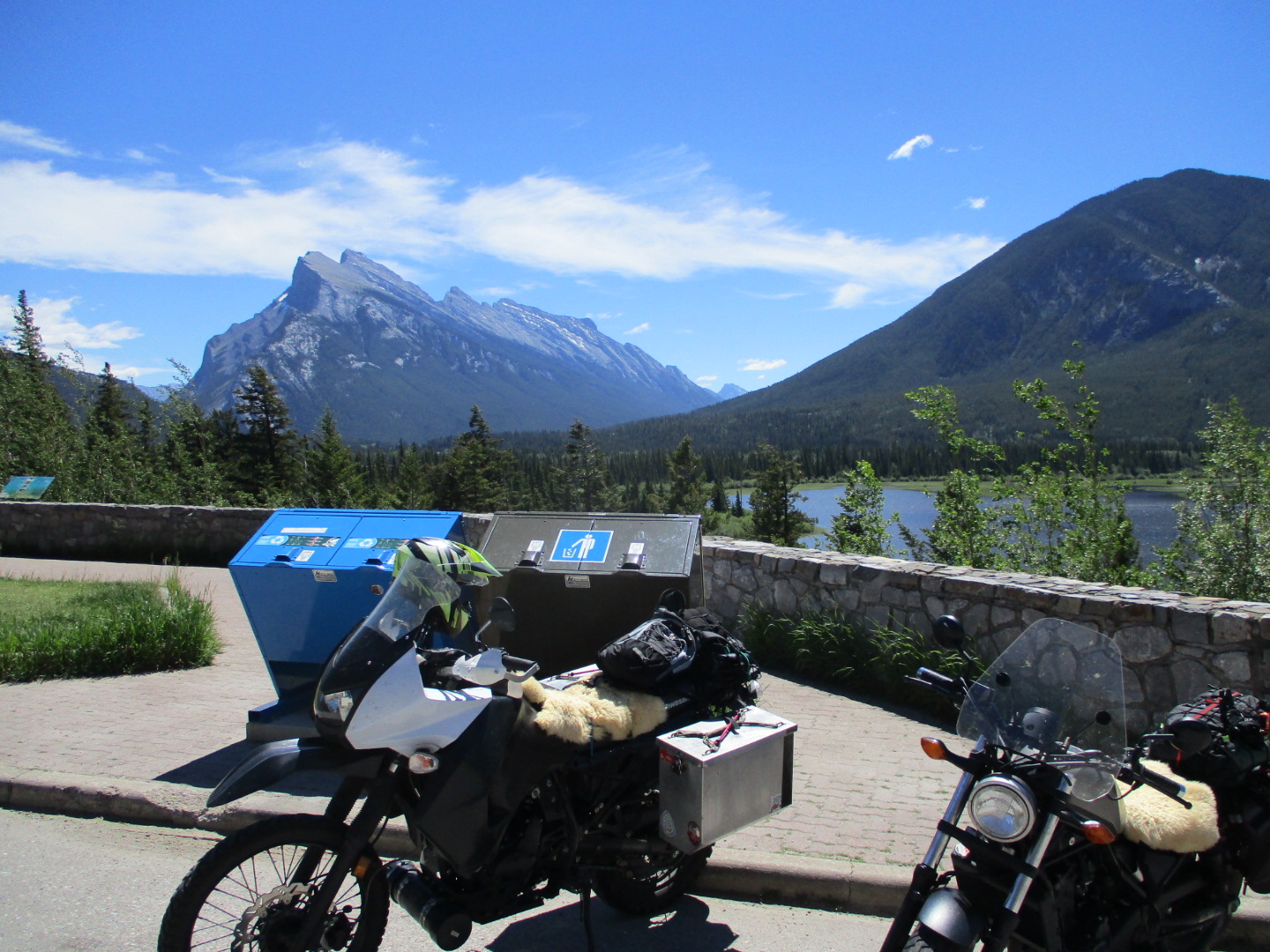 We stopped for lunch in Canmore at 12:00pm but went to the visitors center first. The day was already getting very hot and I was sweating in my riding gear. Meredith picked Graze Food & Drink for lunch, and it was very good. From Canmore we fought traffic to get back onto the Bow Valley Parkway. We rode it to Seebe where it connects back to highway 1.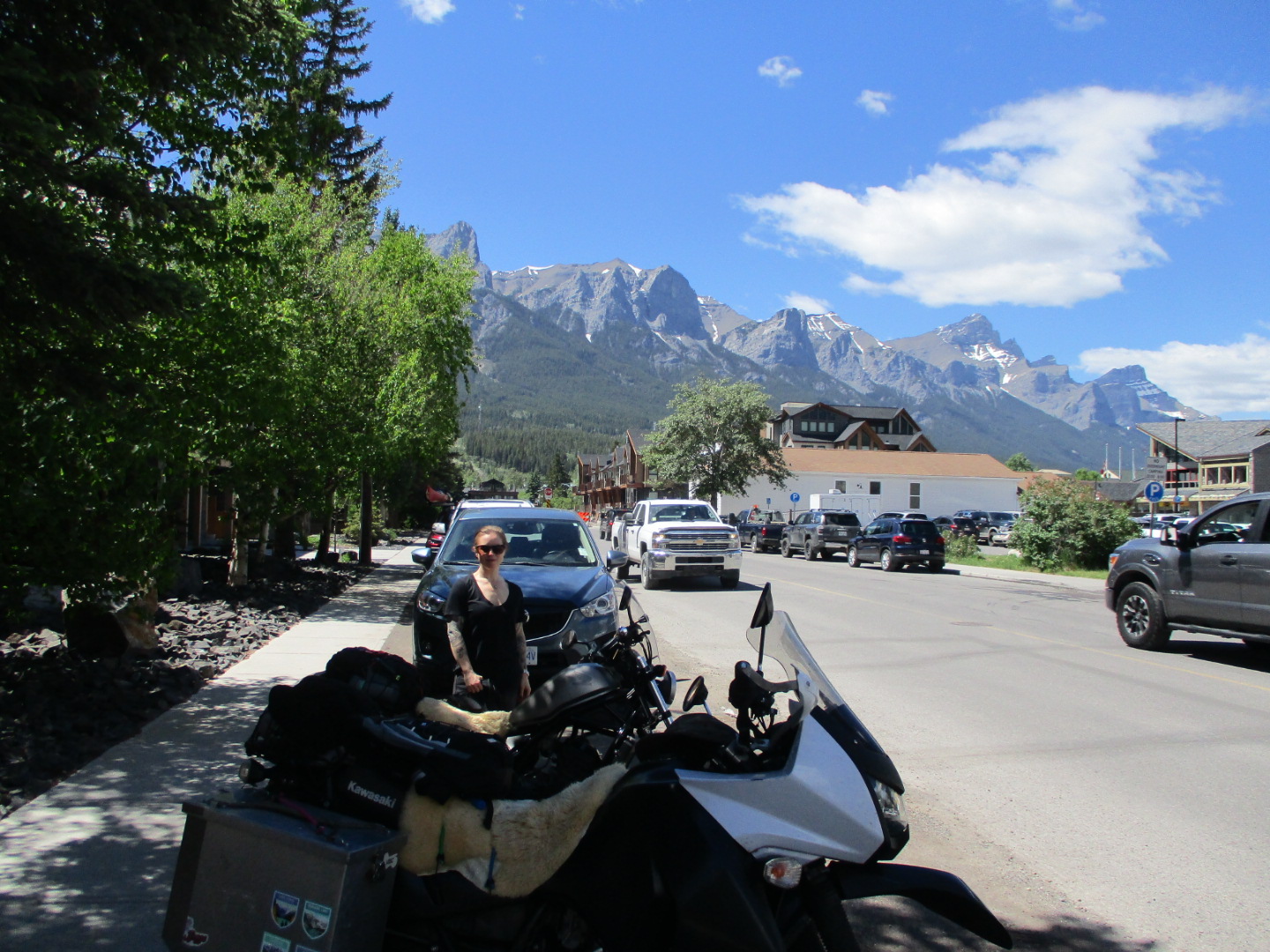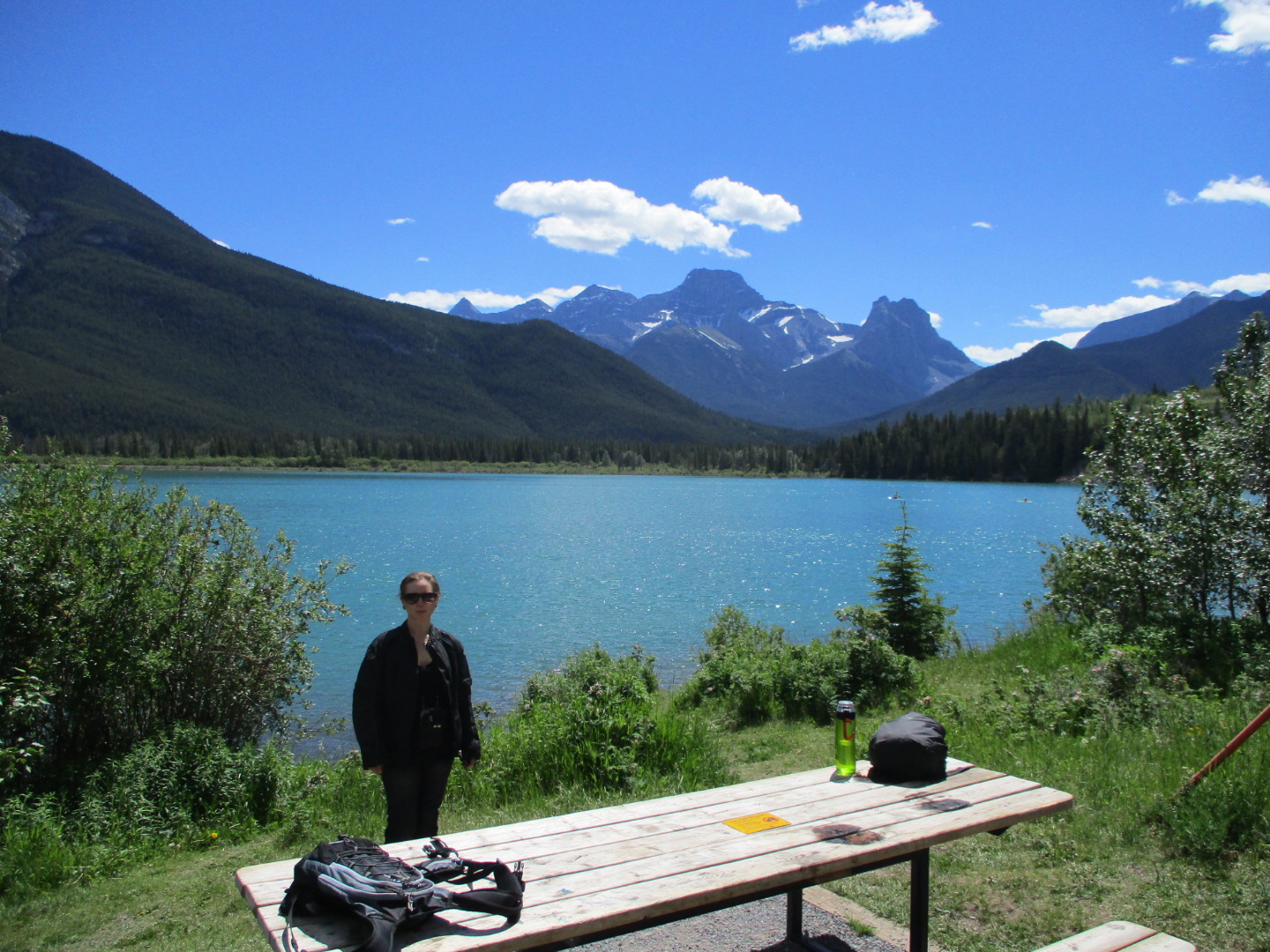 We drove highway 1 for a few kilometers until the junction with highway 40. We stopped there for gas and refreshments before continuing south on highway 40 at 2:00pm.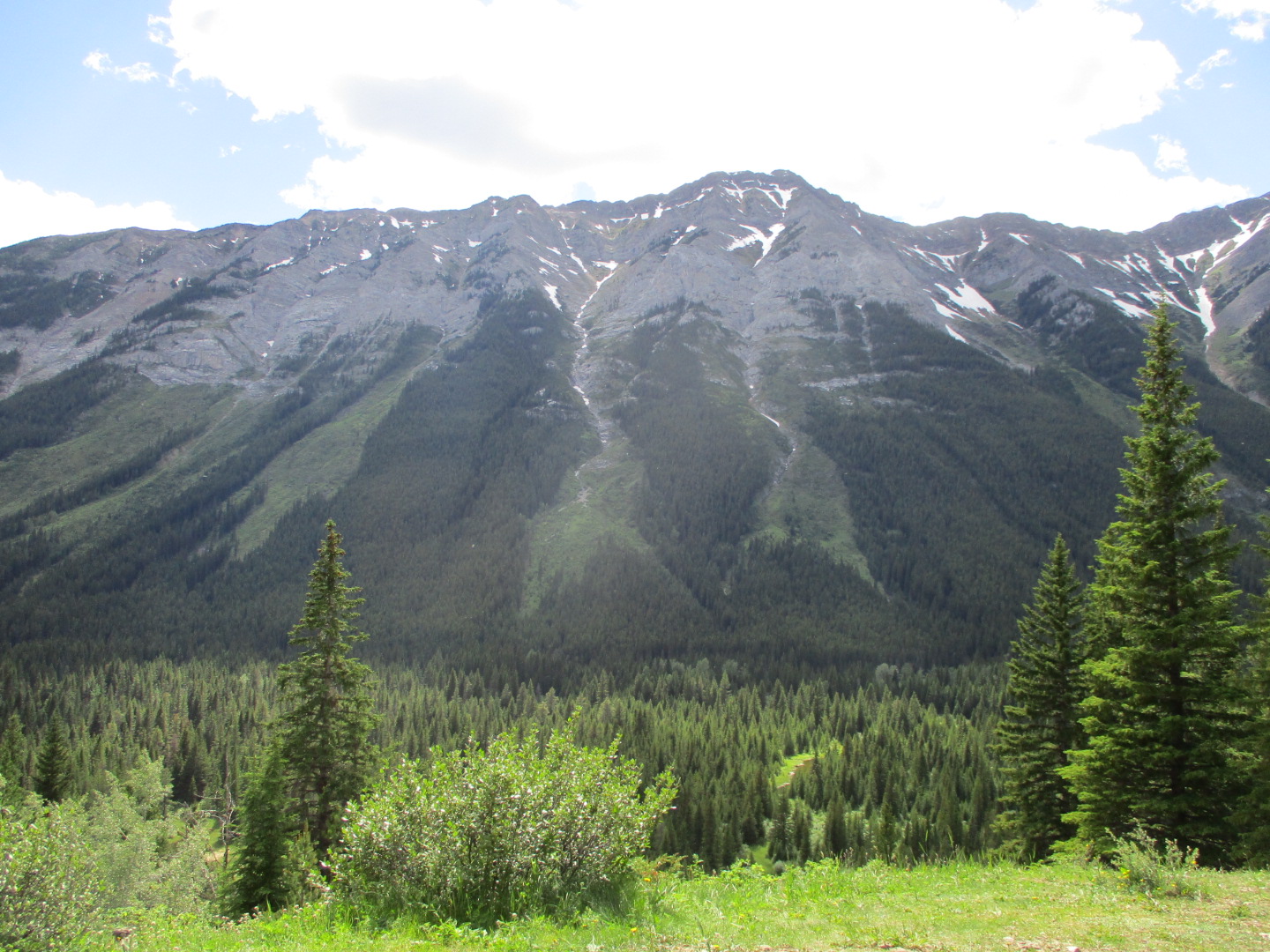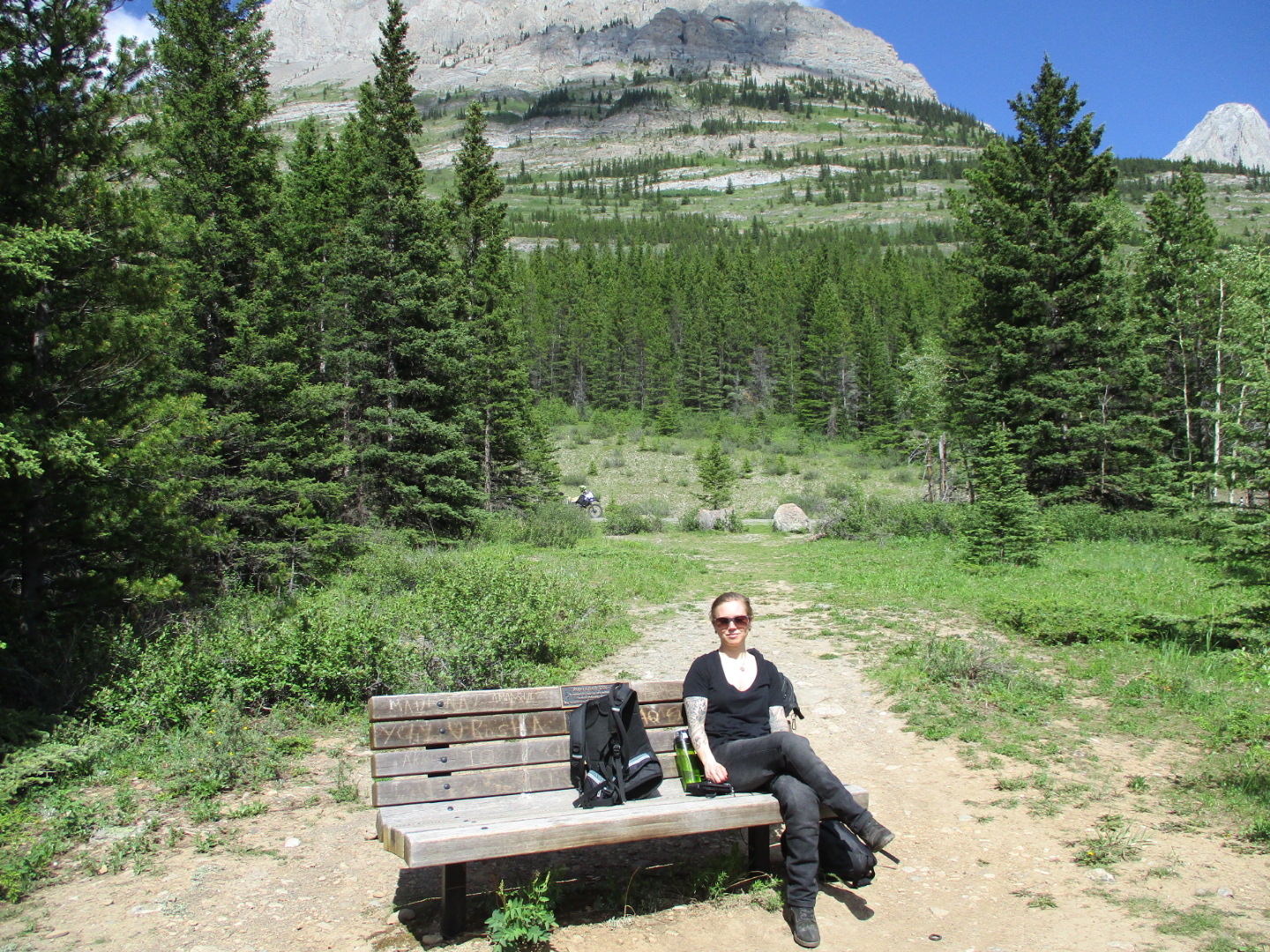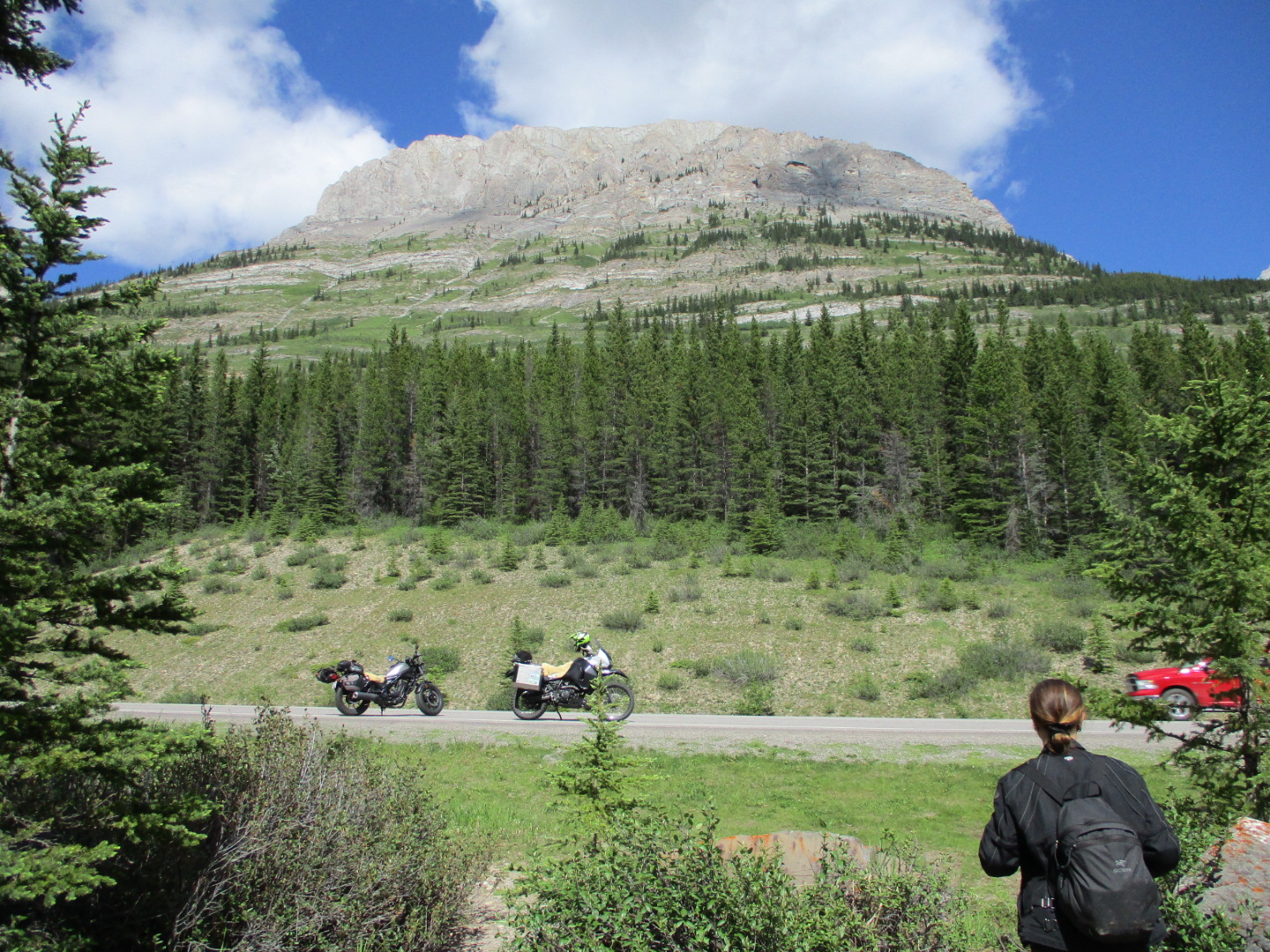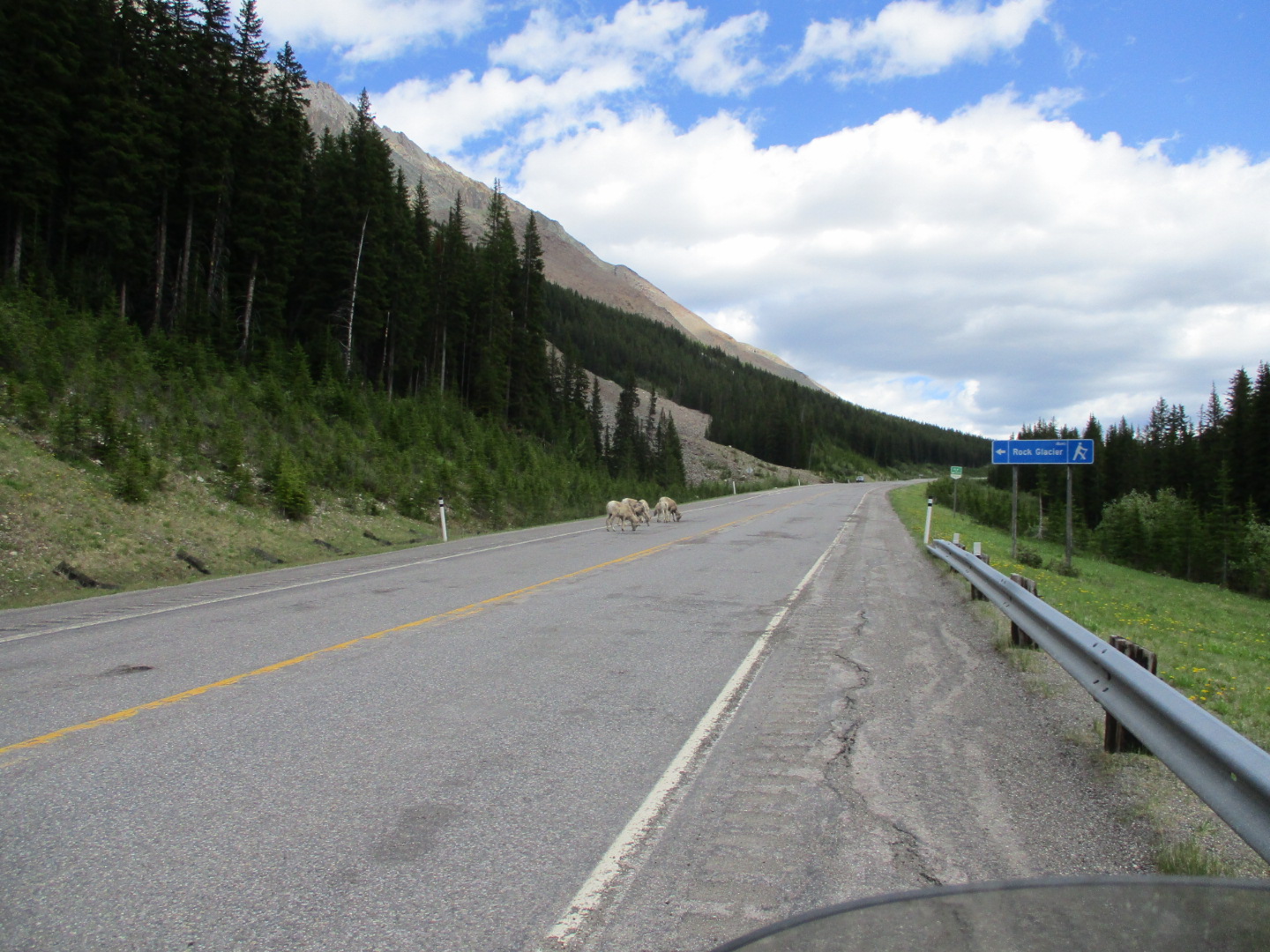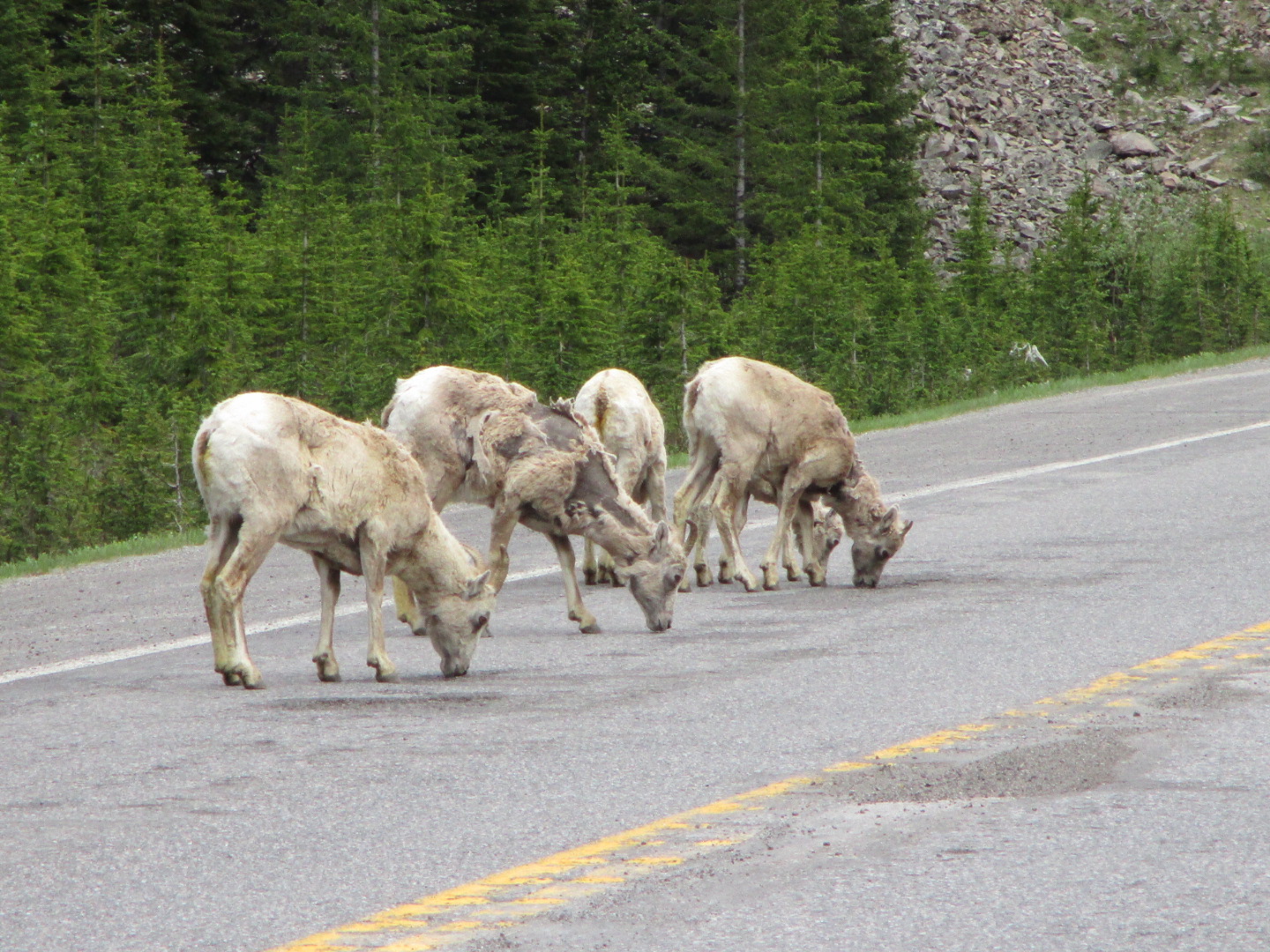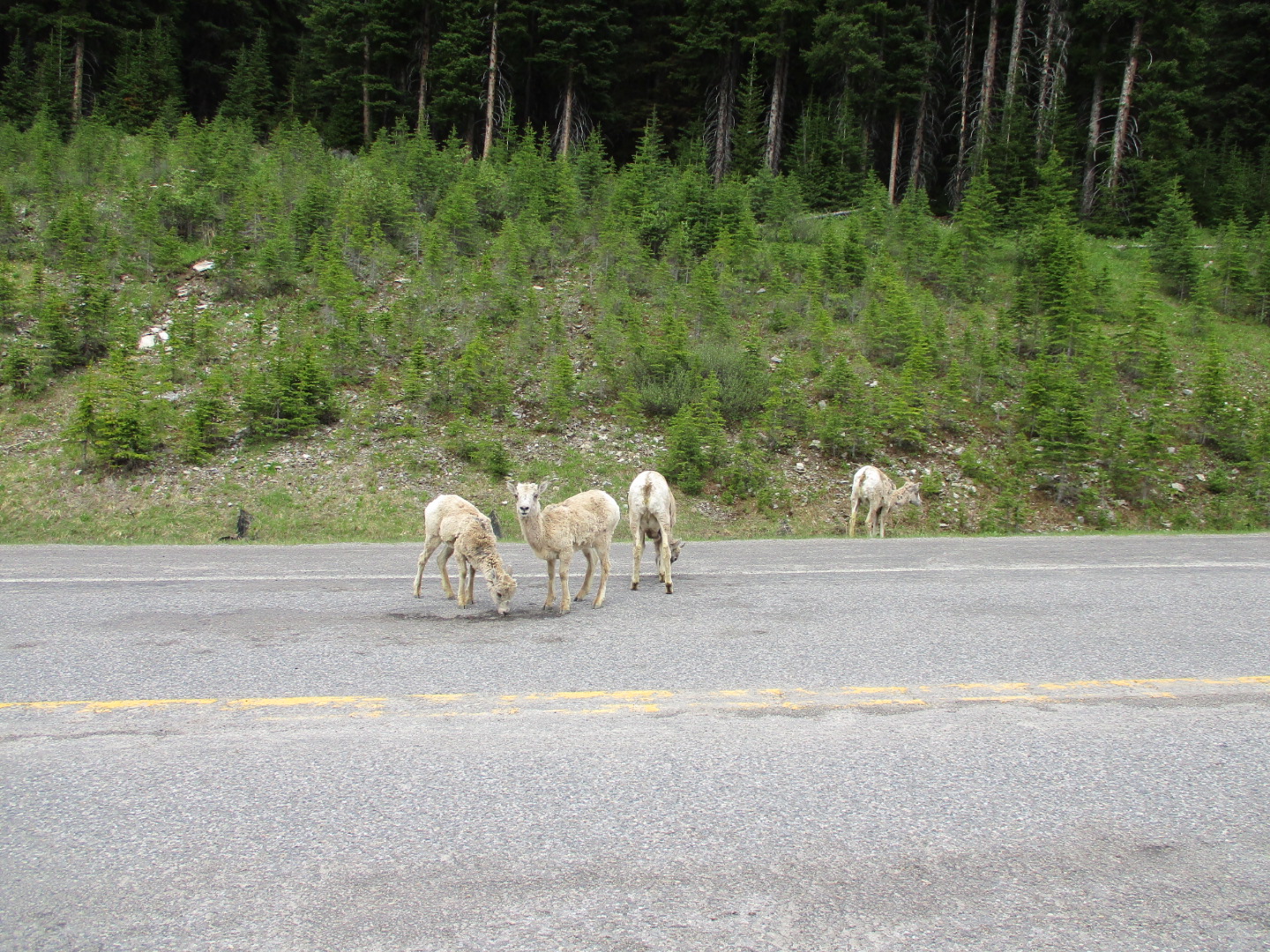 Highway 40 is Canada's highest elevation asphalt road, peaking at 2217 meters. It is completely closed for 6 months during winter due to high snowfall and to protect wildlife. Most of the Grizzly Bears I have seen have been along it. This is the top, Highwood Pass. Meredith remarked here that this would likely be the last time we were cold for the rest of the trip.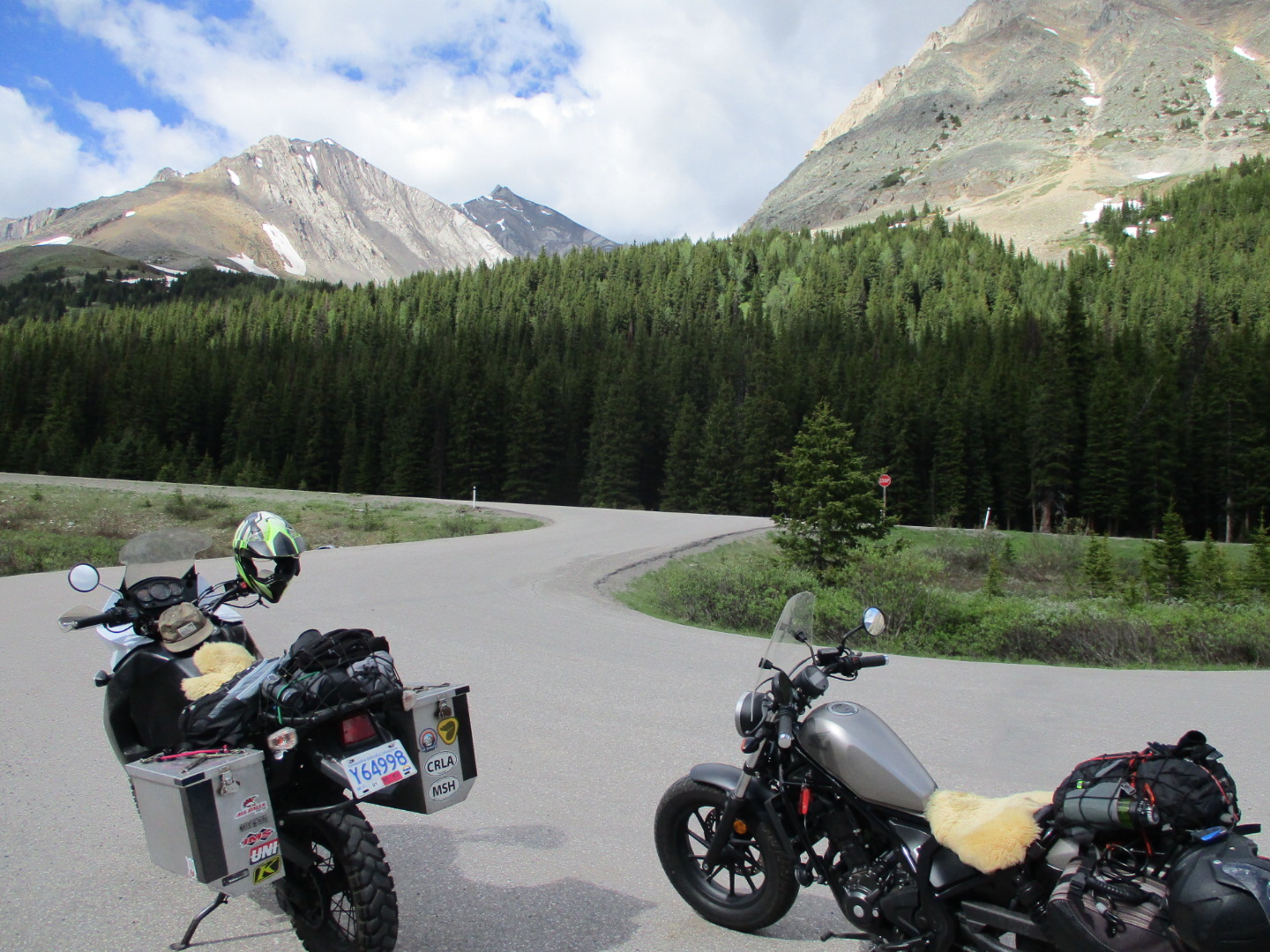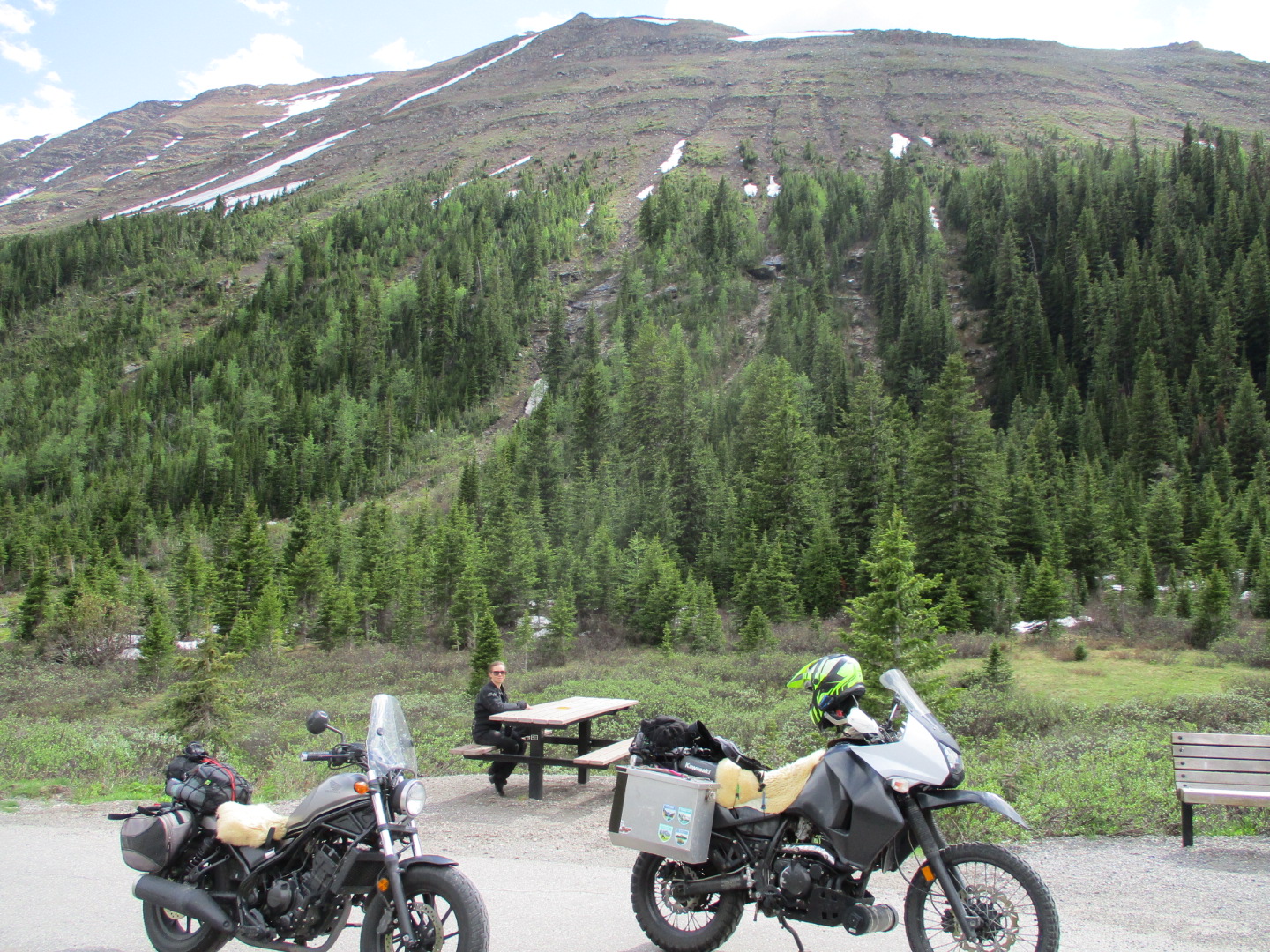 I really wanted to eat dinner at my favourite restaurant in the area, the Longview Steakhose. But it had no reservations available, and looked closed to walk in traffic when we tried to visit it. Instead we turned north on highway 22 and rode to Black Diamond instead. We ate at the Westwood restaurant there, it was ok.
I took an unfortunate route from Black Diamond to Calgary along a small township road. At its start I remarked to Meredith to watch out for deer, as dusk was approaching. About 5 minutes later a deer ran in front of my motorcycle that I had not seen. Another close call.
After getting lost again on the ever changing and expanding Calgary roads we finally arrived at Joel's house around 9:30pm.
Saturday June 26, 2021: Calgary
Today I visited with my family and did maintenance. I topped up my motorcycle with 200 milliliters of engine oil.
Sunday June 27, 2021: Calgary - Cranbrook
We woke up at 6:30am, ate breakfast, got ready and said our goodbyes.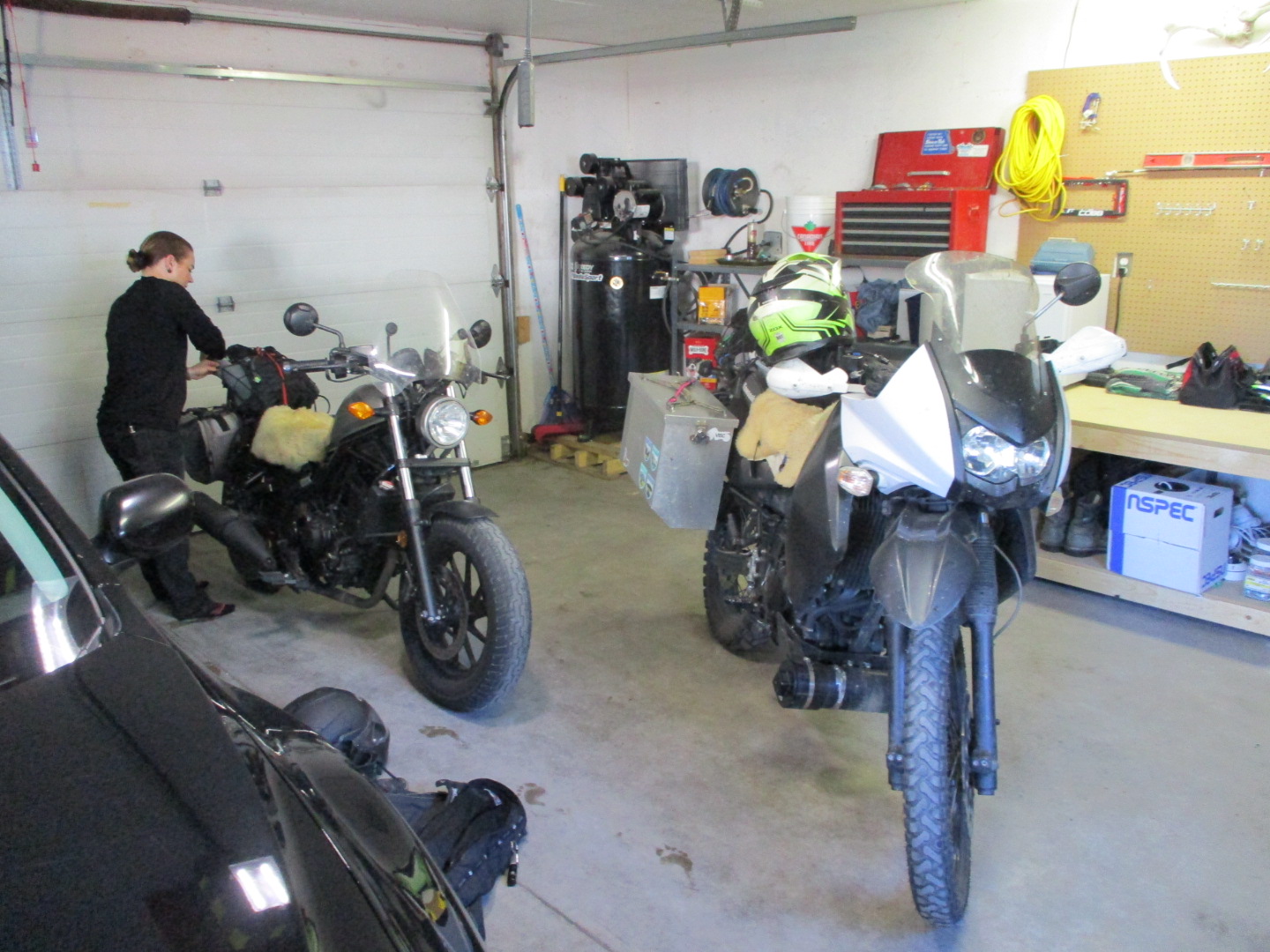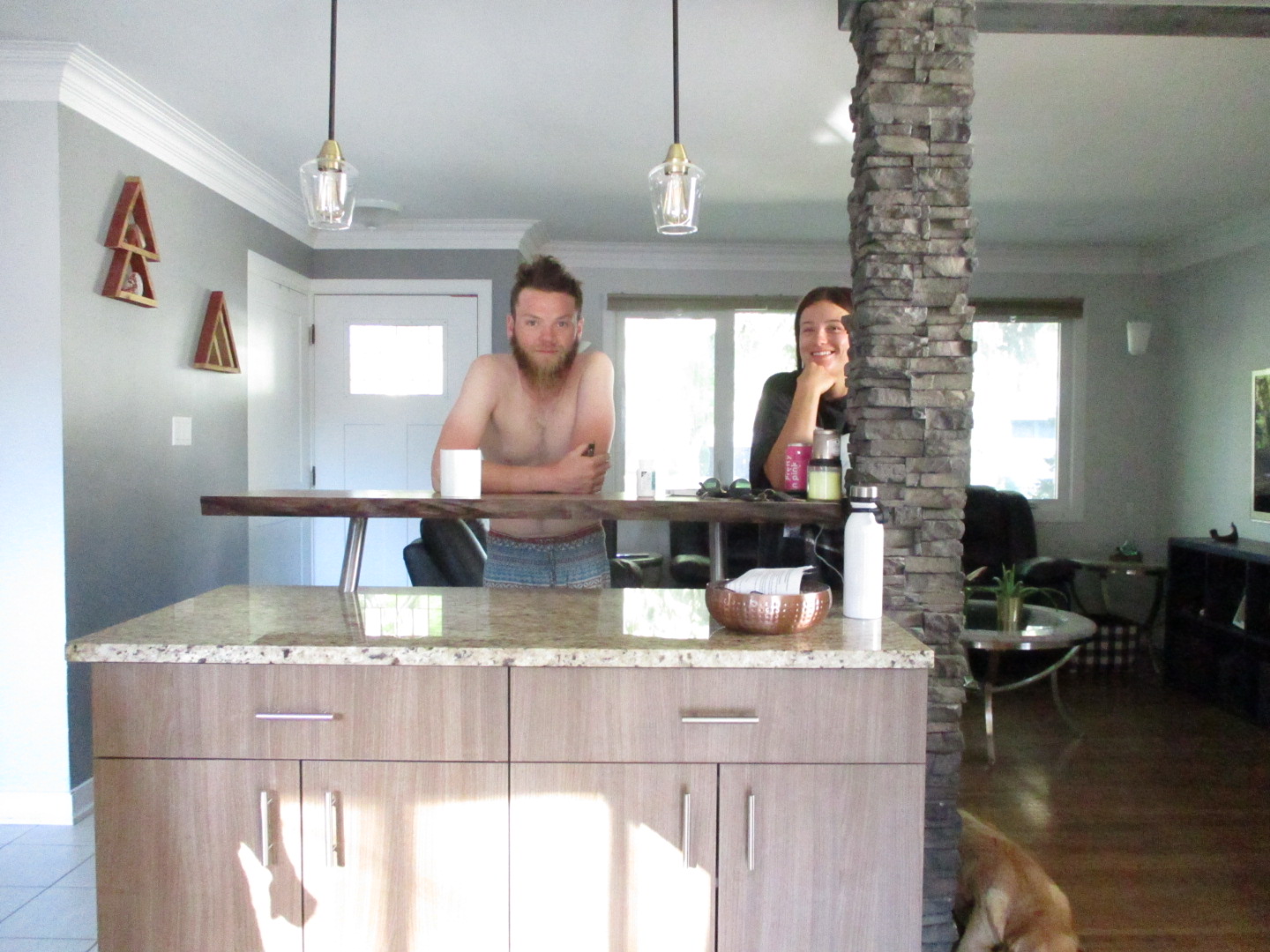 On the road by 8:00am we stopped for gas before leaving the city. I travelled 422 kilometers on 17.8 liters for $27.55, yielding 55.7 MPG. Our next stop was in Turner Valley to use their restrooms and then Longview for some beef jerky. Highway 22 is also known as the Cowboy Trail.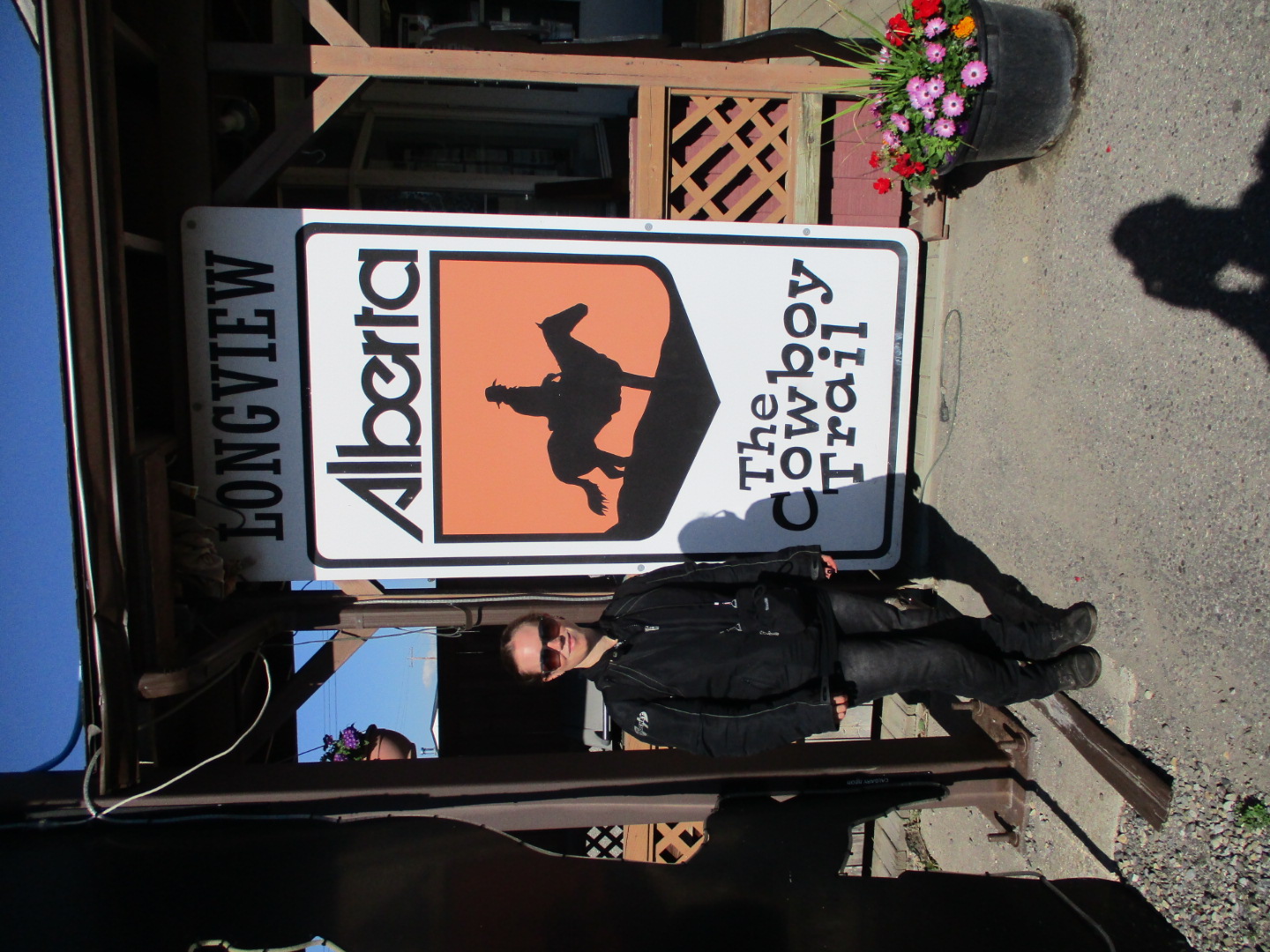 Continuing along highway 22 we turned our wheels west at the junction with highway 3, the Crowsnest Highway.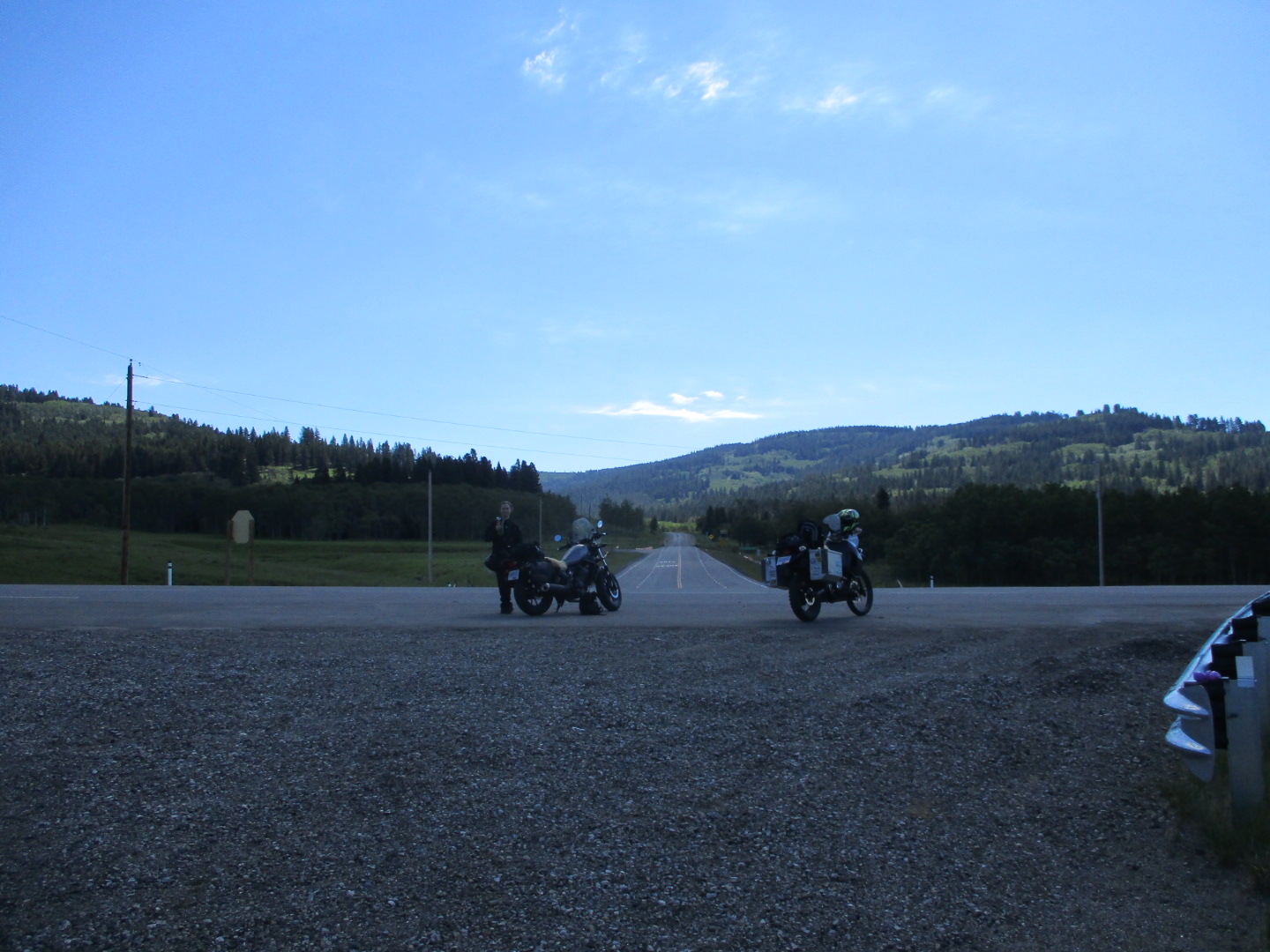 We stopped in Frank for gas. It is a small town known for the man made rock slide that occurred when they mined too deeply into Turtle Mountain. The entire town was buried.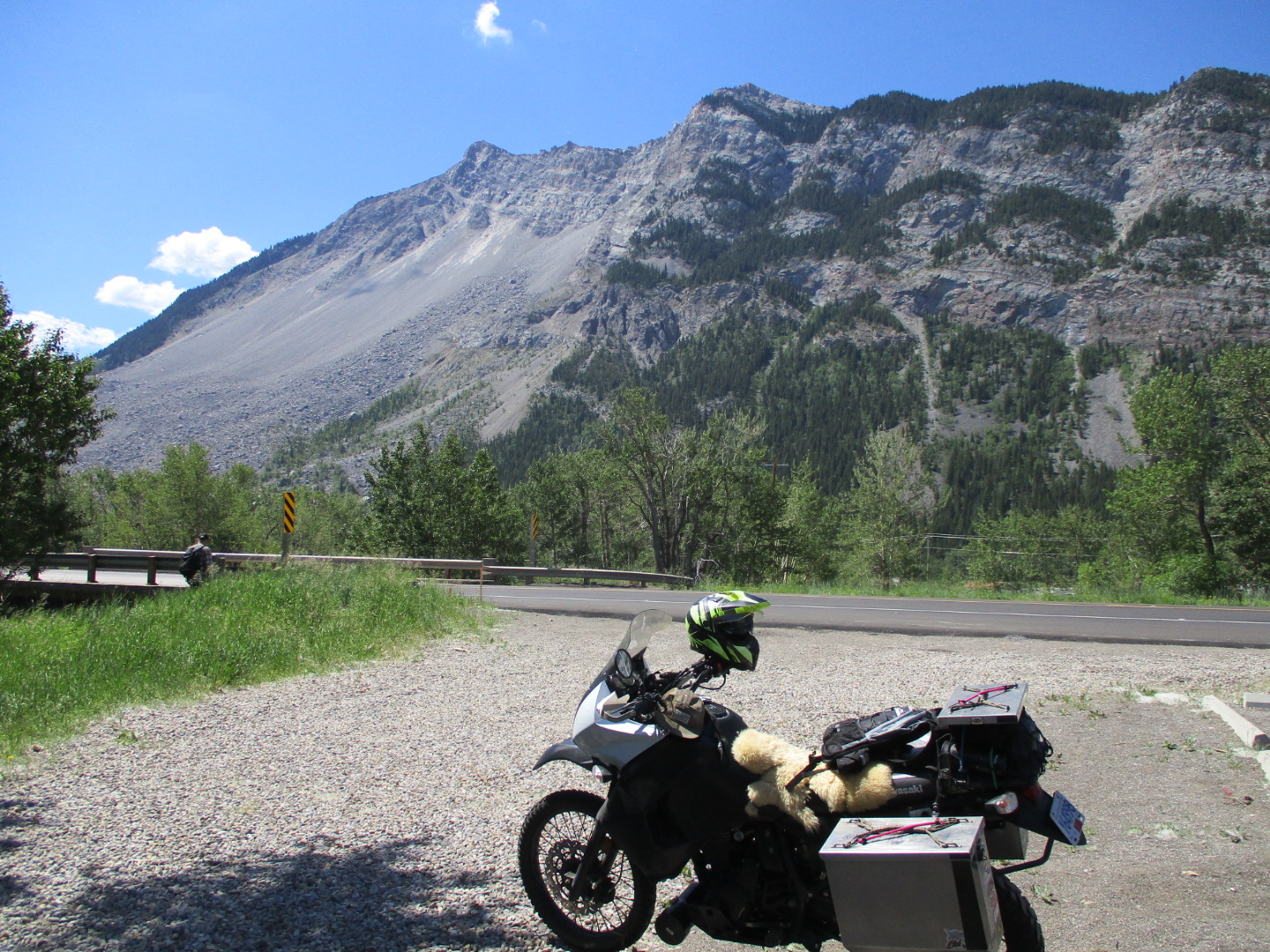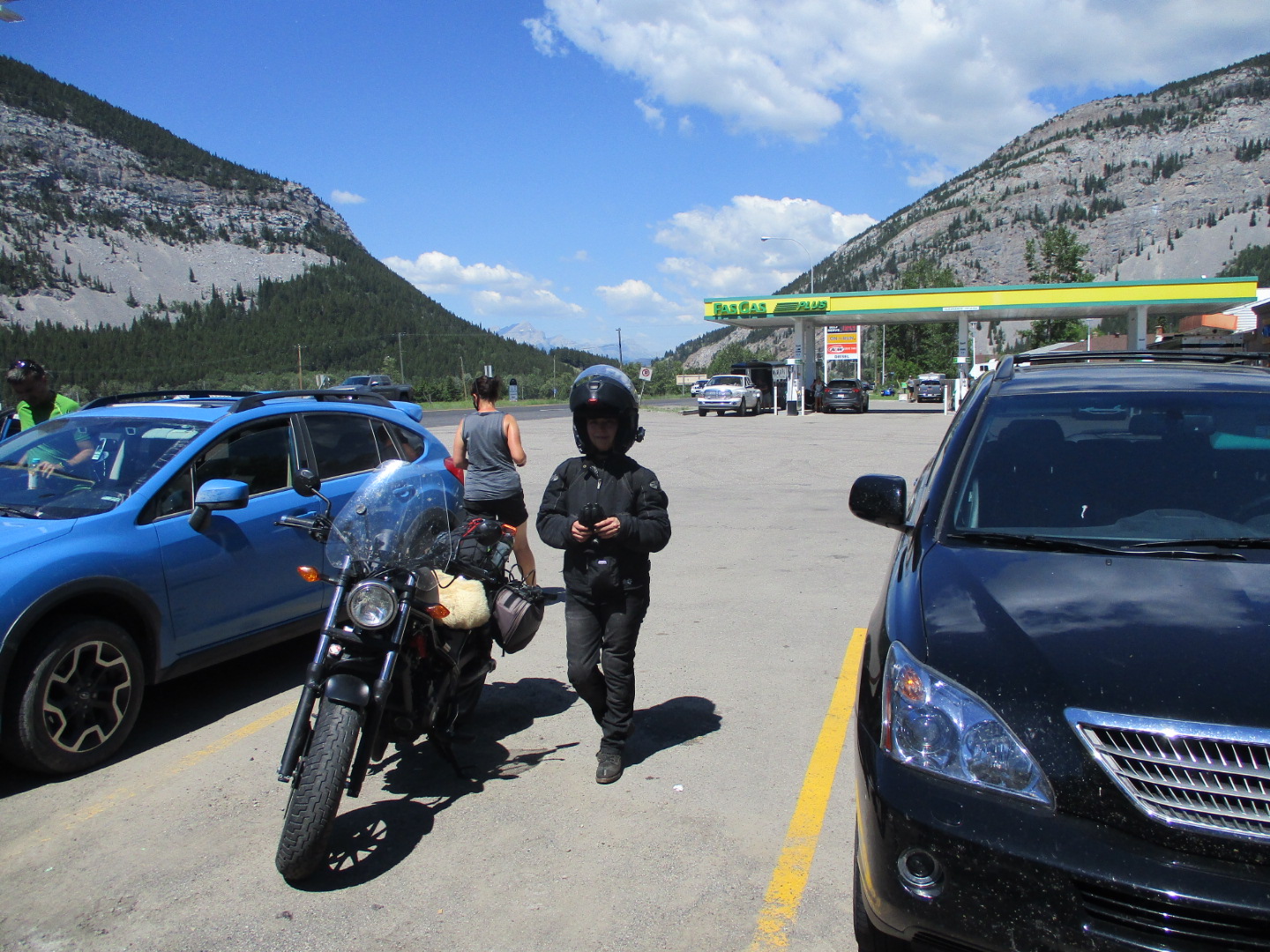 The Crowsnest Pass, and the reason why highway 3 is called the Crowsnest Highway. Also the border between Alberta and British Columbia and the location of the continental divide. All waterways east of here drain into Hudson Bay; All waterways west into the Pacific Ocean.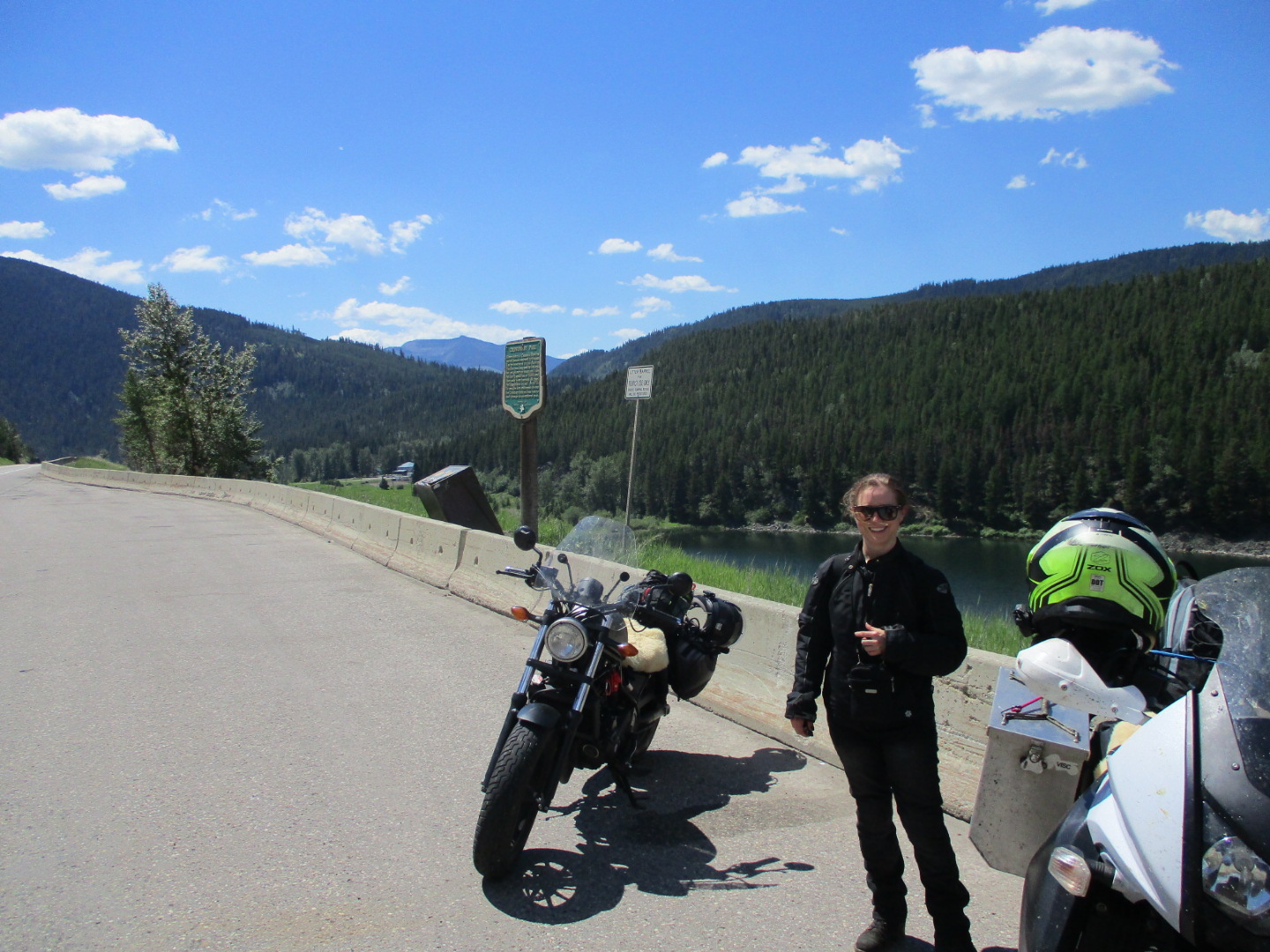 We stopped in Fernie first at the visitors center and then for lunch at the Cast Iron Grill at the Fernie Golf Club. It was already very hot out and they had a large dining area with cool air conditioning.
From Fernie we kept heading west through Elko, Jaffray, and other small towns. For the first time we stopped at a rest area to wet our clothes to see if it made riding any cooler. This would become an important technique for keeping ourselves cool in the extreme weather to come.
We arrived in Cranbrook at 5:00pm and checked into the Travellers Motel for $80 per night. It had great air conditioning and was clean. We ate dinner at the Fire Hall Kitchen and Tap and it was good. Then we did some grocery shopping and went back to the motel, passing out at 11:00pm.
Monday June 28, 2021: Cranbrook - New Denver
We woke up around 8:30am, ate breakfast, got ready, packed the motorcycles, and soaked our clothes. After checking out we were on the road by 10:00am, again headed west on highway 3.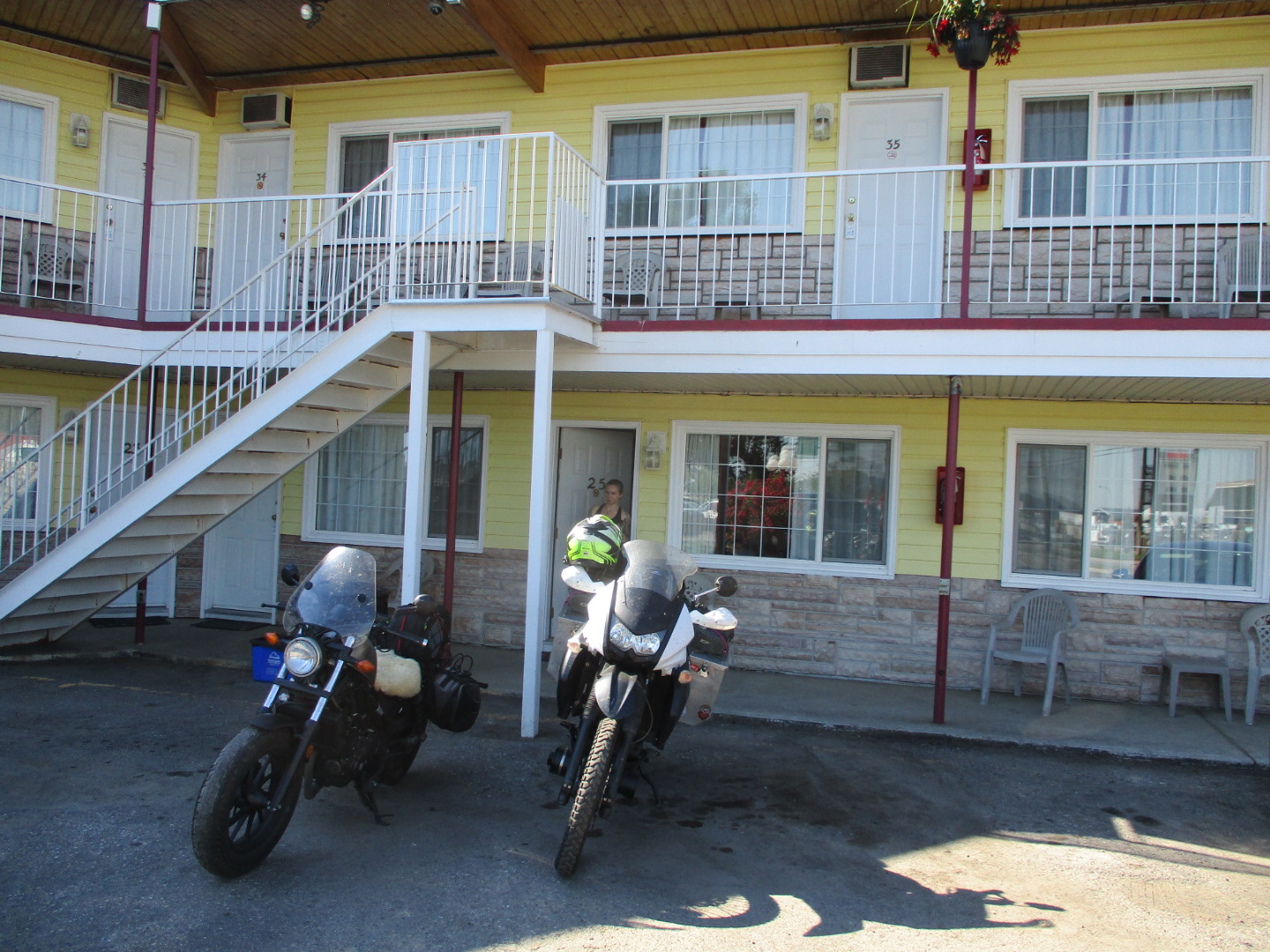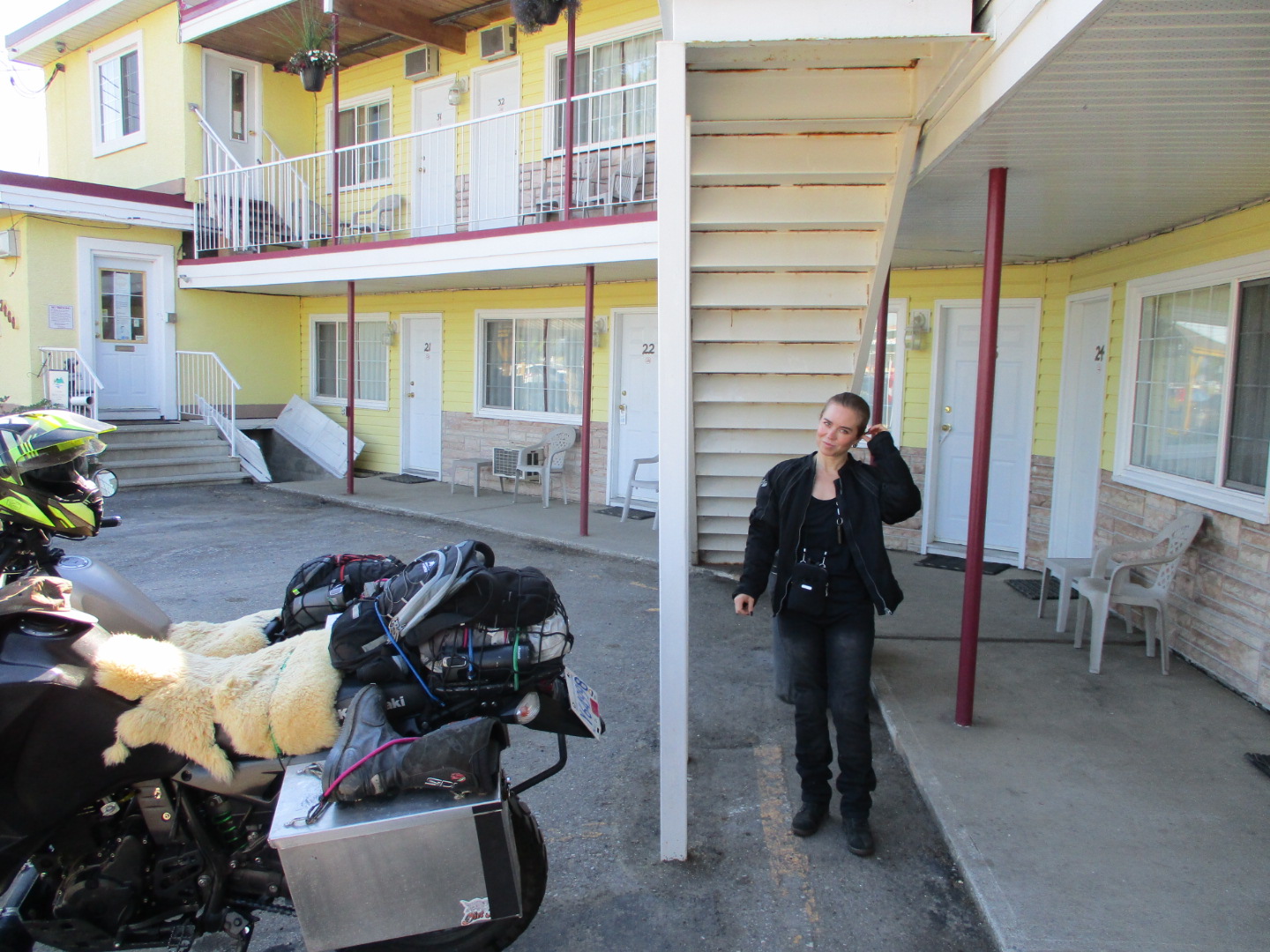 There was a long construction delay before Yahk where the highway was being resurfaced. That was about 10 kilometers of grooved pavement. After that we stopped at the Ryan rest area for washrooms and snacks.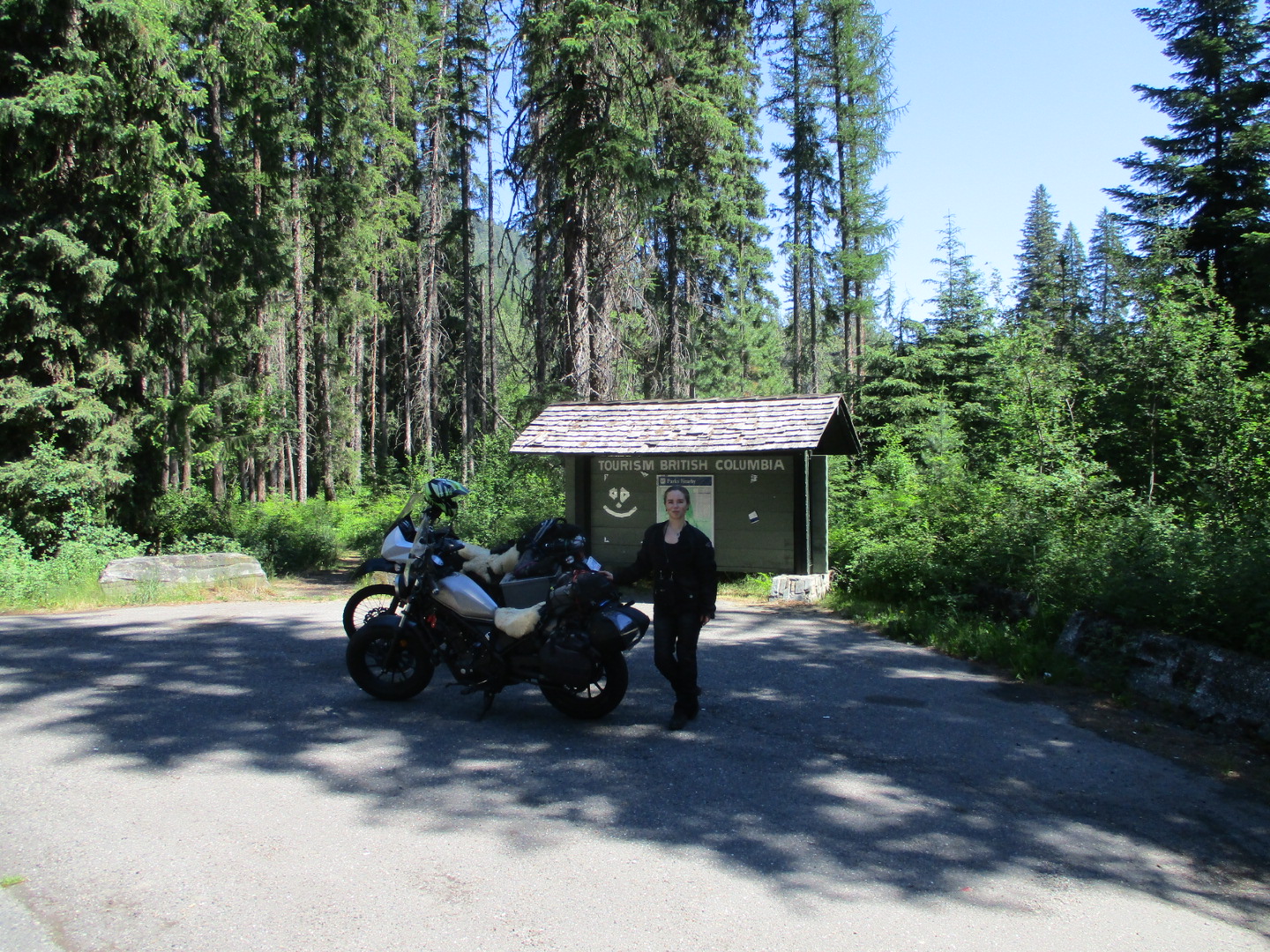 Arriving in Creston at 12:00pm we ate lunch at Jimmy's pub. As we parked 3 motorcyclists from Calgary parked with us in the shade and we chatted for a few minutes. They were on large touring motorcycles and one was a Honda F6B, which I was unfamiliar with. Turns out it has the Goldwing powertrain but fewer features.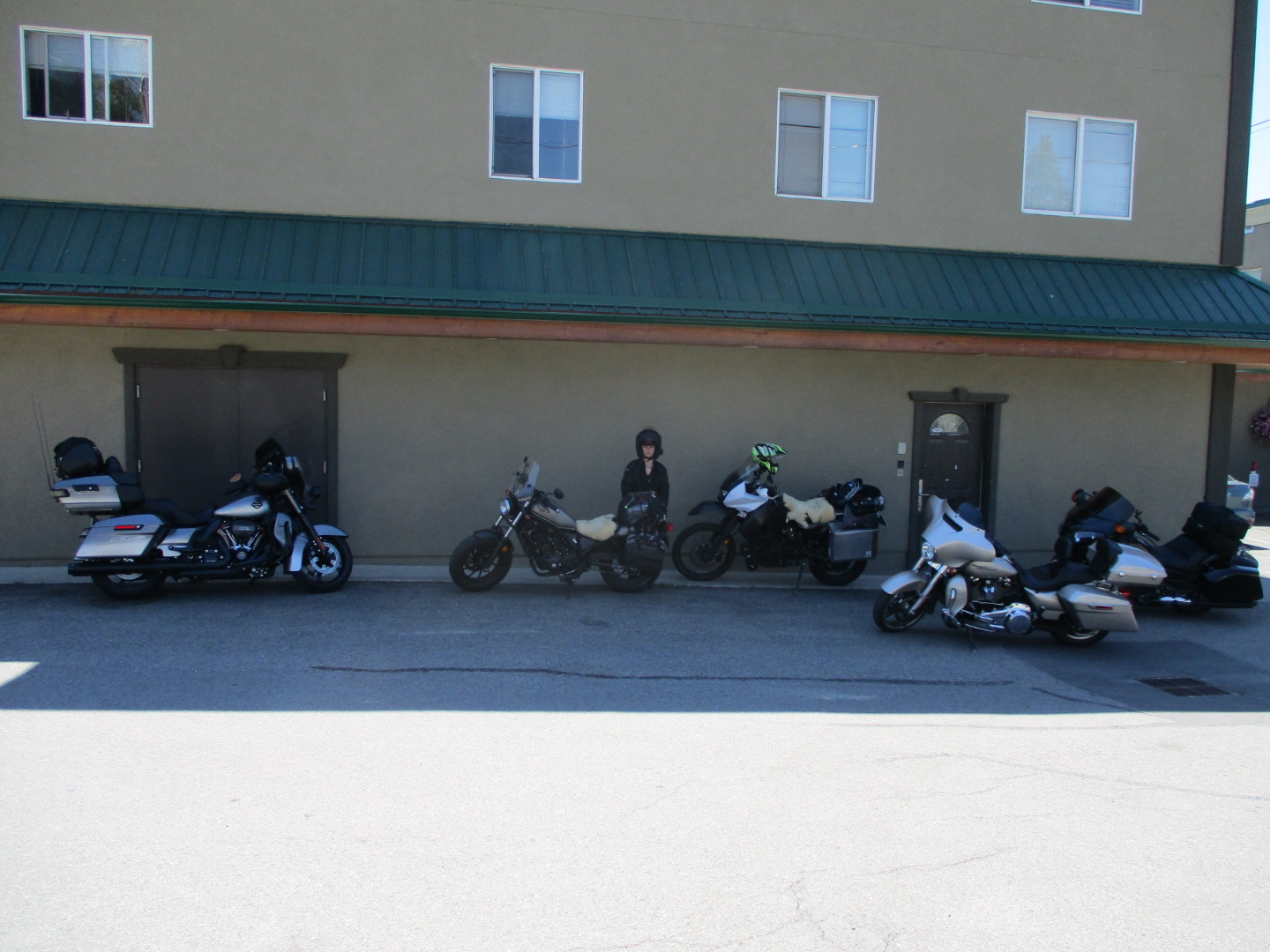 After lunch we headed north out of Creston on highway 3A. This is a great 90 kilometers of motorcycle road to Kootenay Bay. Hardly any traffic and non stop corners, although many of them are banked inappropriately, although this is not a problem because the speed limit is low. Almost the entire ride is on the east shore of Kootenay Lake. We stopped part way at the Kuskanook Harbour and Boat Launch to soak our clothes, use the washrooms and have a snack.
A free ferry takes you from Kootenay Bay to Balfour. I met a couple guys from Saskatchewan riding the Selkirk loop on supermotos, they were fun to talk to.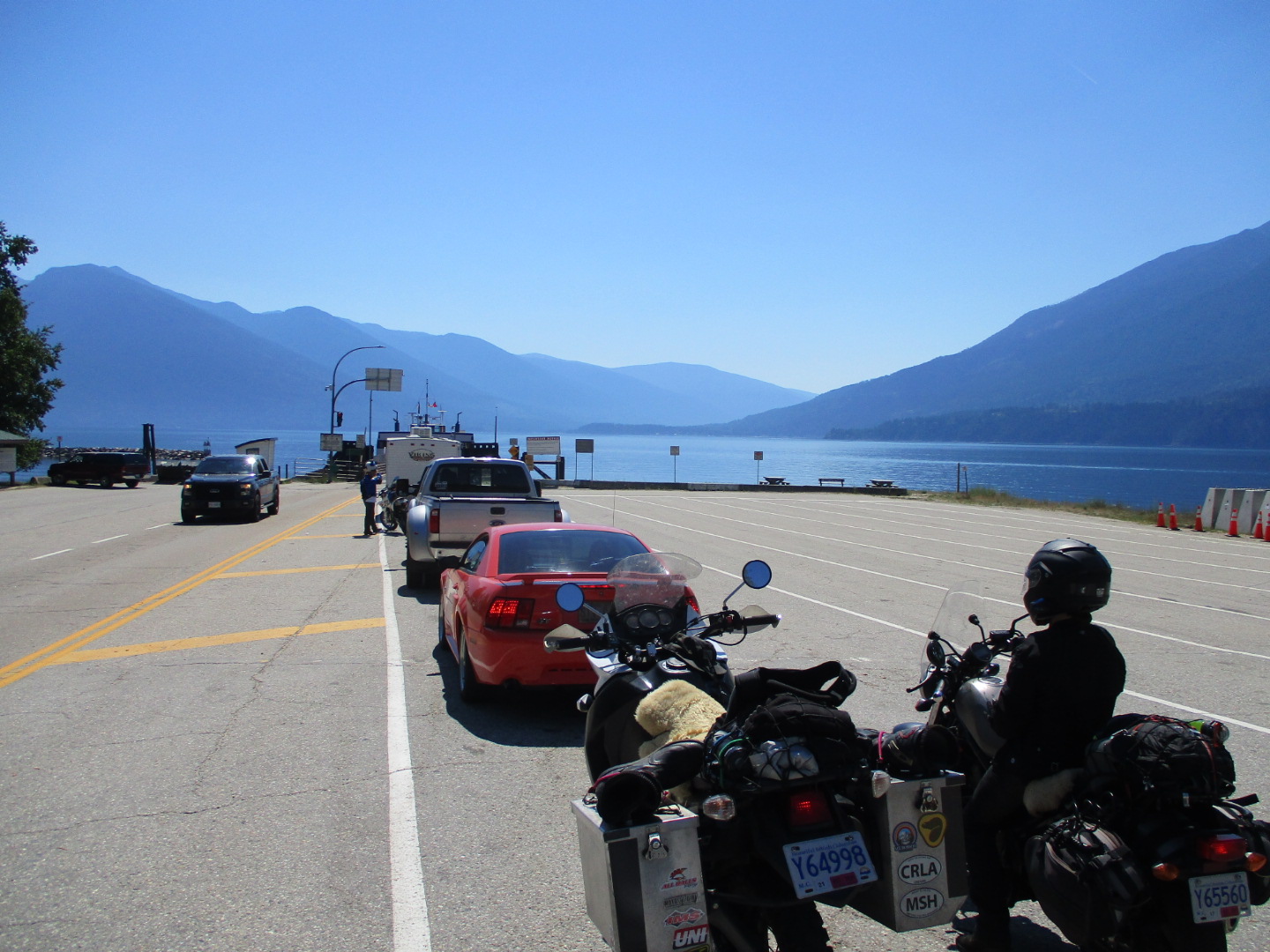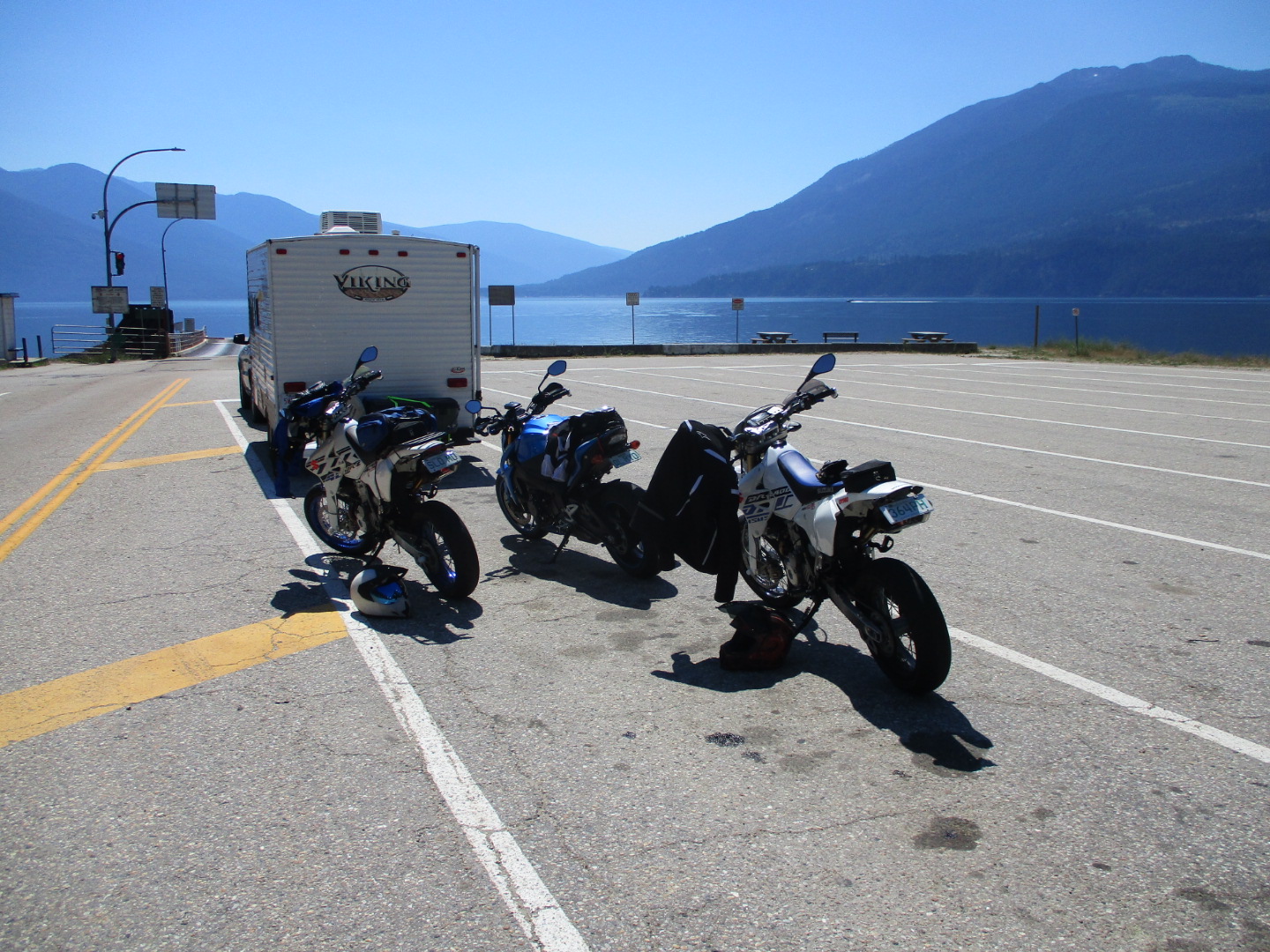 After disembarking the ferry at Balfour we headed north on highway 31 towards Kaslo. This is another stunning ride and now you are on the west shore of Kootenay Lake. The weather was already in the 40s. Once we got to Kalso we turned west on highway 31A to New Denver. This is another spectacular motorcycle highway with little traffic and many turns.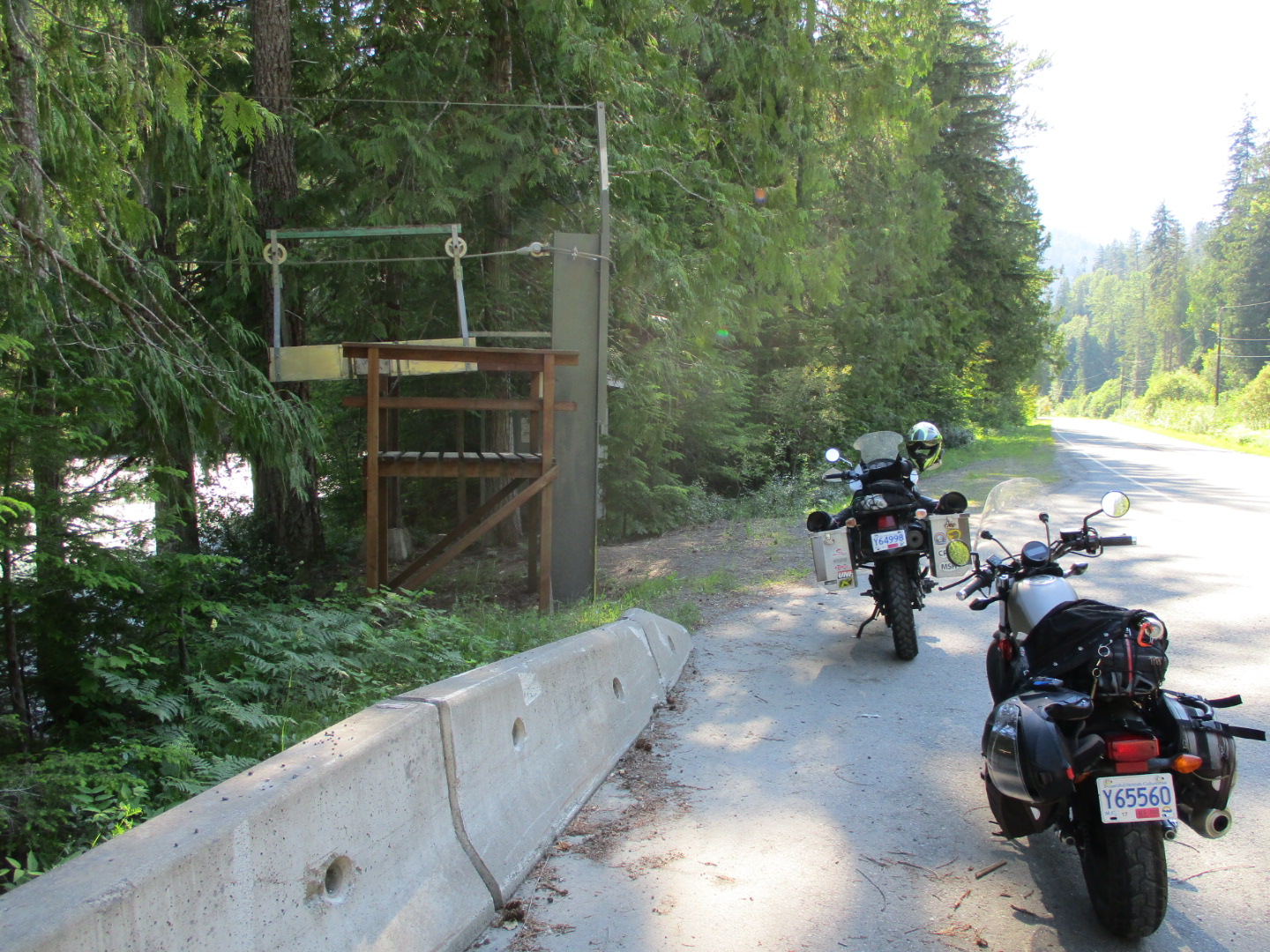 Arriving in New Denver at 5:30pm I insisted that we check into the Glacier View Cabins as soon as possible. This turned out to be a bad decision as most businesses in town close at 6:00pm. To add to the frustration we could not park the motorcycles in front of our room and had to walk our gear 50 meters instead. The room was excellent however with two beds, a very large bathroom and almost full kitchen for $90 per night.
We unpacked as quickly as possible and then went to the grocery store for dinner because there were no great restaurant options in town. By the time we had finished there, the gas station had closed. It would re-open at 8:00am the following day but we had planned to start riding as early as possible to be in Penticton early to leave lots of time for visiting with my parents. That plan would have to change.
After dinner we walked around New Denver and down to the shores of Slocan Lake. The sun had gone over the mountains and the lake was beautiful in the shadowy dusk.
Tuesday June 29, 2021: New Denver - Penticton
We were up at 6:30am, ate breakfast, got ready and packed the motorcycles. Checked out at 7:50am we headed straight for the only gas station in town. After 671 kilometers I fuelled 28.4 liters for $47.40, yielding 55.6 MPG. Some local characters heckled us while we fuelled. It must be a fun thing to do in the town. We pointed our wheels north on highway 6 towards Nakusp.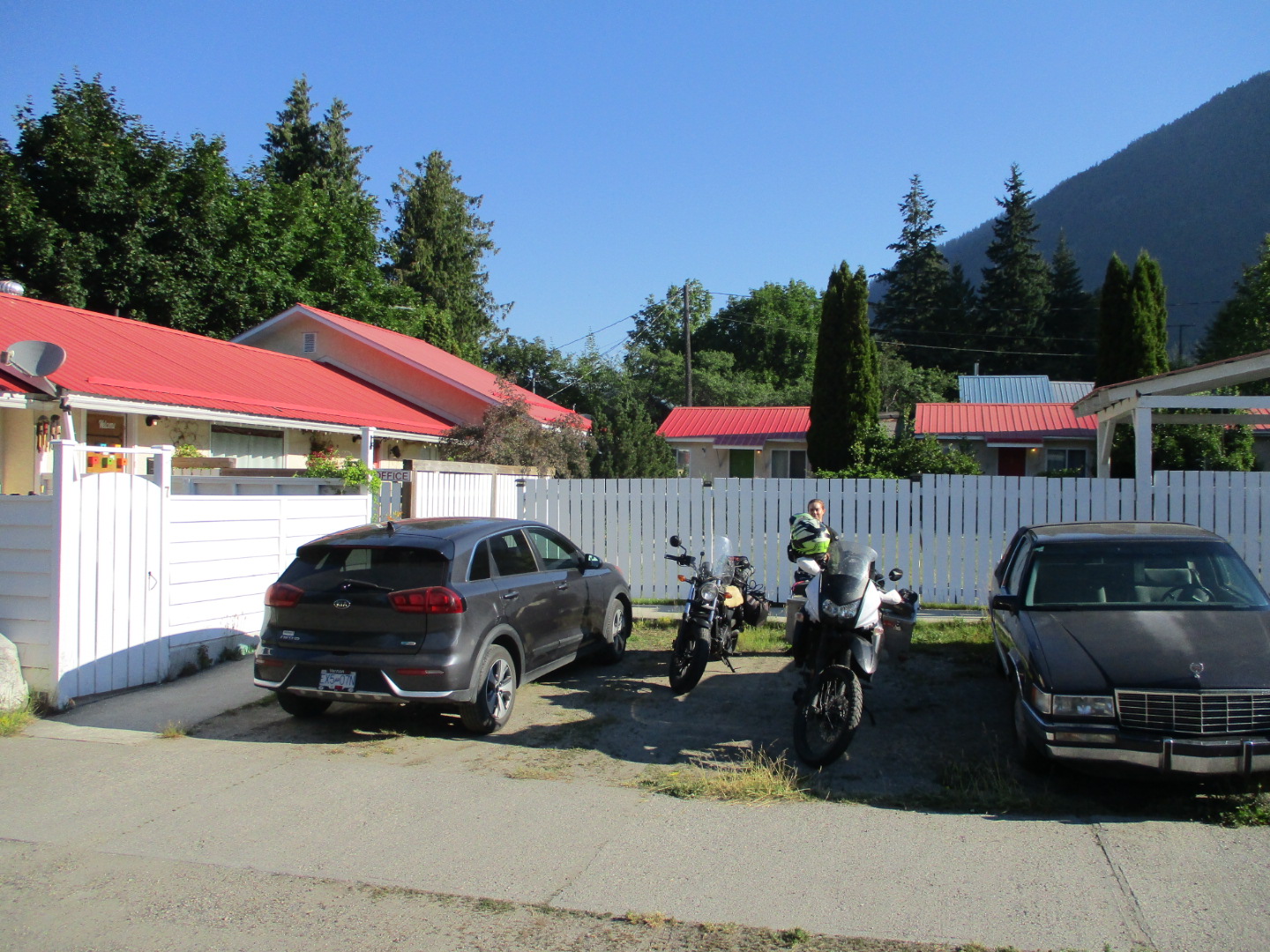 Part way to Nakusp we stopped at the Summit Lake rest area, surprisingly with flush toilets that I took advantage of.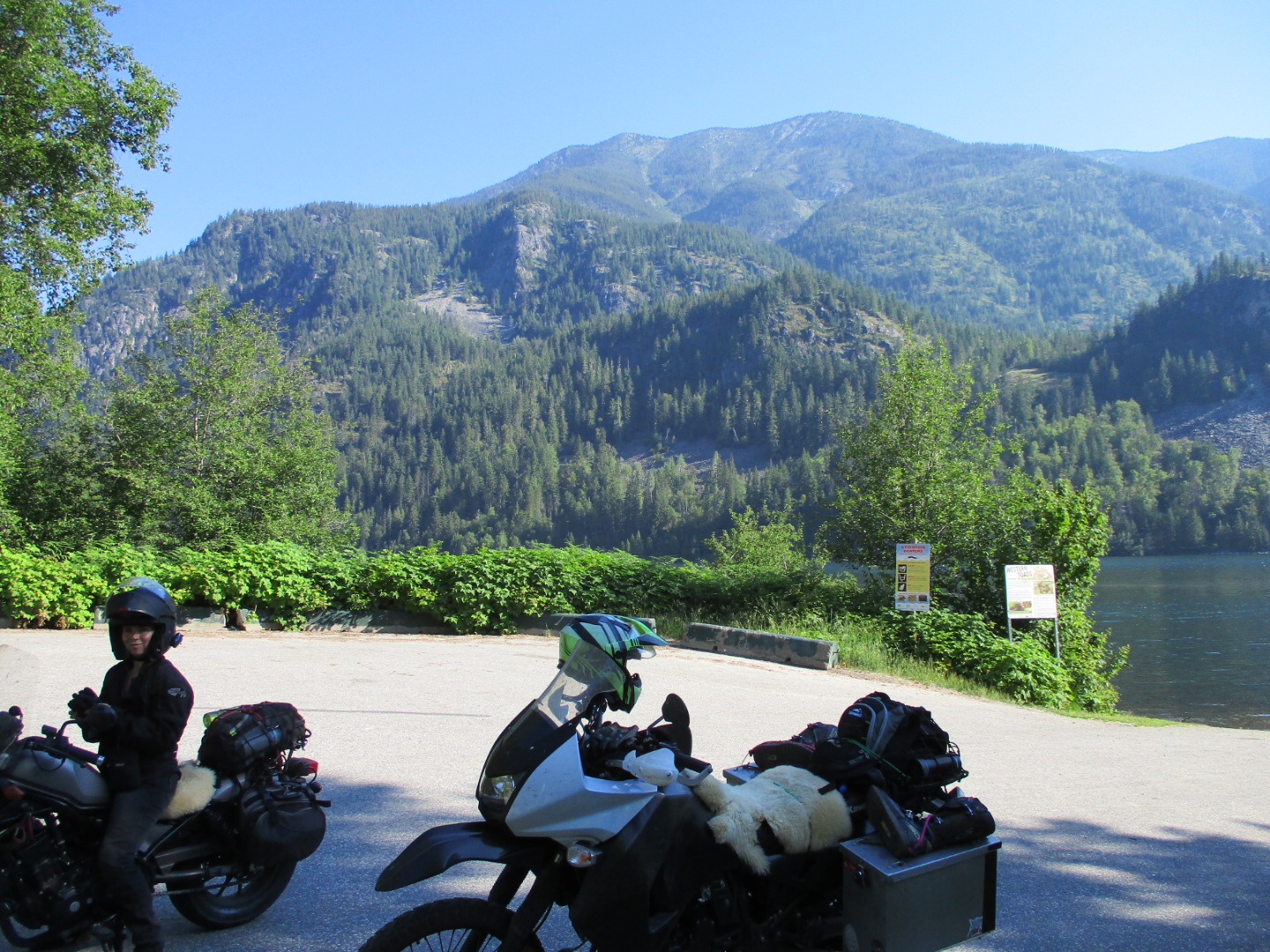 From Nakusp we turned south on highway 6 to Fauquier.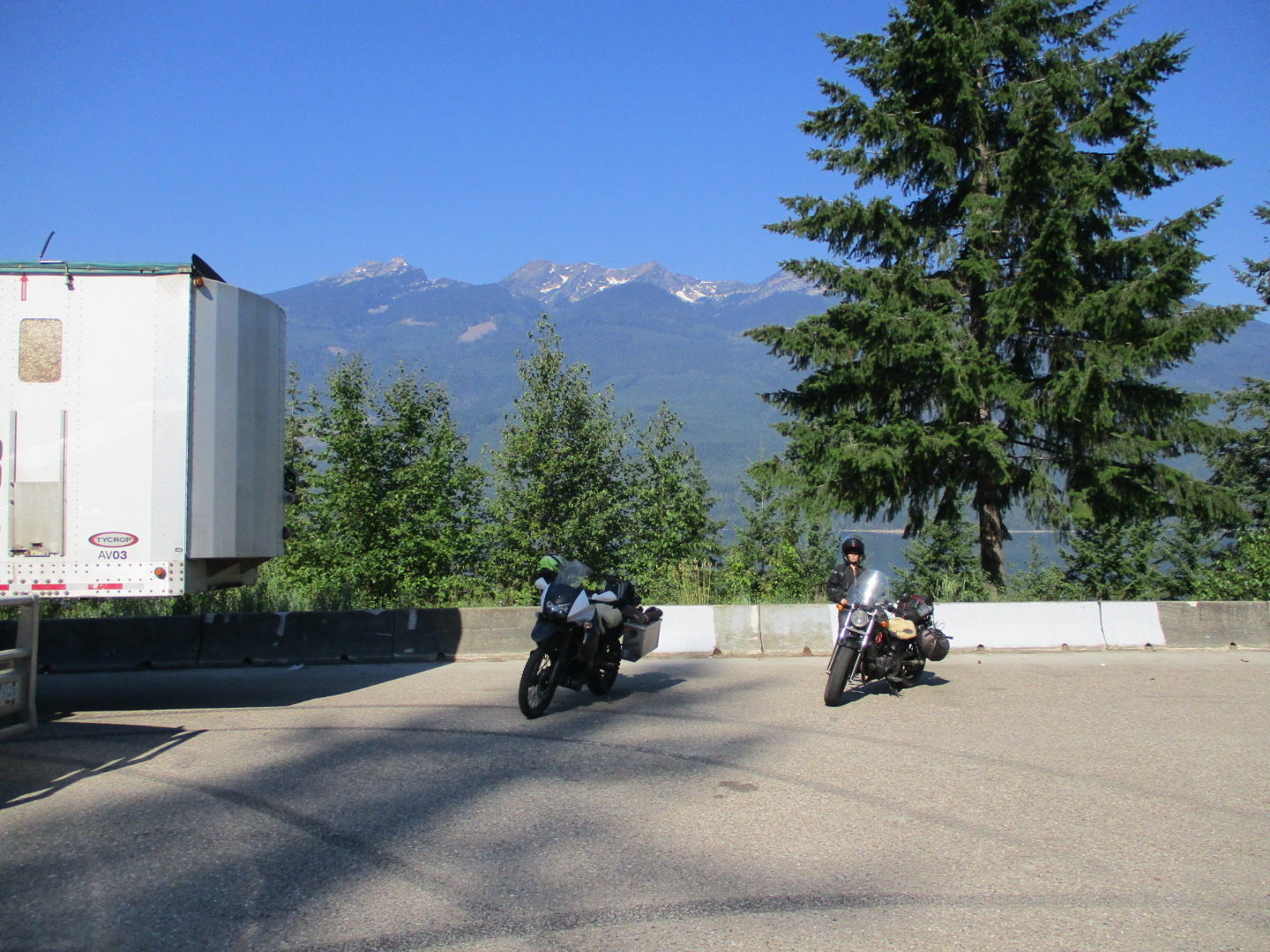 Arriving in Fauquier at 11:00am we waited for the free cable ferry to take us accross to Needles. We met some other motorcyclists who ride for a cause.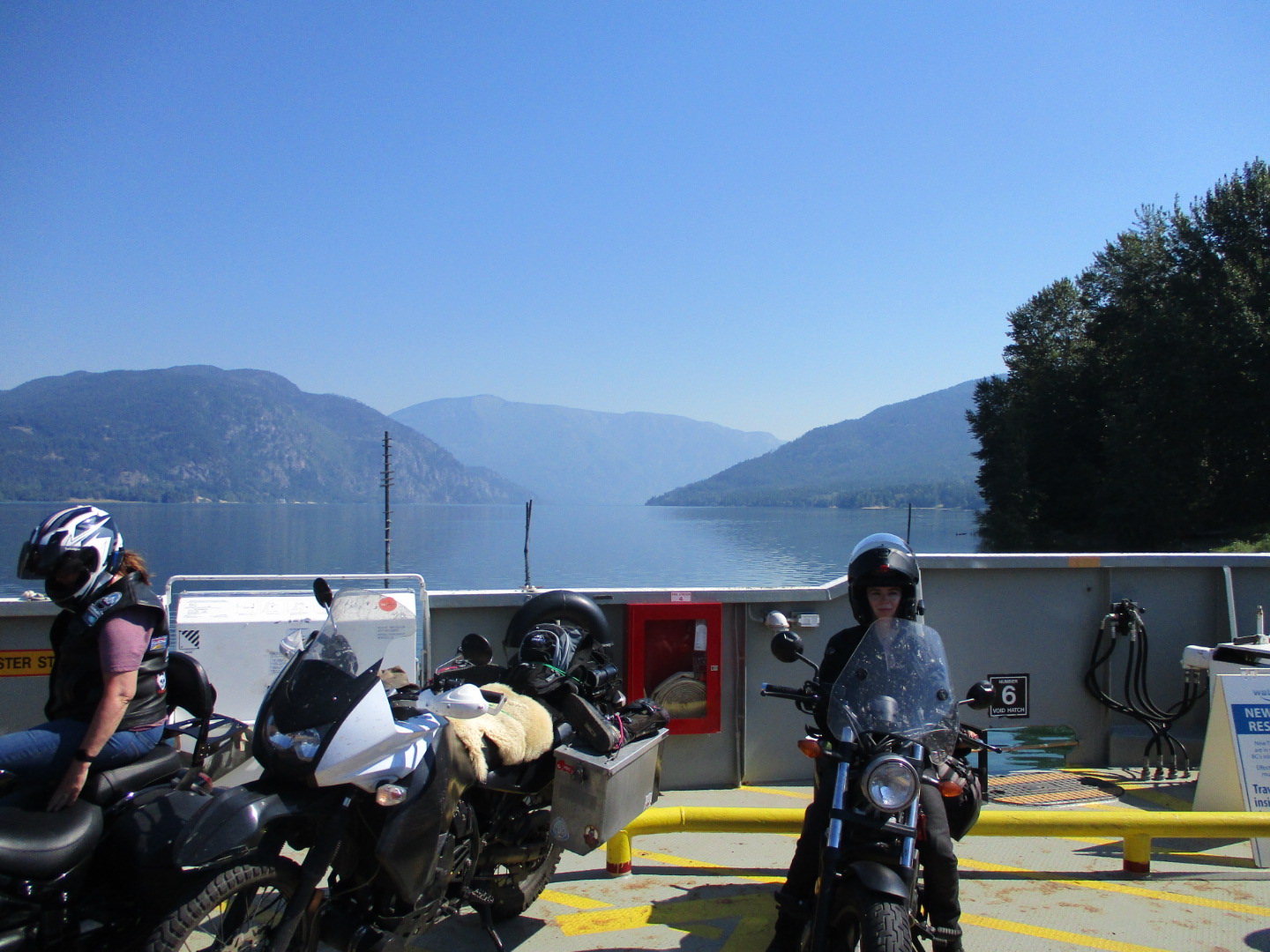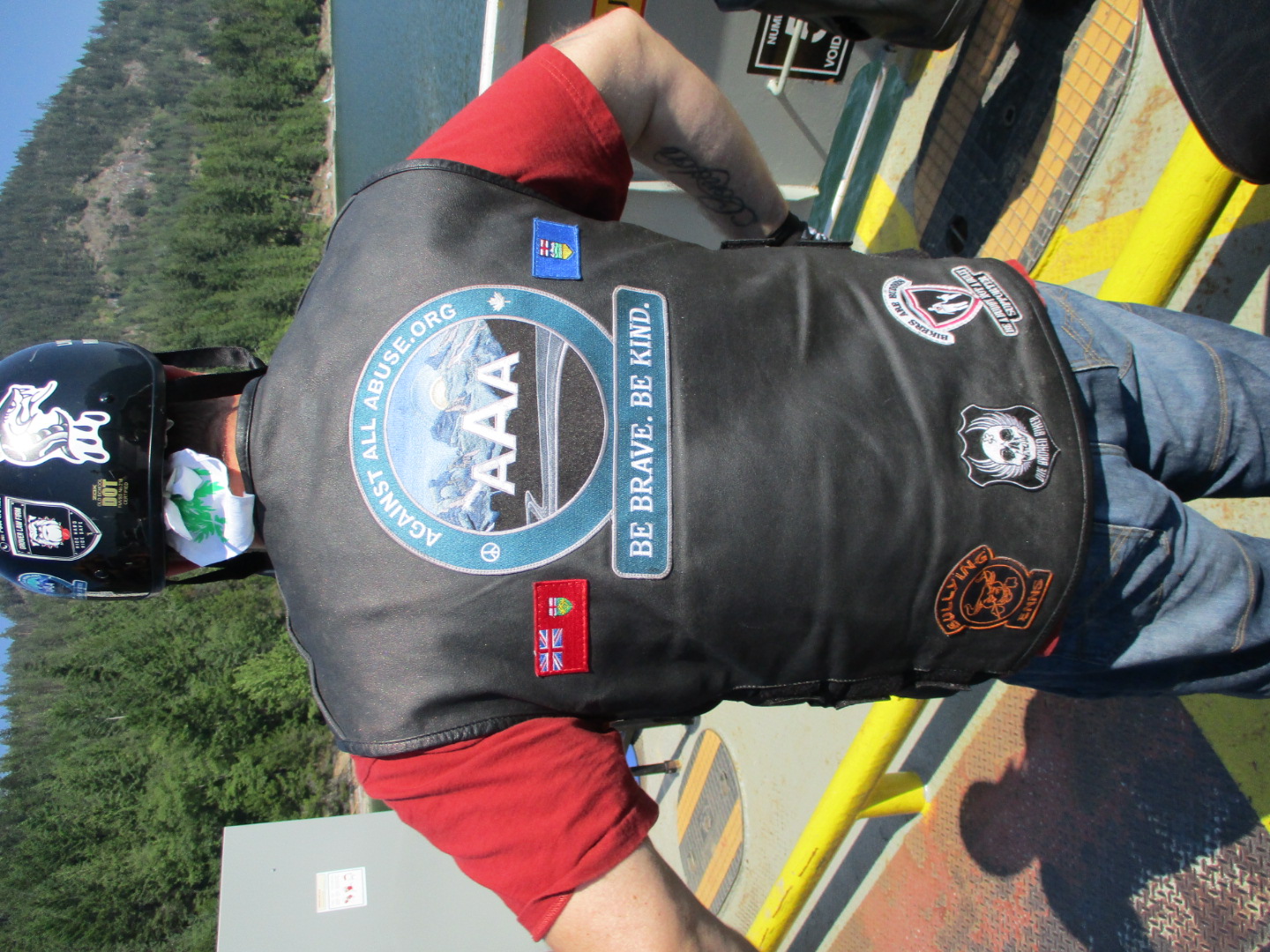 Once disembarked at Needles we stopped for a washroom and snacks break and to let all of the ferry traffic go ahead of us. There is only one road out of Needles and all of the ferry traffic is let go at the same time, so it is easier to either be ahead of everyone or behind to avoid constant jockeying for position.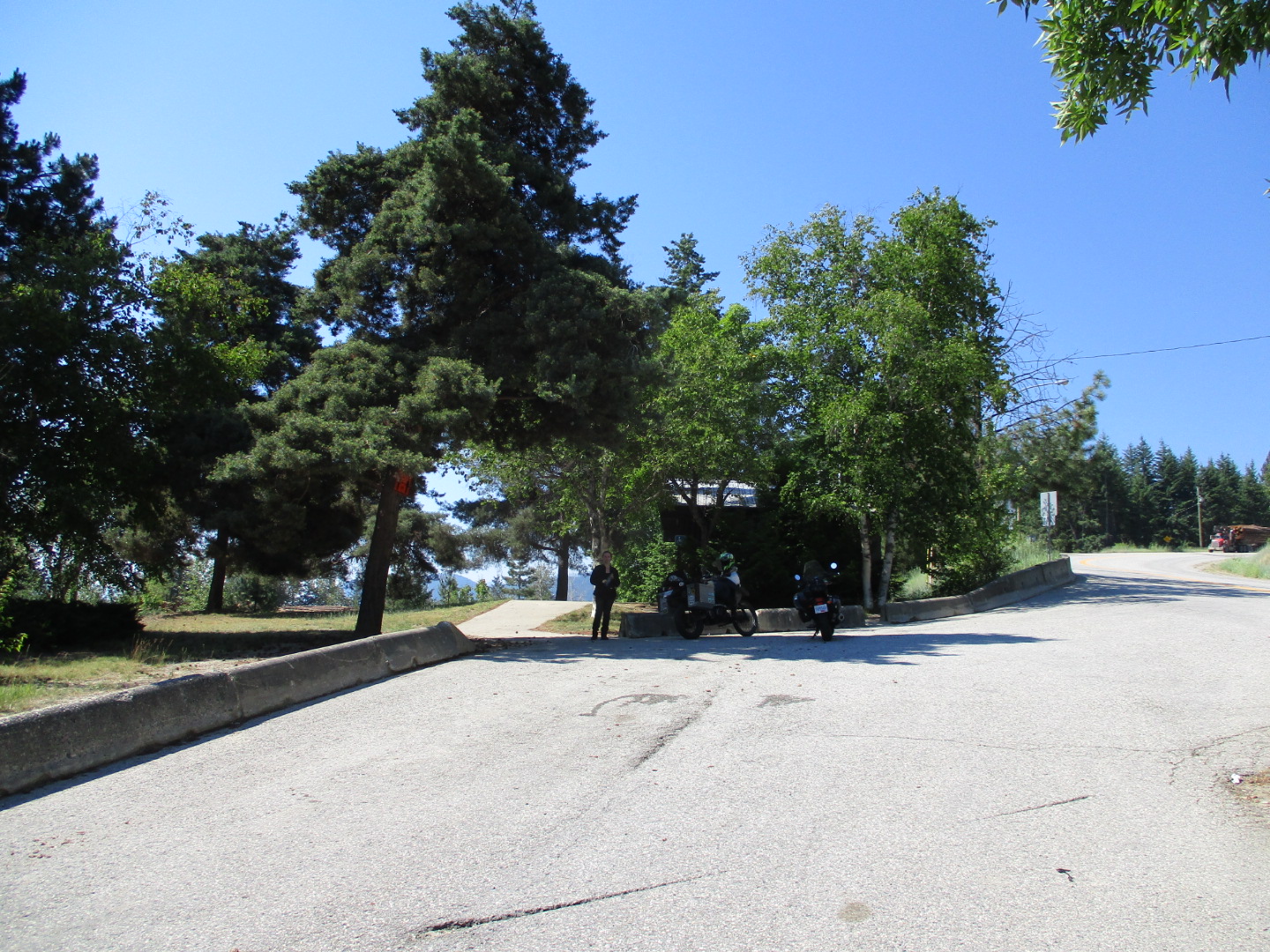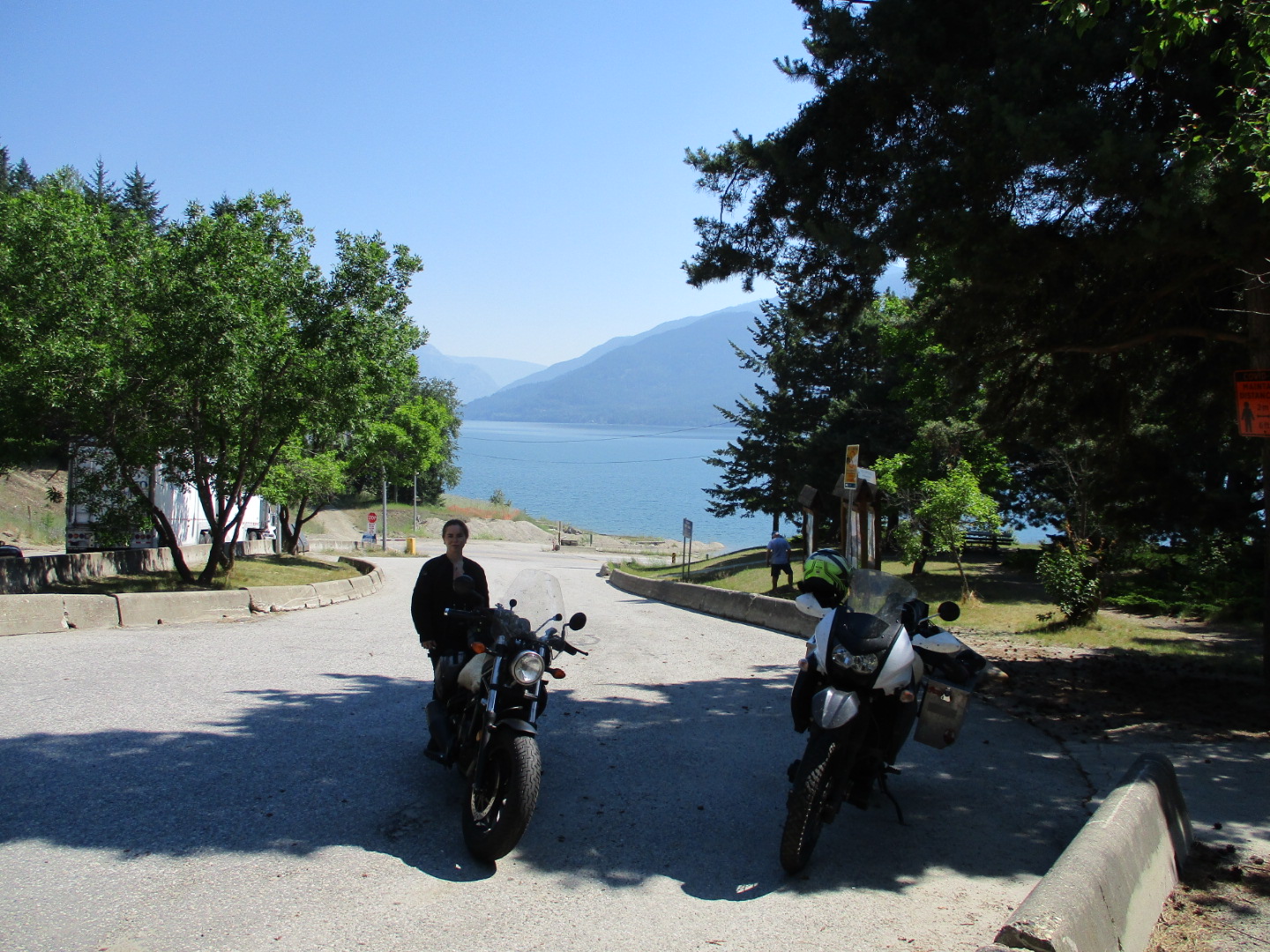 We stopped along highway 6 to wet our clothes in a stream and have snacks. It was already quite hot but the worst was yet to come.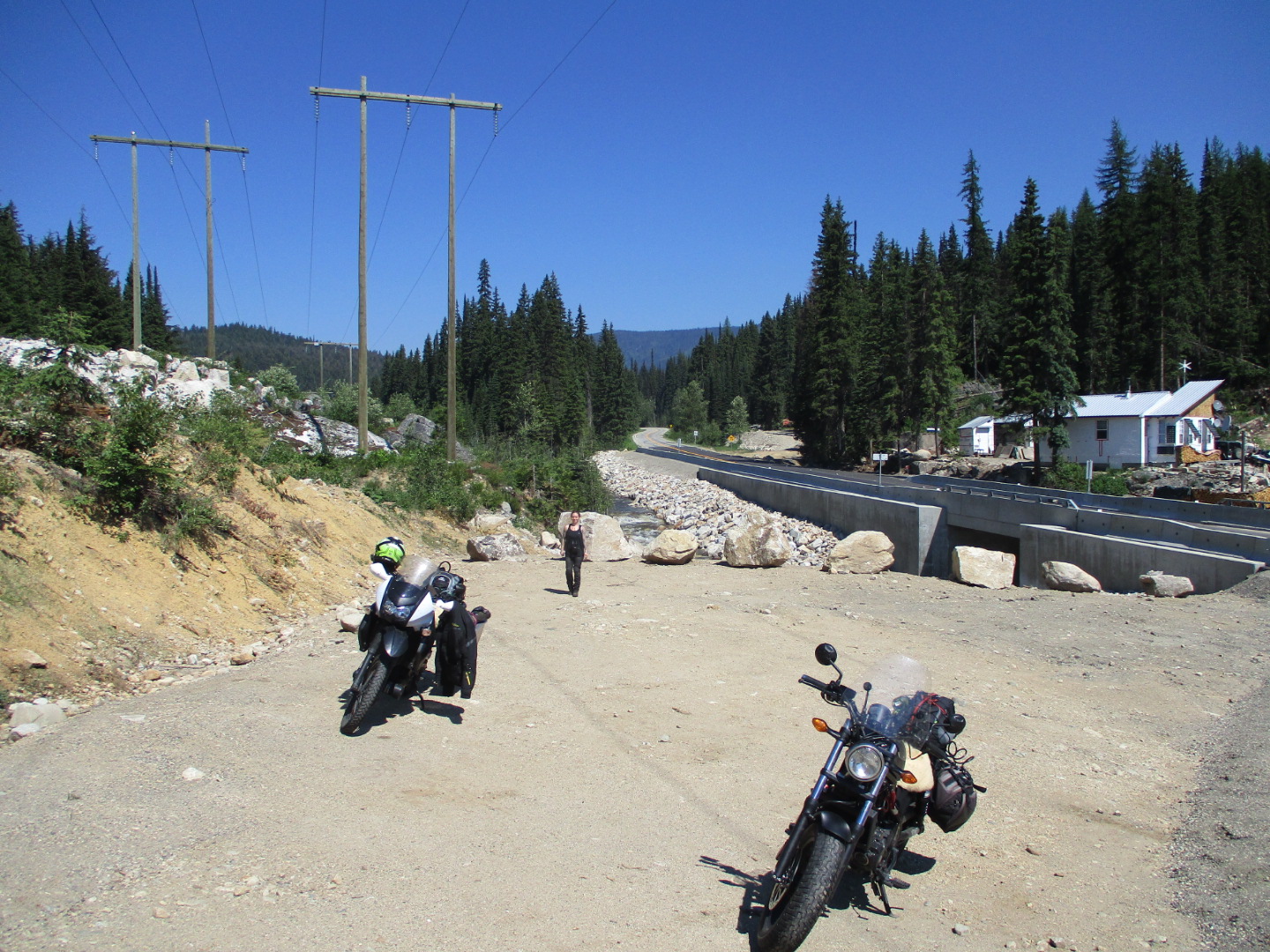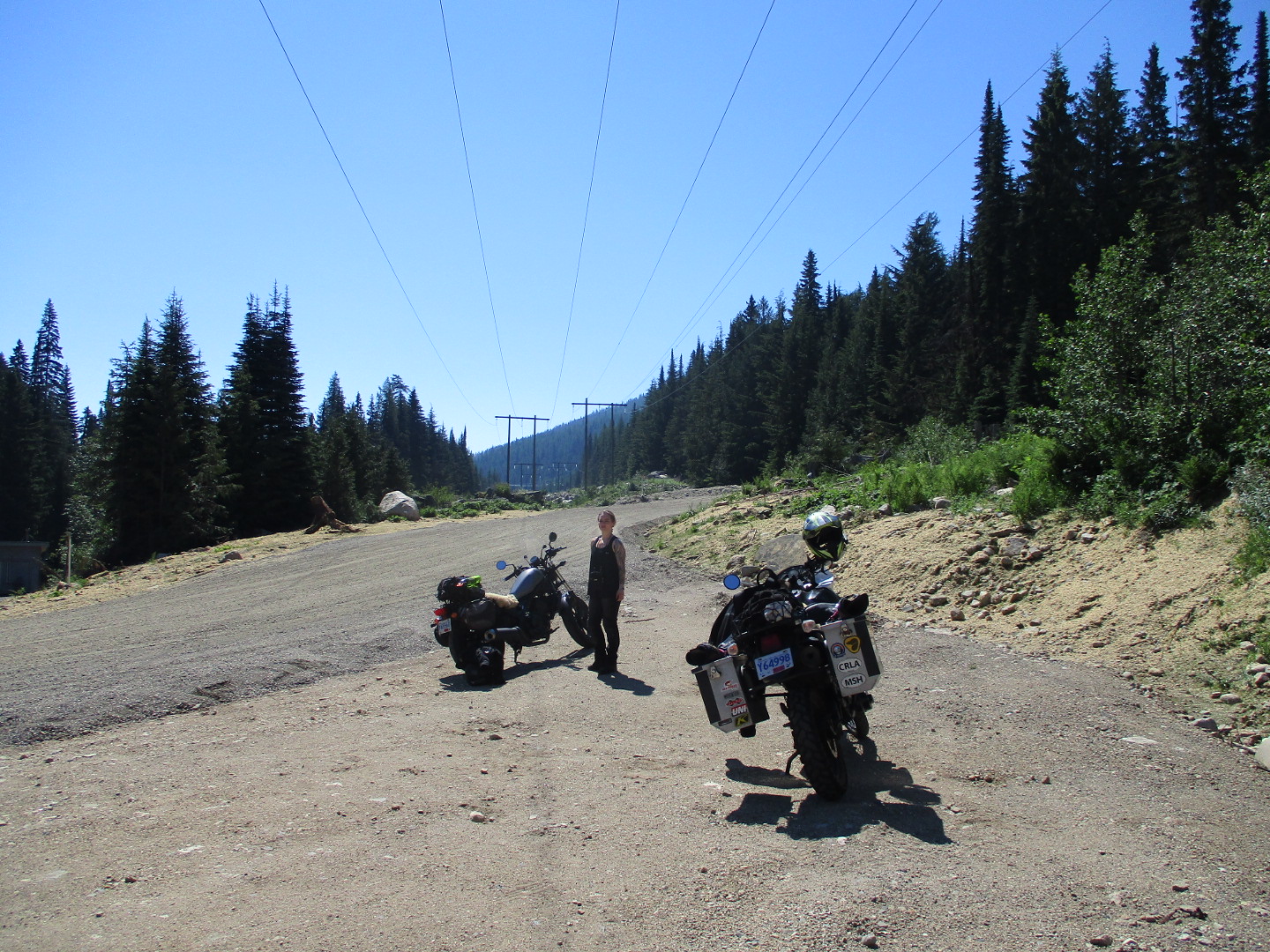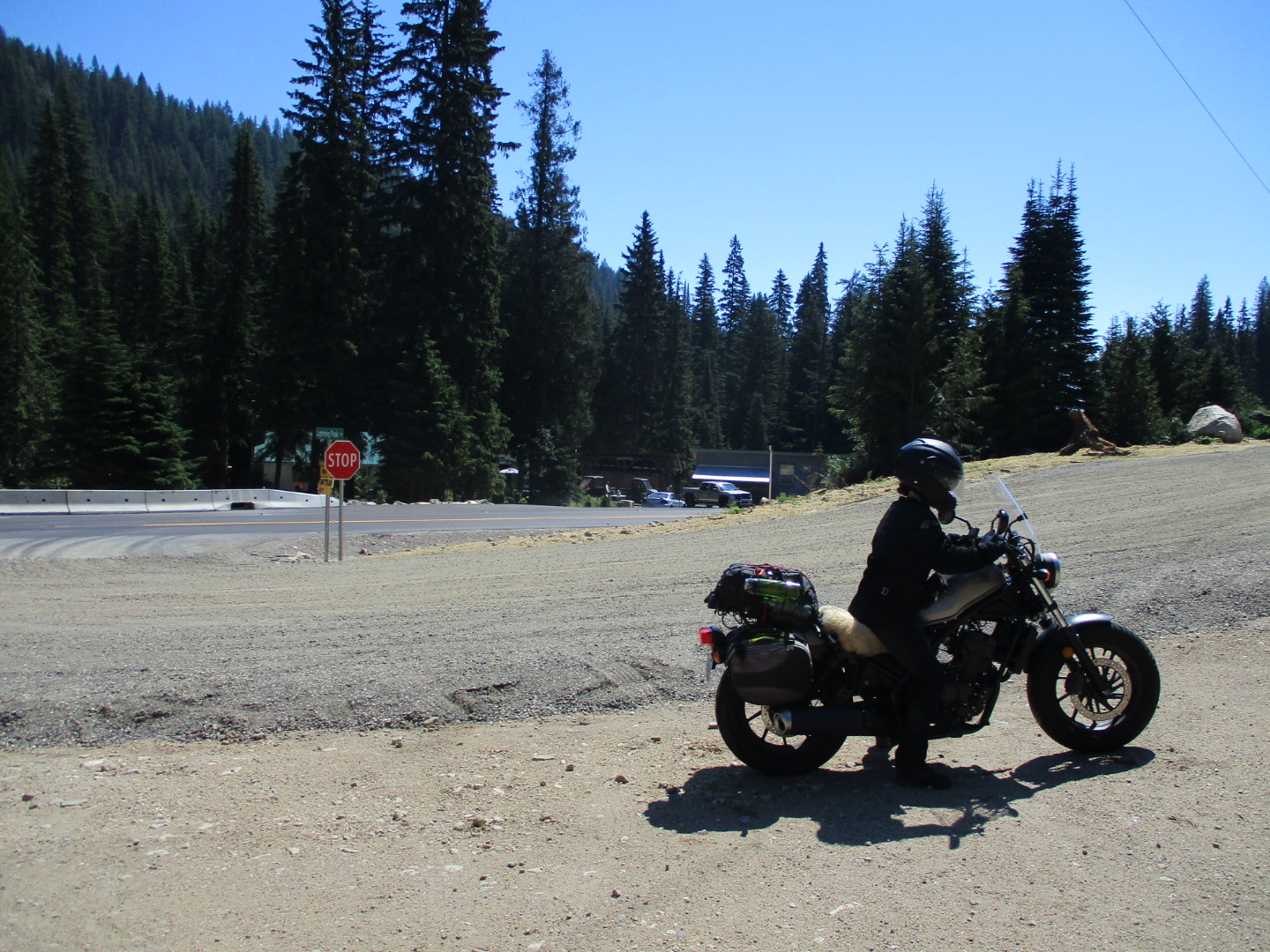 We stopped for lunch at Lost Lake rest area, a nice shady spot with garbage disposal and washrooms. The cheese I had brought with me from the night before was starting to become liquid. I did not want to wet my clothes in stagnant lake water so we continued on to the next flowing water source to do that instead.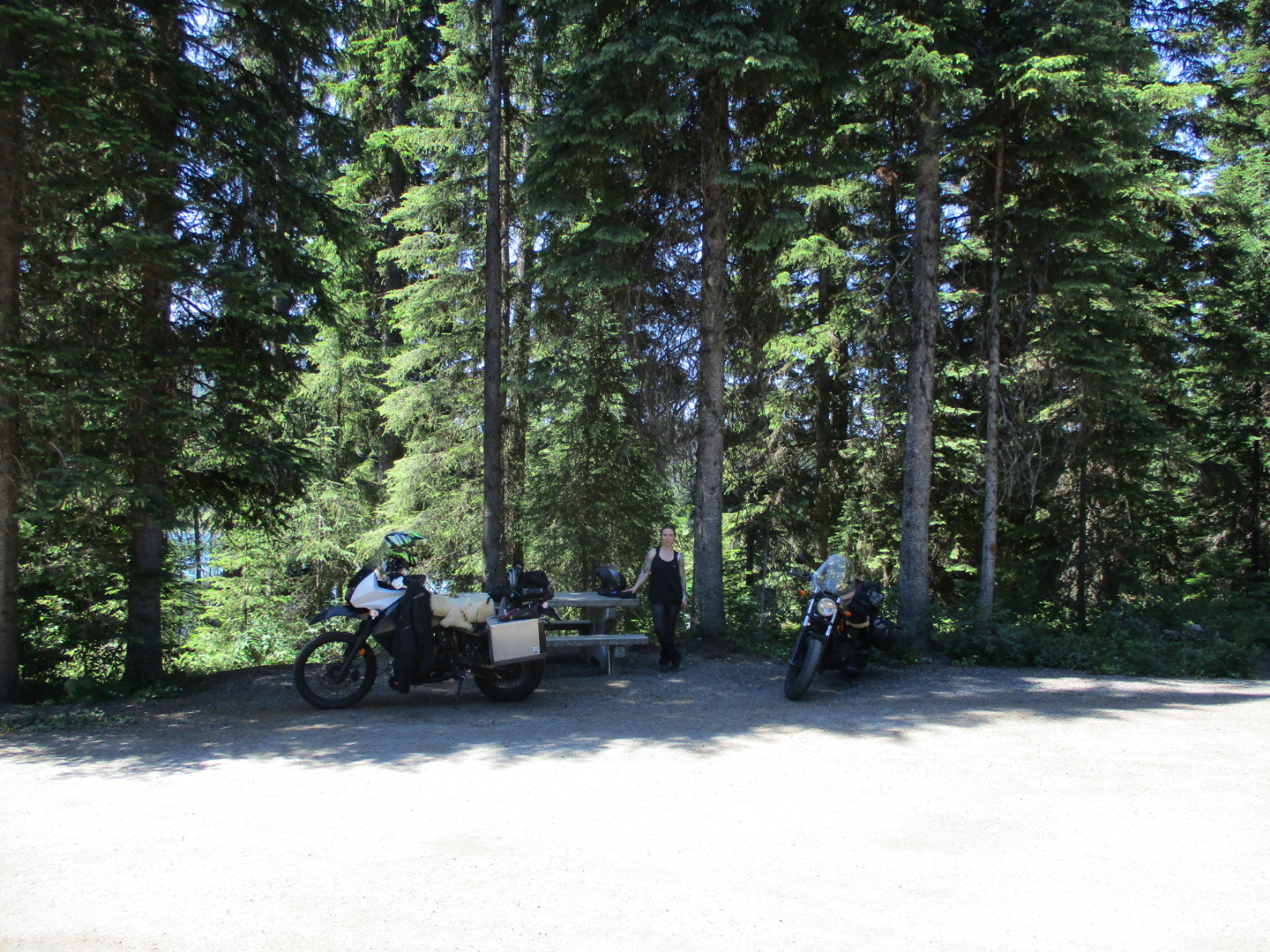 The next flowing water source was the Kettle river. We had to park the bikes on the highway and then hike down a little ways.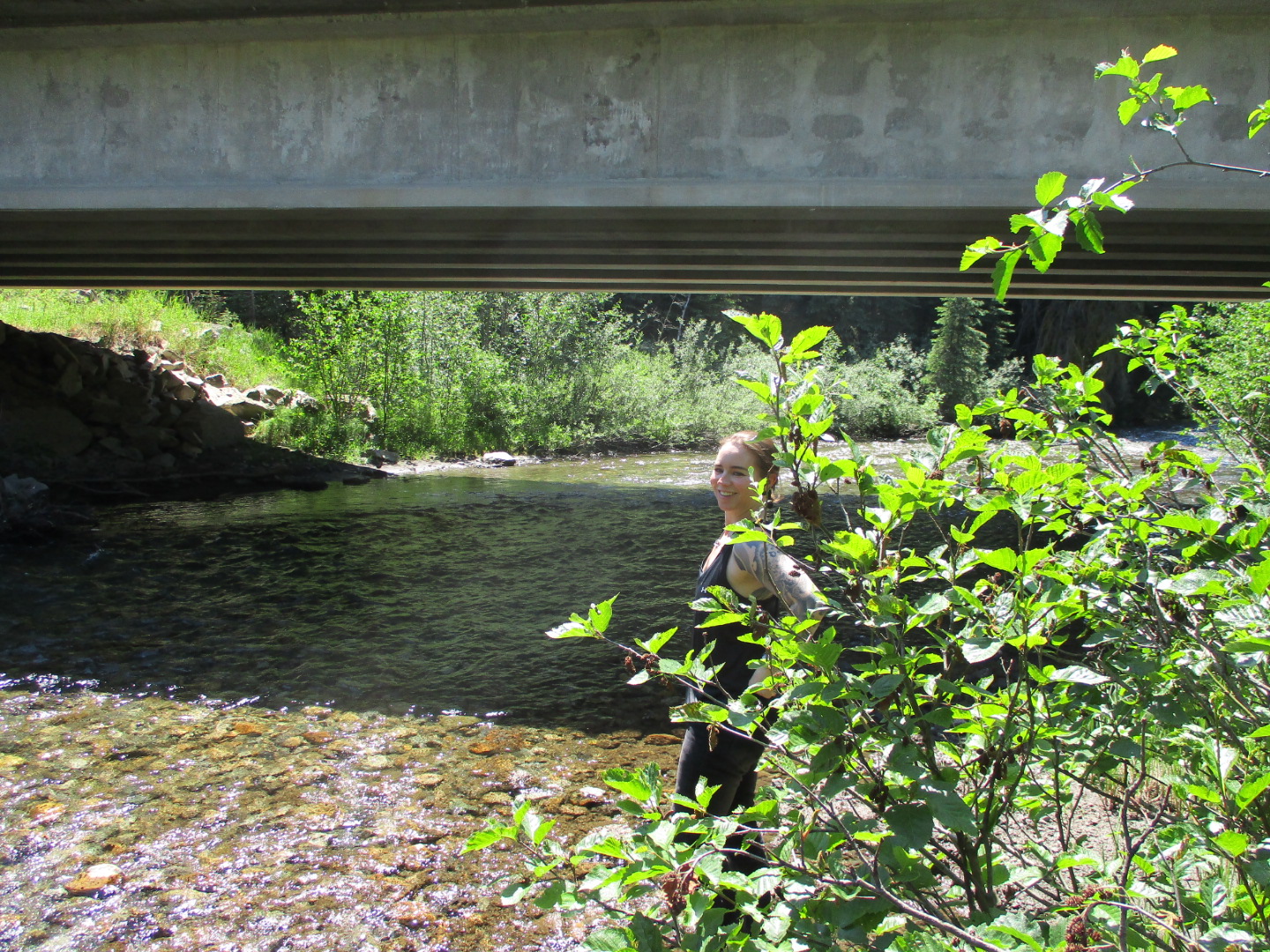 Next we stopped in Cherryville. The further we descended into Vernon and the Okanagan the hotter it got. Blasts of hot air were burning my eyes. We found a shady spot to rest at next to their gas station. Meredith bought some drinks and used their washrooms.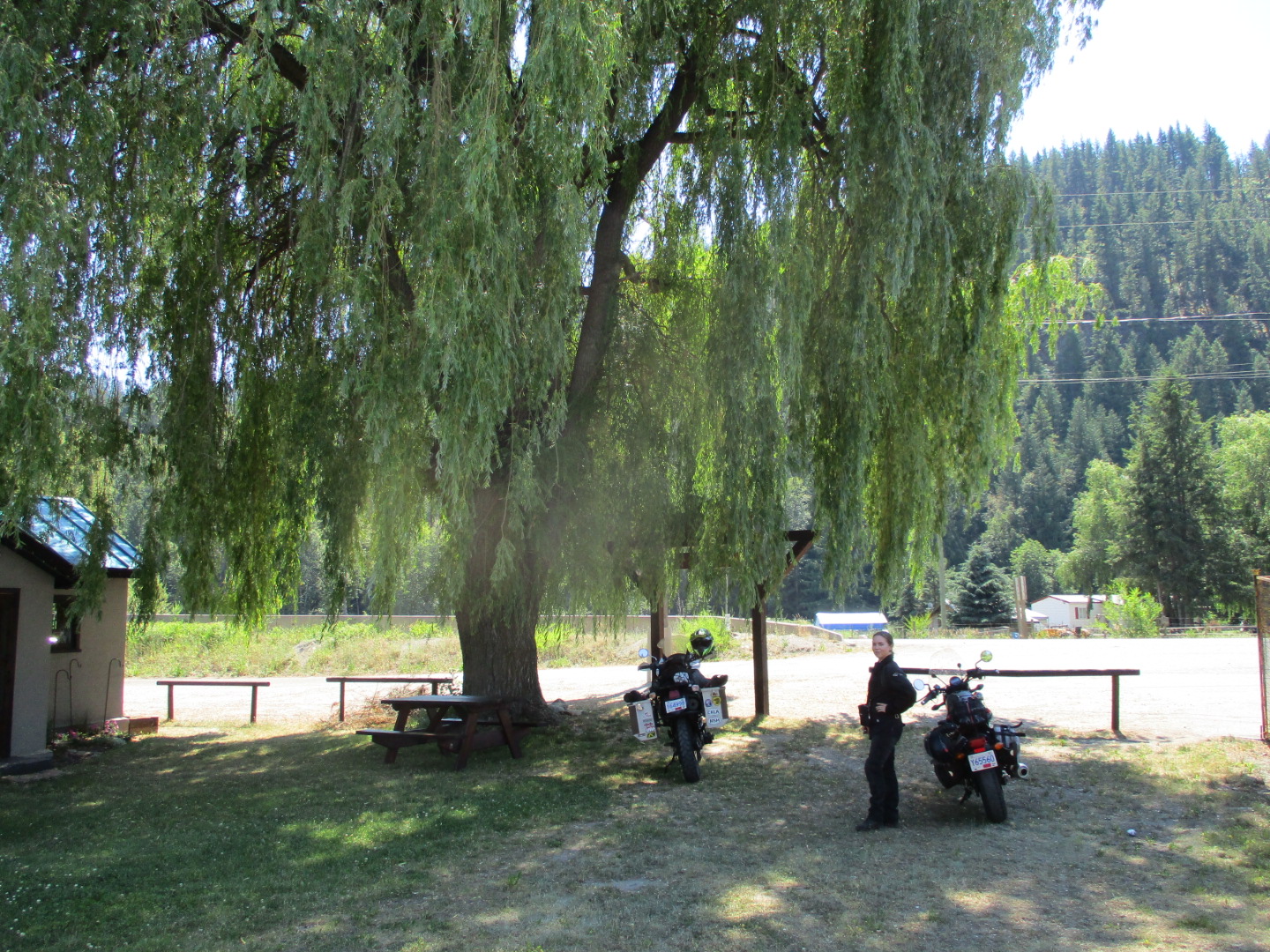 Next stop was the Shuswap river recreation area. There was nobody here and the well in the background was non functional. Again we soaked our clothes in the river.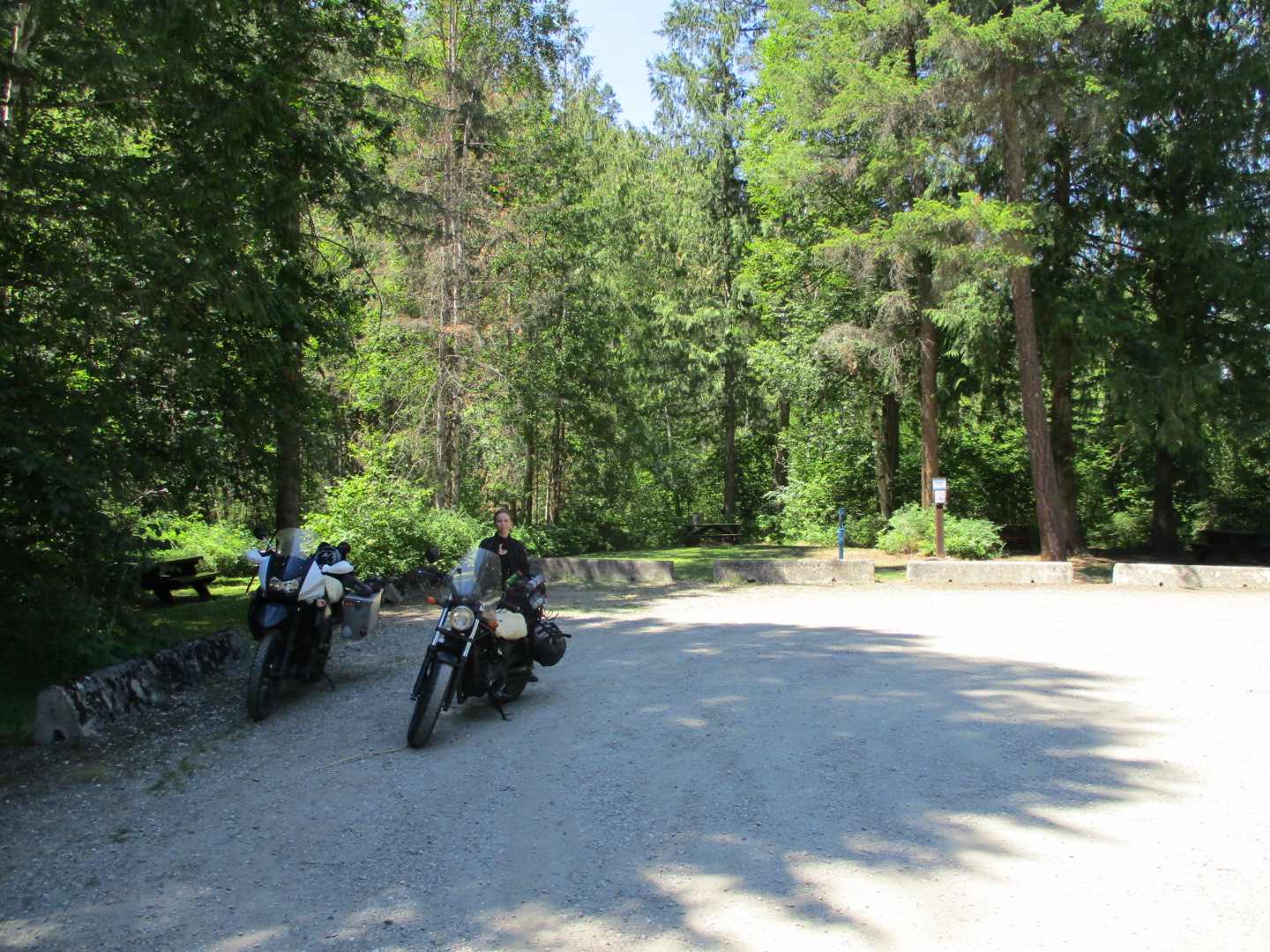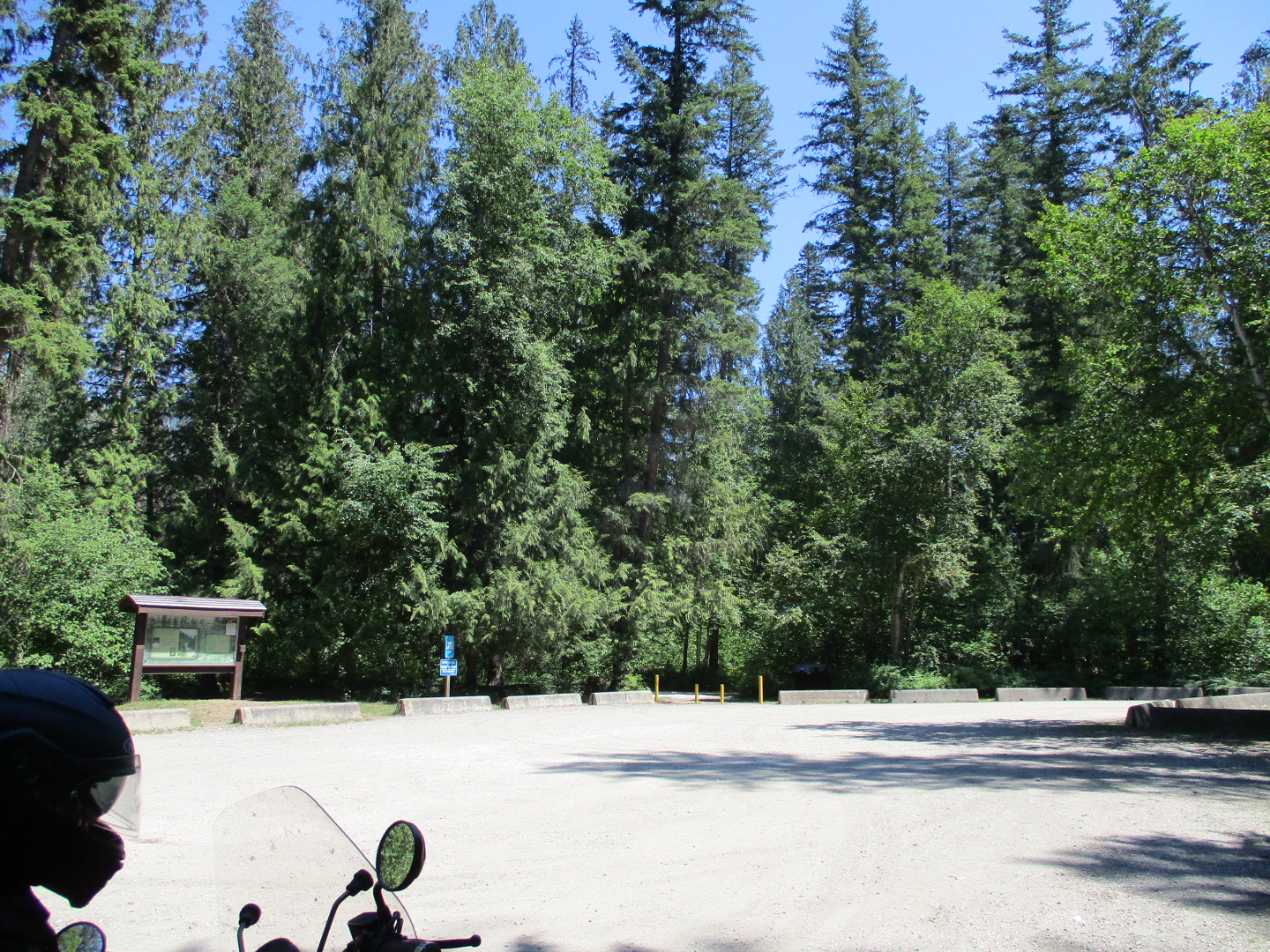 When we finally decended into Vernon at 2:00pm and it was an unbelievable 46 celcius. We stopped for gas and drinks at the Co-op gas station in town, used their bathrooms to soak our clothes, and then headed north on highway 97 to the junction with West Side Road.
There had been many incidents of other drivers being too close behind us on this trip, and this point was not an exception. I developed a technique with Meredith where she would pass me on my right side and then I would turn around and "push back" at the driver who was too close. This technique had absolute success, with all drivers that I did this too eventually backing off and giving us more space. What ended up happening here however was Meredith was comfortable to stay in front of me for the entirety of West Side Road. Usually at her request I retake the lead when I feel it is safe.
For the first time in 2.5 years I got to watch her motorcycle for a long stretch of winding twisty road that we both had never driven. I could not believe how well she was navigating corners and keeping her speed up. I think I cried at one point but could not tell if it was heat stroke or pure excitement. I had tried to teach her everything I knew about motorcycling and it looked like I had created a monster. Meredith and her motorcycle are so light and nimble she was flying around corners leaving me struggling to keep up.
We stopped after about an hour at the Bear Creek Picnic Area to soak our clothes and take a break.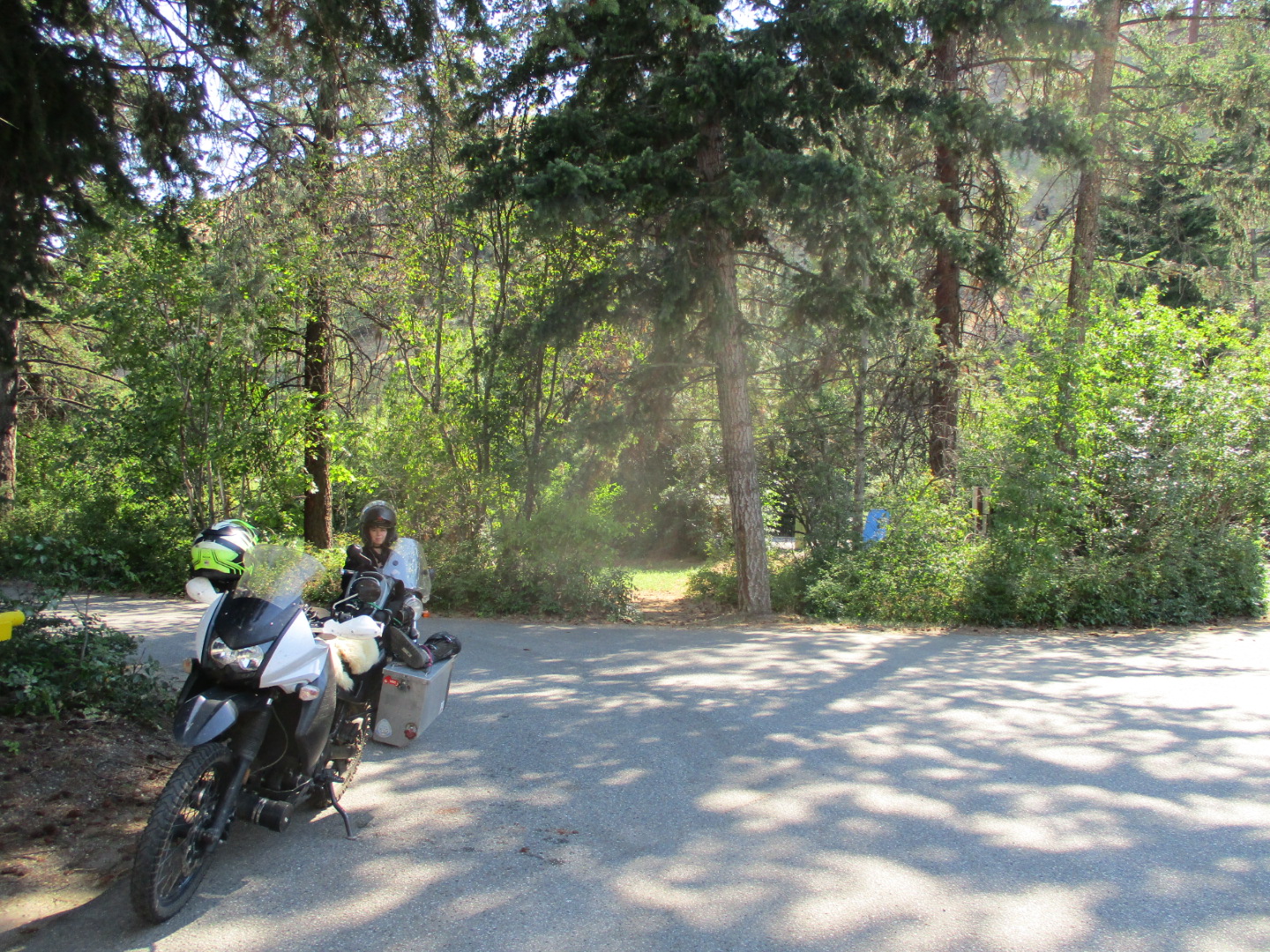 After our stop we were close to the junction with highway 97 south and we took that south towards Penticton. Traffic in West Kelowna was stop and go and I thought I was going to die in the stagnant hot air.
We arrived in Penticton at 5:30pm and checked into the Flamingo Motel for $125 a night. After unpacking the motorcycles and taking a break, we drove to the Oxbow campground to visit with my parents. We had dinner and went swimming in Skaha Lake at 9:30pm. It was still over 30 Celcius outside. After an unbelievably difficult day we passed out at 12:15am.
Wednesday June 30, 2021: Penticton - Hope
We woke around 8:00am, got ready, packed the motorcycles and checked out of the Flamingo Motel at 9:30am. I noticed both motorcycles were down a little engine oil during my pre ride checks, probably from using 5W-40 engine oil which seems too light for the extreme riding conditions we went through yesterday. I added about 250 milliliters to both crankcases from the oil I had brought with me.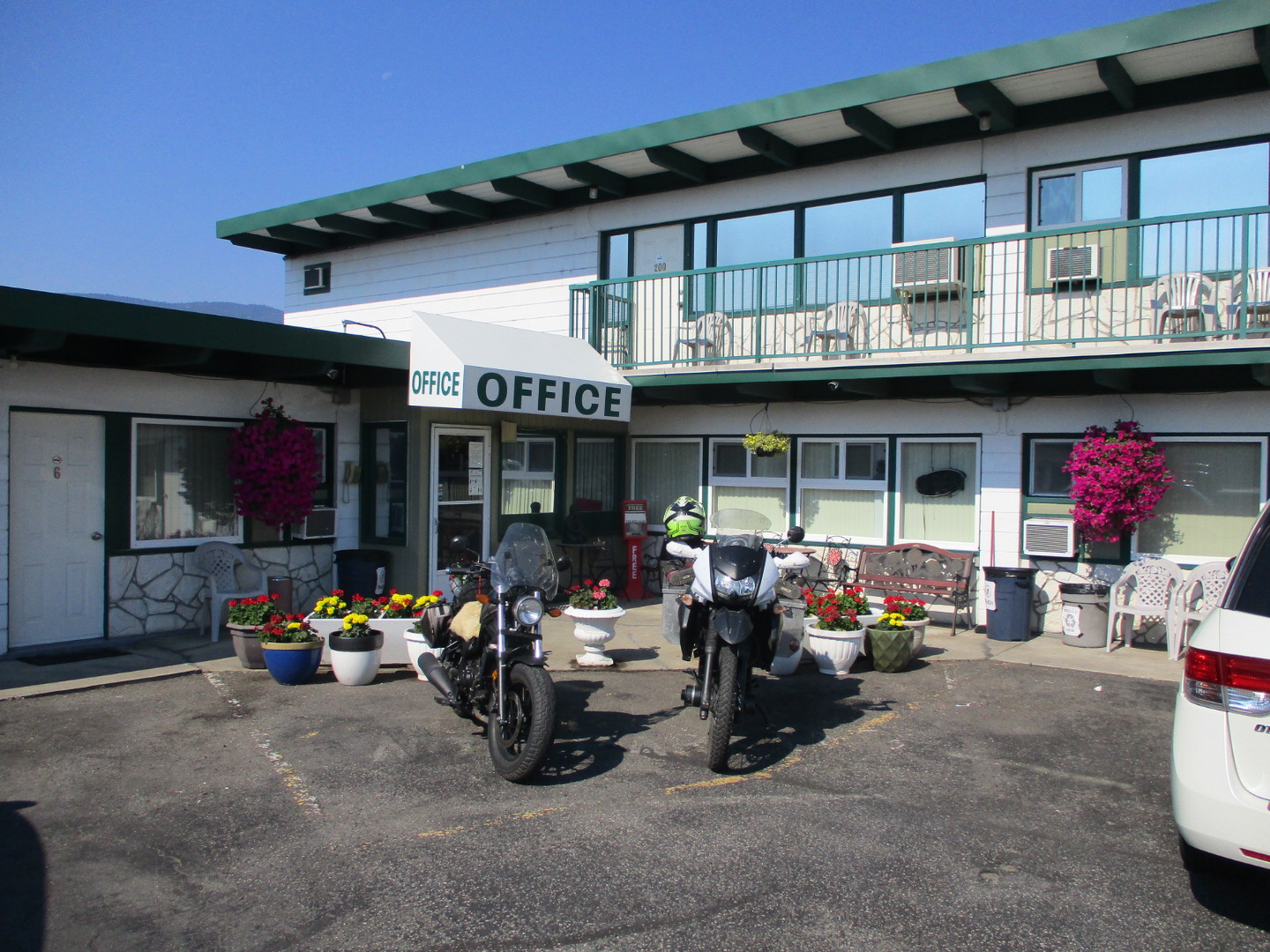 Before we went to have breakfast and say goodbye to my parents we stopped for gas at the 7-11. After 395 kilometers I topped off my gas tank with 17.5 liters for $29.18, yielding 53.1 MPG.
We had a good breakfast with my parents and then said goodbye. We soaked our clothes with water before we left.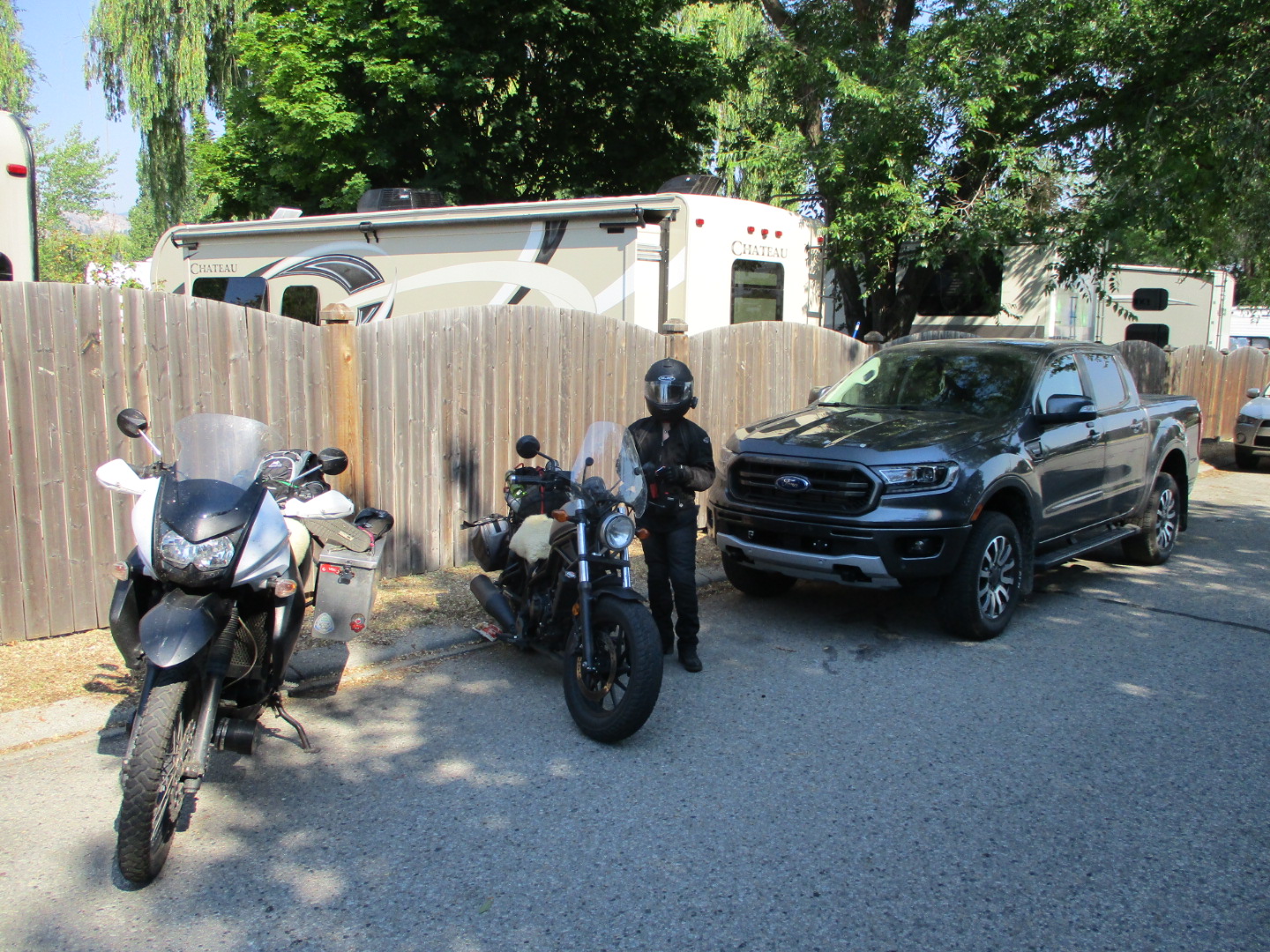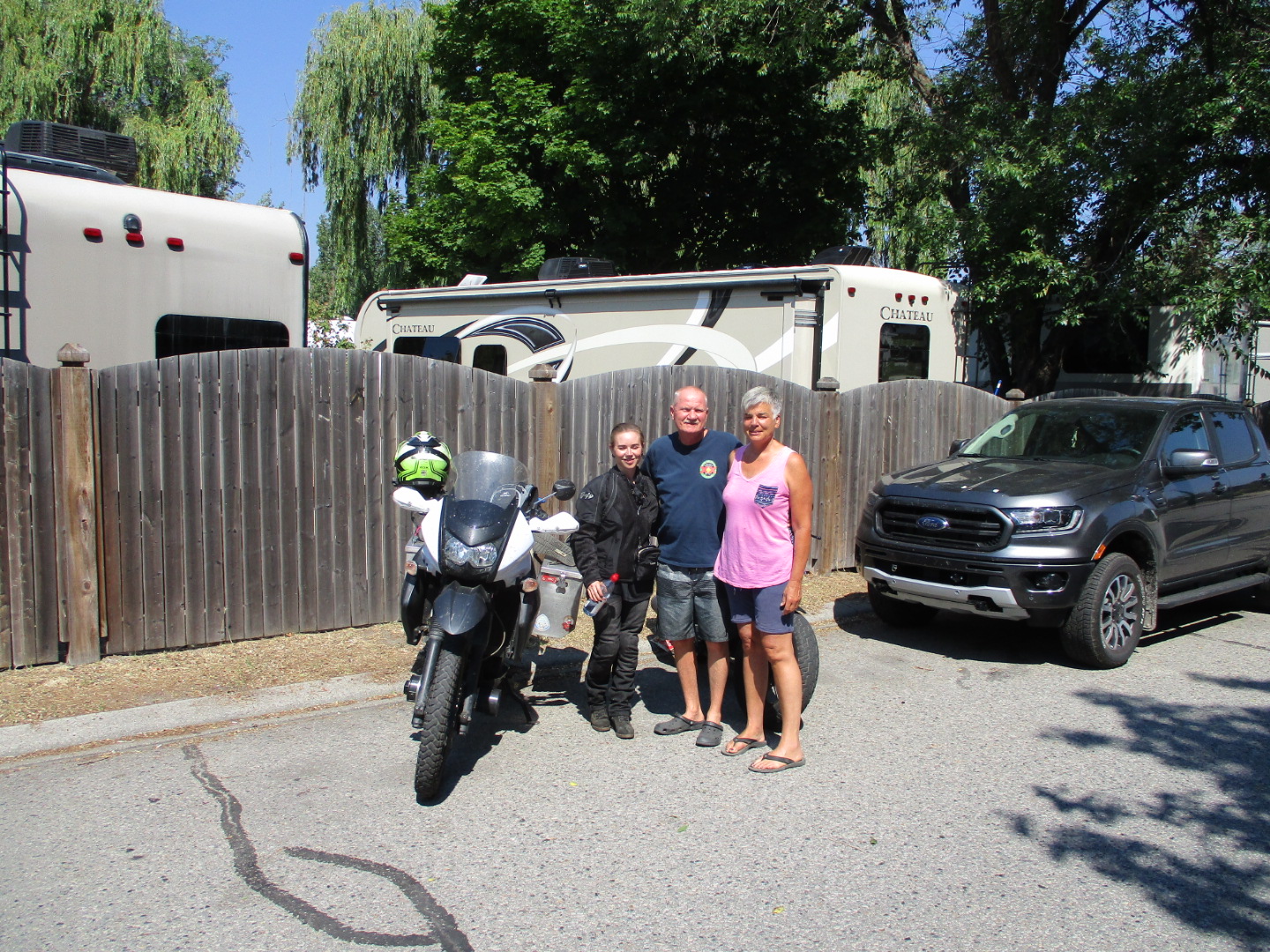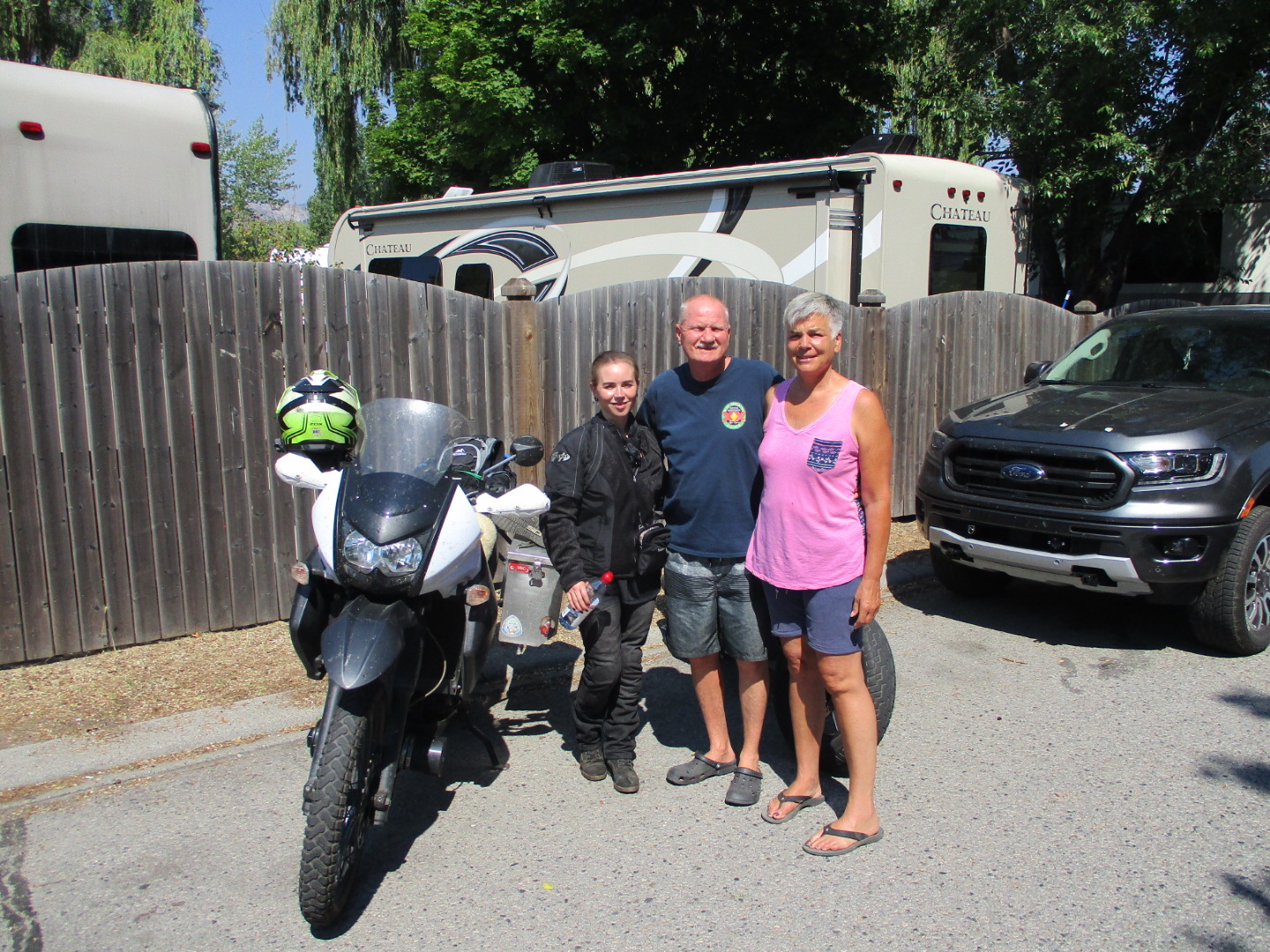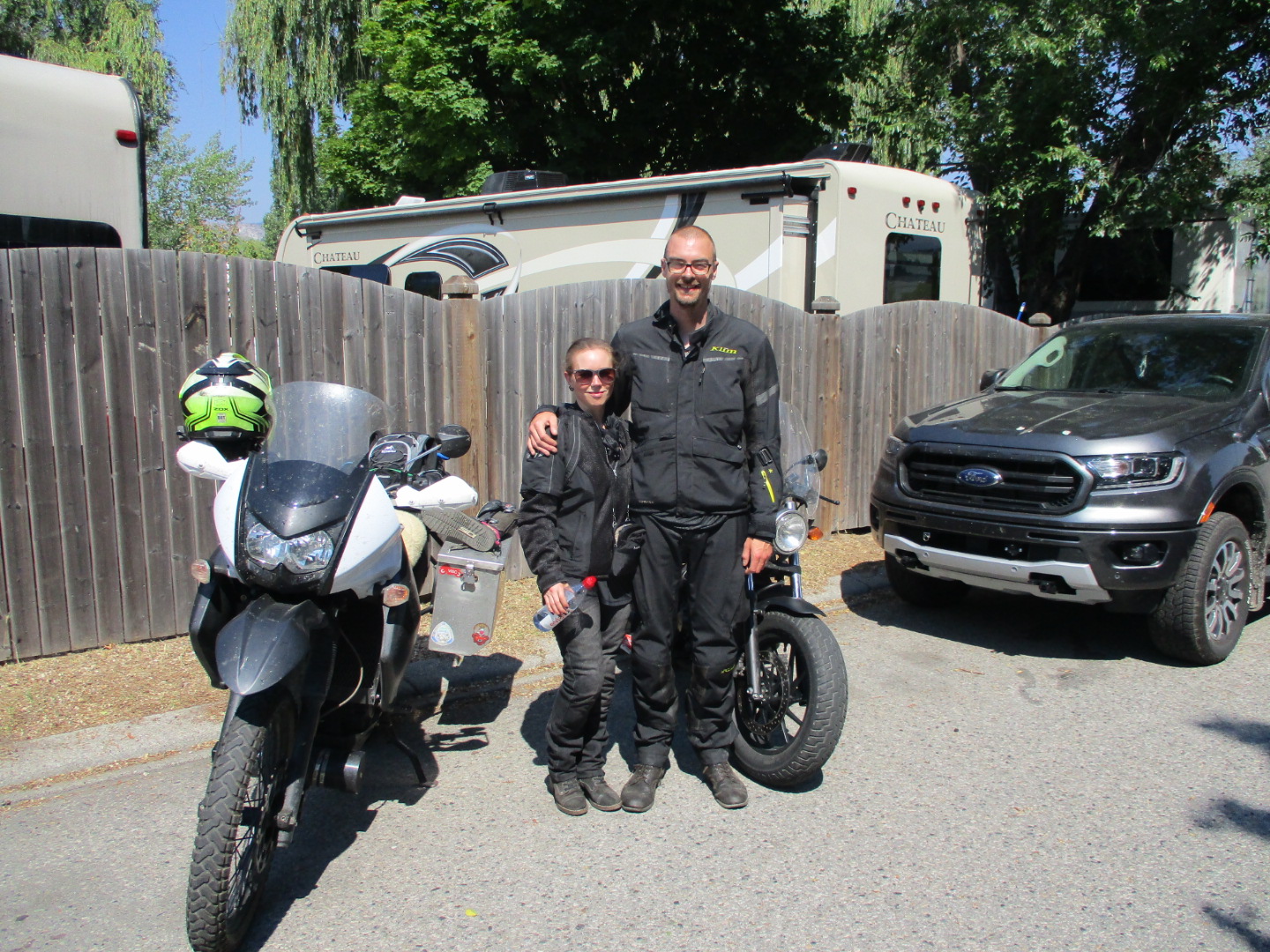 First we rode south on highway 97 out of Penticton until the junction with highway 3A. Turning west on highway 3A towards Keremos it was already very hot outside. We stopped at the Yellow Lake rest area for washrooms and a snack. The washrooms were closed.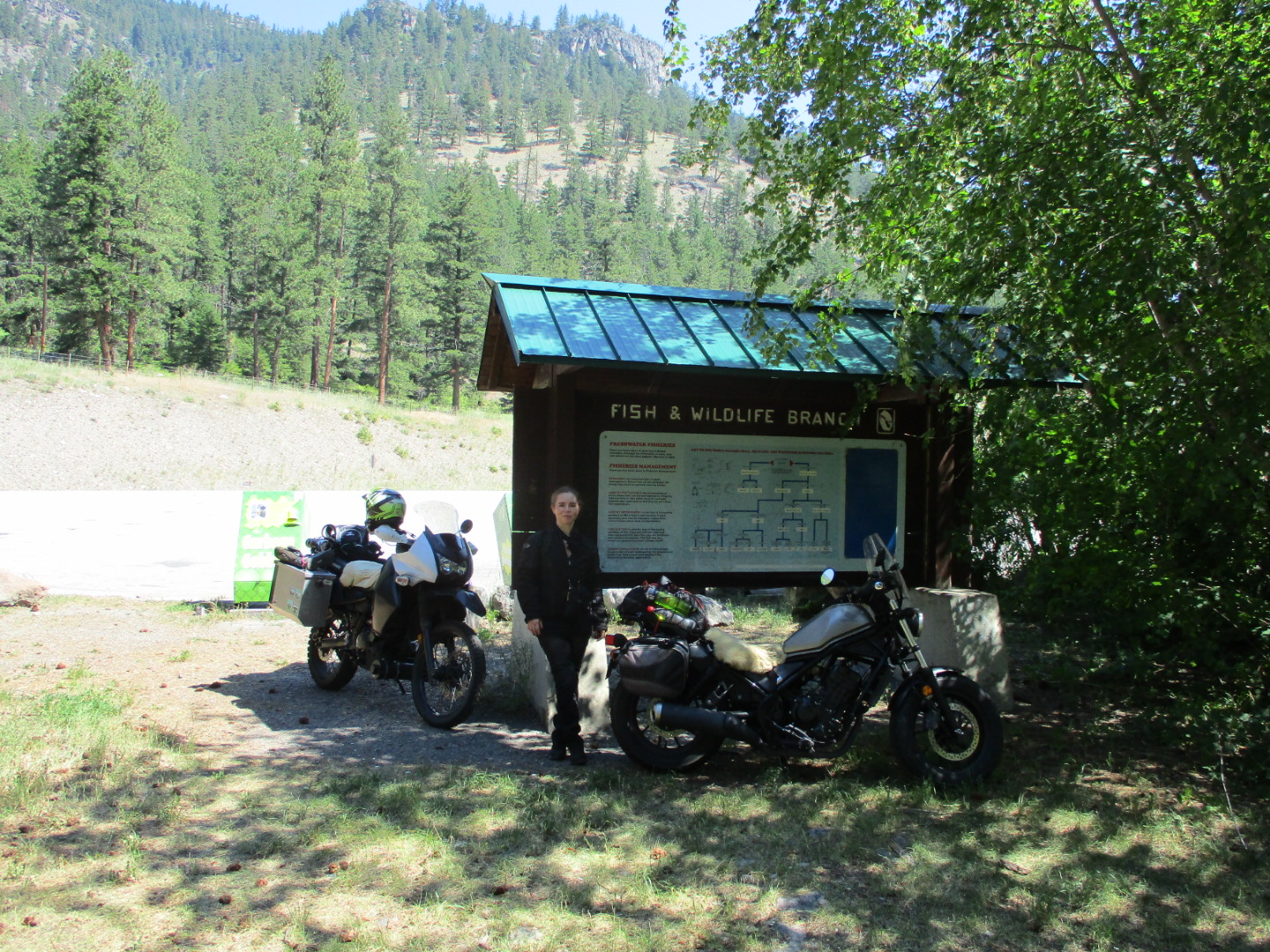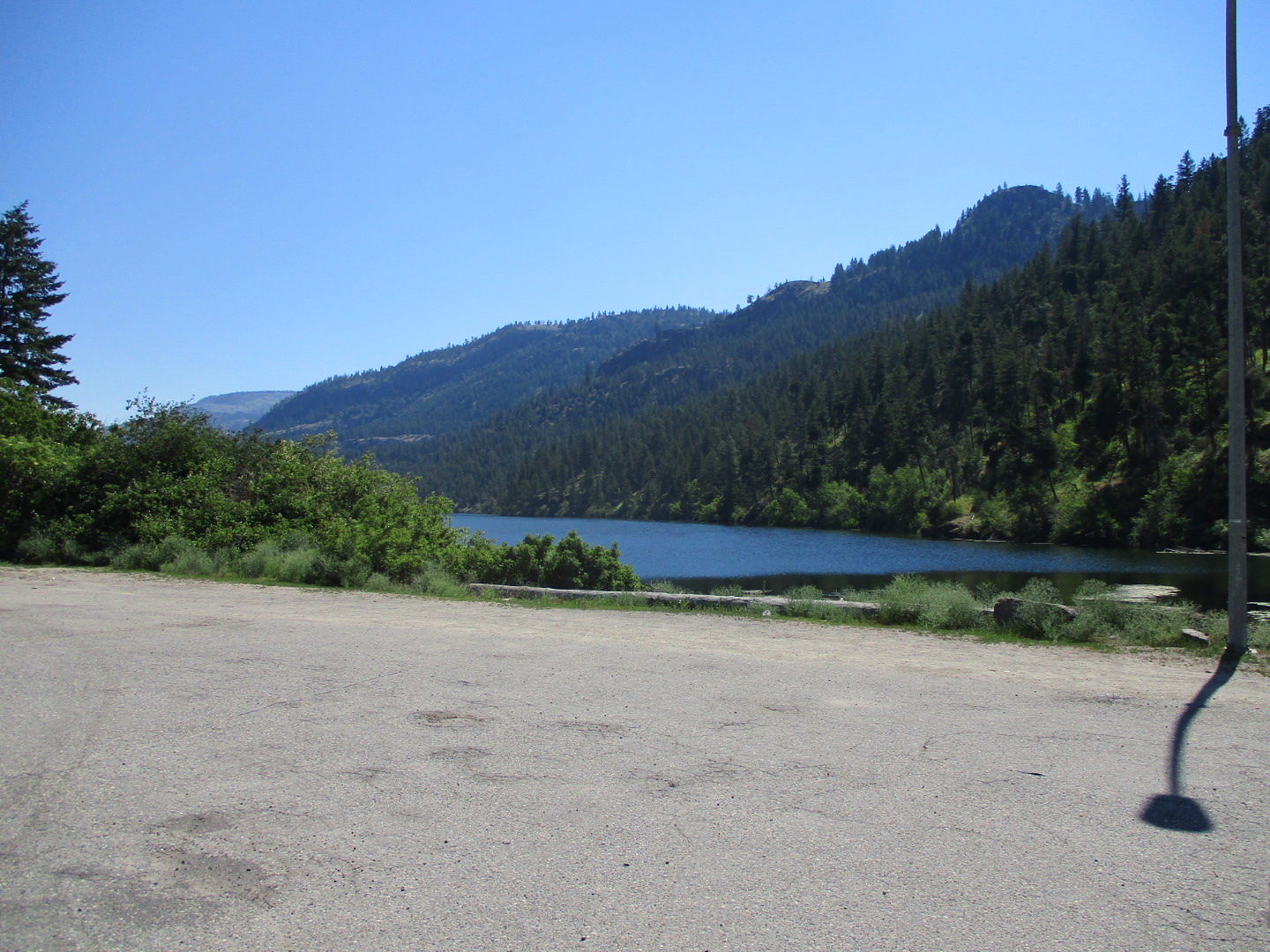 Keremos is the junction between highway 3A and 3. From here we turned west onto highway 3. Our next stop was in the small town of Hedley where we parked in the shade and bought drinks and ate snacks. We met two other motorcyclists who were on a speed tour of the area. We discussed tactics for keeping cool in the unreal riding conditions.
After Hedley we stopped at a small campground beside a river to soak our clothes again. After that we made a mad dash for Princeton. I had known there was a big mountain pass on the other side of Princeton and reasoned that it may start getting cooler once we climb it. Before climbing the pass however we stopped at the campground in town that was next to the river to soak our clothes. A deer had the same idea we did and waltzed right next to us to drink and stand in the river.
Headed west on highway 3 we climbed the pass out of Princeton. A large transport truck and trailer had overheated in the slow lane and leaked large amounts of slippery coolant all over the road. Up and up we went, and by the time we reached Sunday Summit my motorcycle was running quite hot but not yet overheating. I estimate the temperature had dropped 10 Celcius during that climb.
Feeling refreshed and excited to be riding in cooler conditions we just kept going until we stopped at the Mule Deer campground inside EC Manning Provincial Park. I had packed leftovers from last nights dinner and ate steak and potatoes with my hands. After that I stripped off all my riding gear and hung around in my underwear for a while.
After soaking our clothes in the river we were on our way.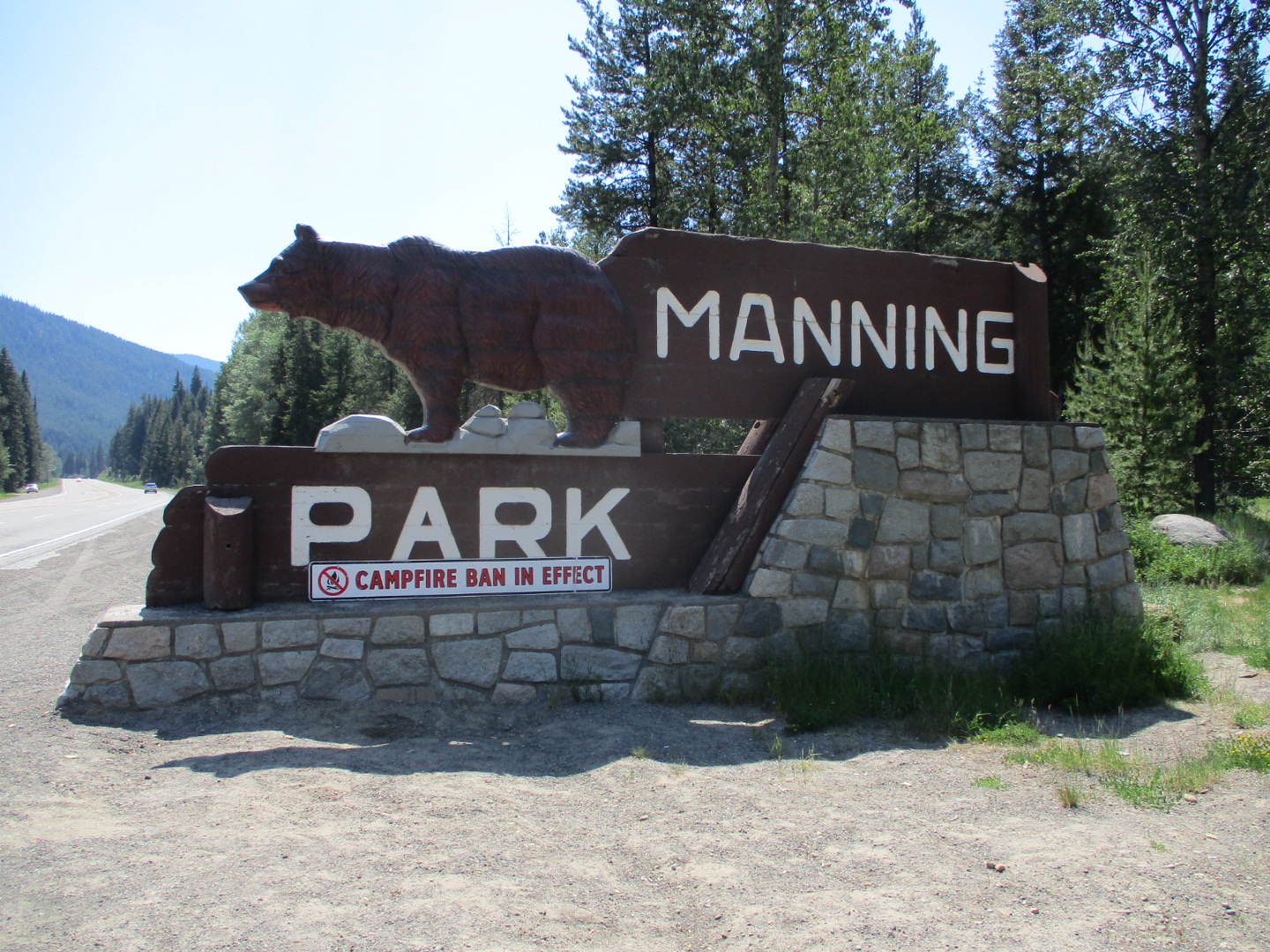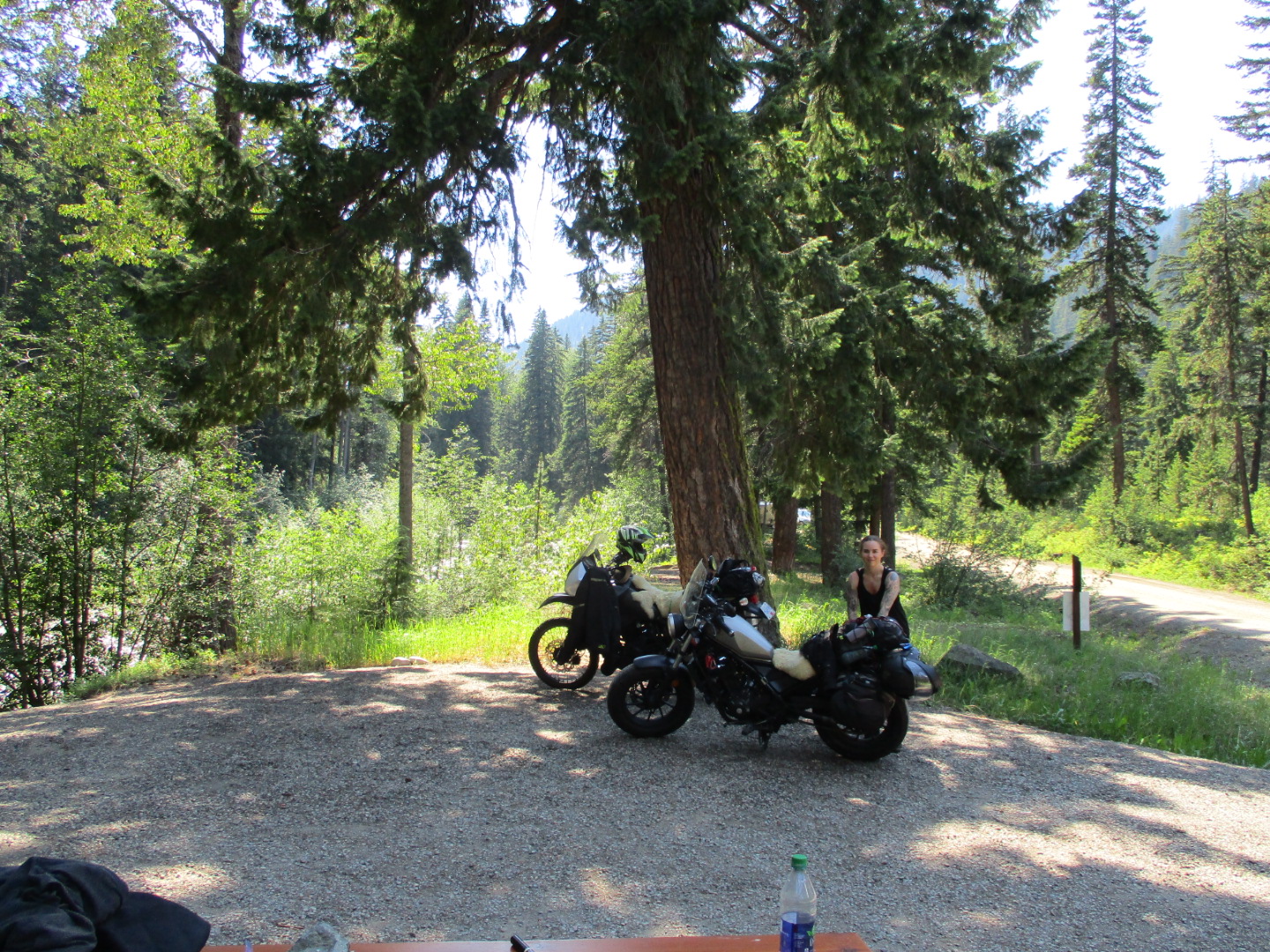 We made some other stops along the way to take breaks and pictures, but generally it was just nice to not be extremely overheated. I think we were both happy for the relief.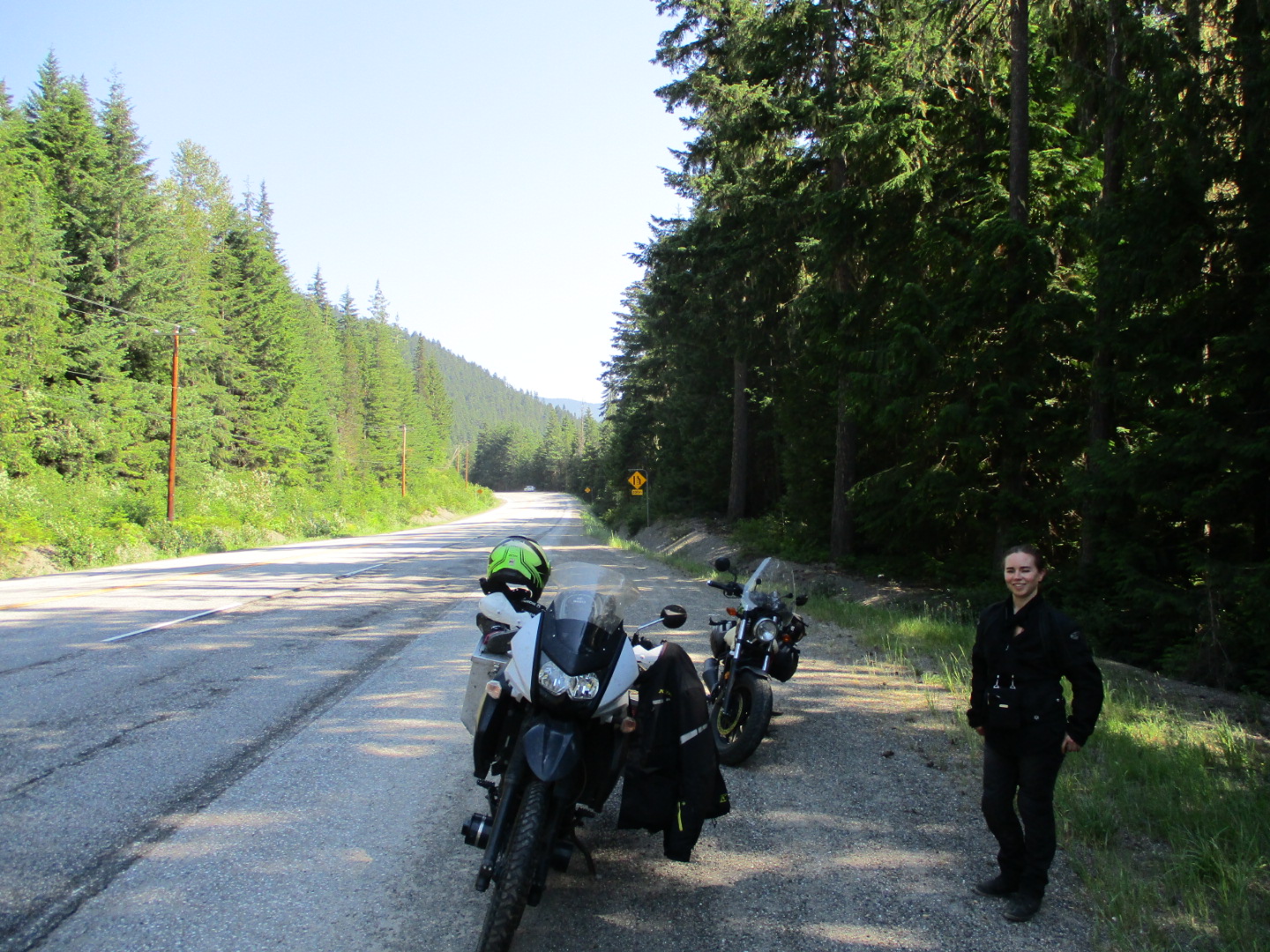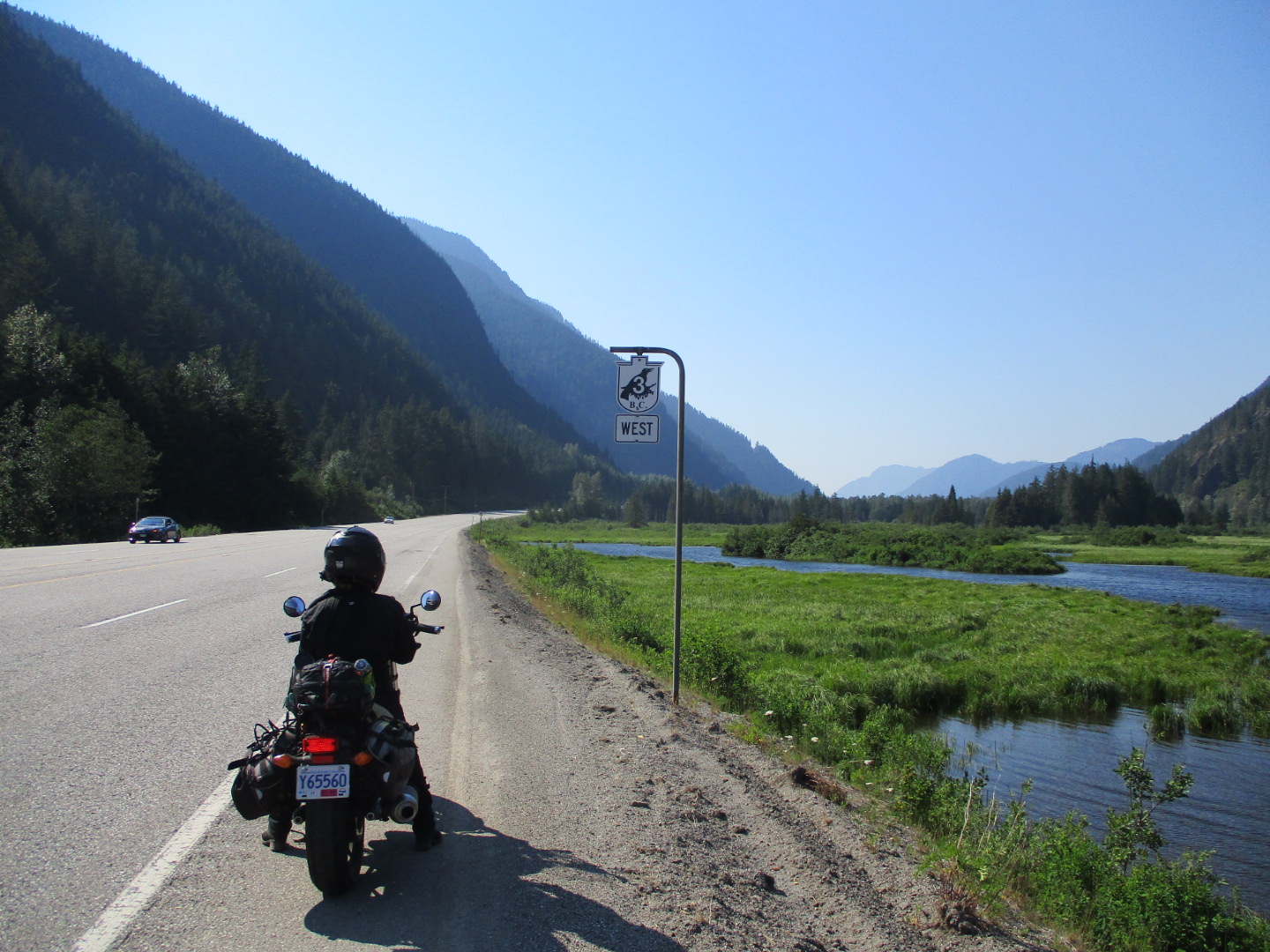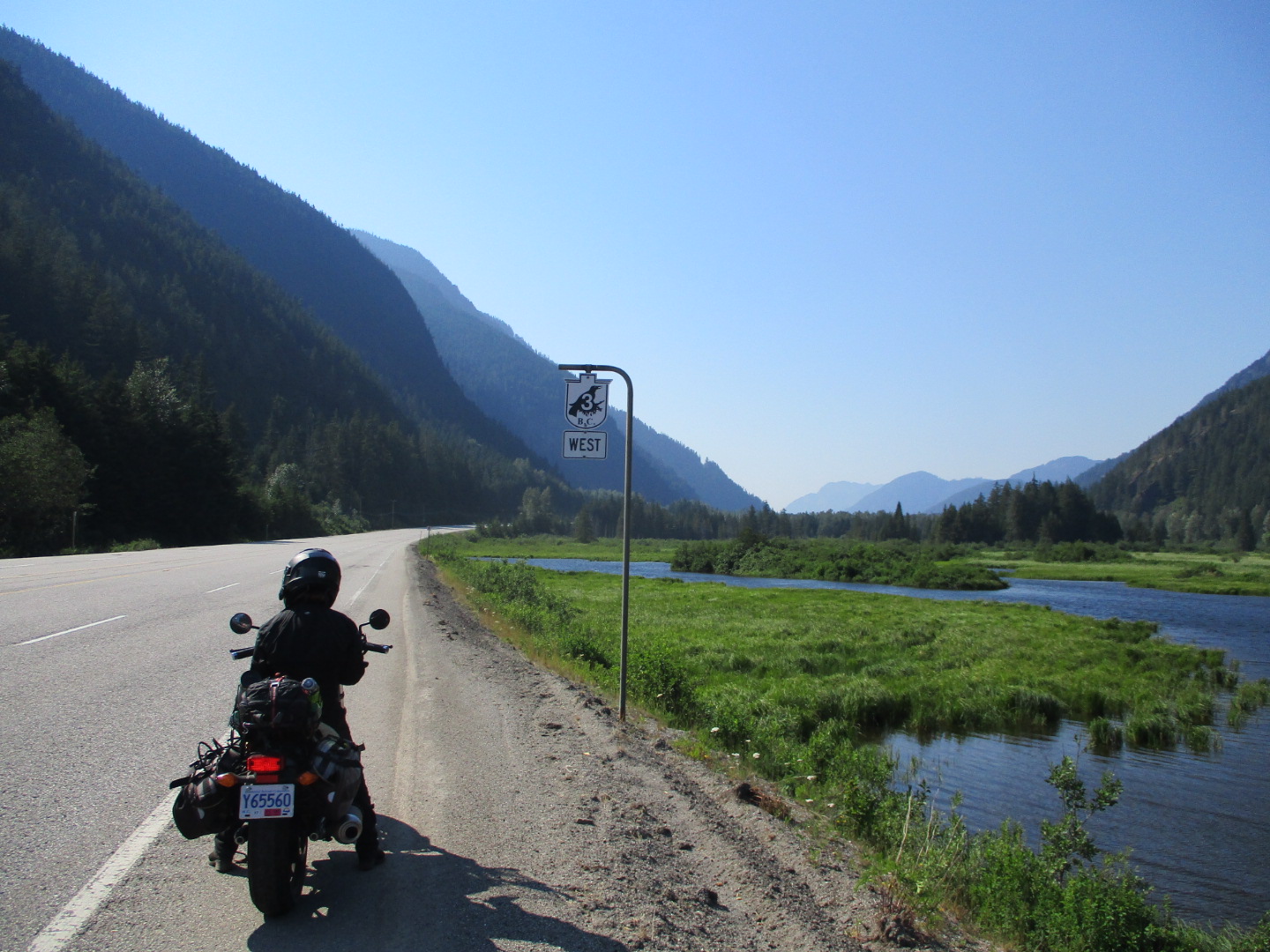 We stopped at Hope Slide for a washroom and snack break.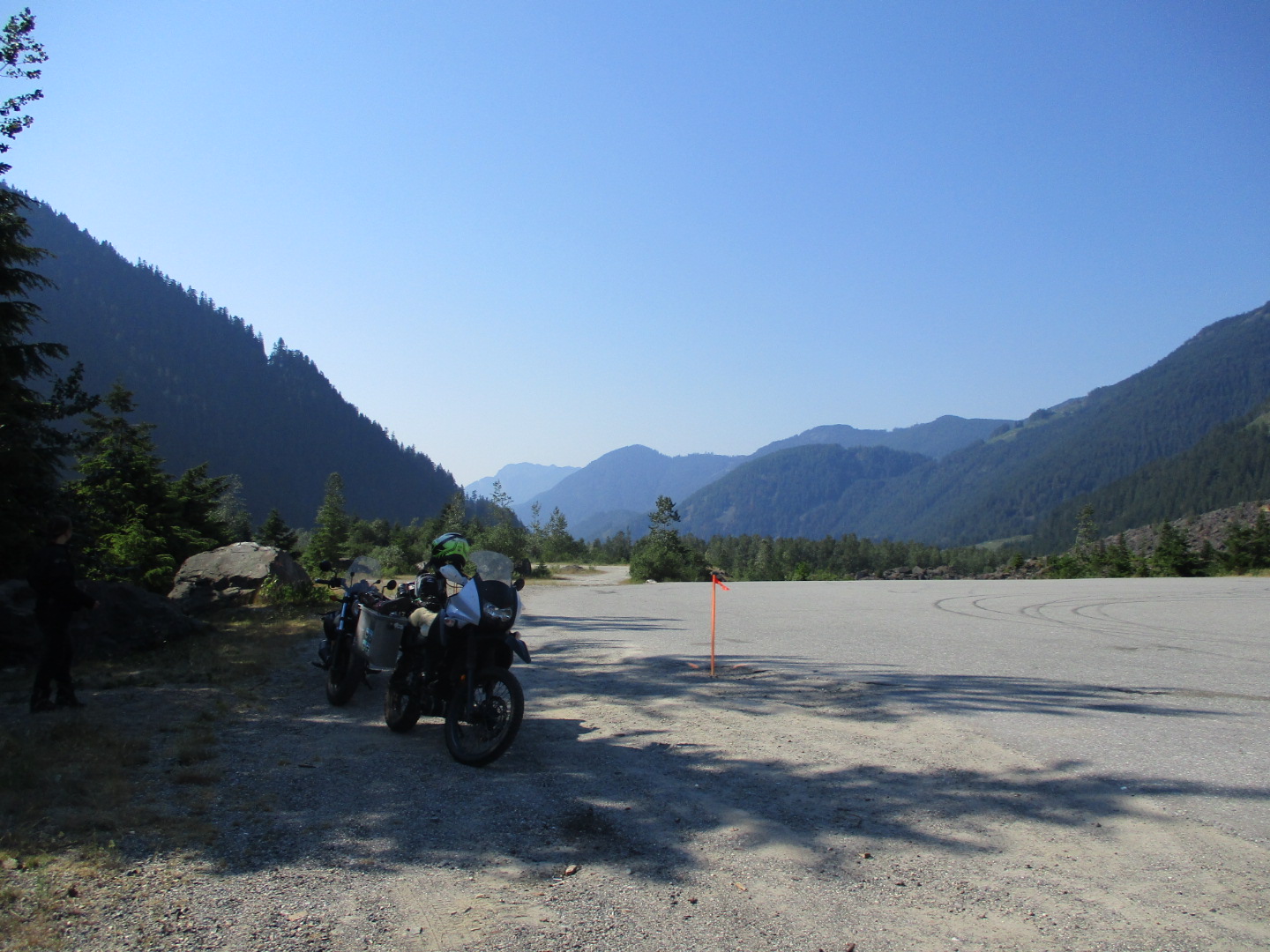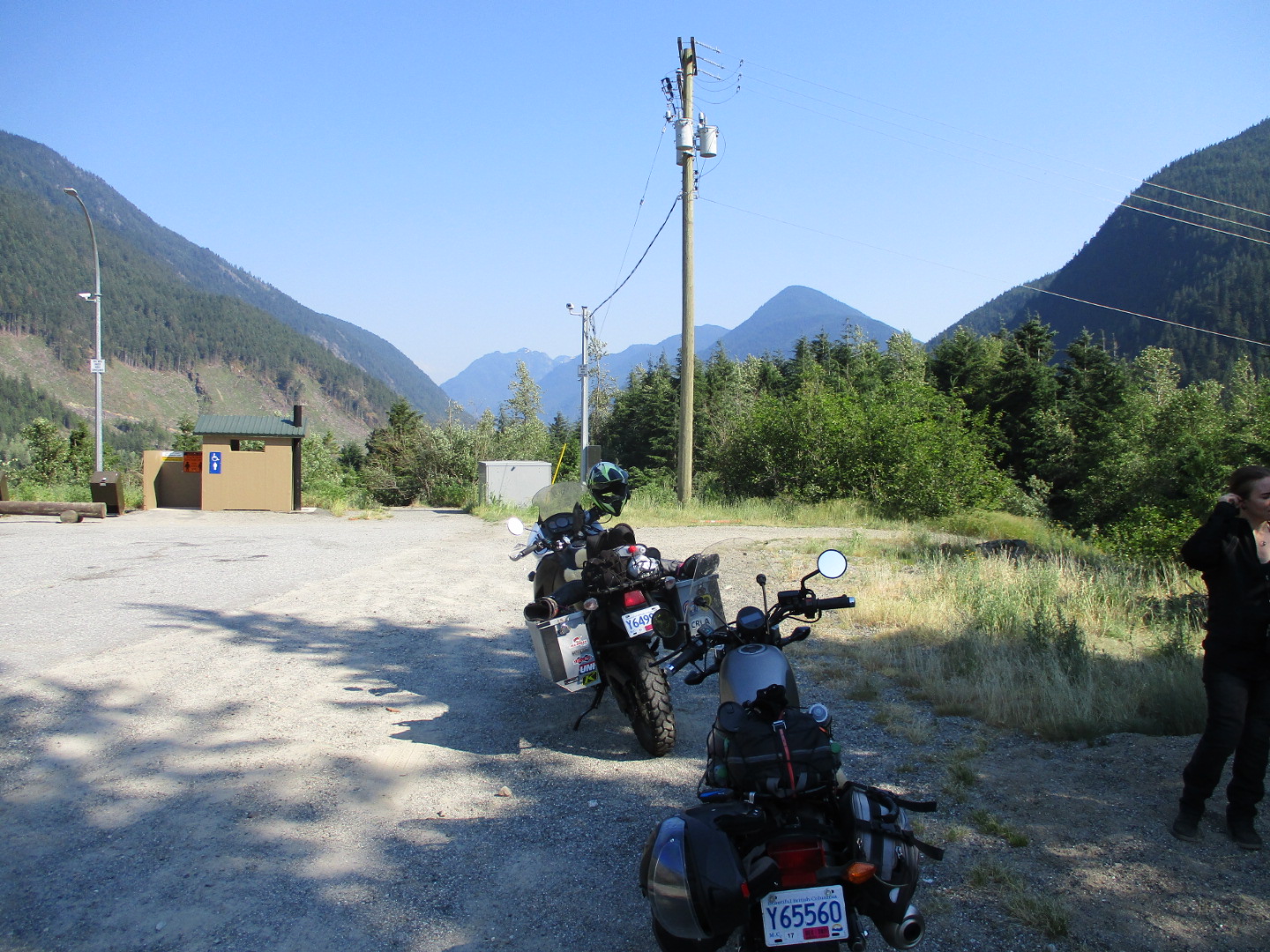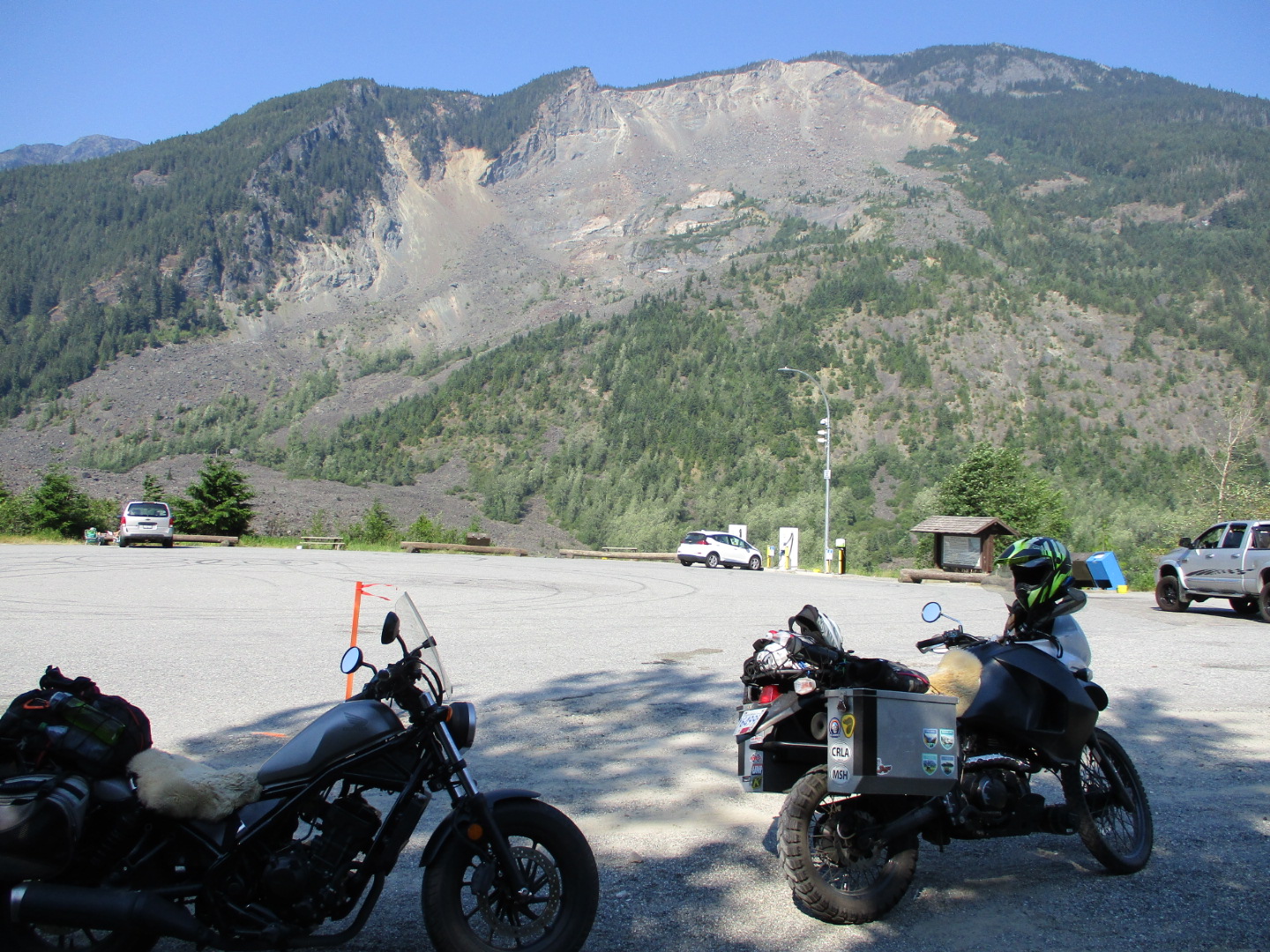 Arriving in Hope at 5:30pm it was an excellent 30 Celcius and I could not be happier.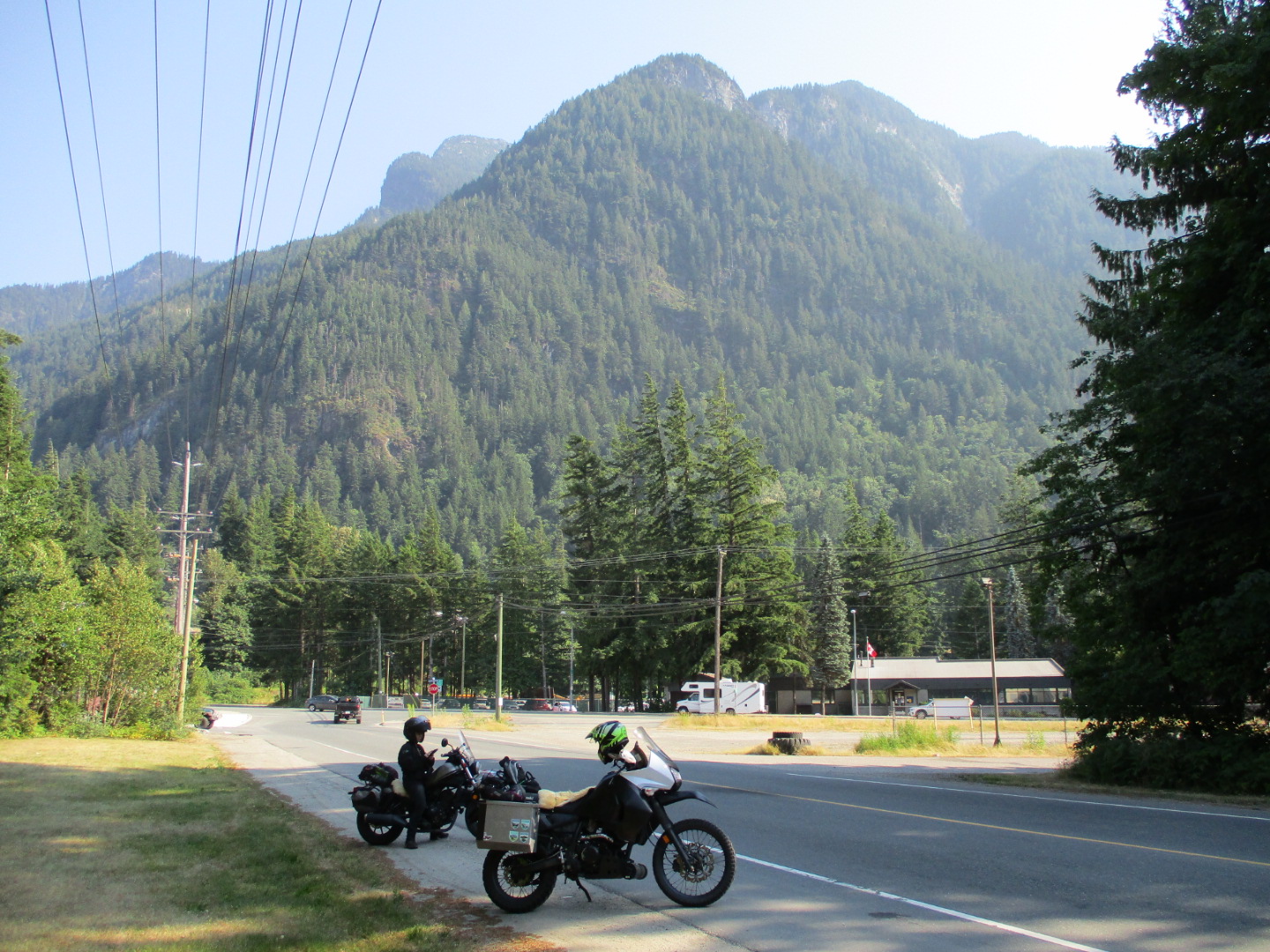 We had scouted motels the night before and decided to try the Swiss Chalets. Arriving there, we negotiated a room price of $85 per night. Unfortunately we did not look at the room first and this 45 year old facility had not been upgraded to match the increase in human size since then. The doors were about 6 feet high, forcing me to duck through the main door and bathroom doors. I ended up hitting my head a few times anyways.
We unpacked the motorcycles and went for dinner at the Silver Chalice Pub. It was pretty good. We went back to the "Chalet" and lazed around until we finally passed out around 12:00am.
Thursday July 1, 2021: Hope - Saanich
We woke up around 9:00am, got ready, ate breakfast and packed the motorcycles. Checked out at 11am we took a quick tour of Hope before heading west on Highway 1. The gas station was very busy with holiday traffic, including many motorcycles. Rambo First Blood was filmed in and around Hope.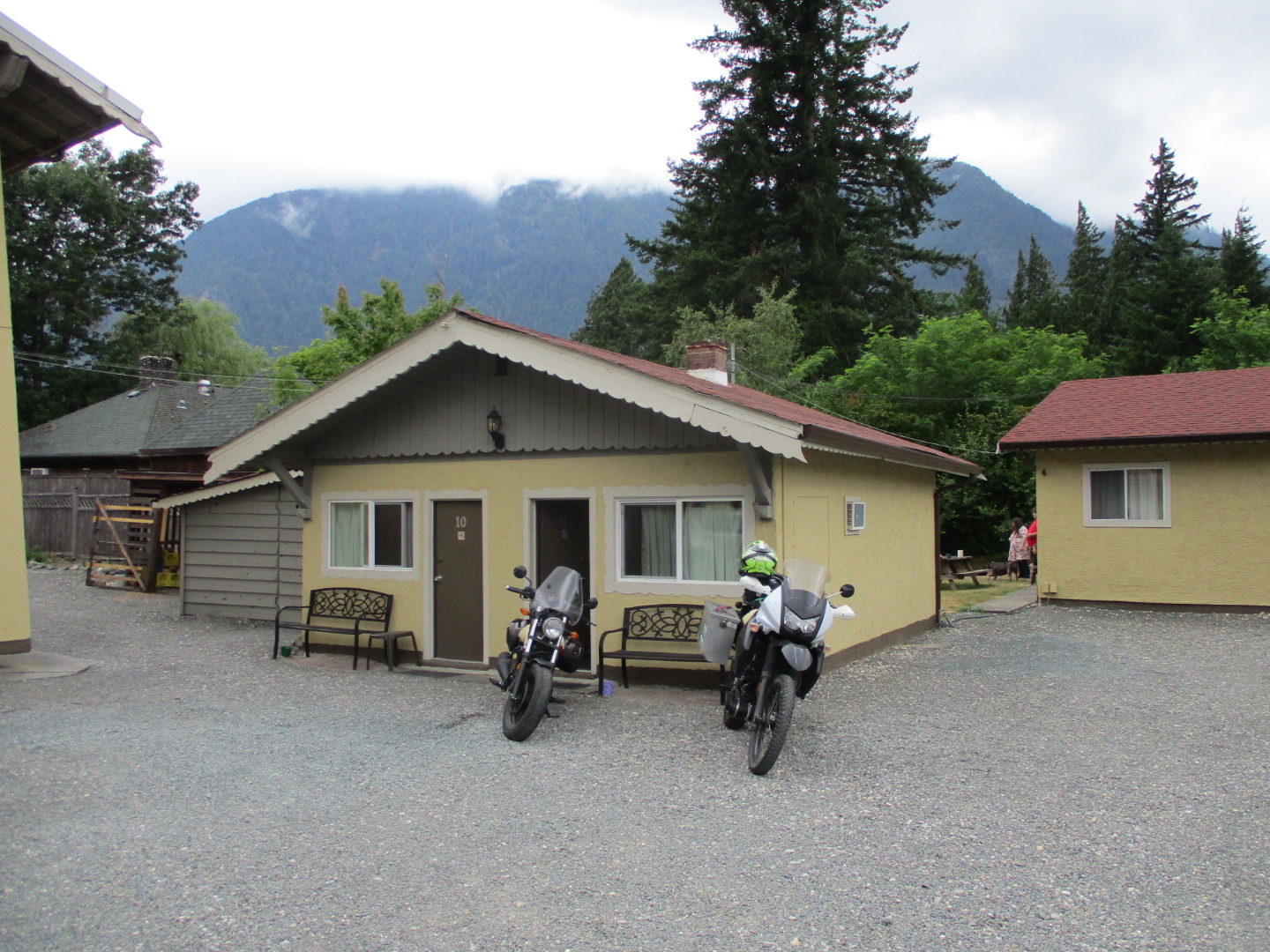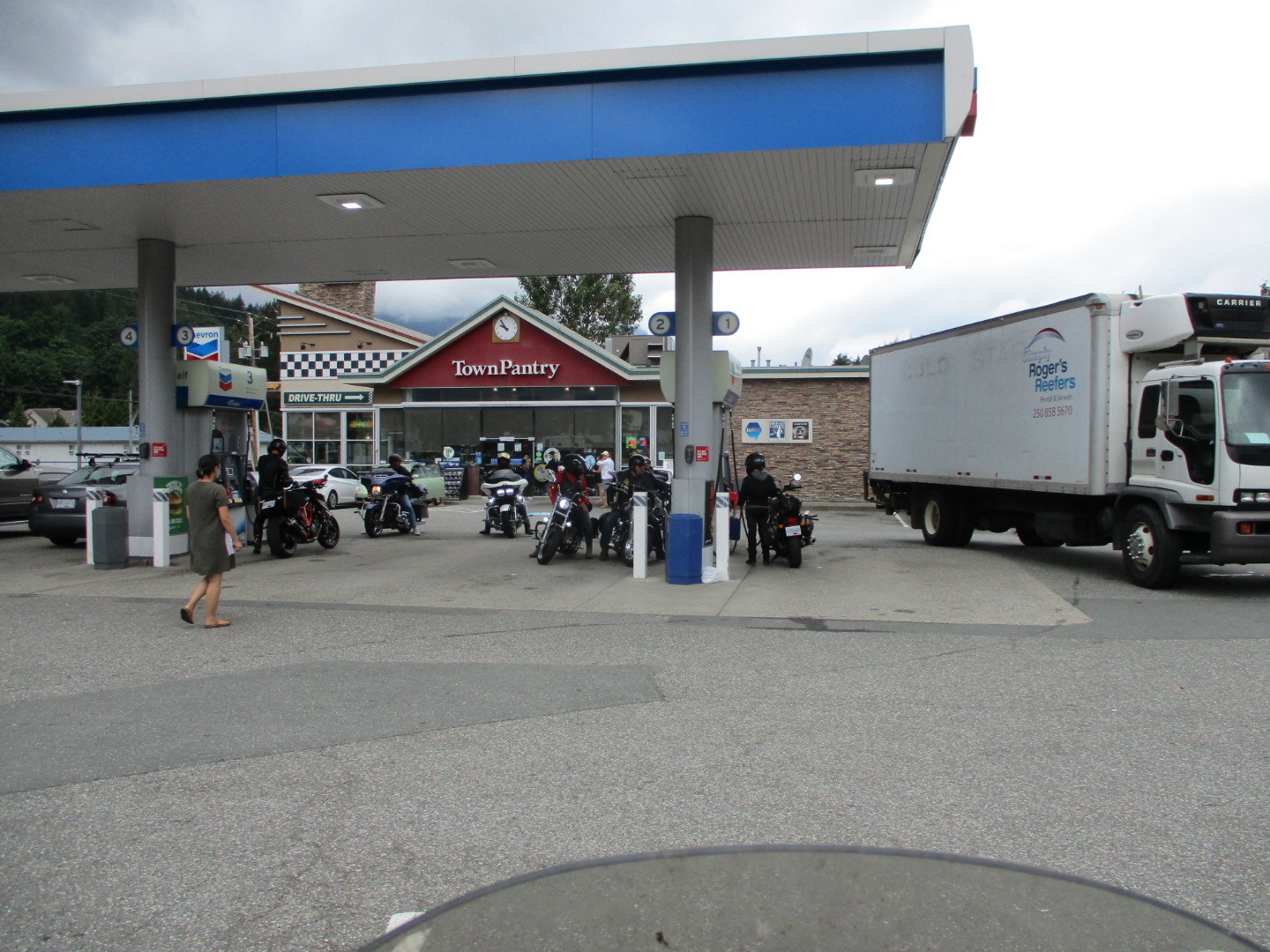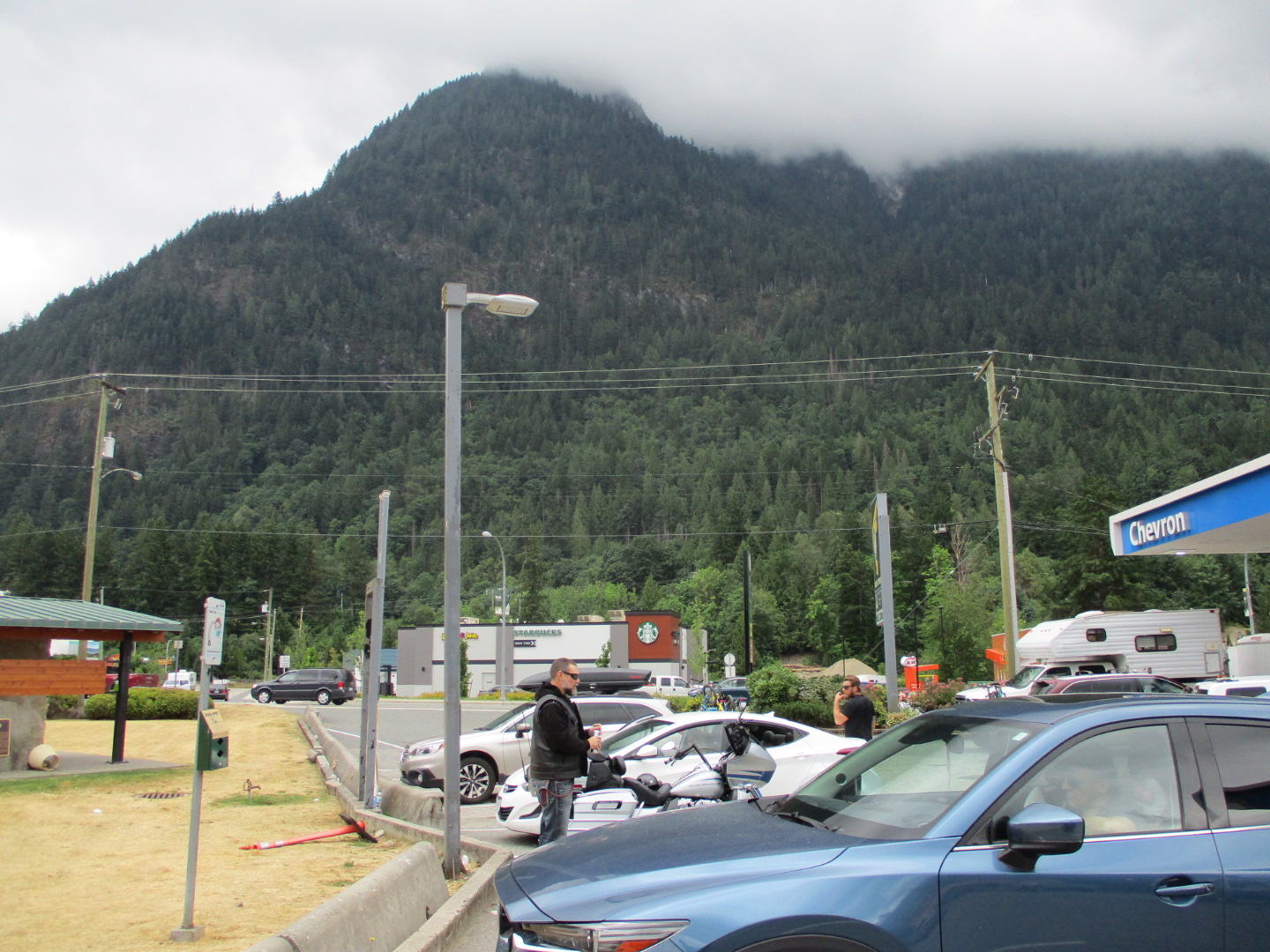 At Abbotsford we headed south at the junction with Clearbrook road, headed for 0 avenue. I had taken this route across the lower mainland last year and far prefer it to highway 1. This road is very straight because it is the border between Washington State and British Columbia, but it is usually not busy and there is a minimum of traffic control. All along it there are marker posts for the 49th parallel and warnings not to cross.
It was Canada Day and the land border was still closed from COVID-19 restrictions. We saw people visiting across the border as many places along 0 Avenue do not have any barrier.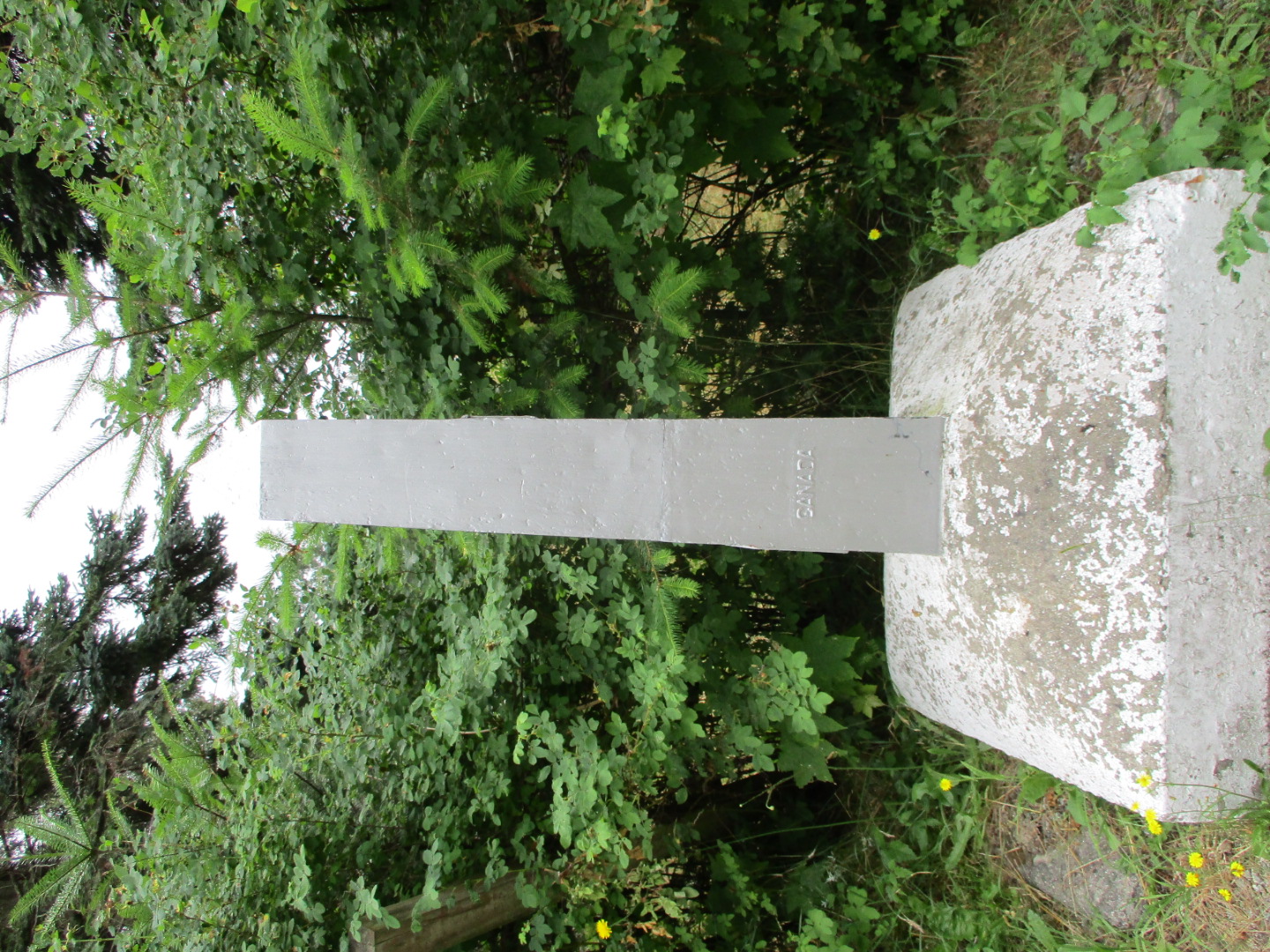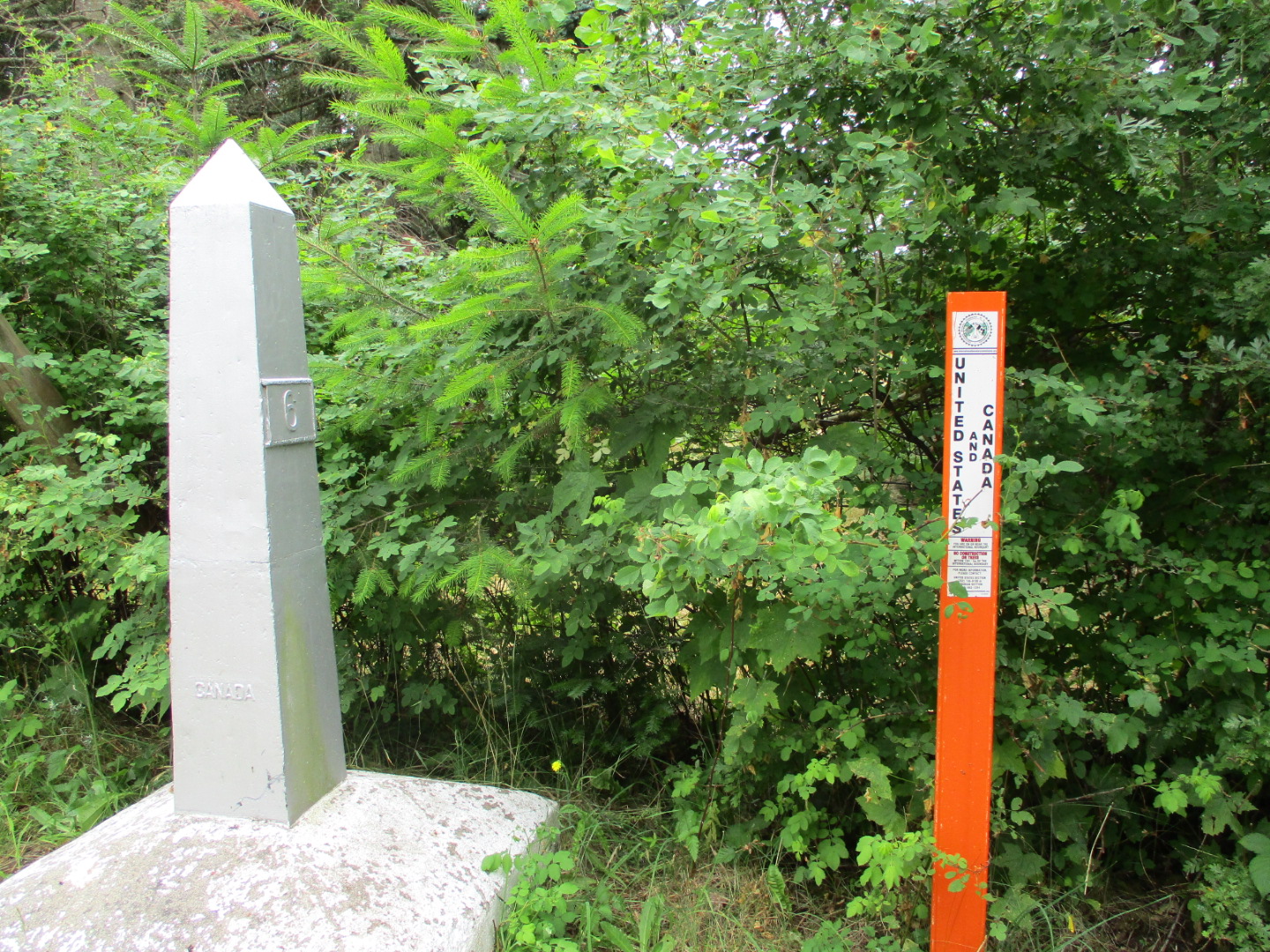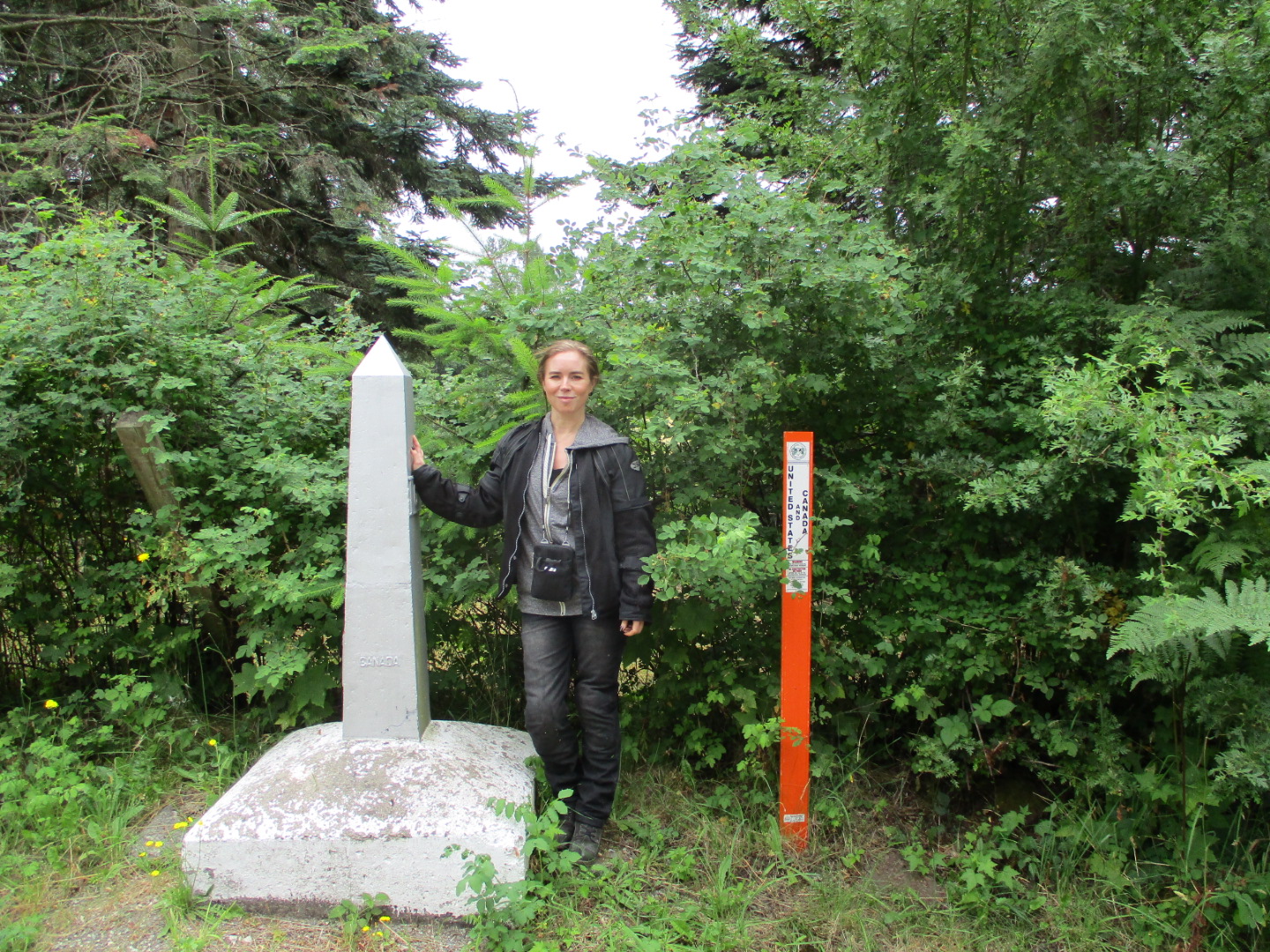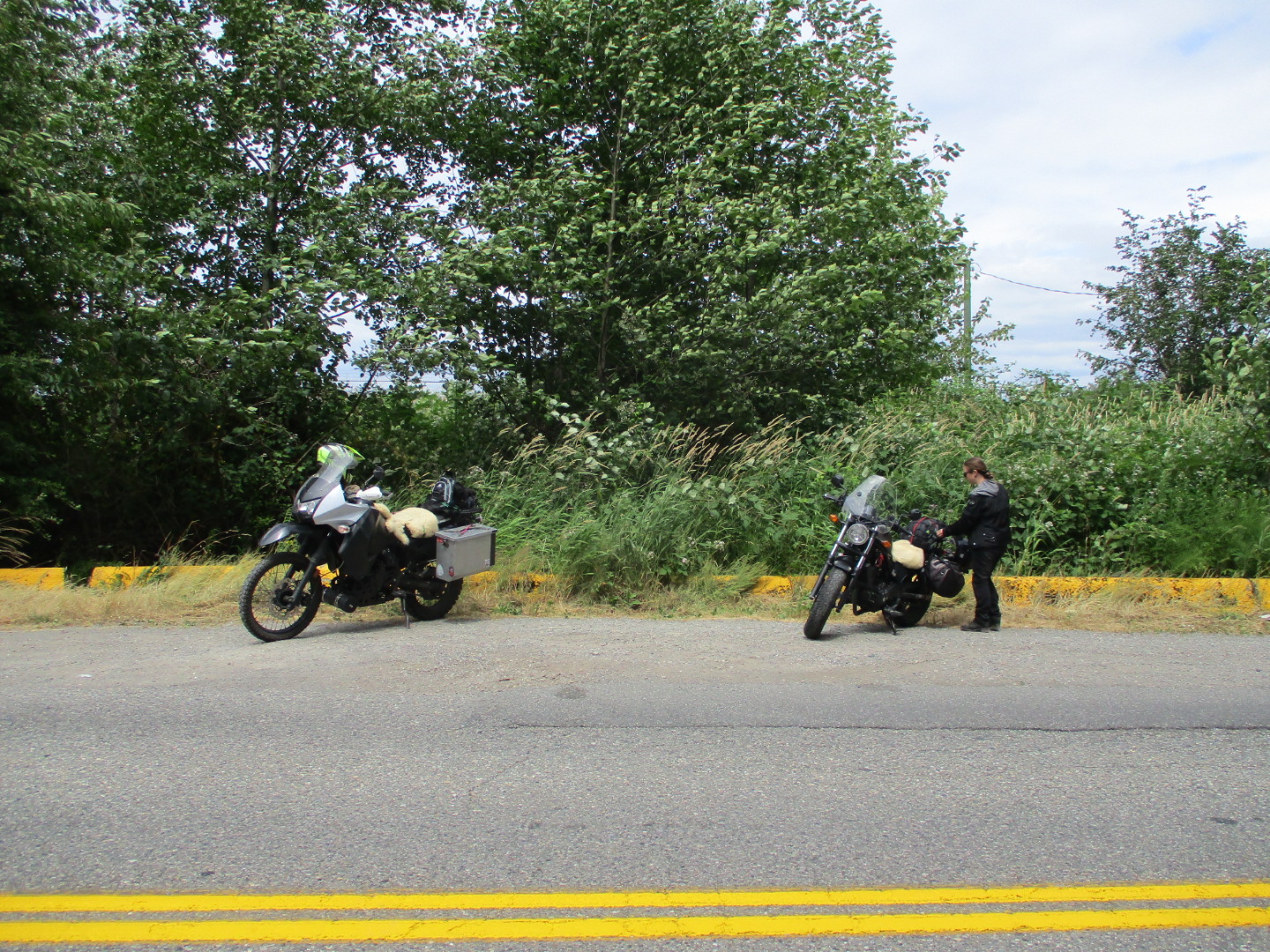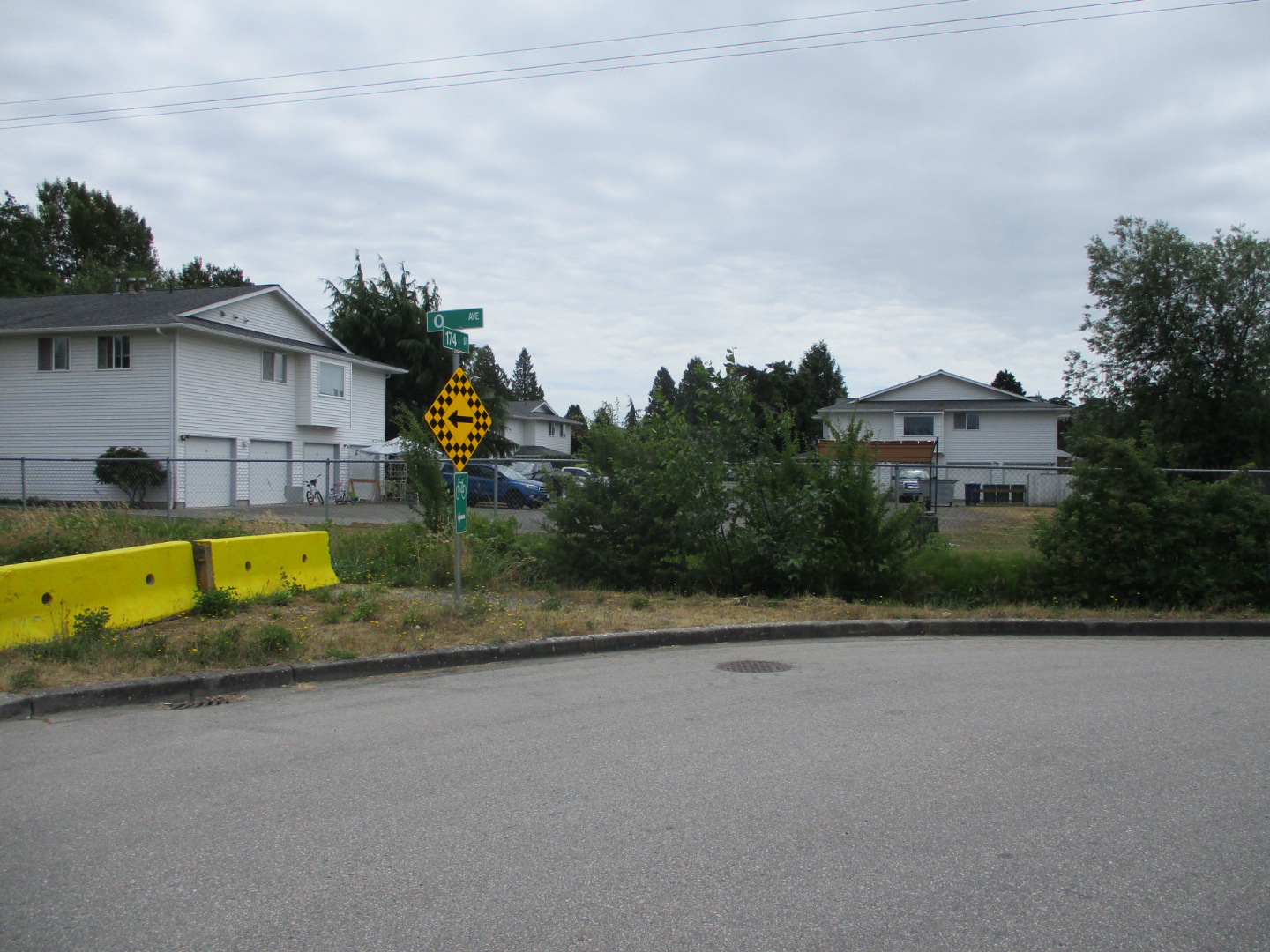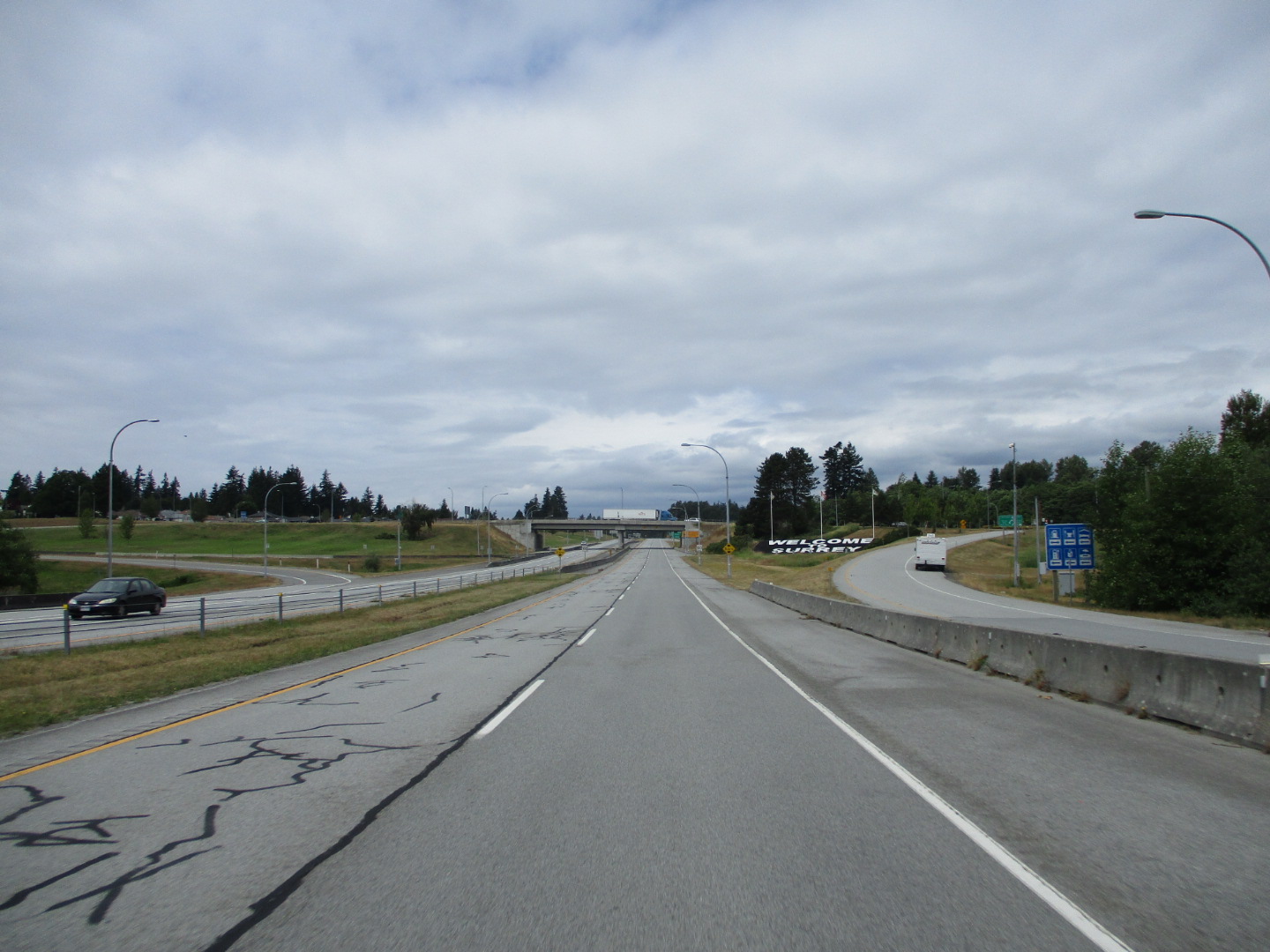 Arriving at the Tsawassen Ferry Terminal at just after 2:00pm there was already a 2 sailing ferry wait for cars. But motorcycles get priority loading so we rode right to the front of the line and boarded the 3:00pm sailing.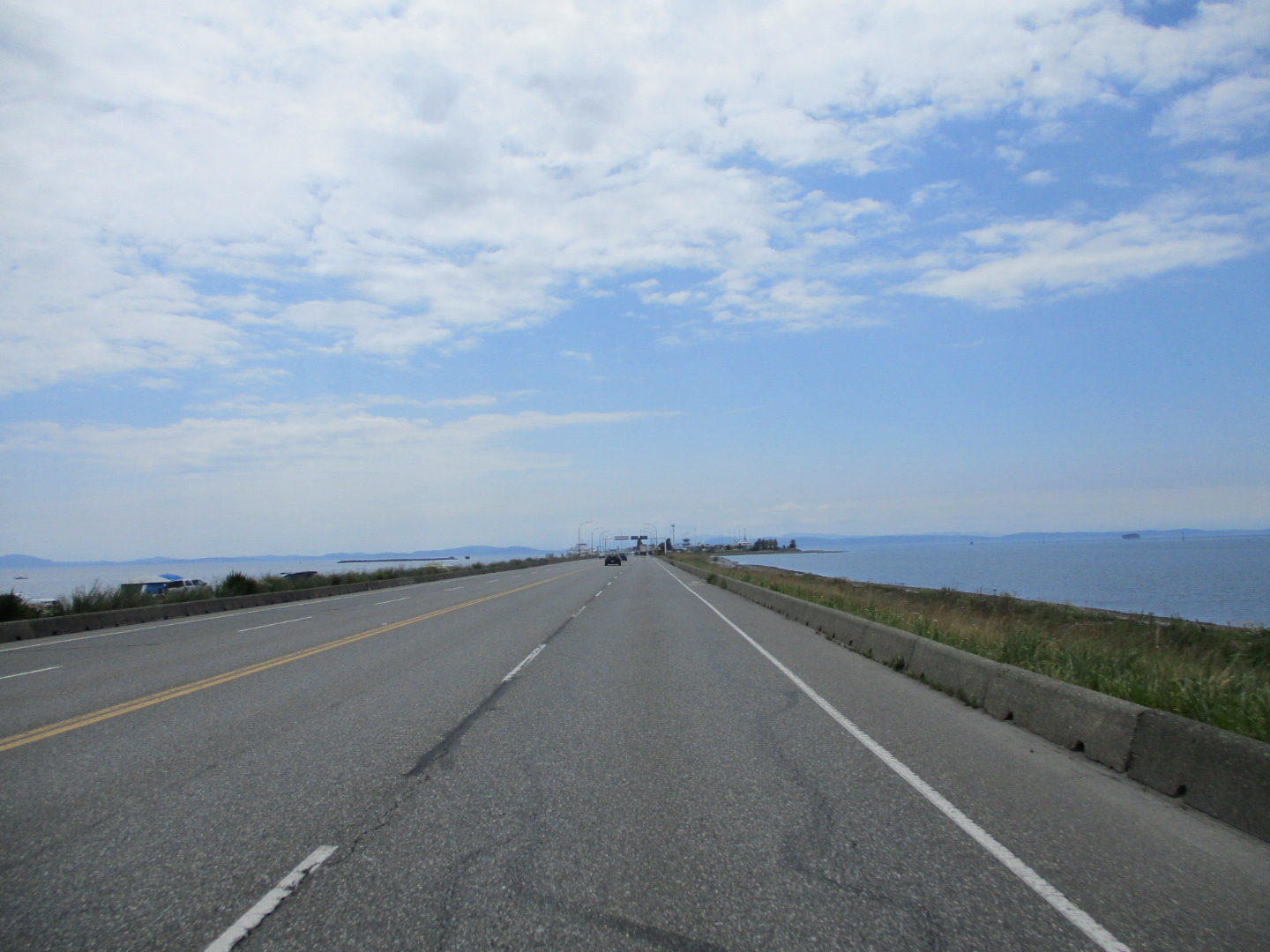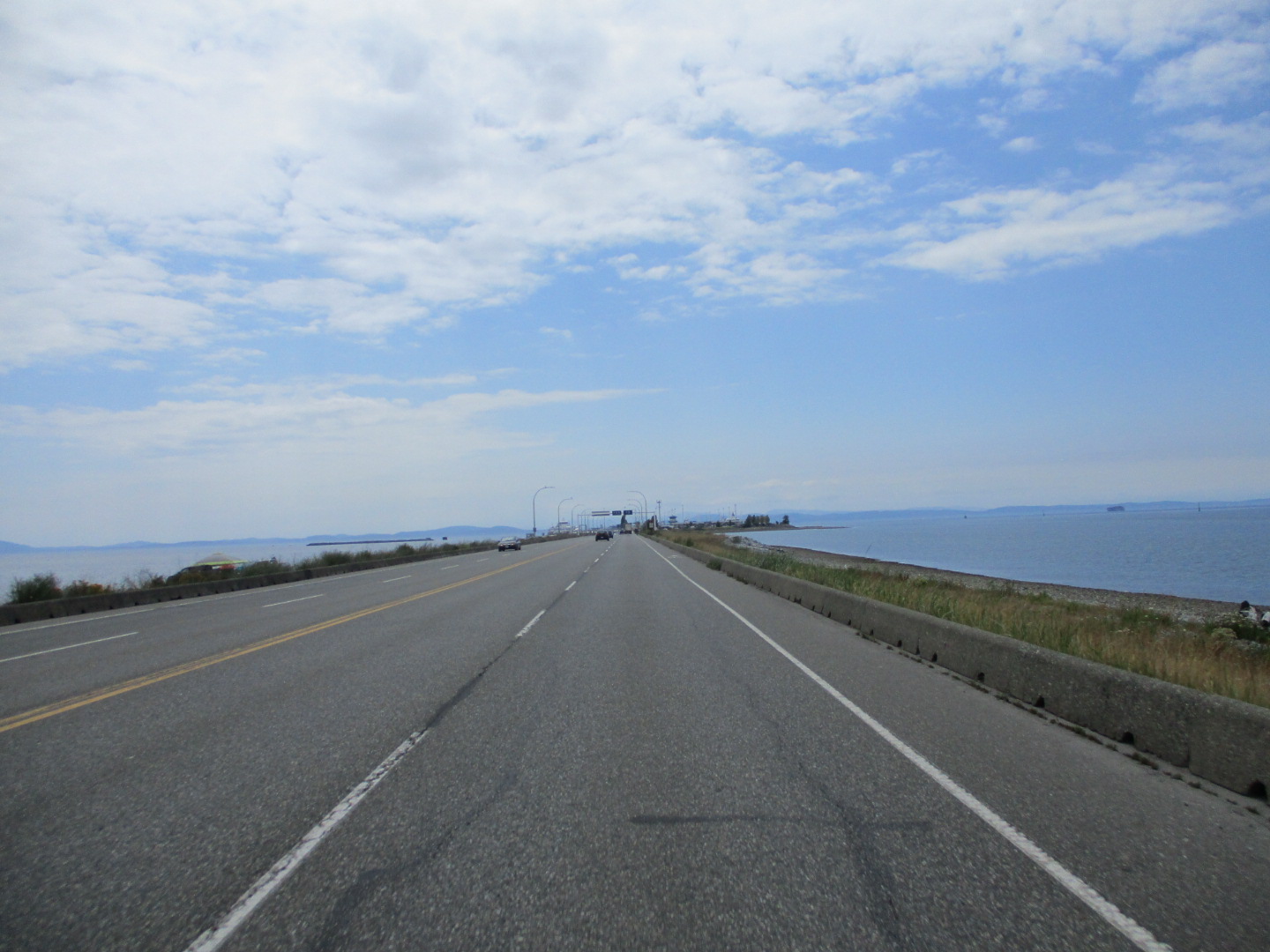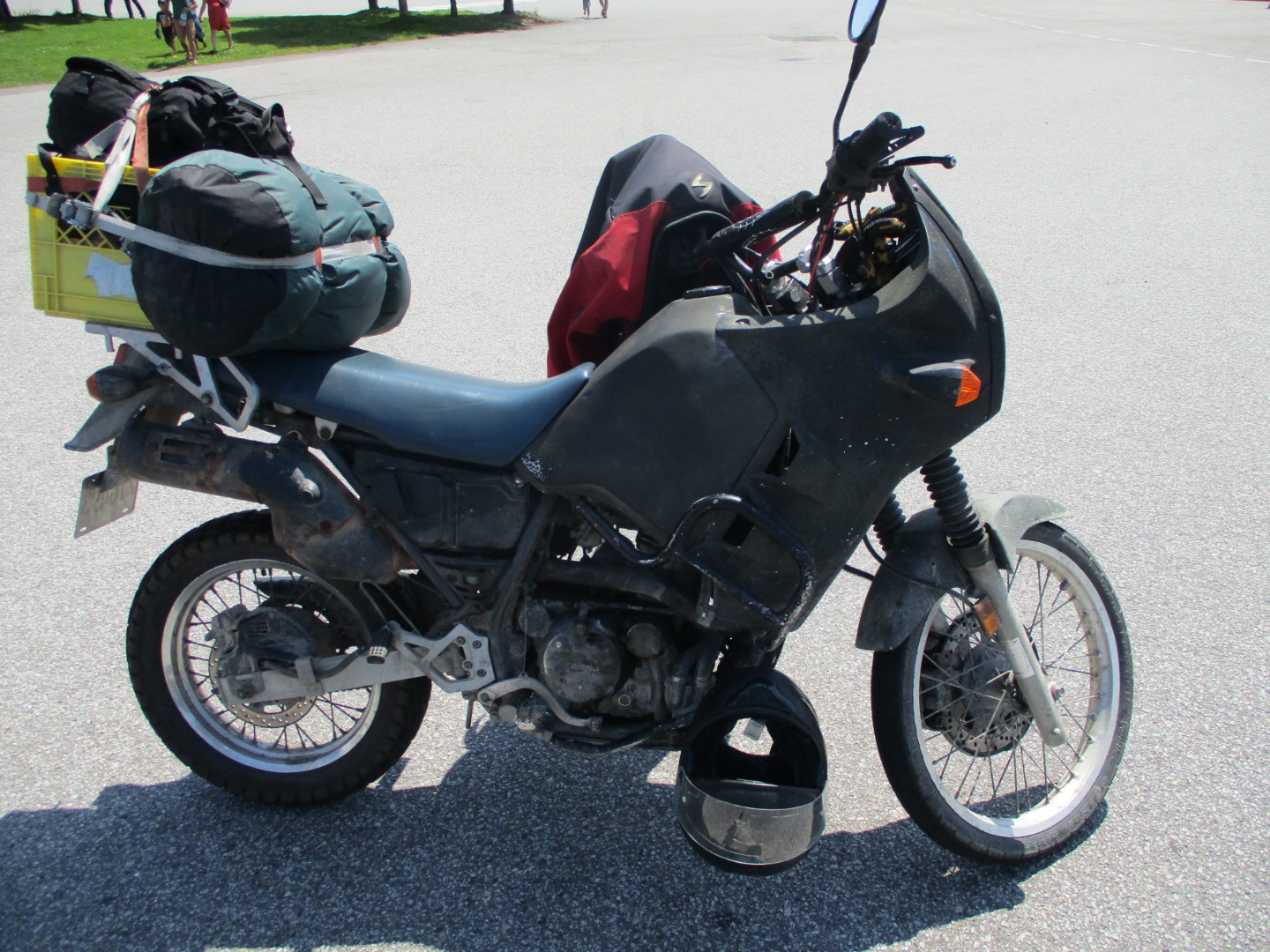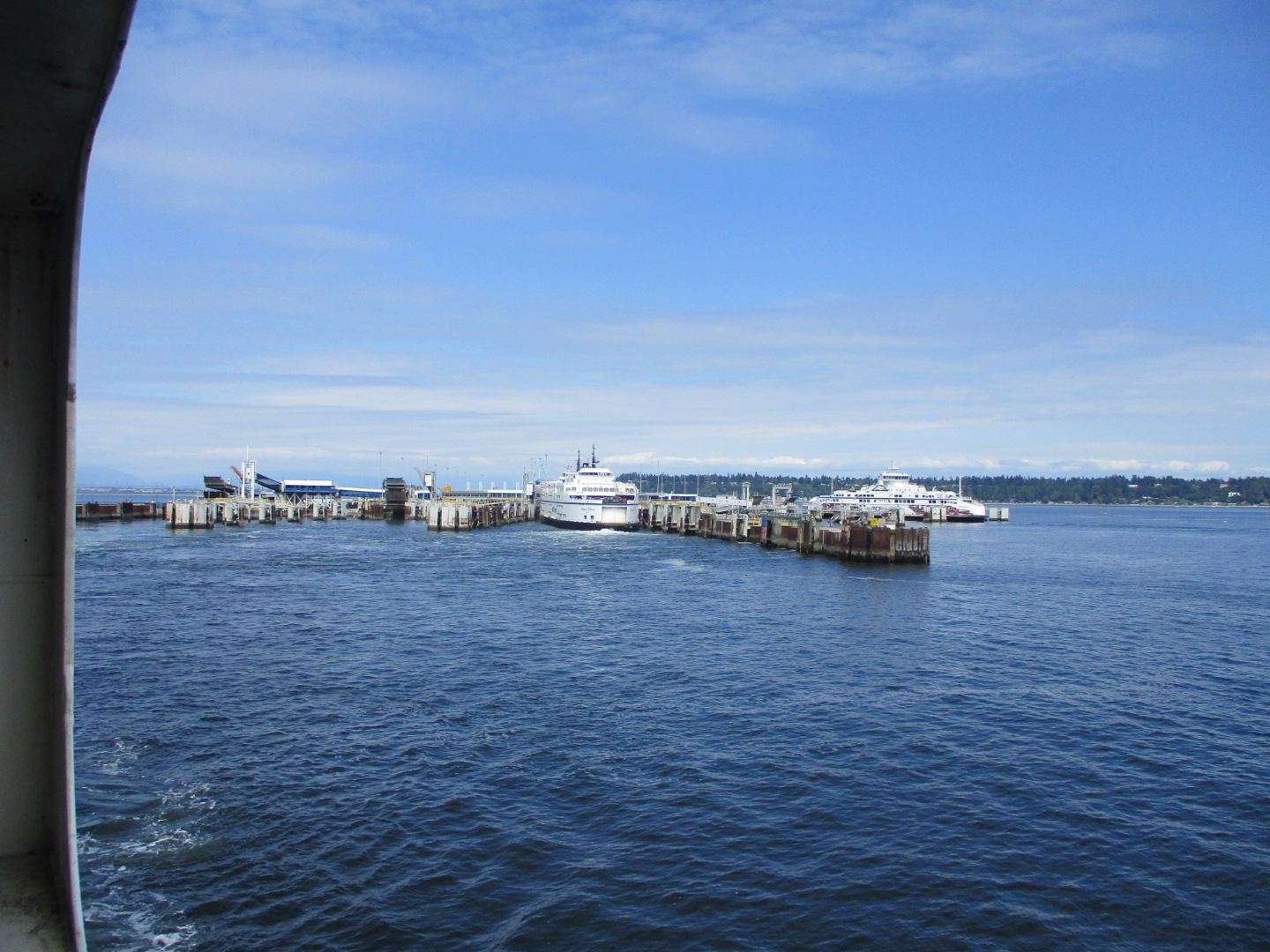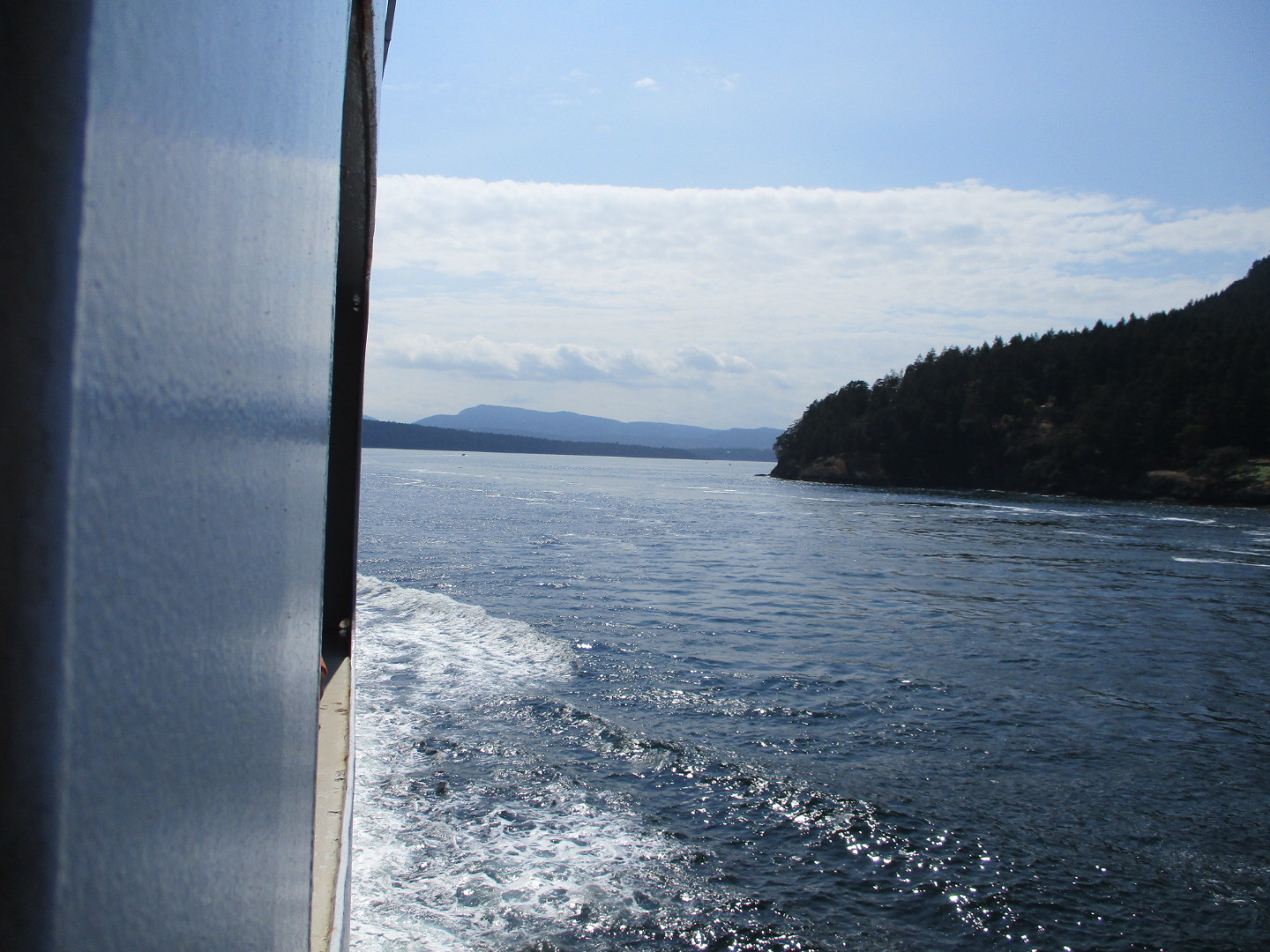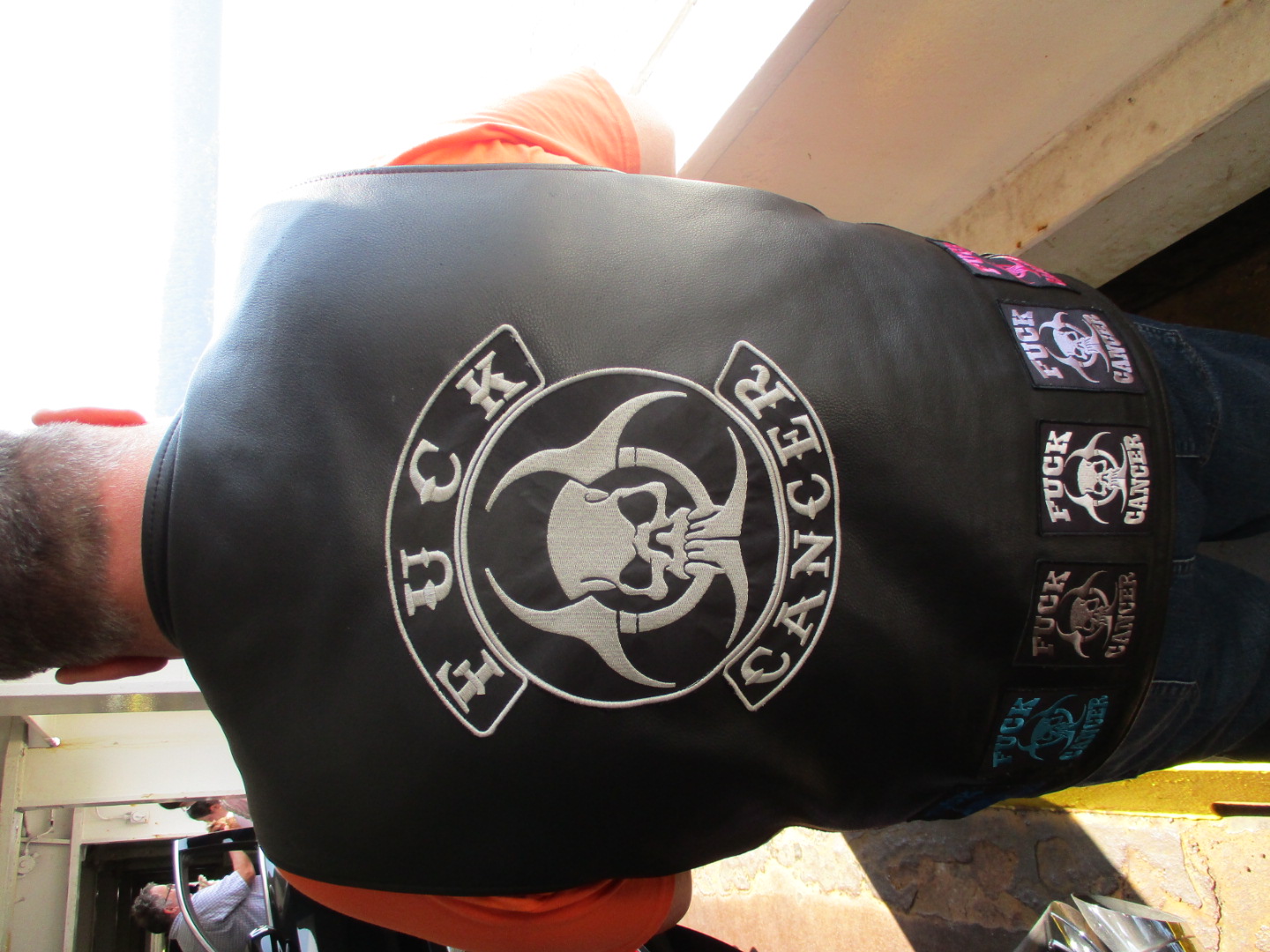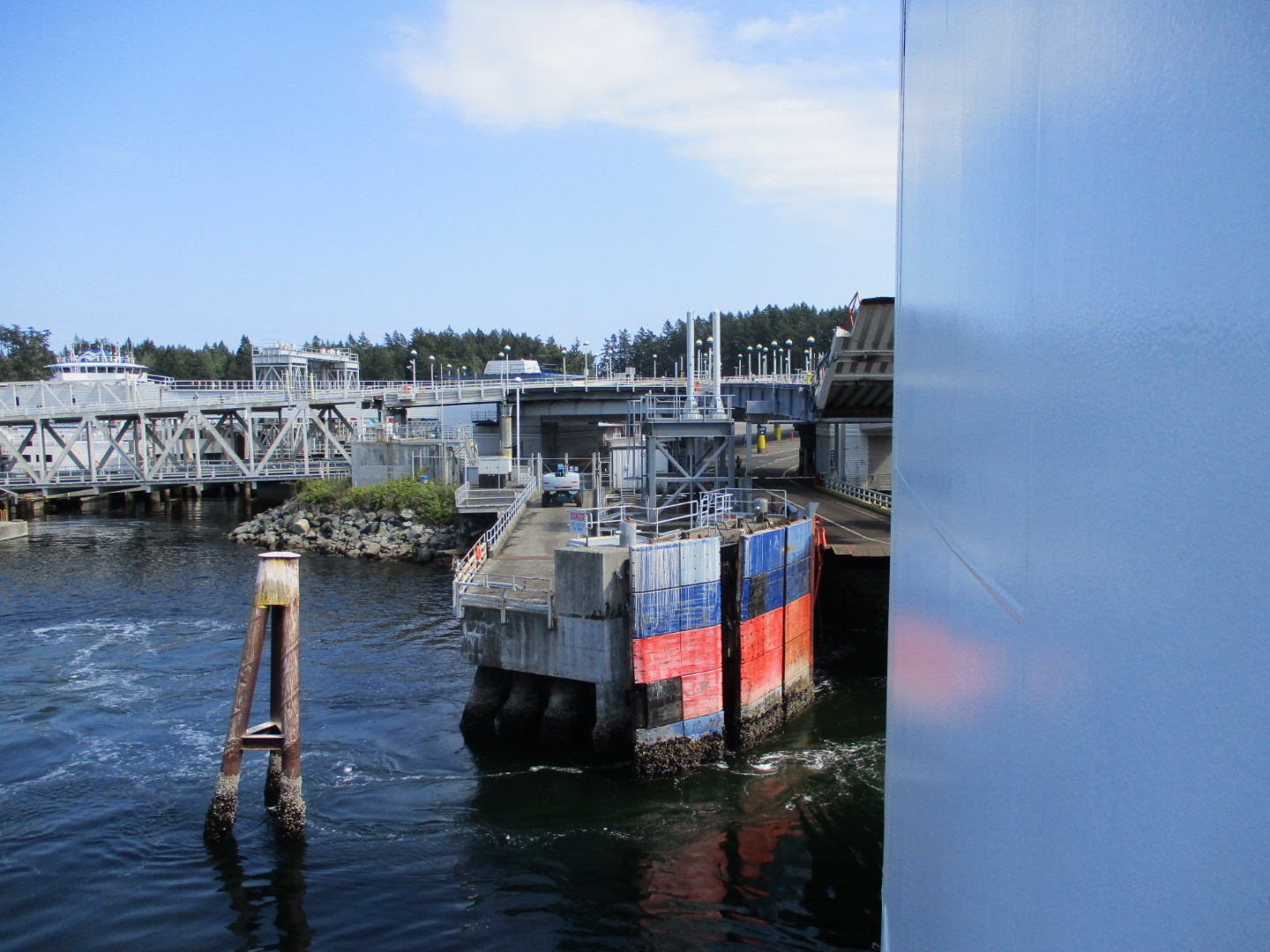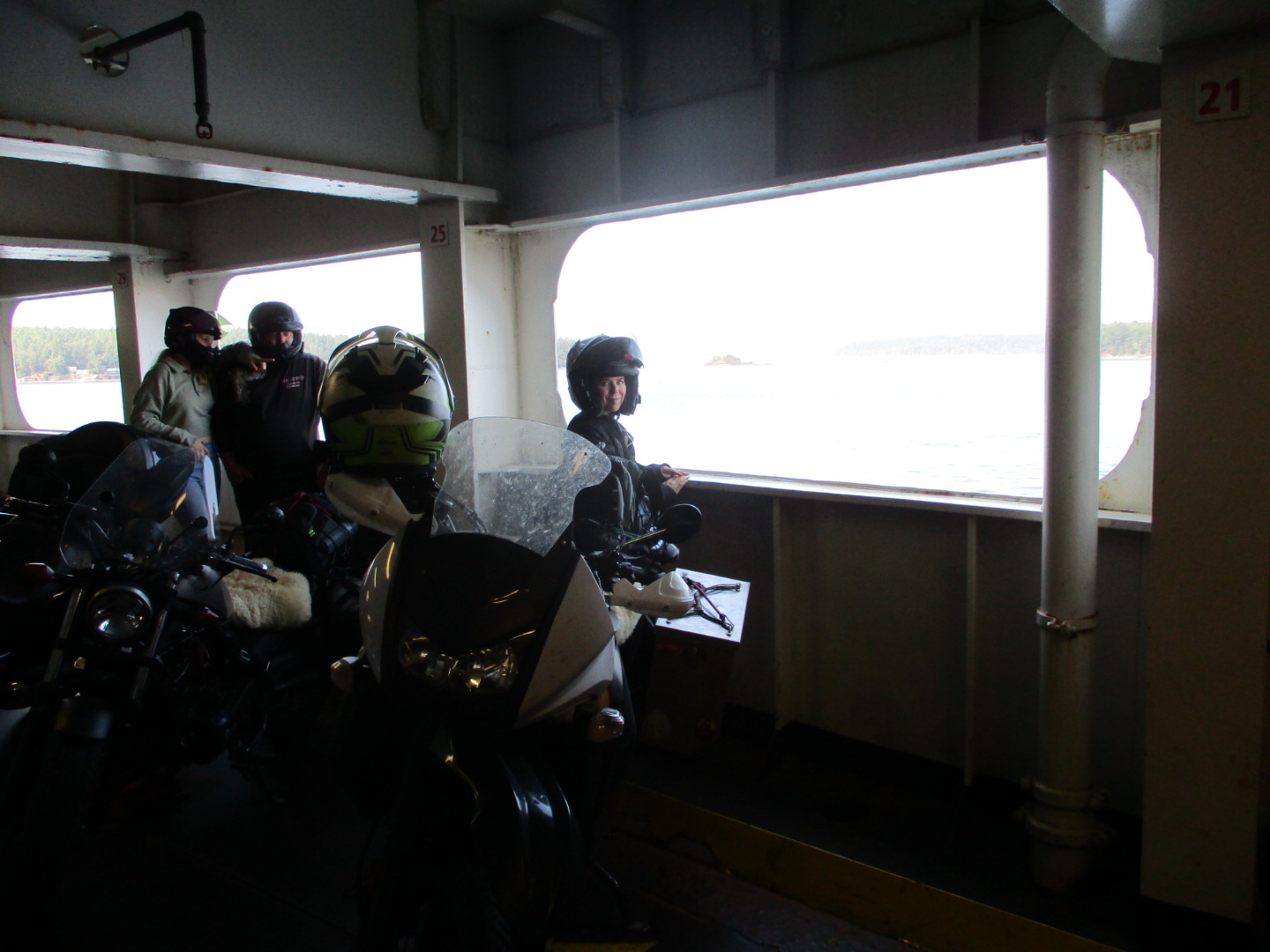 We arrived home at 5:30pm after 3200 Kilometers and 10 days of travel. There were no injuries, no lost luggage, and no equipment failures.