Crater Lake OR
Summary
Crater Lake, Oregon circle route through Washington
August 27 - September 3 2019
3000 kilometers
Group ride with Meredith
Our Crater Lake trip took us 8 days to travel 3000 kilometers from August 27 to September 3 2019. It was a circle route (no road driven twice) trip from Victoria, British Columbia through the United States of Washington and Oregon utimately ending in Crater Lake, Oregon. This was a special ride becuase it was our first long distance motorcycle trip together.
I had not spent any significant time in the Puget Sound but I had wanted to for a while. Crater Lake was an interesting if arbitrary destination, but it turned out to be nice. A little touristy, but I could not complain with the campground restaraunt that was available. The trip was accentuated by the many ferries we sailed on. Reflecting overall our journey went really well except for not reserving our September long weekend (Labour Day?) accommodations. We worked around that by staying in Tacoma. I had two motorcycle issues: the transmission shift lever came loose and one headlight burned out.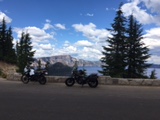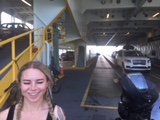 Contents
Details
Monday August 26, 2019 (day 0)
We significantly prepared for this trip. Because I had thrust the idea of 'motorcycle camping' upon Meredith, she prepared heavily by watching many videos about it and gathering required supplies. Our travel route was densely populated (compared to Canada) and I was not too worried about being stuck in the middle of nowhere, but we packed emergency supplies anyways.
I was carrying:
Camping supplies (sleeping pads/bags, tent, stove, cookware)
Motorcycle supplies (tire tubes/plugs, irons, hand tools)
Clothes, toiletries, electronics/chargers
Emergency medical kit
Food and water
This is what we looked like when we left: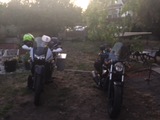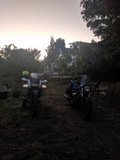 Tuesday August 27, 2019 (day 1)
We woke up around 5:00am to catch the first sailing of the day on Black Ball Ferry Lines M.V. CoHo at 7:00am. The CoHo ferry is an international ferry between the United States of America and Canada. It sails between downtown Victoria, British Columbia, Canada to Port Angeles, Washington, USA. You need to clear customs before getting on the ship on either side. I bought a carton of cigarettes at the on board duty free.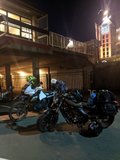 At Port Angeles, we turned east and then south on Washington 101 headed for Olympia. It was a gorgeous ride through the Washington peninsula that spends some time along Hood Canal. We stopped at the Twana Road House in Quilcene for lunch: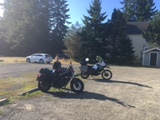 Our next stop was in Olympia for gas and beer; gas for the motorcycles and beer for me. Leaving Olympia we went south avoiding Interstate 5 and instead taking Old Hwy 99. Old Hwy 99 continues through Tenino but we turned on Hwy 507 south instead. We took Hwy 507 to Centralia, then over to Chehalis to the Jackson Hwy. We rode that south until Toledo where we took Hwy 505 out of town. Hwy 505 turns east, then south, terminating at the Spirit Lake Hwy, Hwy 504, which can take you east up to Mount St Helens.
The Spirit Lake Hwy is a motorcycle dream. It is well paved, has many large sweeping corners, good visibility, and good ascent/decent.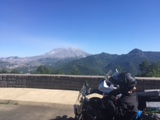 We wandered around the Johnston Ridge Observatory visitors center at the end of the road. I learned that in 1986 when the volcano erupted Mount St Helens becamse 1000 feet shorter.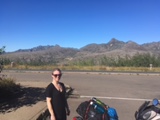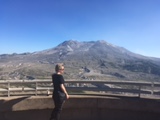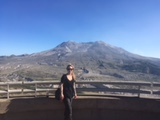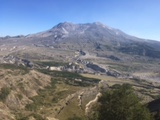 On our way back down we switched who was in front: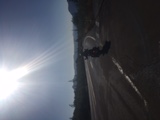 That night we decided to stay at the Kid Valley campground along the Spirit Lake Hwy. It was a respectable place with hot showers, flush toilets, and clean sites all for around $20. We unpacked the bikes, set up camp, and then searched for dinner. Luckily nearby was the Fire Mountain Grill: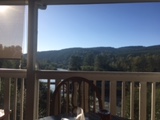 After dinner we went back to camp and took hot showers in their surprisingly nice washrooms and went to bed. I was very tired. About 400 kilometers rode today.
Wednesday August 28, 2019 (day 2)
We woke up, packed up the camping gear and hit the road. It was going to be a long day.
We rode the Spirit Lake Hwy west out of the mountains to Castle Rock, then took Westside Hwy 411 south, again avoiding Interstate 5 because we were loaded with gear and have relatively small displacent motorcycles. I also wanted to ride at a slower pace to take more scenery and experience in. I did not want to have to constantly concentrate on the road, which that Interstate demands.
Westside Hwy 411 terminates in Longview but we took Hwy 30 south out of town after crossing the mighty Columbia River and thus the Washington - Oregon border. It was about this time I noticed my headlight bulb had burned out.
Hwy 30 took us to Portland by lunch time and we stopped at The Matador on NW Quimby Street and NW 23rd Ave to eat. After we left the Matador we needed to head south west through Portland to Hwy 99W. This was a long multiple hour struggle in metro Portland traffic that was exhausting in full riding gear. I had not anticipated the extreme stop and go traffic when picking our route. We stopped part way through for gas station beers.
After finally clearing Portland, and its suburbs, Hwy 99W was a long straight road that eventually terminated in Eugene. I noticed my motorcycles engine was detonating ('pinging') whenever I throttled aggressively and guessed the heat of the day was causing it. At the next stop for gas I put higher octane premium gasoline in the tank and the engine stopped detonating almost immediately after.
We finally pulled into Eugene at dusk and promptly found a cheap motel in town, which there were lots. In the motel parking lot was a "radio enabled car". You can barely see that all the seats except the drivers had been taken out and replaced with radio equipment. I want one!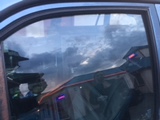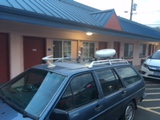 We unpacked the bikes into the motel room. The motel was the kind where the rooms were accessible from the outside, as opposed to a hotel where they are accessed from inside the building. This was preferable in general because we could completely unpack the motorcycles into the hotel room. Dinner was at a nice Mexican food truck nearby, and then we went to bed. About 500 kilometers rode today.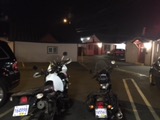 Thursday August 29, 2019 (day 3)
We woke up early and packed the bikes, enjoying the hotel breakfast and coffee before heading out. We wanted to be at Crater Lake National Park as early as possible to ensure accomodation that night. We took Hwy 58 south east out of Eugene until it terminated at Hwy 97.
Now, I am annoyed I did not take any pictures of Hwy 58 as it climbed into the mountains. That was a great ride. Lots of turns for the most part of it, good ascent with some noteworthy steep climbs. Nice and twisty with good scenic views.
We stopped in a small town for gas and food, then motored on. At Hwy 97 we went south, then turned west onto Hwy 138 or "Volcanic Legacy Scenic Byway" which takes a sudden south turn into the park. The scenery was desolate and rocky.
Around noon we arrived at Crater Lake National Park. We needed to ensure accomodation that evening and went straight to Mazama Village Campground. There were already other people in line waiting for checkouts from the previous day to complete. Getting lucky we obtained a camping spot for that evening.
After unpacking the bikes we went exploring: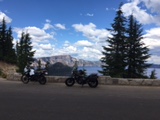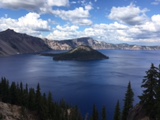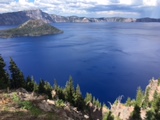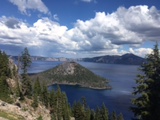 The view opposite of the lake was nice too. It was clear you were at a high elevation.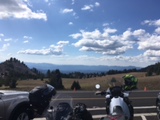 The "Volcanic Legacy Scenic Byway" or Rim Dr (hehe) circumnavigates the lake. This is a slow tight twisty road that you really don't want to leave. There are a few spots you could easily end up inside Crater Lake because of the steep cliffs into the lake. Nonetheless it is beautiful and exciting. The road surface is worse on the back half. The next pictures are from various lookouts. The island in all of these pictures is called Wizard Island.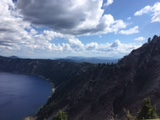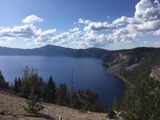 After circumnavigating the lake we went back to camp. It rained and we took shelter inside the nearby Annie Creek restaurant where we ate and lounged until it closed. By that time the rain had mostly stopped and we had a fire before going to bed. About 140 miles rode today.
Friday August 30, 2019 (day 4)
We woke up and packed up camp. Lucky for us the rain from last night was gone and it was a sunny day. We took our time drying everything out before packing it away. I noticed my motorcycle's transmission shift pedal was loose and tightened it with a wrench.
Some people across the road were interested in our journey, so we chatted with them a bit and let the kids sit on the bikes: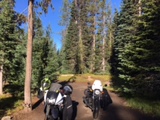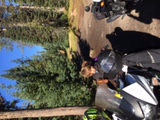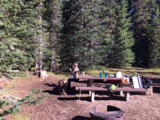 We left the way we came, and went back to Hwy 97 north but soon turned off to "Cascade Lakes National Scenic Byway" just after Hwy 58. I think we stopped for gas and food. After a few hours riding along he newly paved road through volcano fields and lakes we stopped at Bend, Oregon for a drink. There were many people in town floating in the small local body of water. It was a nice town.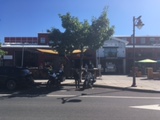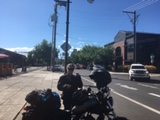 The motels in Bend were costly so we decided to go to the next town, Madras. We took Hwy 97 north out of town, which was busy with long weekend traffic and brutally straight.
In Madras we got a room at the Motel 6 with outside access on the ground floor. The room was big and had air conditioning which was nice because it was hot. We unpacked the bikes into the room and then went for dinner.
We ate at a Mexican restaurant downtown and then went back to the motel room, lounging around a bit before going to bed. About 140 miles rode today.
Saturday August 31, 2019 (day 5)
left madras took Hwy 26 north west towards mt hood
took Hwy35 north at junction to hood river bridge
over bridge and into Washington
Hwy 14 west along columbia river
north at carson on Wind River Rd
left on curly creek road to northwoods
north on NFD 25, very twisty and in poor shape
into Randle, gas? and food
leave on Hwy 12 east, then north at Morton to Hwy 7
take it all the way to Tacoma
stay at airport motel town by airport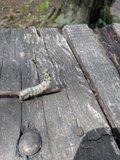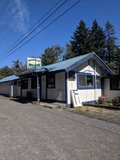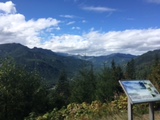 Sunday September 1, 2019 (day 6)
left Tacoma motel town
ferry to Vashon Island
Vashon to Southworth
Southworth north up peninsula back down Sinclair inlet
Stay at Belfair Motel in smoking room :)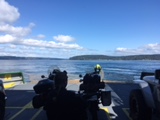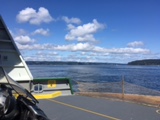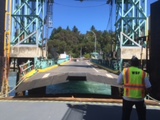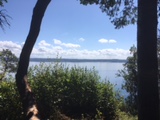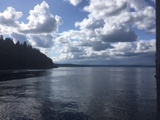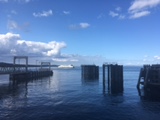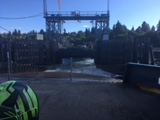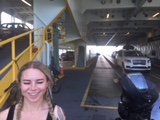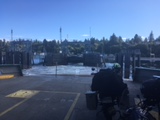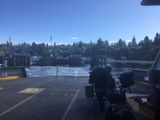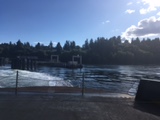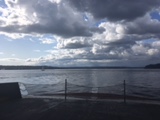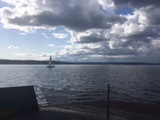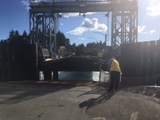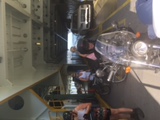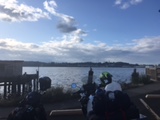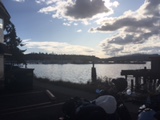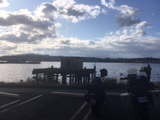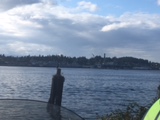 Monday September 2, 2019 (day 7)
North on Hwy 3 out of Belair, Deception Pass park goal
Take Hwy 3 to Hood Canal Floating Bridge
Turn over bridge, now Hwy 104
Turn on Hwy 19 north to Port Townsend
Port Townsend to Whidbey Island, Port Townsend Coupeville Ferry
North on Hwy 20 to Deception Pass State Park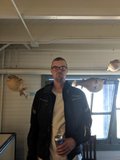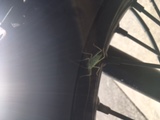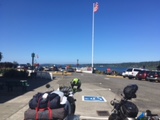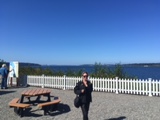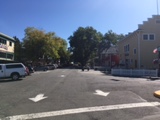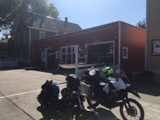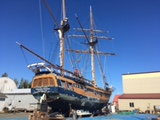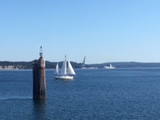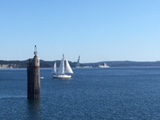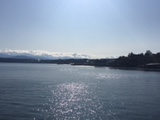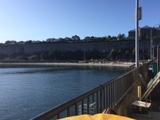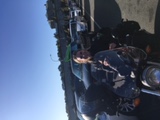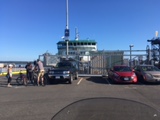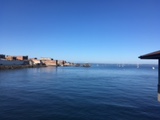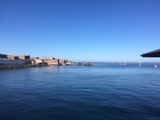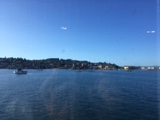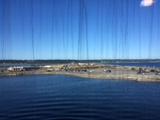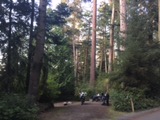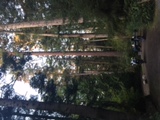 Tuesday September 3, 2019 (day 8)
Pack up go to ferry terminal at Anacortes
Anacortes to Sidney BC
Go home!